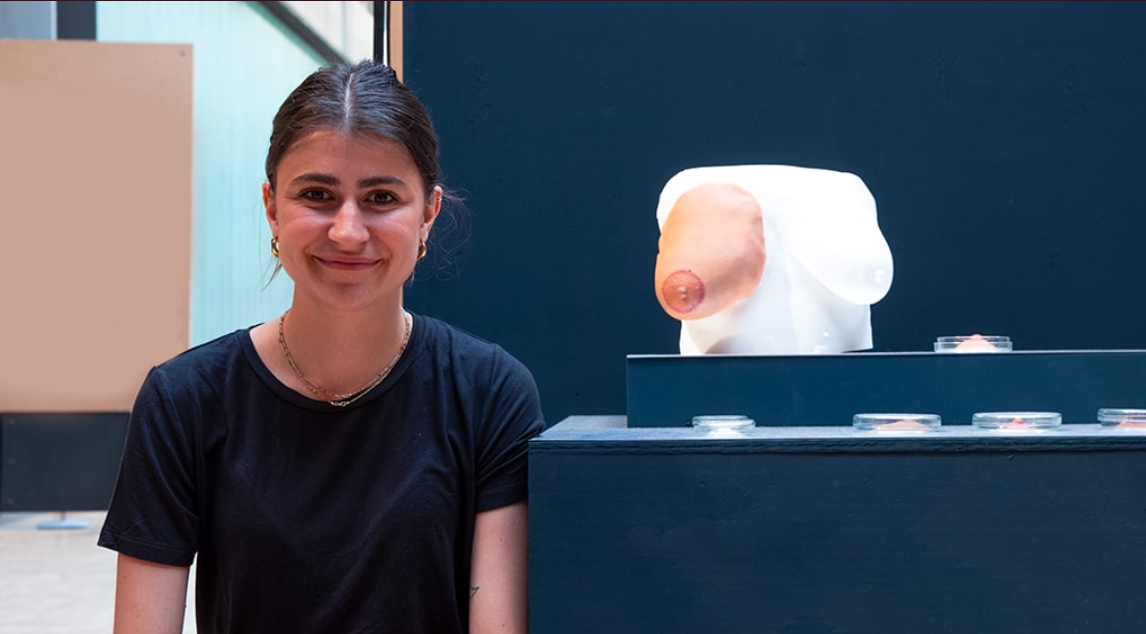 FAD managed to have a quick chat with the 5 finalists of the MullenLowe NOVA Awards 2023 here we have Arianna Pezzano *Country and Townhouse Regeneration Winner from the MA Material Futures course at Central Saint Martins who was chosen for her project BioProsthesis.
Can you tell us about your practice and/or project
I am a product designer and material researcher, I just graduated from the Master 'Material Futures' where science, technology and design collide. During my two years at Central Saint Martins, I had the chance to explore biomaterials, innovative technologies and design facets that are going to shape the future of our world.
My project 'BioProsthesis' proposes a way for human hair waste to be used to produce customised prostheses for people healing from breast cancer.
Utilising keratin as the primary material, I create a prosthesis tailored to the patient's preference. This process enables the patient to regain a sense of wholeness, with the keratin used in the prosthesis serving as a replacement for the loss of their breast. This symbolically reunites the first loss of hair with the body in the form of a prosthesis and facilitates the acceptance process and psychological healing.
BioProsthesis first offers a different perspective on biomaterials, focusing on what the human body itself can produce, and avoiding the exploitation of other living organisms. Secondly, the project wants to bring an improvement in the field of prostheses, which has often lagged behind in terms of innovation and attention to individual patient needs.
What was the best thing about your time at Central Saint Martins?
My course allowed me to explore, get out of my comfort zone and make mistakes. Coming from a traditional industrial design background I finally had the possibility to push my practice and be bold. This helped me gain confidence as a designer and realize how impactful and necessary the designer figure can be. Material Futures made it possible for me to meet and work with people with really different backgrounds and incredible knowledge, starting with my coursemates who have been inspirational and helpful every step of the process.
What plans / aspirations do you have for 2023 and beyond?
What I really enjoyed about my project was being a bridge between scientific knowledge and people's needs. Too often science, engineering, and design don't communicate with each other enough making it difficult to complete the process of starting with research and finishing with an actual application. That's why many potential discoveries struggle to reach the public and sink into oblivion.
Communication and collaboration between different disciplines are essential to turn research and discoveries into practical applications that benefit society. My aspiration is for my practice to be an effective bridge between knowledge and needs.
What does winning a MullenLowe NOVA Award mean to you and in what way can organisations support graduate creatives more?
Winning a MullenLowe NOVA Award made me realise that people really believe in creative practice and thinking, and care for a change. Recognitions like this can give creative graduates visibility and resources that are fundamental to taking the first steps in the outside world with a bit more confidence.
Do you think you will stay in London to develop your practice/ career?
Yes, I think this city has still a lot to offer me.
Follow Arianna Pezzano @arianna.pzzn
Find out more about the wonderful
MullenLowe NOVA Awards HERE
*The Country & Town House Regeneration Award recognises a project that promotes circularity, reuse, reform and remake, and moves away from a take-make-waste linear economy to one that encourages our people and planet to thrive.
Categories
Tags