For her solo show at Soft Opening, Tenant of Culture presents a new body of work that questions the perceived dichotomy between destruction and decoration, examining how the aesthetic of waste has, for centuries, been appropriated within the fashion industry. The works highlight the dissonance between the creation of physical waste and the aestheticization of damage.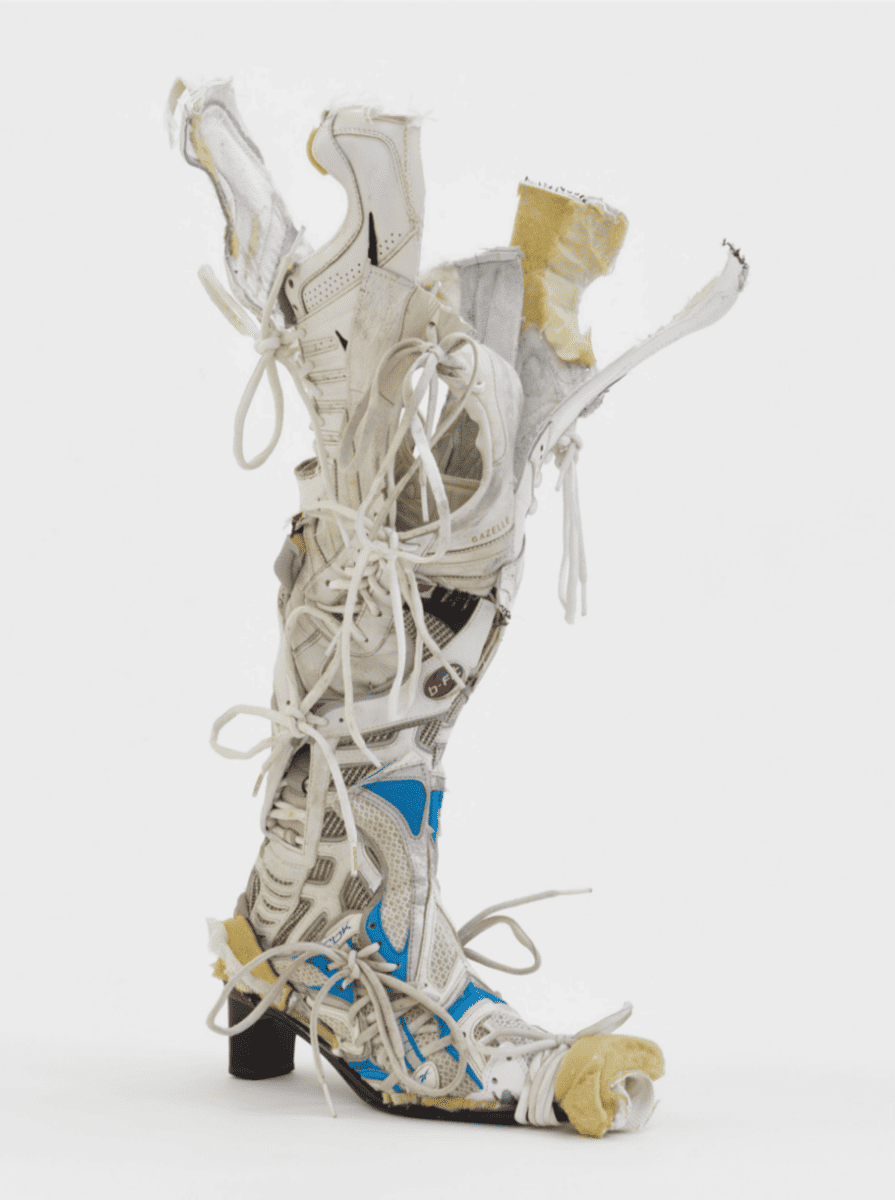 Utilising traditional craft techniques based on the extraction of threads and fibres, such as devoré and open work embroidery, as well as deconstructive methods developed through material experimentation, Tenant of Culture has expanded her processes of undoing. This new body of work references the practice in the garment industry of intentionally creating rips or slashes in previously undamaged clothing and accessories. The artificially ripped pair of jeans is the most well-known contemporary example of this approach, but for centuries textile workers slashed garments as both a political act of resistance and a mechanism of control.
The cultural significance of the destruction of clothing is grounded in several notable moments in fashion's industrial and stylistic history. The "cutters" movement of the mid 18th century utilised slashing as an act of protest, while the Spitalfields silk weavers engaged in campaigns of destroying each other's work in a battle to stabilise wages. In the 16th century, the mediaeval decorative technique of cutting slits in the outer layer of a garment to expose the fabric underneath was inspired by the distressed clothing of soldiers returning from battle, serving to visually distinguish political allegiances and social hierarchies. Today, the common approach of luxury brands is to slice unsold luxury goods to prevent value deflation; an economic strategy to create exclusivity through scarcity. Tenant of Culture explores this inheritance, disassembling and rebuilding manufactured garments to look at the politically charged treatment of textiles. By systematically slicing through multiple layers of protective materials, she explores processes of destruction versus protection and renders the objects and garments unusable. This methodology effects a consideration of the ways in which ideological frameworks with wide social implications materialise in methods of production, circulation and marketing of apparel. 
Tenant of Culture, 8th September – 21st October, Soft Opening – Opening Reception, 7th September
6- 8pm
About
Tenant of Culture is the artistic practice of Hendrickje Schimmel (b. 1990, Arnhem), who lives and works in London. The artist's most recent solo exhibition IN SITU was held at Museum of Contemporary Art, Antwerp (2023). Prior to this, the artist's first UK institutional solo exhibition, Soft Acid opened last year at Camden Art Centre, London (2022). Soft Acid will be exhibited this year as part of the British Textile Biennial 2023. Recent solo and two-person exhibitions include Good Signal at Duarte Sequeira, Braga (2023) with Joss Heierli; Piece(d) Work at Ivory Tars, Glasgow (2022) with Gillian Lowndes; Et Al. at Kunstverein Dresden, Dresden (2021); Autumn Cloth at Sophie Tappeiner, Vienna (2021); Georgics (how to style a chore coat) at Fons Welters, Amsterdam (2020) and I forgot to tell you I've changed at Het Fries Museum, Leeuwarden (2020). 
Recent and forthcoming group exhibitions include: Kunstverein Göttingen, Göttingen (2023); Beautiful Repair at Copenhagen Contemporary, Copenhagen (2023); Post-digital Intimacy at the National Gallery Prague, Prague (2022); Eternally Yours at Somerset House, London (2022); Testament at the Goldsmiths Centre for Contemporary Art, London (2022); Sartor Resartus, curated by Jeppe Ugelvig at Huset fur Kunst & Design, Copenhagen (2021); Getting Dressed at V.O Curations, London (2021); LOOK! Exposing Art and Fashion at Museum Marta Herford, Herford (2021) and Ghosts and Bones at Galeria Stereo, Warsaw (2021).
The work of Tenant of Culture is in the collections of the Fries Museum, Leeuwarden; the Stedelijk Museum, Amsterdam and The Pier Arts Centre, Orkney. In 2020 Soft Opening published the artist's first monograph in collaboration with Charles Asprey which was one of the winners of the Swiss Most Beautiful Books Award.
Categories
Tags