Art Night made its debut in Dundee on Saturday, marking its first expansion beyond London. The event proved to be a tremendous success for both Dundee and Art Night, showcasing the city's growing interest in culture and its existing infrastructure and venues. However, it also highlighted the ongoing need for sustained and expanded funding.
Art Night's foray into Dundee signifies a promising path forward—a nomadic, annual art event that travels to cities across Scotland, England, Wales, Northern Ireland, and potentially even abroad. This visionary approach positions Art Night as a catalyst for positive cultural change.
Art Night 2023 featured 10 remarkable new commissions spread throughout the city. One standout installation was Emma Hart's "BIG UP," a lively celebration of raving held in a public multi-storey car park. The anticipation you felt as you approached the car park was like the old rave days of the early 90s.
Once inside the sculptures, with their hands in the air, invited visitors to dance alongside the spirits of the solstice. Accompanied by live music from DJs Lucy Jam Tart and Arty Harty Party, the exhibit became a captivating sensory experience. This commission was a collaboration with Hospitalfield and took place at the Greenmarket Car Park.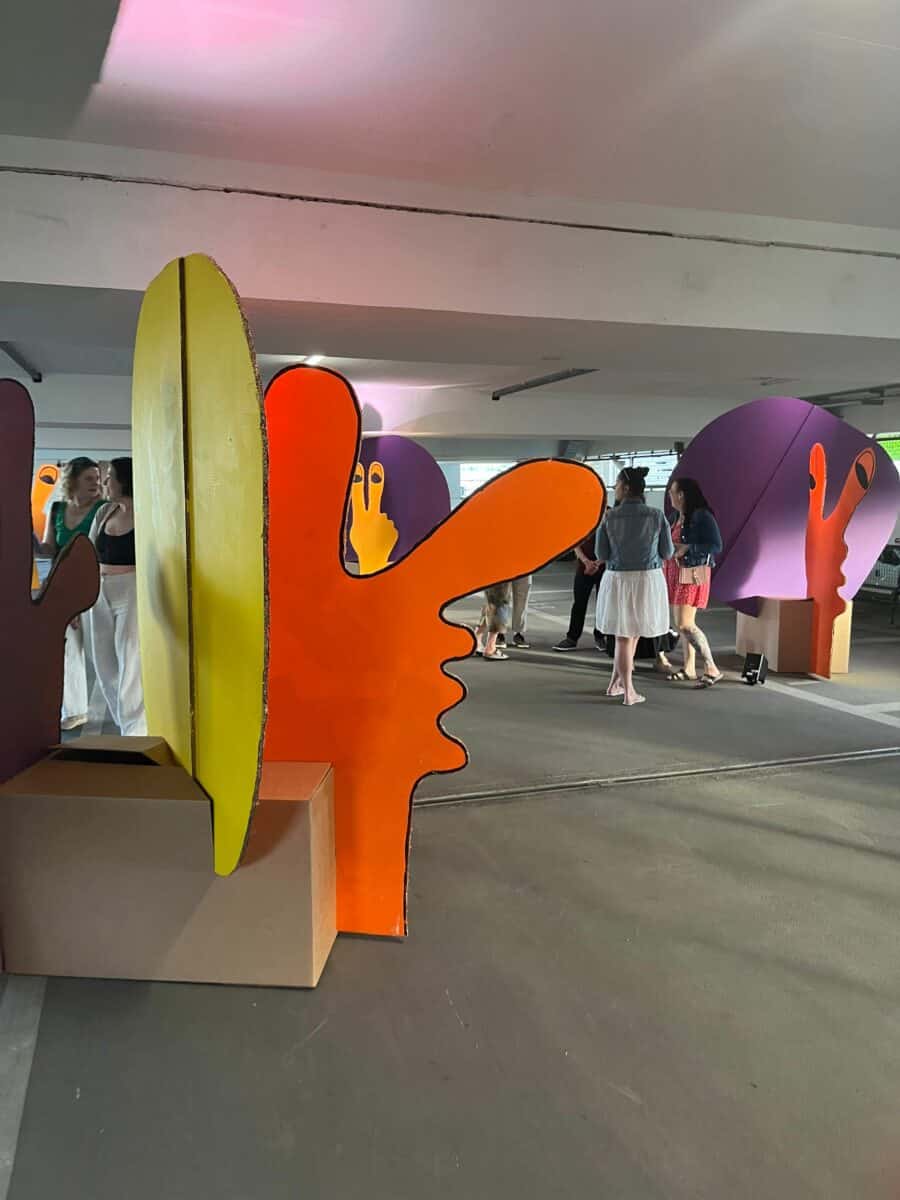 Another noteworthy installation was Danielle Brathwaite-Shirley's art video game, hosted at a library. The interactive game shed light on the existing gulfs and inequalities in our world but allowed participants to reset the world and influence its development throughout the evening. At the Keiller Centre, attendees engaged in zine-making and poster printing, imagining their own "mid-apocalyptic" vision of the world. This co-commission was a collaboration between NEoN Digital Arts, Serpentine, and Art Night.
Onboard the RRS Discovery, Captain Scott's ship from his Antarctic expedition, music performances curated by Nabihah Iqbal took place. The program featured a diverse range of musicians, including CAIN, Fiscal Harm, Aldous RH, Balladeste, and Nick Hann, blending traditional, experimental, and avant-garde sounds. The music drew passersby into the Art Night program as they walked past the boat and the adjacent V&A Dundee.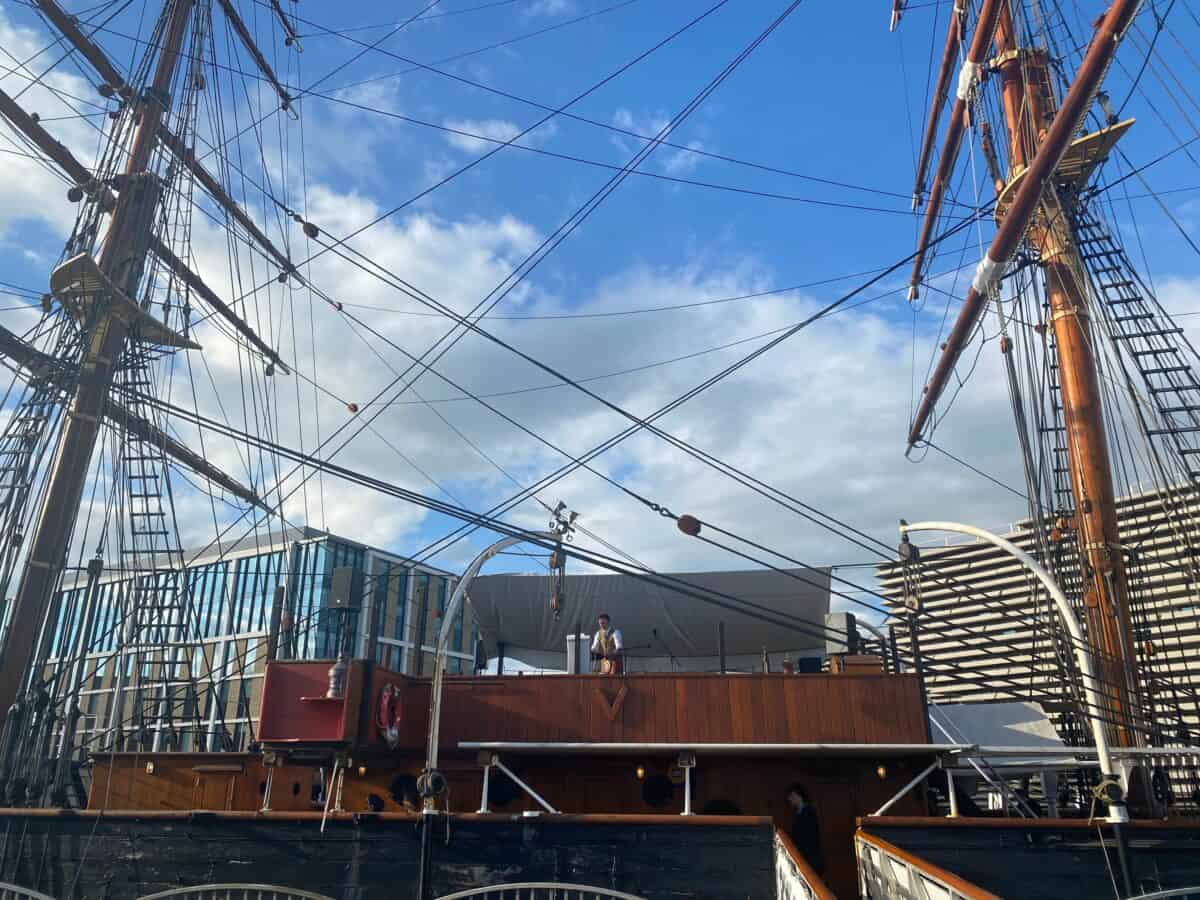 In addition to the captivating installations, the Art Night volunteers, easily identifiable in their vibrant T-shirts, played a crucial role in providing information and guiding the public throughout the night.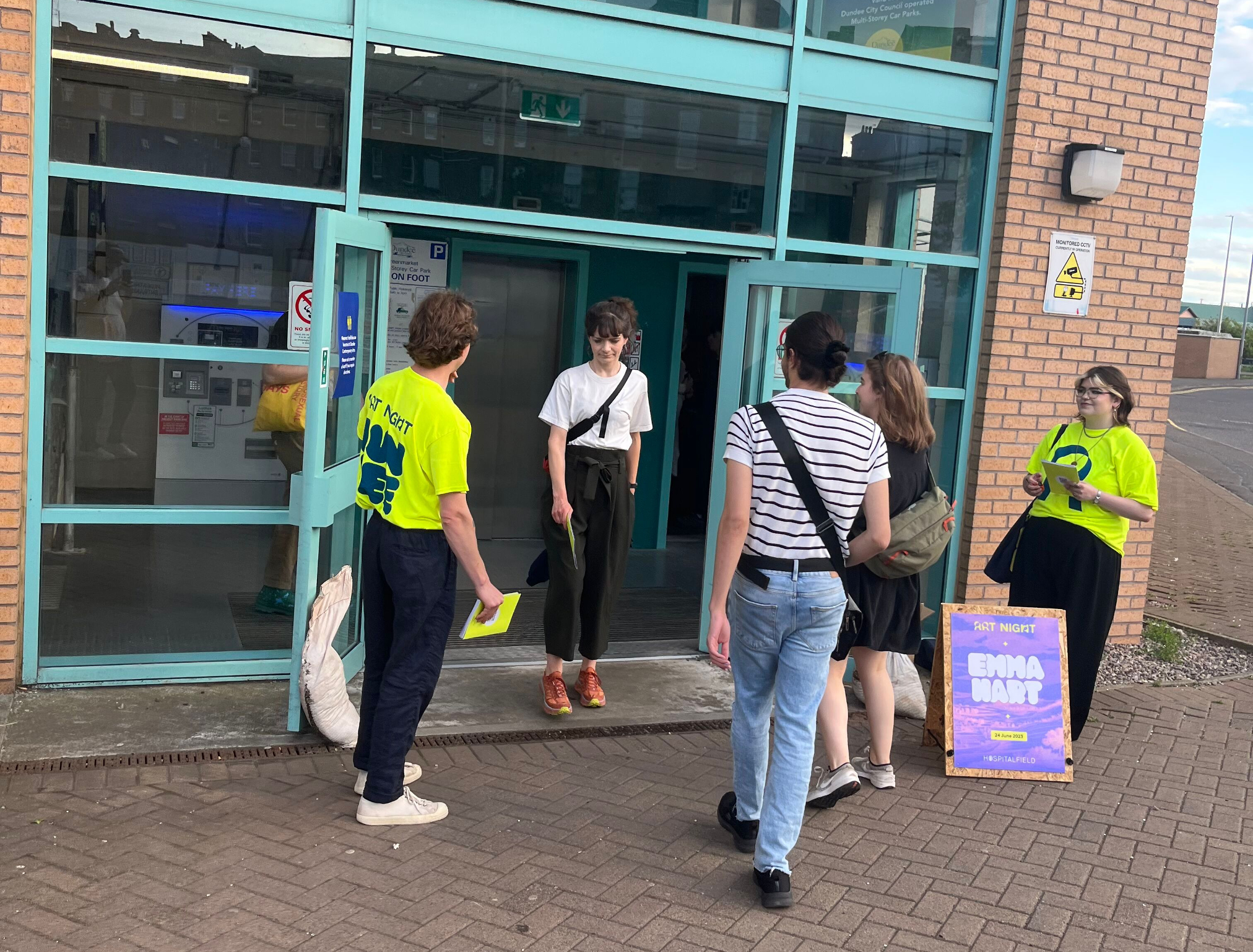 At Dundee Rep, Maria Fusco and Margaret Salmon presented "History of the Present," an experimental opera-film amplifying the voices of working-class women from Belfast. The thought-provoking work raised important questions about who has the right to speak and in what manner. While it may have felt challenging to experience this piece amidst the festive atmosphere, it will have the opportunity to be showcased in a more suitable context at the Edinburgh Art Festival on August 11th.
One interactive experience that allowed participants to shine was "The Hi-Visit" at GENERATORProjects. Dundee-based artist Inefficient Solutions presented a participatory photo opportunity where individuals dressed up in hard hats and hi-vis jackets, while clearing up rubbish and getting photographed. Inefficient Solutions, the artistic identity of Euan Taylor, committed to the guise of a sub-contractor in Dundee, embracing problem-solving and futile endeavors.
Saoirse Amira Anis, another Dundee-based artist, showcased a solo presentation at Dundee Contemporary Arts. Visitors had the chance to witness Anis transform into a rope-laden, amphibious mythical creature as it roamed around Dundee.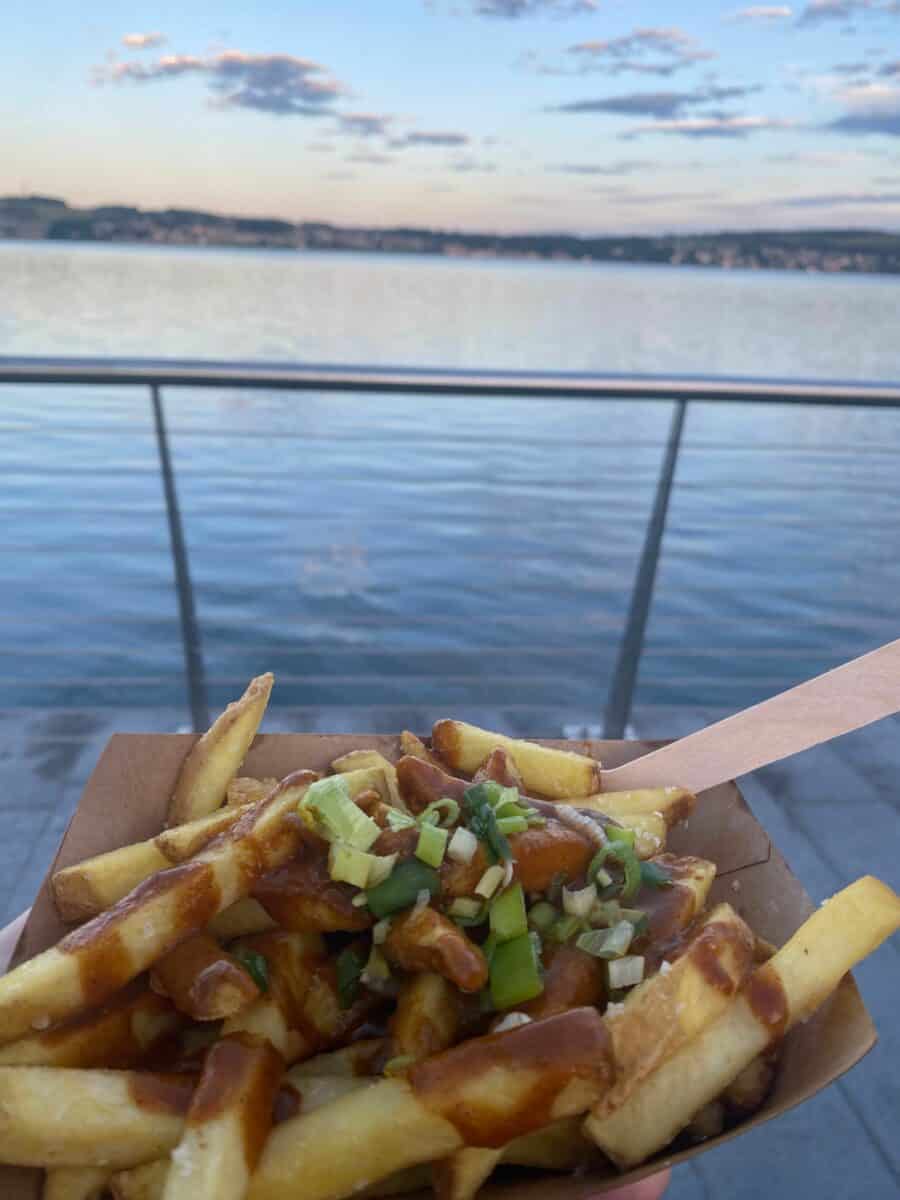 Although we missed the creature's journeys to and from DCA, we were fortunate enough to encounter it by chance as we enjoyed some chips near the V&A. A sizable crowd trailed behind the captivating creature.
Finally, on our way back to the hotel, we stumbled upon the Hot Chocolate Trust at The Steeple on Nethergate, presenting LTD Edition.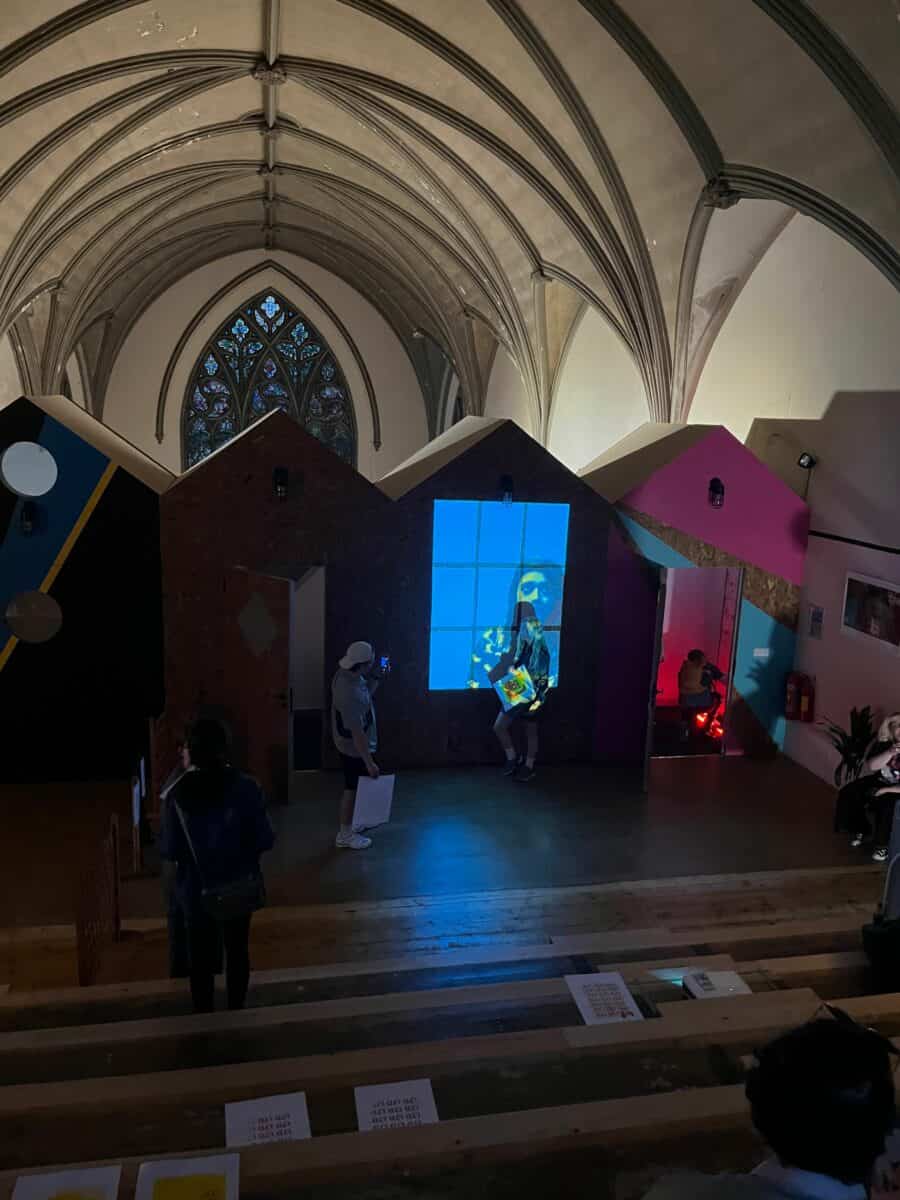 Presented by Hot Chocolate Trust, LTD edition was a series of interactive installations showcasing young people's art & culture from Dundee. It included the opportunity to draw on mirrors with lipstick, and receive a free limited edition screen print – created live in the space. The central project investigated young people as works of art, invoking themes of perception, objectification and social gaze. As we looked at the artwork we were also being observed via CCTV.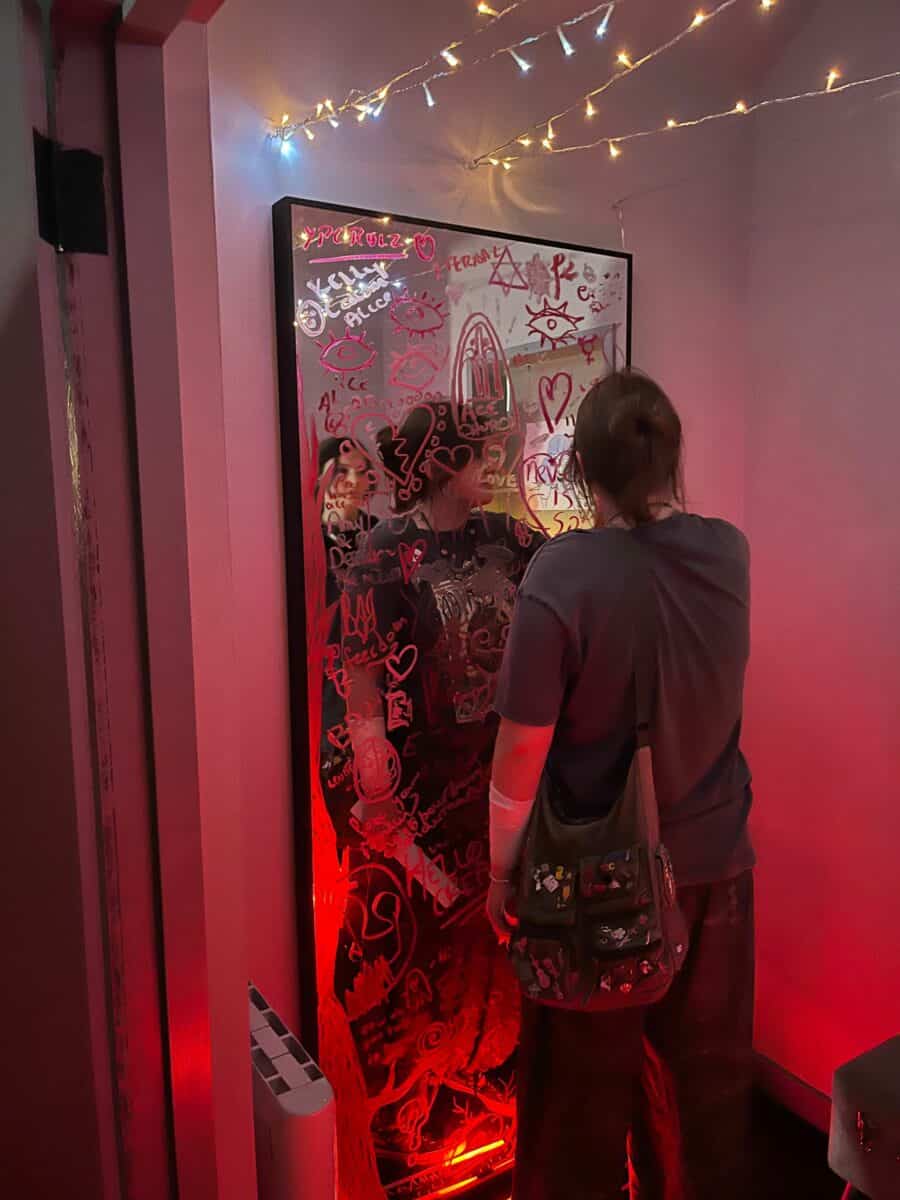 We are all truly limited editions. There is no one else quite like us. Though there may be someone who bears resemblance, they will never possess our unique essence. By embracing our individuality, we have the power to create something extraordinary and unparalleled.

HCT Young Person
LTD edition was part of the INWITH programme which aimed to Highlight a cross-section of Dundee's expansive art and communities programming.
Art Dundee for us was great it was amazing to see such energy, creativity, fun and hope. Here with the final work is Helen Nisbet.
I'm still feeling a bit dazzled after such a glorious Art Night in Dundee. The project began as a twinkle in my eye a few years ago, but the realisation has been better than any of us imagined.

We had an audience of over 15,000 people. It felt like the best party we've ever thrown, with local folk, visitors, new friends and old.

It was all testament to the city, it's people and the artists we worked with. I want to thank everyone who supported us.

Helen Nisbet, Artistic Director, Art Night 2023
You can see info on the 10 Art Night Dundee commissions on the Bloomberg Connects App under DCA Dundee Contemporary Arts plus highlights from the Inwith Programme dca.org.uk/stories/article/bloomberg-connects
Heather Phillipson's exhibition continues at Cooper Gallery (until 1st July) Lucy McKenzie is at V&A Dundee (until 9th July) and Dundee Contemporary Arts's show by Saoirse Amira Anis is on until 6th Aug.
Categories
Tags