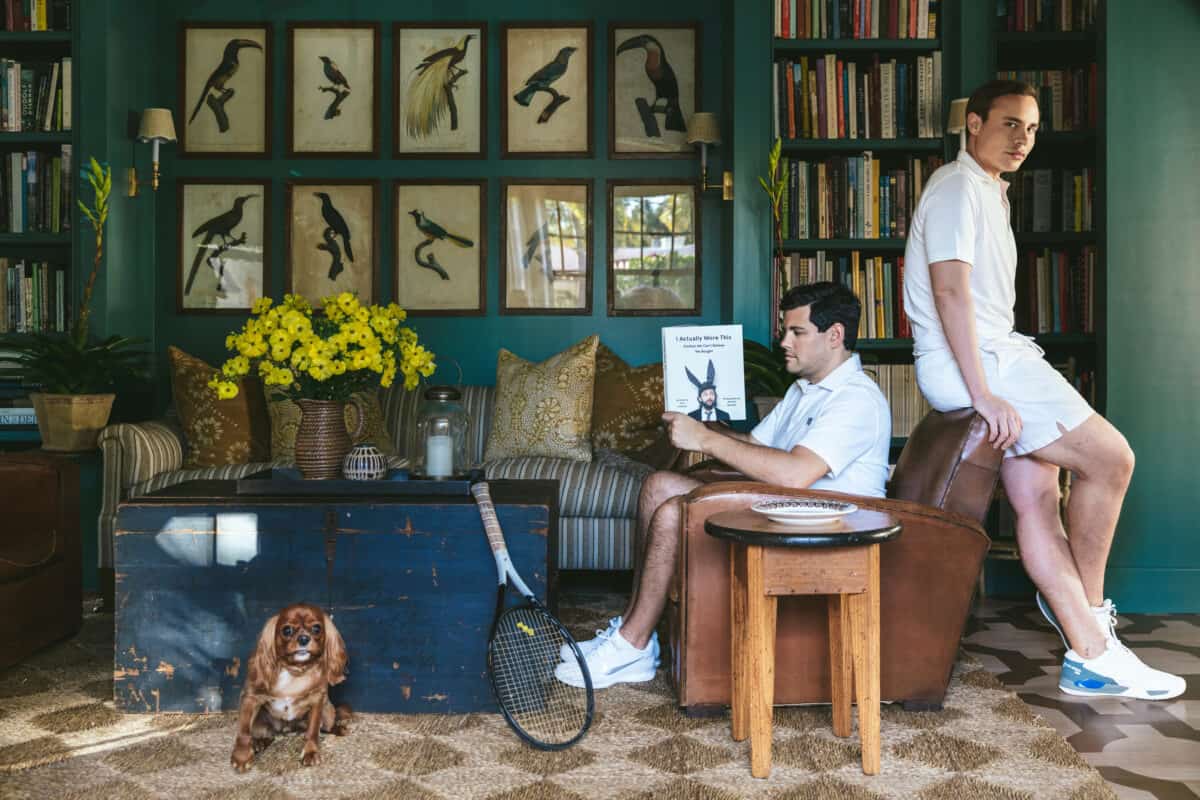 Vintage flipping, or the buying and selling of vintage and antique items for profit, has become increasingly popular in recent years. This is due in part to the growing popularity of vintage and retro styles, as well as a renewed appreciation for the quality and craftsmanship of antique items. Many people are now turning to vintage flipping as a source of income, or a way to supplement their existing income. This is especially true for those who have a keen eye for finding unique and valuable items at estate sales, flea markets, and thrift stores.
Jared Seligman, a real estate associate broker for The Corcoran Group in New York City, has such an eye — so much so that he's turning the inspiration from his vintage acquisitions into a housewares line. A combination of his love for classic items and his talent for design, each piece in Seligman's collection is slated to be a modern interpretation of a vintage original, reimagined for the modern home.
"It's great to mix and match different styles, periods, prices, textures, and materials. I love doing [very] fancy silver platters with a simple white modern CB2 [-style] plate. You could really mix quite a bit."
Seligman often finds himself perusing the inventory of thrift shops and estate sales, where he discovers exquisite pieces that can be incorporated into any home.
I see the most beautiful stuff for homes often in the [nonprofit thrift] store Housing Works or online,
he said.
There are a million places [to collect from] and [the item] doesn't always have to be the most expensive one in the room.
The real estate broker has a knack for finding the hidden value in vintage items, whereas others may initially overlook or undervalue these finds. With this talent, he's been able to generate revenue by reselling his treasures. "I went to the Grey Gardens estate sale and I acquired this set of dining chairs. I sold them at an auction for $100. I guess no one else thought of that as a long-term investment like I did," said Seligman.
He's also drawing from his own personal experiences and preferences as a homeowner to shape the development of his line. He has a unique understanding of the types of products that are most useful in a home — and the features that are most important to him and his loved ones — and he plans to bring those same elements to his collection. As the broker's own collection of unique items continues to grow, his artistry ensures a design that flows seamlessly, rather than seeming like an accumulation of random, kitschy items. He often displays this mastery when he's entertaining guests at his home.
China sets are probably my favorite. I've had an interest in homewares since I was able to spell the word 'hostess.' And I just love beautiful china. I always had a very hard time finding something that was a perfect blend of both traditional and Old World, but modern enough where it didn't look like I had my great-grandmother's sets of china everywhere. I hosted Thanksgiving for a group of people. It was a beautiful dinner and I had such an array, a mixture of brand-new things that I had just bought — some in particular for that dinner. Some I inherited from [my and my husband's] families. Another that was a set of china that I purchased at an estate sale in Southampton, New York, 15 years ago. It was from probably the early 1960s or '70s, and was based on a formal English print. Then I had these supermodern glasses. I always just try to be a little bit more unique. When it looks like you've purchased everything from the same place off the rack, it's just not as edited or stylish as something that a certain more sophisticated palate is accustomed to. And I think [you] should really have pieces that you love, and hopefully, if you didn't inherit them, you could acquire them through auctions and through even thrift stores.
Seligman, whose design work has been highlighted in the pages of Architectural Design, asserts that his upcoming line of housewares will not just be a celebration of vintage style, but also a tribute to the quality and craftsmanship of antique items. Each piece will be carefully crafted using high-quality materials, ensuring they will last for years to come. The collection will be made to be passed on to following generations, even for those on a budget.
It's just amazing to have something that hopefully our kids will see, that their great-great-great-grandparents used as well,
he remarked
But I would love to have sets of china that are affordable.
The housewares line is still in its research and development stages, concurrently with Seligman's real estate career attending to high-profile clients, and philanthropic efforts, as well as his personal life — by the way, congratulations are in order, as he recently wed his long-time partner, Max Schapiro. His real estate success has provided him with a wealth of experience and expertise that he plans to draw from as he creates his line.
I think the key to my success has always been the ability to multitask,
he revealed.
I'm sort of a one-direction type of a person, but I do have the ability to juggle a thousand things at once. It's important to keep your eye on the prize.
A seasoned entrepreneur, the Corcoran Group broker recognizes the importance of thoughtful and thorough research and planning when launching a new product line. For that reason, he is taking the time to carefully analyze and consider the direction he'd like to take with his new line. "I'm going to do some serious meetings and revisit my prototypes that I have," he shared. "From extensive amounts of research, I found a few really amazing [concepts] that are doing very well and a direction that I would like to go in."
Be sure to keep an eye out for Jared Seligman's housewares line. From elegant and functional dining essentials to beautiful glassware, every item is sure to be a true work of art that meets the needs of the modern home.
Categories
Tags