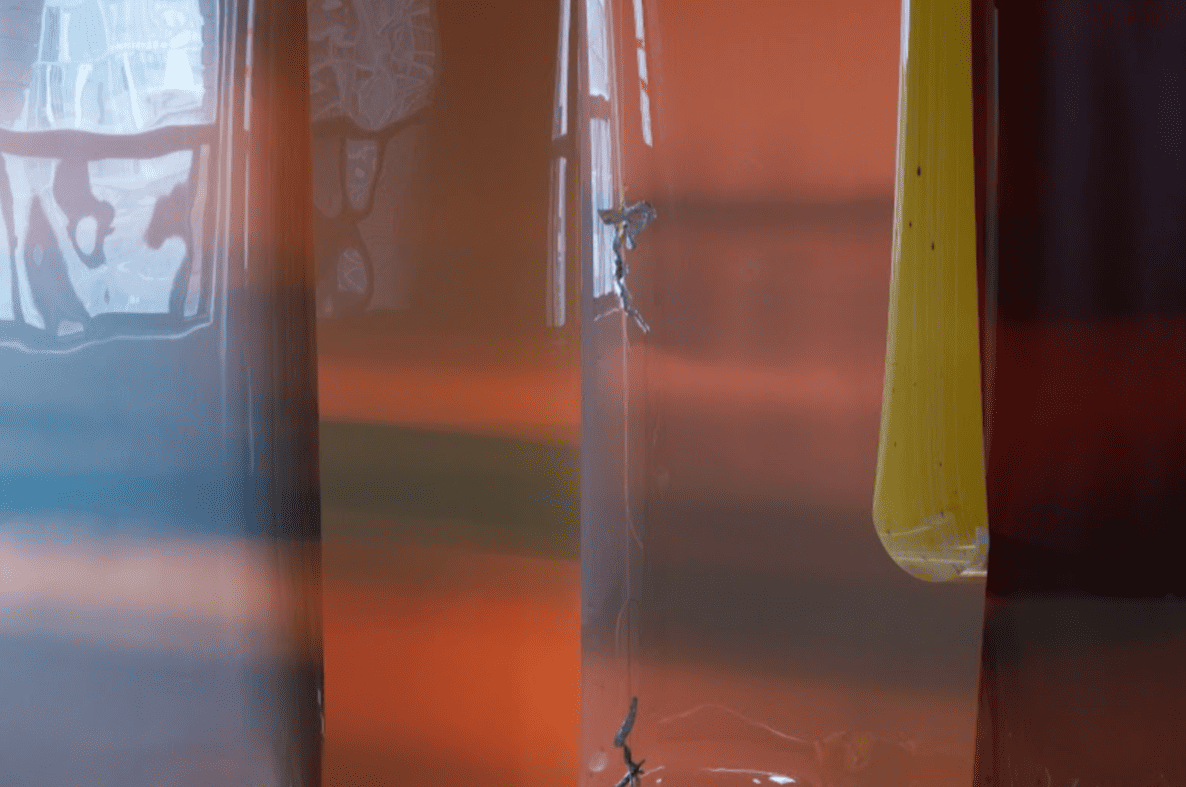 In Summer 2023, Chisenhale Gallery will present a major new commission and first institutional exhibition in Europe by Lotus Laurie Kang.
Rooted in an enduring concern with the body and the forces that shape it— political, affective and otherwise—Kang references biology, feminist theory and science fiction to stage richly layered, site-sensitive installations. Unfolding across drawing, sculpture and installation, swarms of fermentation vessels and scattered casts of vegetal matter might be found nestled under flex-track walls, skinned with swathes of unfixed, continuously developing photo paper and film. Kang's visceral works begin with the permeability and vulnerability of bodies, identities and personal histories, states of flux echoed in the artist's use of unstable and persistently sensitive materials.

For her Chisenhale commission, Kang will respond to the particularities of the gallery's site to produce her most ambitious installation yet. Comprising a series of sculptures and architectural interventions, the commission invites audiences to look up, where Kang's interest in the porosity of bodies and the flawed, leaky processes that underpin them, continue to unfold. Spanning a web of influences from the traditional architecture of a Korean courtyard house and epigenetic studies of rat pups, to lotus roots and food receptacles, Kang's commission — through its materials and processes — becomes both a literal and metaphorical tracing of time, histories and inheritances.
As part of the commissioning process, a series of events will be programmed in collaboration with Kang which will run throughout her exhibition. Kang's exhibition continues Chisenhale Gallery's Commissions Programme for 2023, which includes new commissions by artists Ravelle Pillay, Benoît Piéron and Alia Farid.
Lotus Laurie Kang at Chisenhale Gallery, 2nd June – 30th July 2023 Opening: Thursday 1 June, 6-8pm
About the artist
Lotus Laurie Kang's selected exhibitions include: Molt (New York-Lethbridge-Los Angeles-Toronto-Chicago- ), Museum of Contemporary Art Chicago, Chicago (2023); Mother Always Has a Mother, Mercer Union SPACE, Toronto (2023); Memory Work, Hessel Museum of Art, Annandale-on-Hudson (2023); Triennial: Soft Water Hard Stone, New Museum, New York (2021); Total Disbelief, SculptureCenter, New York (2019), If I Have A Body, Remai Modern, Saskatoon (2019); Beolle, Oakville Galleries, Oakville (2019) and Formula 1: A Loud, Low Hum, Cue Art Foundation, New York (2019). In 2022 Kang was the inaugural resident of Horizon Art Foundation, Los Angeles and also in residence at Triangle Arts Association, New York.  
Categories
Tags