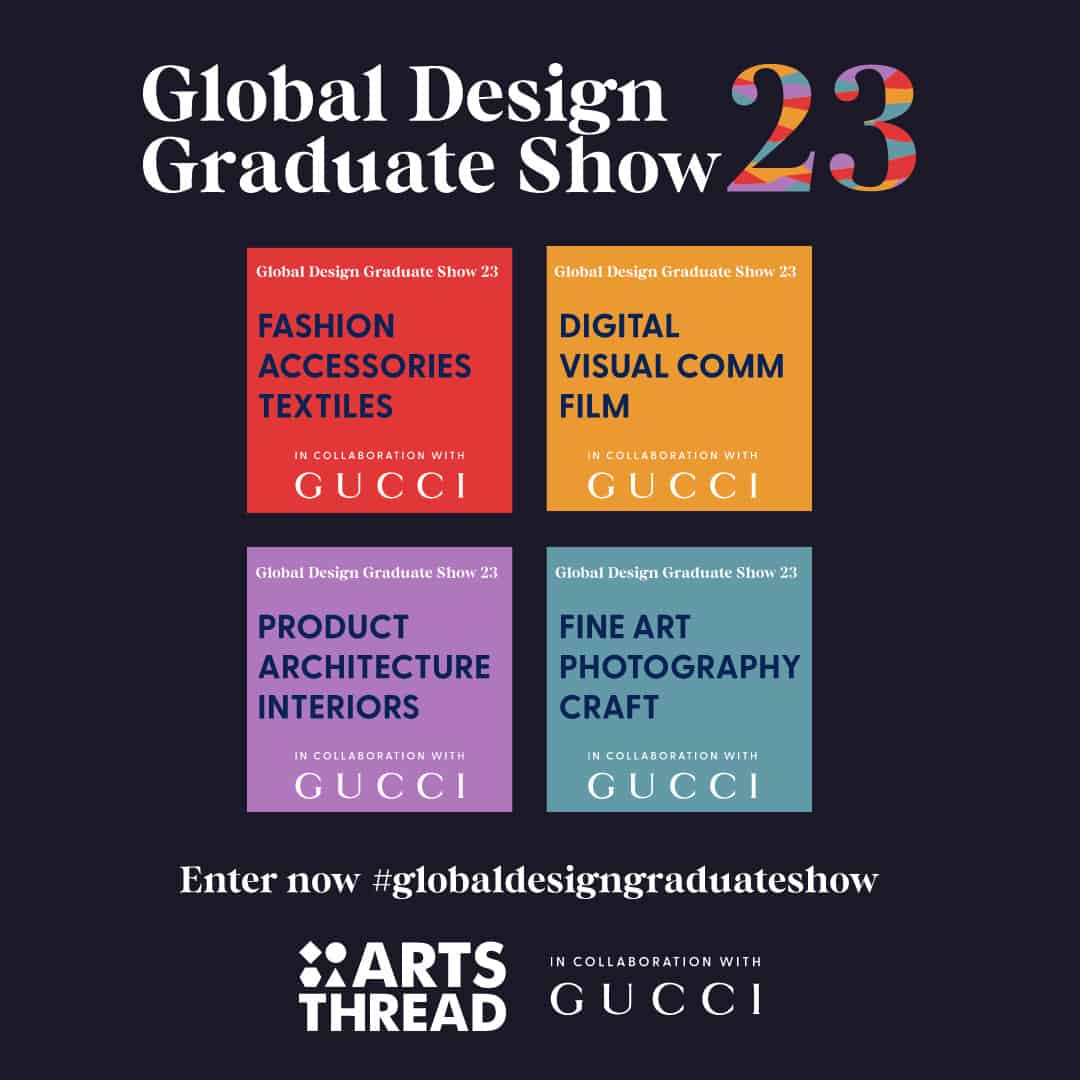 Arts Thread has launched the Global Design Graduate Show 2023 with GUCCI returning as the exclusive sponsor for their fourth consecutive year.
Launching at the same time is the Global Design Graduate Show's virtual gallery & stories on Google Arts & Culture.
Google Arts & Culture Stories
Google Arts & Culture Pocket Gallery
Just like previous years, Arts Thread will showcase all of the finest end-of-year work from all creative students graduating this year in every art & design category, such as visual communication, film, fashion, textiles, interior, architecture, visual arts, contemporary craft, industrial & product design and more.
Last year's Global Design Graduate Show was a huge success with 5489 entries representing 117 countries from 439 higher education institutions, surpassing the previous year's achievement. There was a combined editorial and social reach of 23 million. Over the last 3 years hundreds have gained employment or launched their own brands thanks to this proactive initiative – making it the only global showcase of graduating artists & designers worldwide.
This year sees Arts Thread's Global Design Graduate Show partner with Google Arts & Culture GA&C to create an area on the GA&C site showcasing the success stories of previous Global Design Graduate Show winners as well as a virtual gallery for the winners from 2022.
The collaboration with Google Arts and Culture means that students' work will reach a further audience which can help launch their independent businesses or gain employment within the creative industries.
The Global Design Graduate Show 2022 saw great success, with even more art and design students from across the globe submitting their final end of year projects onto the Arts Thread digital platform than in 2021. Global Design Graduate Show 2022 stats:
5,489 entries in total to the online showcase
117 nationalities
439 art & design universities/colleges worldwide took part
500 students were shortlisted from the entries received by our panel of independent expert judges
187,352 votes cast in the public vote
150 Industry judges
The Global Design Graduate Show 2023 is now open to all art and design students graduating in the Academic Year 2022-23 – i.e. September 2022 to August 2023 (undergraduate, graduate and postgraduate) in any related creative discipline, located anywhere in the world.
Students have until August 31st 2023 to upload their end-of-year projects onto the Arts Thread platform. A team of independent judges will narrow the work down to a shortlist of creatives whose work will be displayed on artsthread.com. The jury will choose their winners and there will also be a public vote, which will allow the global audience to see the submissions whilst voting for their favourites.
As in previous years, Arts Thread has invited some of the most respected creatives from around the world to choose their favourite designers & artists from the shortlist. The Global Design Graduate Show Judges are:
Fine Art, Photography and Craft 
Alison Cole The Art Newspaper / Andrew Durbin Frieze / Mark Westall FAD Magazine /Atty Tantivit ATTA Gallery / Chantelle Purcell Artist Hive Studios / Chris Cheung XCEPT / Dan Goode Making Goode / David Hershkovits Paper Magazine / David Sandu Assamblage & Romanian Jewelry Week / Dima Abdul Kader & Nikki Meftah Emergeast / Emily Hlavá? Green / Freya Murray Google Arts and Culture Lab / Gaynor Andrews The Goldsmiths' Centre / George Livieratos / Holinka Escudero The Jewellery Activist / Iona Rowland / Iris Qu /James Nicholls Maddox Gallery / JB Jones & Bella Neyman NYC Jewelry Week / Justyna Teodorczyk Gallery of Art in Legnica / Karen Olson American Craft Council / Keith Brymer Jones MAKE International / Ninette Murk Beauty Without Irony  / Peter Manning Prefab77 / Piyush Suri Handmade in Britain / Rosemary Steen Design & Crafts Council Ireland / Sam Barzilay Photoville
Digital, Visual Communication and Film 
Aaron Skipper TBWA\Media Arts Lab / Aurélia Durand / Ayo Fagbemi Explorers Club Studio / Barry Fantoni / Ben Lavender Trustpilot / Cosimo Surace Stranger & Stranger / Dave Gibson Draught Design / Dina Amin Tinker Studio / Eliza Williams Creative Review / Francis Wong WARC / Garry Moses Yane Duggal / Ged Equi Caffeine Partnership / Gion-Men Kruegel-Hanna HEAD / Glen Tarr gt&i / Harry Hoskyn Spring Studios / Ilaria Pasquinelli  Cannes Lions / Jonina & Bradley Skaggs Skaggs / Keiran Mistry YouTube Creative Studio EMEA / Lars Denicke Pictoplasma / Lianne Llewellyn The International Emerging Film Talent Association / Lisa Nappin Avatar Creative / Luke Green & Fraser McNiven Studio Goblin / Marcus Werner Willow Glen Films / Matthew Treasarden Nike Maxim Young Gorilla Editors / Nathan Jurevicius / Nebojša Jovanovi? Sarajevo Film Festival / Nicholas Yearwood MangoTree / Nizzar Ben Chekroune Nception NFT / Piers Fawkes PSFK / Priscilla Ober Mary Kay / Rana Sidahmed Avery Dennison / Sandra Borszcz The Big Draw / Sarah Fonder PRINT Magazine / Sasha Vidakovic SV Design / Sheridan Demyers Running Films / Will Bernard Bath & Body Works
Fashion, Accessories and Textiles 
Alan Scott / Alexis Katana Gucci / Angela Fusco Balmain / Anna La Germaine Fashion Politique / Ayotunde Rufai Jendaya / Bernie Thomas / Beth Esponnette Unspun / Billie Whitehouse Wearable X / Branko Popovic FASHIONCLASH / Daren Abney Lenzing / David Clementoni Italian Artisan / Debbie McKeegan TEXINTEL / Desolina Suter Première Vision / Doreen Adusei Fashion Works / Ebru Ercon Athleta / Edwina Kulego Informa Markets / Emma Lundgren Amazon / Gayle Smith / Hannah Lane Redress / Helen Palmer WGSN / Jane Kellock USP / Jay Solanki Qasimi / Jeff Banks / Jennie Rosen Swedish Fashion Council / Jens Laugesen / Jonathan Cheung / Julia Browne Melbourne Fashion Hub / Julian Vogel ModusBPCM / Kat Holmes Whet Creative / Katie Greenyer Pentland Group / Kristina Szasz Hugo Boss / Lee Holman Tommy Hilfiger / Lee Myers Zefyr / Leslie Holden & Sean Chiles, The Digital Fashion Group / Lilith Hovhannissian 3.1 Phillip Lim / Mark Warburton Purdey / Matteo Bellentani Clarks Originals / Mizue Koda Everlane / Natalia Koter IBEFF / Neil Elliott Patternbank / Nikita Jayasuriya The Mills Fabrica / Orietta Pelizzari & Matteo Bardi Mattori / Paul Glynn Nordstrom / Paul Vogel / Phil Dickinson LuluLemon / Rocco Gaglioti FNL Network / Sacha Gomez Purple Brand / Sara Sozzani Maino Vogue Italia / Sarah Rutson / Satish Tailor Vollebak / Shane Cullen Gap inc / Simon Ungless / Sonia Martin BREW Creative / Sophia Lewis Closed / Stefano Martinetto Tomorrow / Steven Burns Levi's / Stuart McArthur Nike / Susanne Tide-Frater / Tamsin Blanchard Fashion Open Studio / Tricia Carey Lenzing / Zaid Affas / Zihaad Wells True Religion / Zak Maoui GQ
Product, Architecture and Interiors
Adrian Jankowiak Nairobi Design Week / Alberto Perazza Magis / Chris Livaudais Giving Gravity / Clodagh / David Morris Design Exchange / Dr Jenny Russell Royal Institute of British Architects RIBA / Ellie Stathaki  Wallpaper* / Ewa Dominiak / Federica Bertolini Azimut Benetti Group / Gabrielle Kennedy DAMNº Magazine / Howard Lichter Arc'teryx / Ilene Shaw NYCxDESIGN / Ilona Gurjanova Estonian  Association of Designers / Ingrid van der Wacht Dutch Design Foundation / Iza Rutkowska Forms and Shapes Foundation & Zoochitecture Studio / Jamie Drake Drake/Anderson / Jose Cabaco adidas / Jose dos Santos Signify / Luca Putteman United Nations IOM / Madeleine Lucke Architectural Digest / Maha Kutay & Woody Yao Zaha Hadid Design / Maja Lalic Mikser Association / Matteo Battiston Luxottica Group / Max Fraser Dezeen / Mazbahul Islam Safewheel / Milan Dinevski Protokolektiv / Nick Chubb IDC / Oli Stratford Disegno / Phillip Hollander Houtlander / Pia Engvad The Lego Group / Richard Elder / Sebastian Conran Conran & Partners / Stig Hansen Democratic Eyewear / Stuart Constantine Core77 / Thabisa Mjo Mash. T Design Studio / Tim Wykeman MillerKnoll / Tim Marlow OBE Design Museum / Tom Meades Gomi Design
TIMELINE 
WHO CAN APPLY: Free to apply and open internationally to all art and design students graduating in the Academic Year 2022-23 – i.e. September 2022 to August 2023 (undergraduate and postgraduate) in any related creative discipline, located anywhere in the world. 
DEADLINE TO APPLY: August 31st 2023 23.59 NYC 
CATEGORY AWARD WINNERS ANNOUNCED: October 2023
COMPETITION LINK: globaldesigngraduateshow.com 
Katie Dominy, Co-Founder ARTSTHREAD
Arts Thread is immensely proud to be partnering with Gucci for the fourth year on the Global Design Graduate Show. We look forward to building on the success from last year, providing yet more opportunities for the artists and designers graduating this year.
About Gucci
Founded in Florence, Italy, in 1921, Gucci is one of the world's leading luxury brands, led by President and CEO Marco Bizzarri and Creative Director Sabato De Sarno. Following the House's centenary, Gucci forges ahead into the next hundred years, continuing to redefine luxury while celebrating the creativity, Italian craftsmanship, and innovation at the core of its values. Gucci is part of the global luxury group Kering, which manages the development of a series of renowned Houses in fashion, leather goods, jewelry and watches. Discover more about Gucci at gucci.com.
About Arts Thread
Arts Thread is the world's leading digital platform for emerging artists & designers and a launchpad for the next generation of creative talent. Arts Thread has built relationships with over 950 creative institutions connecting us to over 400,000 students in approximately 130 countries and has partnered with leading brands, organisations, events, media to help launch the next generation of creative talent globally. For further information about Arts Thread visit artsthread.com
Categories
Tags