A townhouse at 195 Mare Street in Hackney is a bit of a local celebrity, it's now even got its own Instagram as it enters a new era in the building's centuries-spanning history.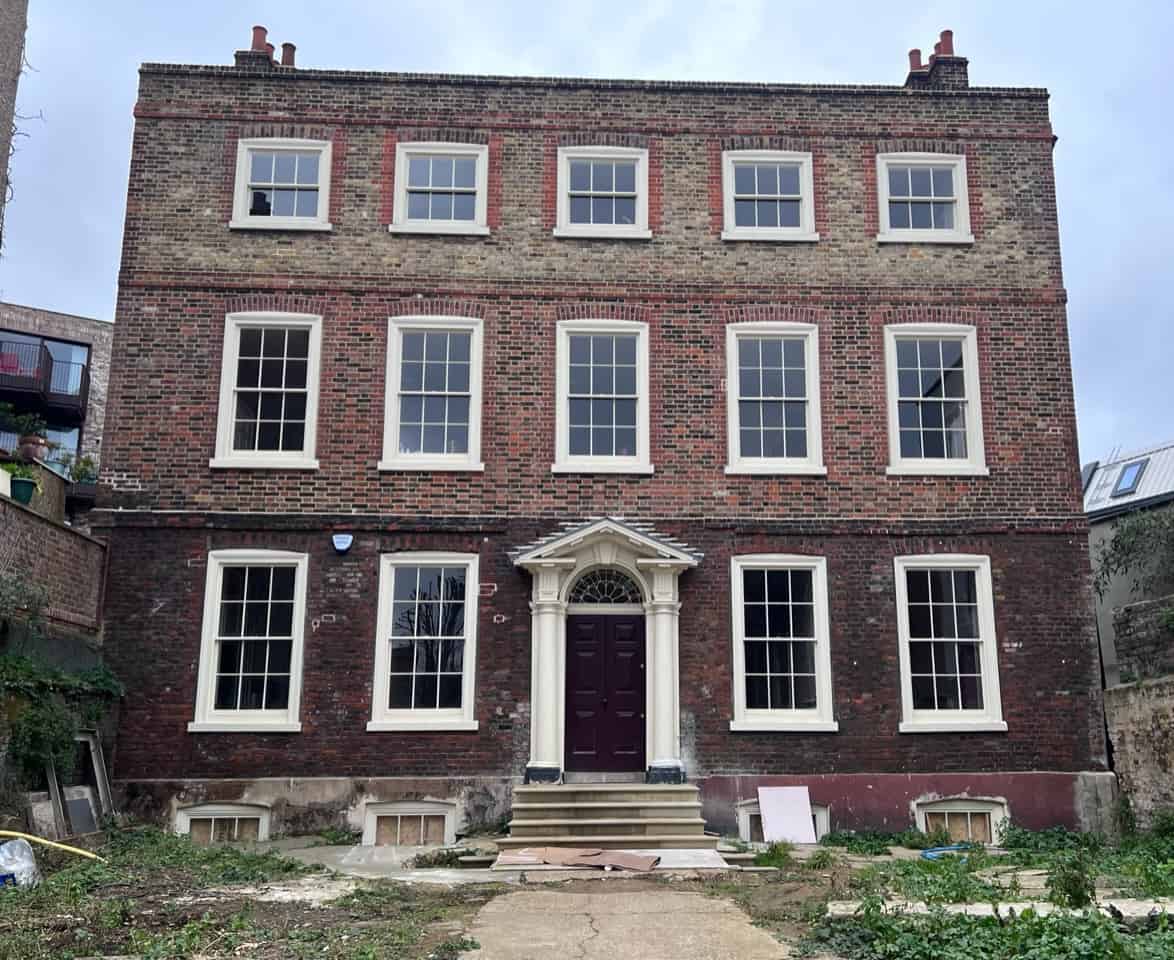 The current owners have rescued what remains of the Georgian mansion after it suffered a couple of decades of being bought and sold by developers, with several rounds of squatters the only occupants since 2004. Planning permission to convert the four-storey house back to its original use as a family home was eventually granted earlier this year.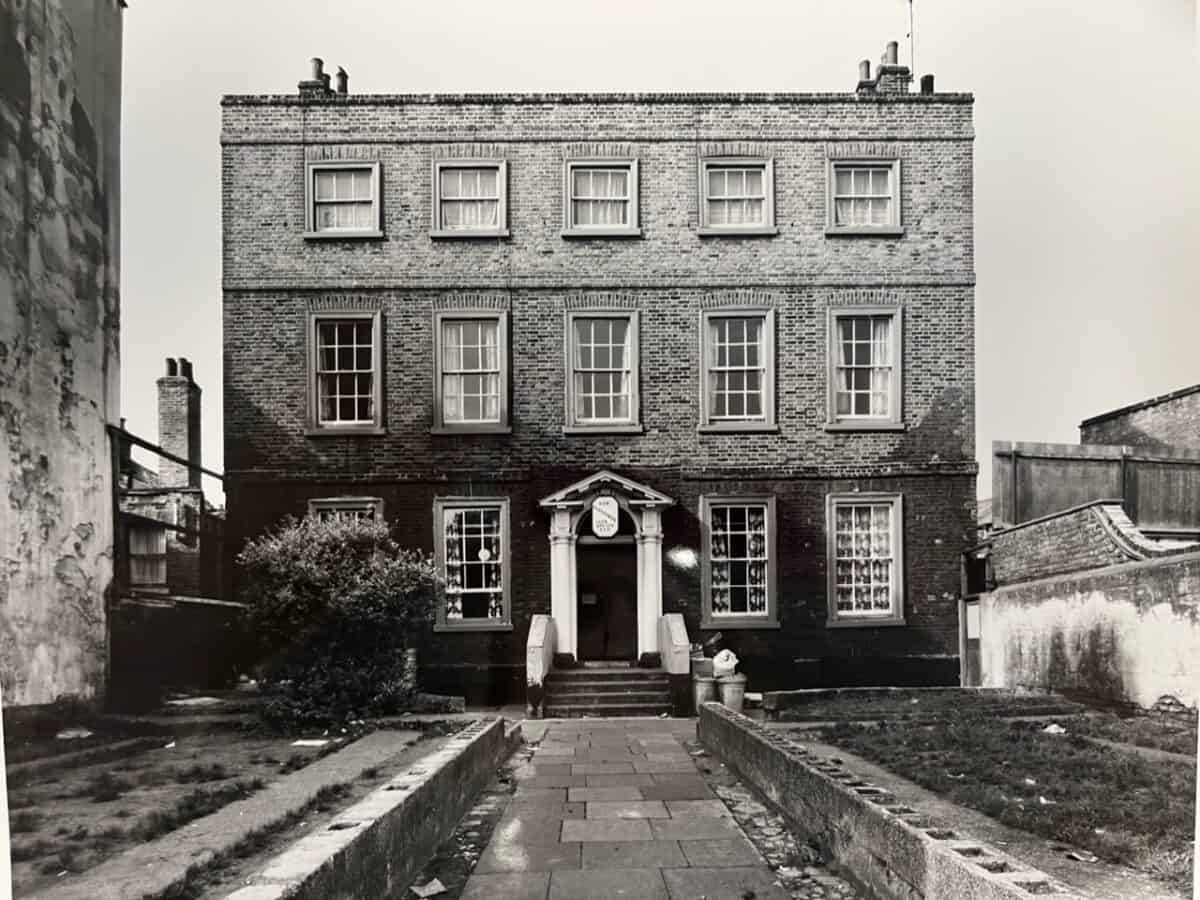 While waiting for approval, Elizabeth Prochaska and her husband invited local artists to return to the space ahead of establishing a permanent community arts centre on the lower ground. Many remember exhibiting and partying at the house during the squat years – autonomous communities succeeded in creating the type of cultural hub the area – like most London neighbourhoods – sorely lacks. 
So far this year, Magnum photographer Olivia Arthur was able to use one of the halls to test a large-scale installation ahead of a solo exhibition; Kate Goodrich, an artist who is also a gardener, used the outdoor spaces as inspiration for her punk botanicals; while several of the smaller rooms serve as temporary artist studios.
Artist in residence Emily Tracy not only responds to the building with her own site-specific work, she also runs a weekly Make Club for young children who are invited to explore the house and imagine stories about its former inhabitants. The property provides at least as much excitement for grown-up visitors with its colourful history and original features dating back to the 17th century, each generation of dwellers having left their mark. An Open House event on 13th May offers a chance to see the house before restoration of the interior begins, to share memories and meet the owners – entry is free, booking essential.
A human rights lawyer with a particular interest in reproductive rights, Elizabeth Prochaska has turned one of the bedrooms into her study to work on a book about the history of childbirth. At a century's distance, she follows in the footsteps of social reformer Elizabeth Fry who campaigned for the rights of women prisoners. The house became a refuge opened in her memory in 1860 when women and girls as young as eleven were sent here to be 'reformed' before moving on to become domestic servants. 
In 1913 the house was turned into a working men's club for the next 90 years. The Lansdowne Liberal and Radical Club extended the building to incorporate a large concert hall that was used by the army's Home Guard during the war. Apart from bomb damage to the front wall and top floor, the house survived the war relatively unscathed and is one of the very few remaining examples of the area's more prosperous past – and that era's inescapable associations with colonialism. The house was built by a merchant and member of the East India Company in 1697 and was later owned by a Tory MP who advocated for the interests of slave owners.
The house at no. 195 is not the only site on Mare Street to boast a colourful past. Renowned for its scientific expertise and a palm house predating Kew Gardens, Loddiges Nurseries was one of the first to import and cultivate exotic plants. Trading throughout the 18th and 19th centuries, rising land prices and increased pollution led to the garden's closure and sale of land in 1852. Brazilian muralist Thiago Mazza, who is well known for his representation of fauna and flora in urban environments, has been commissioned to reflect Mare Street's botanical history and create a large-scale mural on one of the adjoining walls.
With many aspects of interest for artists to respond to, creative projects will continue throughout the summer as renovation works begin. In early June the house will host a solo exhibition by Sam Hodge who will be showing prints made with materials found around the property. Extracting pigments from soot and dust, weeds and rubble the prints will be the latest in a series of works that trace the artist's everyday encounters with abandoned or discarded materials.
The exhibition ends on the weekend of 10/11 June when Sam Hodge will be joined by local artists and makers as part of the annual E8 Art & Craft Trail.
195marestreet.co.uk | @that_house_on_mare_street/  e8artandcrafttrail.co.uk/trail/195-mare-street/
Artists mentioned:
Olivia Arthur: @oliviarthur
Kate Goodrich: @kate_goodrich_studio
Sam Hodge: @samhodgeart
Emily Tracy: @emilytracyart
Thiago Mazza: @mazzolandi 
Categories
Tags