Last year, Osman Yousefzada presented 'What Is Seen And What Is Not' at the V&A, where he explored themes of displacement, migration and movement.  The interdisciplinary artist continues to explore these themes, as well as questions of gender identity and the folklore of ancient Pakistan, in 'Rituals and Spells' a solo show at Cromwell Place, a stone's throw from the V&A, presented by Silvia's Mother Presents. 
The British-South Asian artist and writer Osman Yousefzada lost his beloved Mother last year, and her presence and influence can be felt strongly in 'Rituals and Spells', which features works on paper, installation, ceramics and textiles.  Yousefzada's handcrafted textiles and wrapped objects exemplify traditional and contemporary techniques of Pakistani craftsmanship and examine his cultural heritage and the creative and spiritual legacy left by his late Mother.  
Through the 'Rituals and Spells' exhibition, Osman contemplates the immigrant experience and examines his creative DNA and the concept of diaspora by reconstructing work created by his Mother through textiles, embroidery and installation, creating protective talismans inspired by the cultural legacy of Pakistan.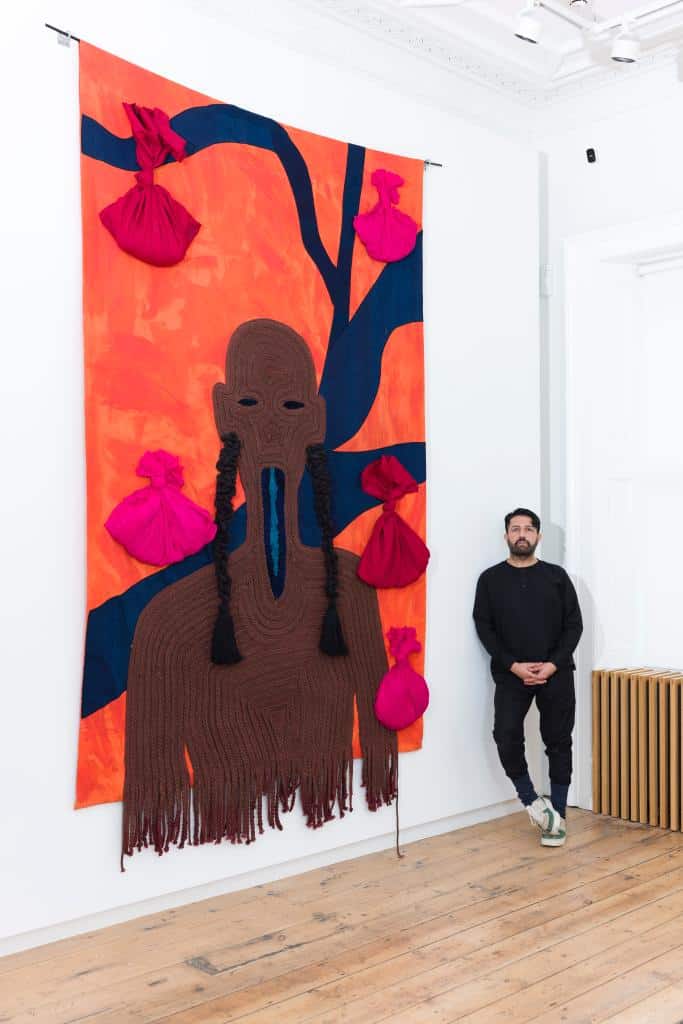 Pictured: Osman Yousefzada
I caught up with Osman at the exhibition and got some insights into the exhibition: 
Lee Sharrock: What are the main themes you are exploring through your work in the Cromwell Place exhibition – are the central themes examining gender, immigration and the ancient talismans and folklore of South Asia?
Osman Yousefzada: "I think the main themes I'm trying to explore with the exhibition 'Rituals and Spells', are; gender, ancient Talismans as protective objects can give you; and women's work as an act of resistance, which becomes the ability to be able to build up a language and a body of work, which is just like normal home-making.  But how do you take that home-making into a more layered conversation?  
On one side it's me trying to reimagine or reconstruct ways of making of my Mum, but there are also figurative elements I bring into my work that are inspired a lot by the Falmana – The Book of Omens – they were used as Tarot cards on the streets of Northern  India. And then I equate that again to this idea of migration: when you turn over a tarot card, you don't know what your destiny is going to be like. The act of turning which reveals something, the same thing happens when you migrate, you don't know whether you're going to be a 'successful immigrant' or not. I think that's actually something which is really quite key, because in a sense you're going into the unknown, and hence you need some sort of Talisman to guide you or protect you. 
You have mentioned that your artistic practice owes a lot to your late Mother, who sadly passed away last year. How did she influence you creatively, and how do you express this through your art?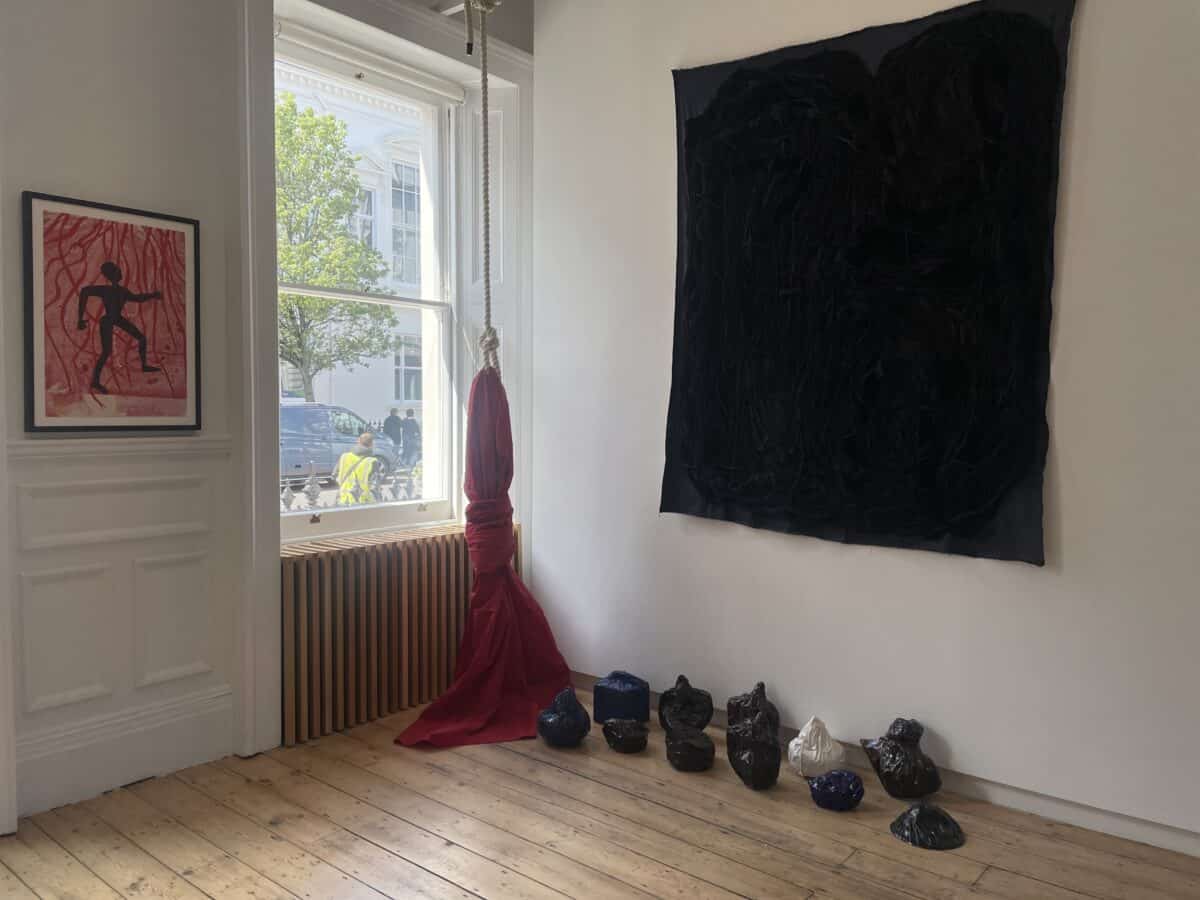 I think as someone who probably doesn't always fit into dominant masculine roles, and inhabits realms of alternative realms of masculinity, the work of women is something that's always naturally attracted me. These figures represent the act of making, home-making and constructing homes to have an element of protection, or wrapping or moving. All of these things I try to do with the work I make. So these are kind of versions or reconstructions of work my mum did as a home-maker and a protector.  It's also the idea of immigrants, and the work that immigrants do: what is valid and what is not valid. Without immigrants you don't create layered societies and rich societies. My parents came from very rural areas – they were illiterate and couldn't read and write – into very sophisticated urban areas. These kind of contradictions create something very beautiful for me. 
What other exhibitions do you have coming up?
I'm going to be part of a group show at the Whitechapel Gallery, I will have a show at the Scottish Museums, and a group show at the Goodman gallery, and a few more that I will be announcing.  
'Rituals and Spells' is on until Sunday 23rd April at 4 Cromwell Place, South Kensington:  cromwellplace.com/osman-yousefzada-rituals-and-spells
Osman's book 'The Go Between', a coming-of-age story set in the 80s & 90s which opens up a window into a closed migrant community is published by Cannongate: osmanstudio.com/The-Go-Between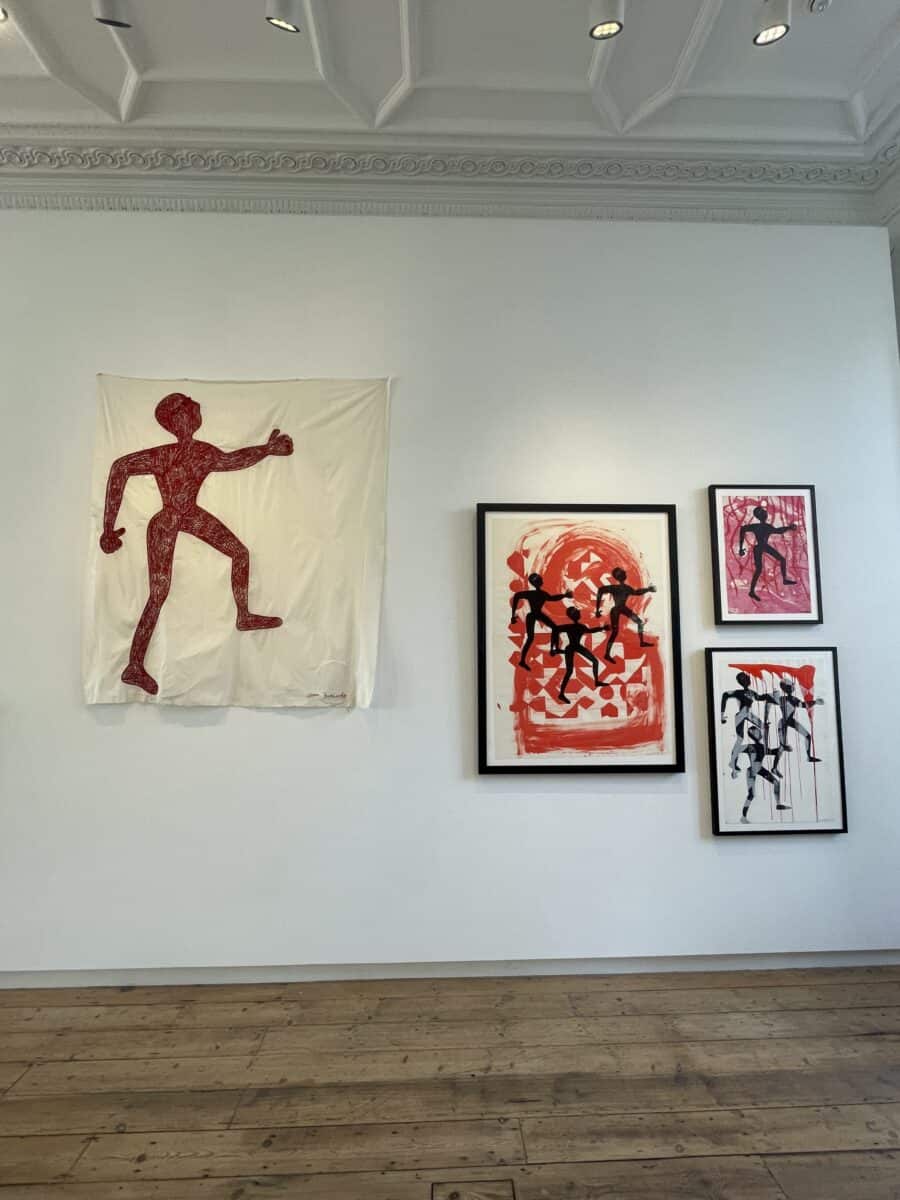 Categories
Tags