Conceived as a nomadic project space in the immediate aftermath of closures and lockdowns, OHSH Projects have organised a dozen exhibitions at a former restaurant in London's West End, guest-hosted pop-ups on- and off-site and have just taken up residence of additional premises in Peckham.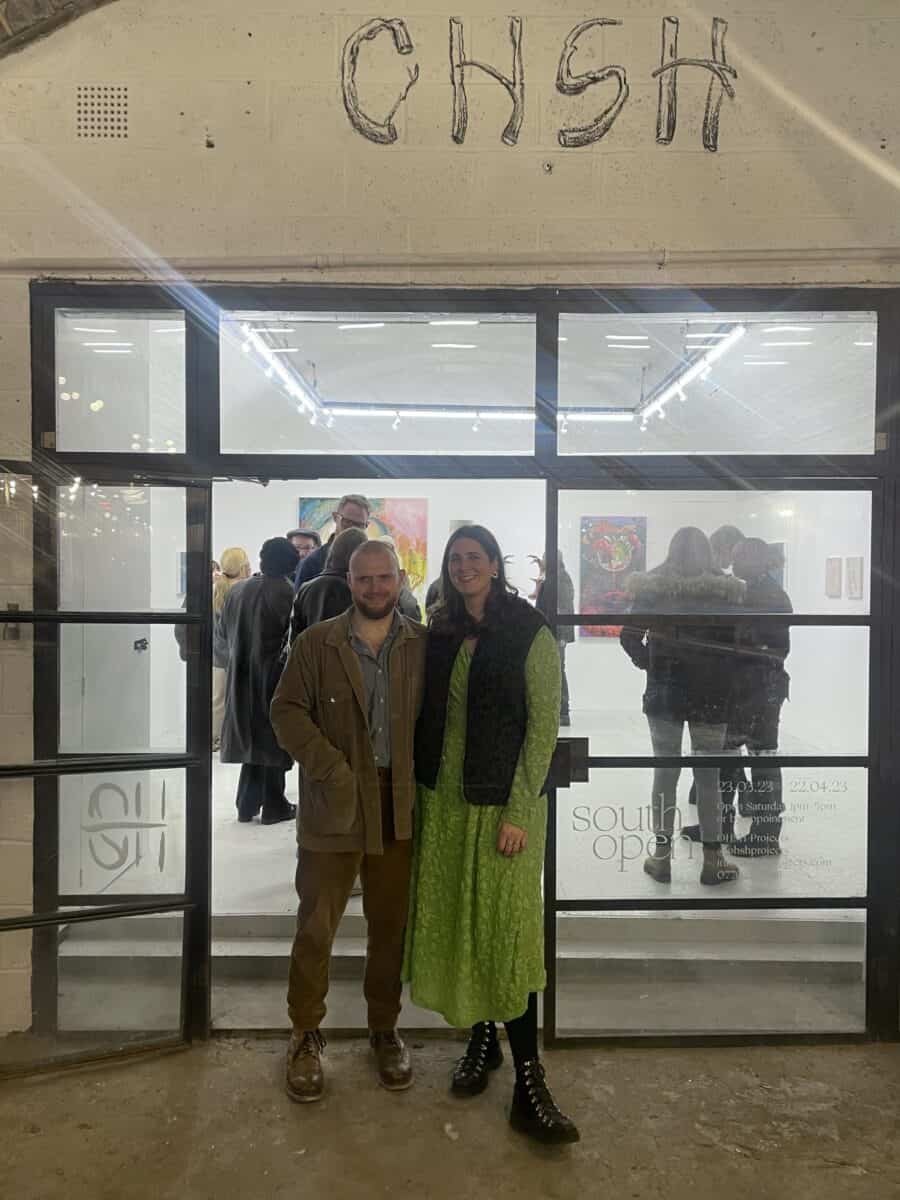 OHSH is an acronym made up of its founders' entwined initials, the name's visualisation symbolic of the duo's synergetic approach with Sophia Olver's graphic design developed around Henry Hussey's hand-drawn symbol. On a practical level, Hussey sets the curatorial tone with Olver taking the operational lead. Together they have developed a blueprint for a successful art- and artist-led enterprise embedded in a healthy ecosystem. Their concept of providing 'institution scale on a shoestring budget' is attracting the attention of a growing number of artists, galleries and collectors.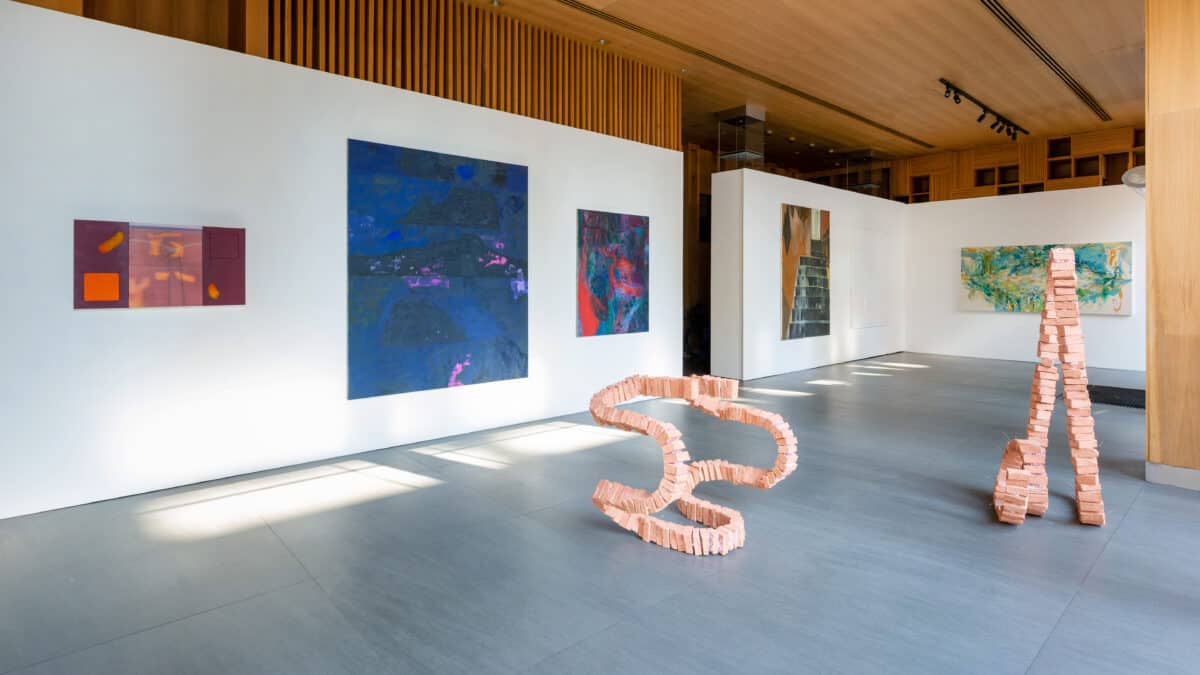 Hussey's curatorial approach is a natural expansion of his fine art practice which draws on ancient mythology and symbolism to decode the paradoxes and inner struggles of modern life. The inaugural exhibition, 'Economy of Errors', provided a confidently physical response to the remote and disembodied existence we were emerging from in April 2021. The search for meaning in post-pandemic times continued with 'The Holy Grail' in June and two parts of 'Dreamlands' which presented utopias by invited artists alongside those selected via an open call.
Year two started with an investigation into still lives created as our lives stood still and continued with an exploration of collective belief systems with 'Post Totem', before contemplating artistic responses to ensuing conflicts with 'God of War'. The topic will be picked up again this year as part of a curated series of 'art in conflict' at Cromwell Place OHSH have been invited to contribute to. Named after the Olympian god of war and courage, 'Ares' features new works by the initial group of artists, some on loan from established galleries.
After a dozen exhibitions and an extended stay at New Oxford Street people have started to learn how to pronounce OHSH (phonetically /??/ rhymes with 'gosh') and no longer read the downstairs space with its shiny wipe-down walls and broom cupboard-sized offshoots as a repurposed commercial kitchen. The lower gallery acts as an exciting platform for site specific installations and imaginative displays, the flickering neon in one of the smaller rooms a recognised feature that has inspired some excellent curatorial surprises.
Opportunities for showing challenging or large-scale works are rare in an environment under immense economic pressure. Exhibitions and installations in spaces earmarked for refurbishment are exciting for artists and visitors alike. While work on most of the larger developments halted during the pandemic has since resumed (such as Fulham Town Hall or Chelsea Sorting Office), commercial landlords in Central London increasingly recognise the benefits of collaborating with artists and curators to keep high streets relevant while retailers are struggling. The Koppel Project and Hypha Studios are now well established and run multiple sites across town.
OHSH is an example of a truly independent project that is neither linked to any particular property or landlord nor in competition with commercial galleries. Generous gaps between shows provide artists with time and space to work outside conventional frameworks or sales implications. This allowed Hynek Martinec to expand his painting with an elaborate mural for last autumn's 'Absurd'. He has returned to rewrite the lettering above the windows for several exhibitions. Most recently, Mark Jackson made good use of several weeks' access ahead of his solo exhibition and created a bespoke installation on-site.
2023 kicked off with 'Artist's Artist' which positioned the peer-led approach as one based on mutual recognition and support irrespective of celebrity status or auction results. With the next group show in the pipeline for April, the number of exhibited artists will soon top 150. Add to this a growing network of artists providing technical or moral support, and gallerists loaning work or scouting for new talent.
'South Open' is now open and runs until 22nd April at Peckham Arches, Unit 5, Dovedale Trading Estate, London SE15 4QN
Artists: Paula Baader, Solanne Bernard, Charlie Chesterman, Elena Gileva, Magdalena Gluszak-Holeksa, Lucile Haefflinger, Kyungseo Lee, Rebeca Romero @ohshprojects/
'Ares' is part of Art in Conflict at Cromwell Place from 30th March to 8th April private view March 29th, cromwellplace.com/whats-on/art-in-conflict
Artists: Carl Anderson, Anya Charikov-Mickleburgh, David Cooper, Martyn Cross, Jo Dennis, Michael MacGarry, Hugh Mendes, Justin Mortimer, Salvatore Pione, Miroslav Pomichal, Joe Preston, Tamsin Relly, Tim Shaw RA, Thom Trojanowski, Becky Turner, Harry Whitelock
Categories
Tags