Middle Finger, Ai Weiwei's new interactive online artwork which invites people around the world to offer their own perspective on power, has surpassed 10,000 global submissions in its first week.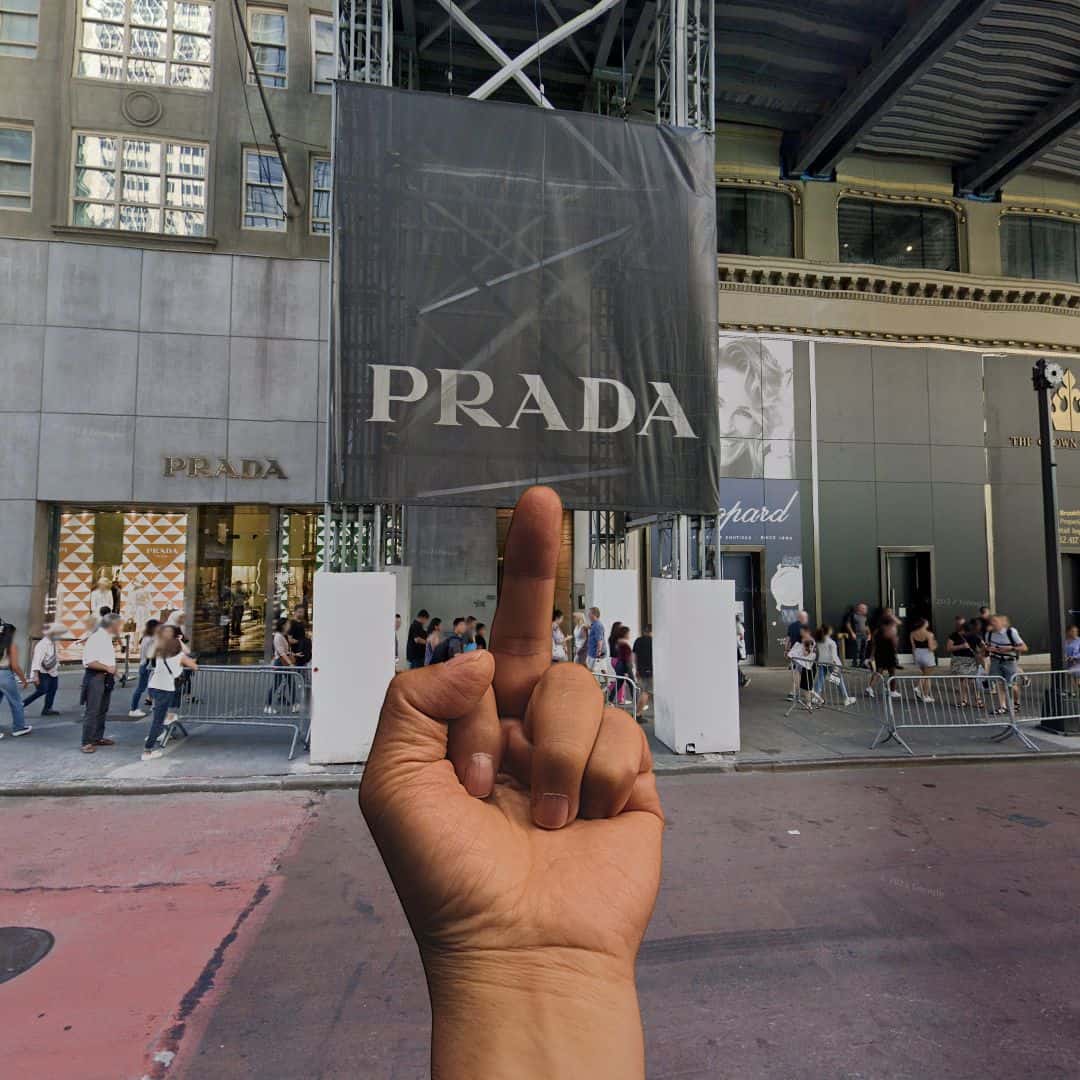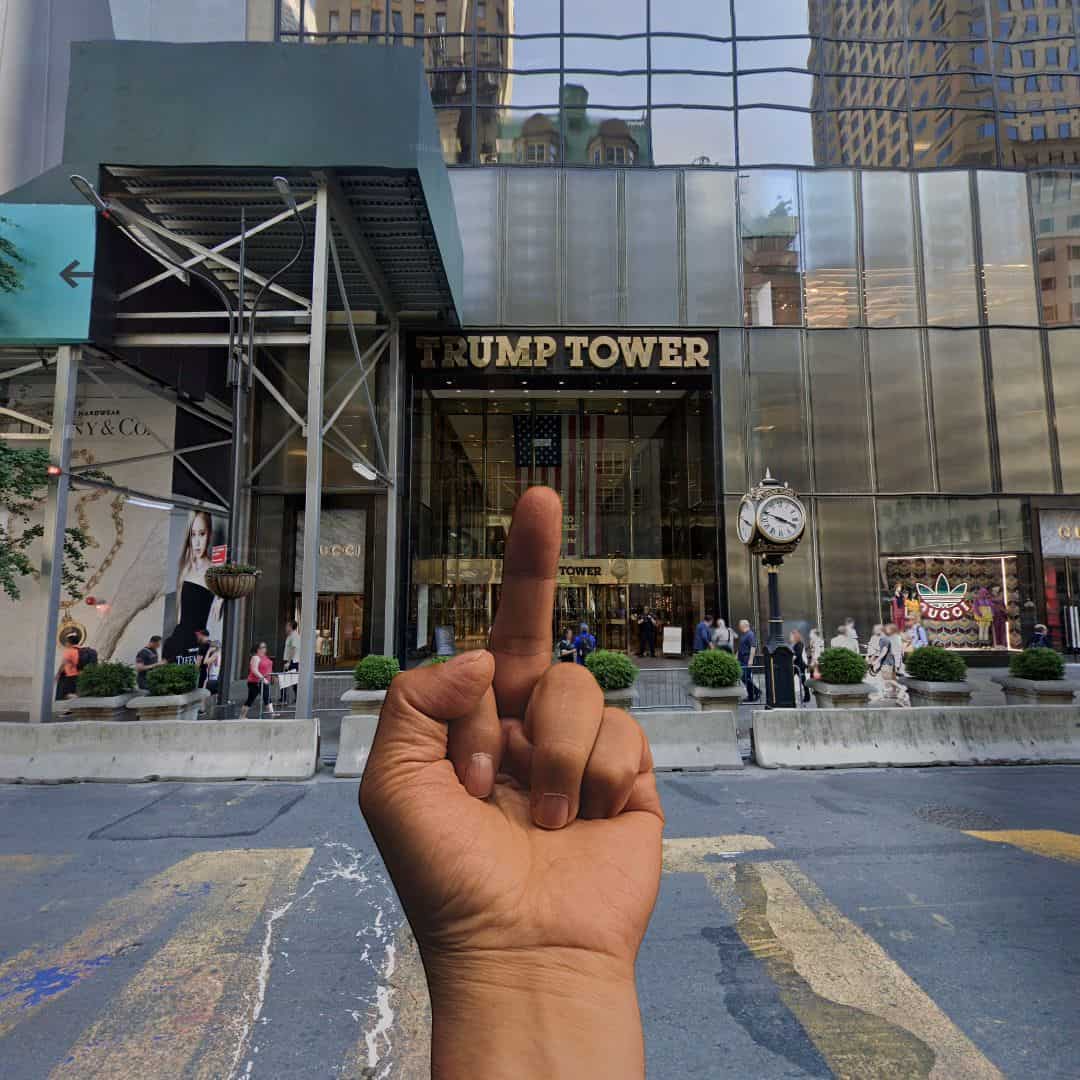 Since launching on Thursday 16th March, participants have chosen to 'flip the bird' at locations around the globe including Trump's residence at Mar-a-Lago, St Basil's Cathedral in Moscow, the British Houses of Parliament, a Prada store and a RyanAir flight. The submissions vary greatly from the personal to the political and range from places of worship, businesses, airports and financial districts to political and royal buildings, and residential spaces alongside submissions that push the limits of what can be sourced on Google Maps.  
I think often we forget we have the middle finger. Or, even when we know we have the middle finger, we are misusing it. So, I think it's a good idea to see that part of your body can point to something, or an institution, or someone who resembles power, and just to let them know and to let yourself know that you exist, and to be yourself for that moment is very crucial.

Ai Weiwei
Middle Finger, is part of a collaboration between Ai Weiwei and Avant Arte in support of the Design Museum. Middle Finger remains open for the public to take part and add their own perspective to the growing archive that can be viewed online. The collaboration also comprises a series of limited editions of new works by Ai Weiwei that will be released on Avantarte.com with proceeds going to support the work of Design Museum ahead of their upcoming exhibition, Ai Weiwei: Making Sense which opens 7 April 2023.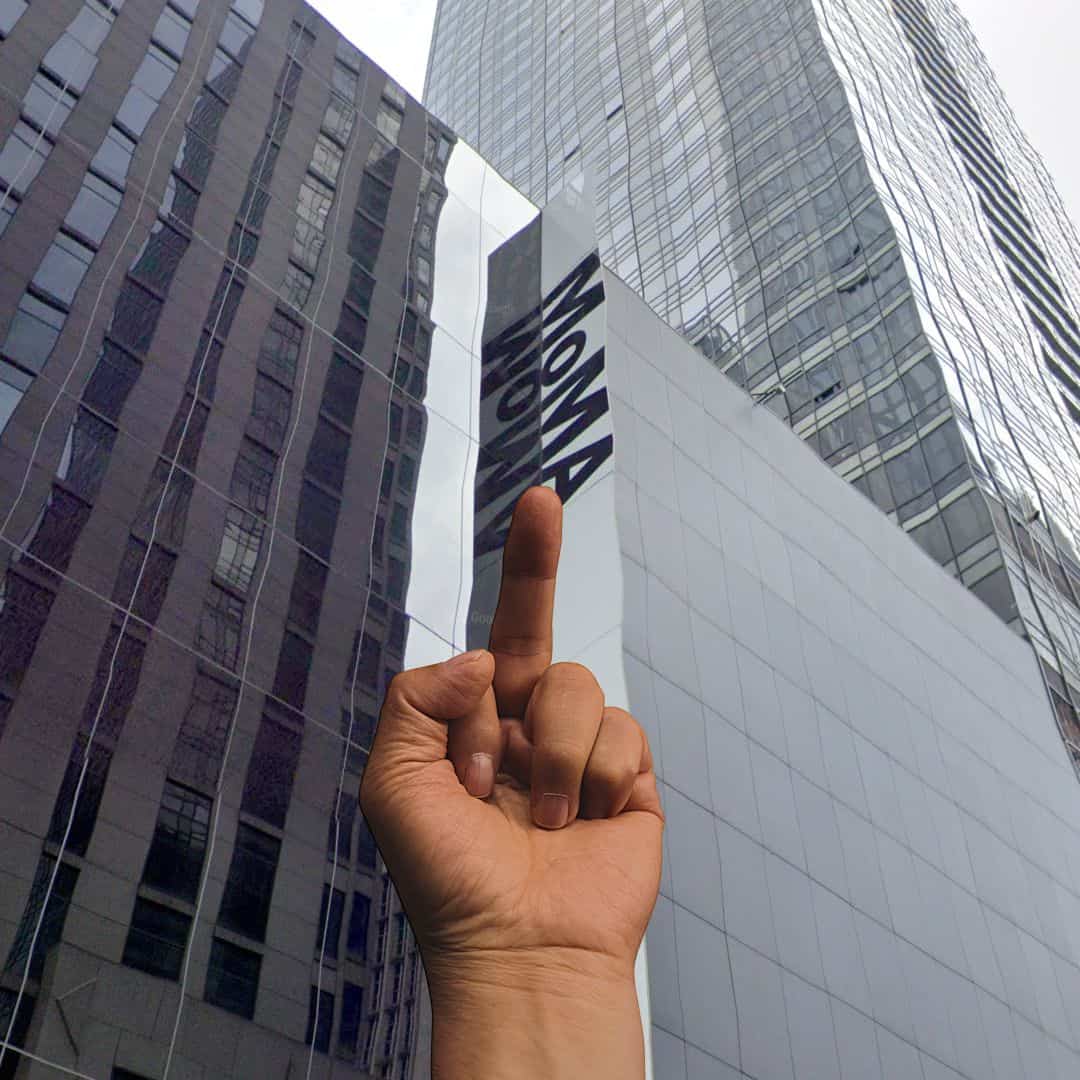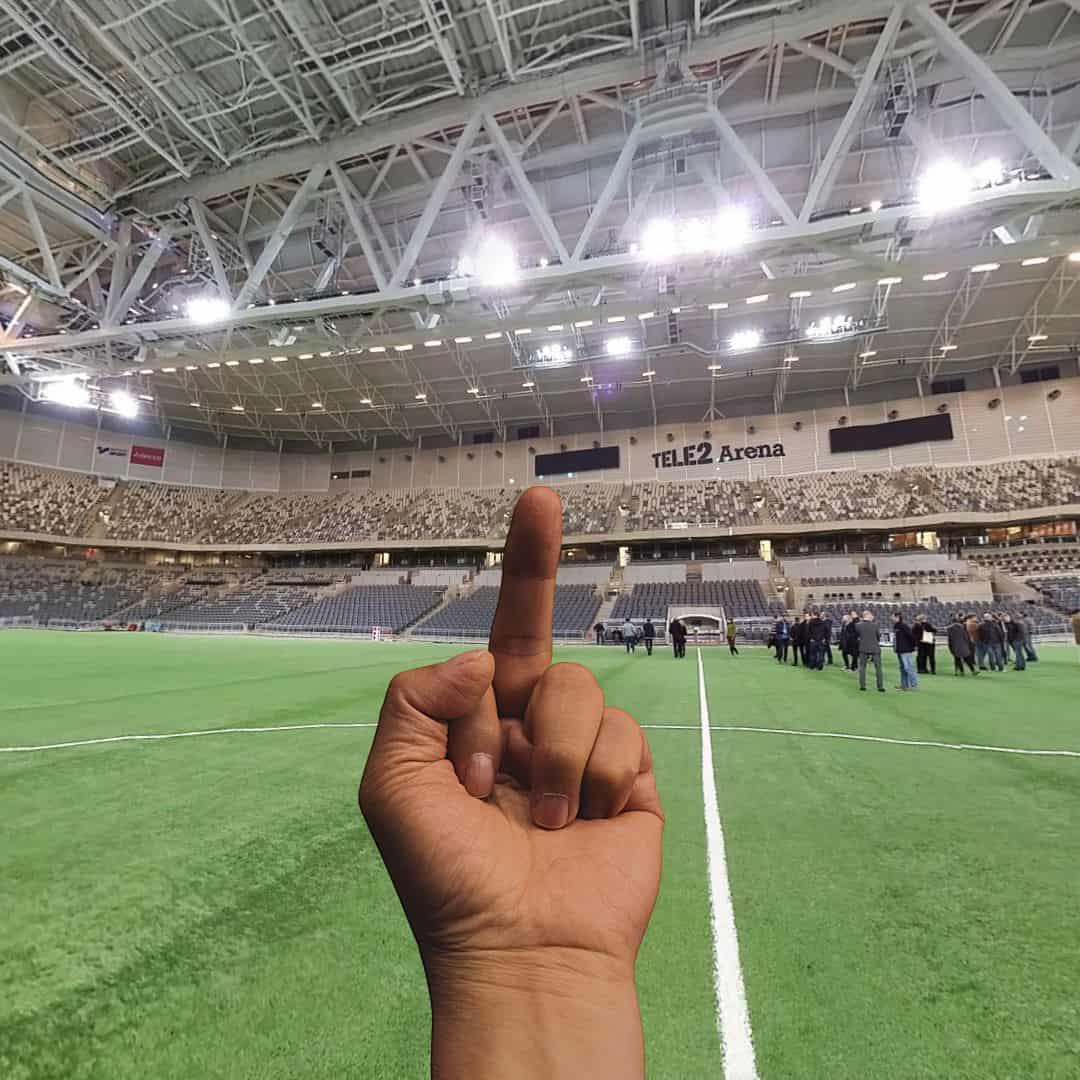 It's been incredible to see the response to Ai Weiwei's Middle Finger from across the world — thoughtful, funny and powerful submissions from many thousands of people — it's far exceeded our expectations in just its first week. This project is an important example of how we can use technology in meaningful ways to open access to art and creatively support artists in creating dialogues with new audiences. We're looking forward to the next step in this partnership, which will be the launch of Middle Finger in Red, a beautiful Ai Weiwei silkscreen print edition with proceeds in support of the Design Museum on 30th March.

Mazdak Sanii, Co-founder and CEO, Avant Arte,
The first of the editions, Middle Finger in Red is a silkscreen print and will be released on 30 March. It will be available to all for 24hrs only from 15:00 BST and is released as part of Avant Arte's time-limited edition series that aims to help people start collecting high-quality art by today's leading contemporary artists. The print will be signed by Weiwei and cost €410.00 (approx. £365.00/ $440.00) with free shipping. 65% of all profits will be donated to the Design Museum. 
We've been overwhelmed and indeed delighted by the number of contributions from the public to Middle Finger, which shows just how much Ai Weiwei's work resonates across the globe. We look forward to the timed release next week of his Middle Finger in Red print which will help support the vital future work of the Design Museum, and to our landmark exhibition, where visitors will be able to enjoy a new design-led perspective on Ai Weiwei's remarkable body of work.

Tim Marlow, Director and CEO of the Design Museum,
Ai Weiwei: Making Sense will be the artist's very first exhibition to focus on design and architecture, and will be his biggest UK show in eight years. It opens at the Design Museum on 7 April and runs until 30 July 2023. 
The exhibition will feature works never shown before in the UK, as well as major new pieces displayed for the very first time. At the heart of the exhibition will be a series of major site-specific installations comprising hundreds of thousands of objects collected by Ai Weiwei. In this major exhibition, Ai uses design and the history of making as a lens through which to consider what we value. 
Further limited editions to be released during the exhibition 
In addition to the time-limited edition of Middle Finger in Red, Avant Arte and Ai Weiwei will collaborate on four further limited editions of new works that will span prints and sculpture. These editions will be released over the course of the exhibition at the Design Museum. All editions will be available on Avantarte.com and 65% of all profits from the sale of all artworks will be donated to the Design Museum. 
About the artist
Ai Weiwei (b. 1957, Beijing, China) leads a diverse and prolific practice that encompasses sculptural installation, filmmaking, photography, ceramics, painting, writing and social media. A conceptual artist who fuses traditional craftsmanship and his Chinese heritage, Ai Weiwei moves freely between a variety of formal languages to reflect on the contemporary geopolitical and sociopolitical condition. Ai Weiwei's work and life regularly interact and inform one another, often extending to his activism and advocacy for international human rights.
Ai Weiwei has exhibited extensively at institutions and biennials worldwide, including at Albertina Modern, Vienna (2022); Serralves Museum of Contemporary Art, Porto (2021); Kunstsammlung Nordrhein-Westfalen, Dusseldorf (2019); Oca – Ibirapuera Park, São Paulo (2018); Public Art Fund, New York (2017); Israel Museum, Jerusalem (2017); Palazzo Strozzi, Florence (2016); Andy Warhol Museum, Pittsburgh (2016); National Gallery of Victoria, Melbourne (2015); Royal Academy of Arts, London (2015); Martin-Gropius-Bau, Berlin (2014); Brooklyn Museum, New York (2014); German Pavilion, 55th Venice Biennale, Venice (2013); Hirshhorn Museum and Sculpture Garden, Washington DC (2012); Taipei Fine Arts Museum, Taipei (2011); Turbine Hall, Tate Modern, London (2010); Haus der Kunst, Munich (2009); Mori Art Museum, Tokyo (2009); documenta 12, Kassel (2007); and Kunsthalle Bern, Bern (2004). The artist's memoir 1000 Years of Joys and Sorrows was published in 2021. Ai Weiwei lives and works in Beijing (China), Berlin (Germany), Cambridge (UK) and Lisbon (Portugal).
Categories
Tags