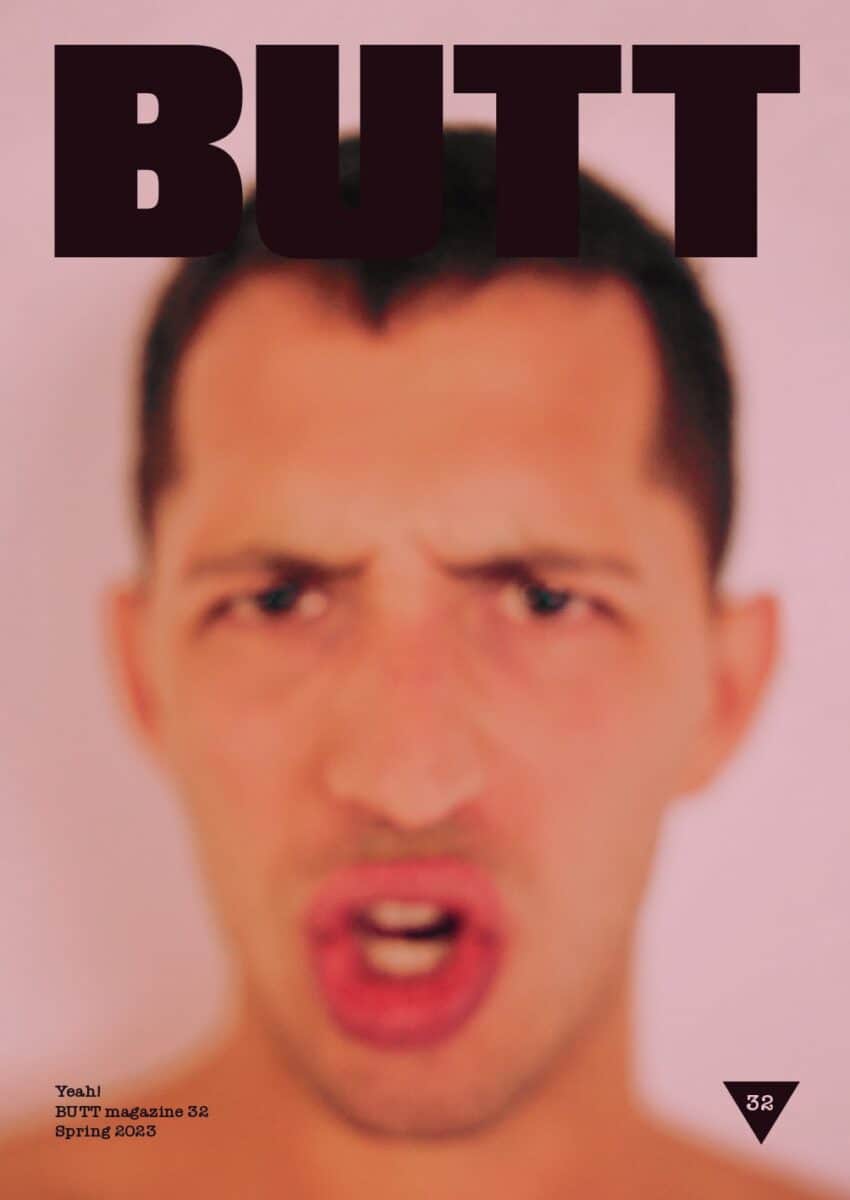 BUTT hits 32 gets together with Bottega Veneta. The notorious pink magazine unveils its wild 32nd issue this week, celebrating with an all-night party in London at the Institute of Contemporary Art on March 10th.
Publishing three overflowing issues since its surprise rebirth in 2022, BUTT is charging ahead as a not-to-be-missed hub for some of the most important conversations and unhinged dynamics in queer culture. From global stars like Arca and Félix Maritaud to little-known activists and sex workers, the magazine is consistently combing the far corners of queer life to produce a deliriously sexy, shockingly honest capsule of our times.
With gay and trans visibility at an all-time high in many spaces, yet under vicious attack in other corners, BUTT's candid intergenerational dialogues feel as relevant as ever, and especially intimate in pass-to-your-friend-or-lover print. In this new Issue 32, writer Eileen Myles gets off on poetry with Brontez Purnell; sex professional Sharok details his passion for pigeons, politics, and porn; Wolfgang Tillmans drops by hitmaker LSDXOXO's flat for a quicky; singer Oliver Sim poses for drawings; Daisuke Nakashima snaps shirtless men in Tokyo; Czech tombstone engraver Roman Hanak graces the cover; and so much more.
To celebrate the launch of BUTT 32, the magazine is co-curating an overnight program at the ICA on March 10th with the support of partner Bottega Veneta. The party will feature unmissable DJs and live acts – including Big Gay Idiot DJ (fka Total Freedom), TAHLIAAH, Evita Manji, Grace Sands and marum – and a selection of sexy shorts and erotica in the ICA cinema curated by Sam Ashby of Little Joe Magazine.
Fast forward to the end of the month, and the 32nd issue celebration carries on to the other side of the world: Japan. On March 31st, BUTT and Bottega Veneta will host a dance party in Tokyo, just as the whole city turns pink.

About
Founded in Amsterdam in early 2001, BUTT magazine is filled with interviews and photographs of and by shameless queers from the world over. Printed on pink paper in a handy pocket-size shape, BUTT has so far published 32 issues, providing a place for gays, lesbians, bisexuals, transsexuals, intersexuals and other queer friends to speak straightforwardly about their ideas, work and sex lives. BUTT is the subject of two anthologies with Taschen ('BUTT BOOK', 2006, and 'FOREVER BUTT', 2014), a documentary ('After BUTT', by Ian Giles, 2018) and has produced three calendars, a string of illustrious parties, and countless stories from a whole generation of fellow homo sapiens. From 2012-2021 BUTT took a hiatus from print, but BUTT is back, with three brand new issues since 2022.

Bottega Veneta Inspiring individuality with innovative craftmanship since 1966, creativity lies at the heart of Bottega Veneta. Born in Vicenza, the house is rooted in Italian culture yet maintains a truly global outlook. An inclusive brand with exclusive products, Bottega Veneta is as much of a feeling as it is an aesthetic.
Categories
Tags