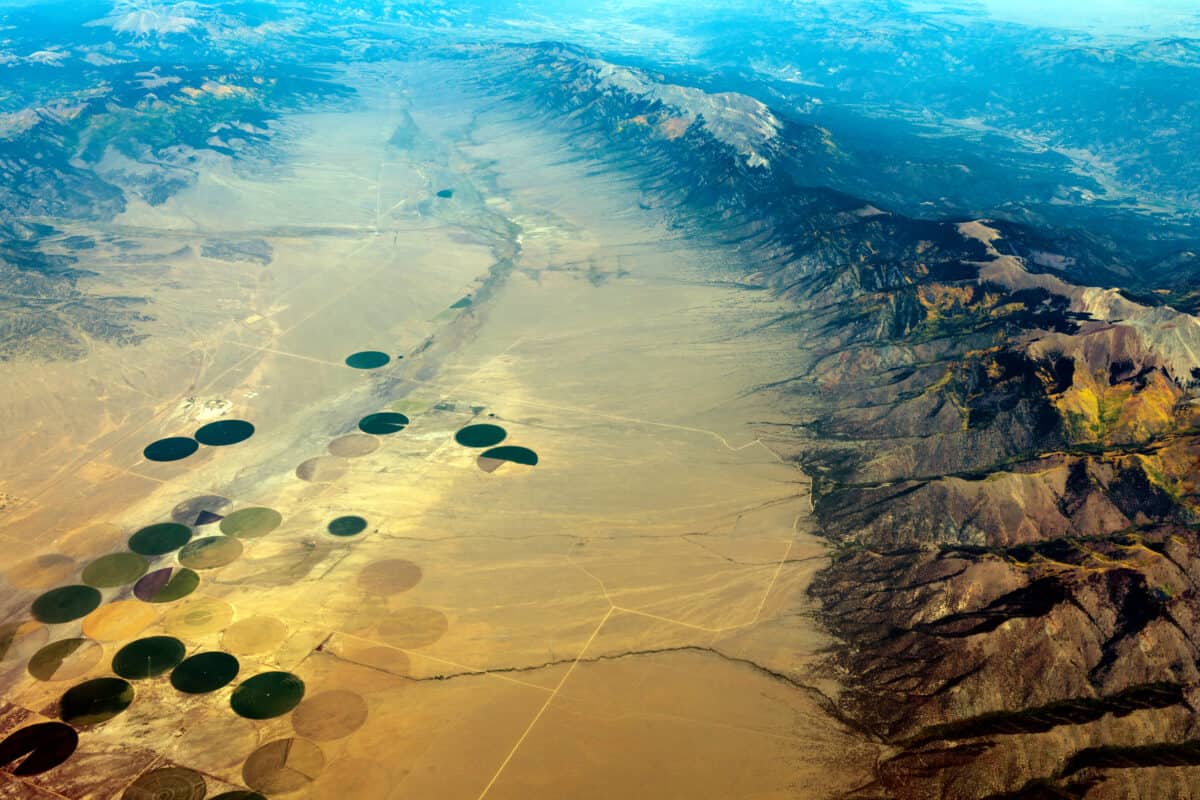 Black Cube, a nonprofit nomadic art museum that operates outside of traditional museum confines has announced Orisons, a large-scale, newly commissioned earthwork by artist Marguerite Humeau. At 160 acres, Orisons marks one of the largest earthworks created by an individual woman artist to date and a more environmentally conscious approach to land art by being minimally invasive and sensitive to the fragile ecosystem.
The work is composed of a fallow field and sculptural interventions that collectively pay homage to Colorado's San Luis Valley, the world's largest alpine valley. Located in the rural town of Hooper, the work will be on view beginning June 25th, 2023, and remain on view through June 2025. Admission is free and visitors will be able to make reservations to view Orisons beginning May 1st at orisons.art
Humeau, a 2021 Black Cube Artist Fellow, is known for creating artworks that form semi-mythical ecosystems. In her practice, she poetically resuscitates extinct or forgotten worlds and weaves factual events into speculative narratives. For Orisons, Humeau turned her attention to the San Luis Valley, a high alpine valley with a rich history of agriculture and home to the oldest continuous water rights in Colorado.
This region, along with the Southwest United States, is amid an exceptionally severe drought, also known as a megadrought, due to the changing climate. Humeau has been working closely with fourth-generation San Luis Valley farmers, Jones Farms Organics, and has also extensively researched the site and consulted a wide array of experts—local agronomists, resource conservationists, historians, wildlife refuges, ornithologists, geomancers, indigenous communities, among others—to create an earthwork that meaningfully reconnects the land with its past, its present, and its future.
In Orisons, Humeau creates a subtle earthwork that transforms an unfarmable plot of land into a place of reverence, honoring its expansive history, existing ecosystem, and imaginable futures with the vision of connecting visitors to its vast network of interrelations. The work consists of the land in its entirety as well as a series of kinetic and interactive sculptures. Dozens of whistling and rhythmic, plant-like sculptures inspired by the native and nomadic vegetation become activated by the wind, a legendary force in the valley, to summon the site's energies. Also, a part of the work is large-scale sculptures that hover over the ground and visually reference the outstretched wings of Sandhill Cranes, iconic birds that migrate through the region, which visitors can lay upon. Altogether, Orisons, meaning prayers, deeply acknowledges this specific site in the San Luis Valley, attempting to link all of its complex bonds and invoke a sense of wholeness that traverses time and space, and reveals the immensity of our world. 
At 160-acres, Marguerite Humeau's Orisons will be one of the largest earthworks by a female artist. Despite the enormity of the scale, the work is quite subtle and mystical, as Humeau has centered the fragility of the ecosystem that is undergoing a megadrought. In this way, Orisons also marks a moment of a new kind of earthwork, an earthwork that endeavors to have a synergistic relationship between the land, natural world, and human audiences.

said Cortney Lane Stell, Black Cube Executive Director + Chief Curator
Admission is free and visitors will be able to make reservations to view Orisons beginning May 1st on the website orisons.art
Orisons is made possible with generous support from Jones Farms Organics, the FACE Foundation, The Shifting Foundation, The Andy Warhol Foundation for the Visual Arts, the David & Laura Merage Foundation, the Ruth Foundation for the Arts, White Cube, and C L E A R I N G.
About Marguerite Humeau
Marguerite Humeau (b. 1986, Cholet, France) lives and works in London. She received her MA from the Royal College of Art, London, in 2011. Solo exhibitions of her work have been held at Lafayette Anticipations, Paris (2021); Jeu de Paume, Paris (2020); Kunstverein Hamburg (2019); Museion, Bolzano (2019); New Museum, New York (2018); Tate Britain, London (2017); Haus Konstruktiv, Zürich (2017); Schinkel Pavillon, Berlin (2017); Nottingham Contemporary (2016); and Palais de Tokyo, Paris (2016). Humeau's work has been featured in numerous group exhibitions, including 'The Milk of Dreams', 59th Venice Biennale (2022); Kunsthalle Basel (2021); the Istanbul Biennial (2019); Centre Pompidou, Paris (2019); MAMVP, Paris (2019); the High Line, New York (2017); Château de Versailles, France (2017); Kunsthal Charlottenborg, Copenhagen (2017); FRAC Midi- Pyrénées, Toulouse, France (2017); Serpentine Galleries, London (2014); and Victoria and Albert Museum, Sculpture Gallery, London (2014). Humeau is represented by White Cube and C L E A R I N G New York/Brussels.
About Black Cube
Black Cube is a nonprofit, nomadic art museum headquartered in Denver, Colorado. By operating outside of traditional museum confines, Black Cube endeavors to reach diverse audiences across the globe while supporting artists' sustainability. At its core, Black Cube stimulates the public realm with ambitious, experimental, and engaging contemporary art that seeks to inspire. To advance its mission, Black Cube offers an artist fellowship, exhibitions, and public programming focused on sustaining artists' careers and forming meaningful relationships with audiences. Since 2015, Black Cube has worked closely with over 100 artists and produced nomadic exhibitions regionally, nationally, and internationally—from small Colorado mining towns to the world stage of the Venice Biennale. Black Cube was founded by philanthropist, Laura Merage, and is supported by the David and Laura Merage Foundation and The Andy Warhol Foundation for the Visual Arts. blackcube.art @blackcube.museum
Categories
Tags