Hauser & Wirth now represent Harmony Korine the American artist and filmmaker.
Over the last thirty years, Harmony Korine has cultivated a multidisciplinary art practice that resists categorization and is admired internationally for the improvisation, humor, repetition, nostalgia and poetry that unite the disparate aspects of his output. Working in recent years primarily with painting and photography, his practice is built upon tireless experimentation and a trial-and-error path that produces what he calls 'Mistakist Art.' Inspired by material culture, Korine often incorporates everyday items––squeegees, house paint, steak knives, old VHS tapes––into his compositions, which are frequently embellished with distorted language and intentionally misspelled words. Korine's oeuvre is both deliberate and erratic, figurative and abstract, and, like his films, blurs boundaries between 'high' and 'low' in ways that simultaneously attract and repel viewers with its hypnotic, otherworldly atmosphere.
We are delighted to welcome Harmony Korine to the gallery. In his multidisciplinary practice over the past three decades, Harmony has performed a sort of real-time psychoanalysis of contemporary America––and done so on his own terms, fearlessly, without pandering or seeking consensus. Our fixations on youth, material consumption and disposability, violence and romantic anti-heroes, all find their way into his work, from films and writing to drawings and paintings. In this sense, Harmony takes his place among such artists in our program as Paul McCarthy, Mike Kelley, and Rita Ackermann. We look forward to collaborating with Harmony in the months and years ahead.

Marc Payot, President, Hauser & Wirth,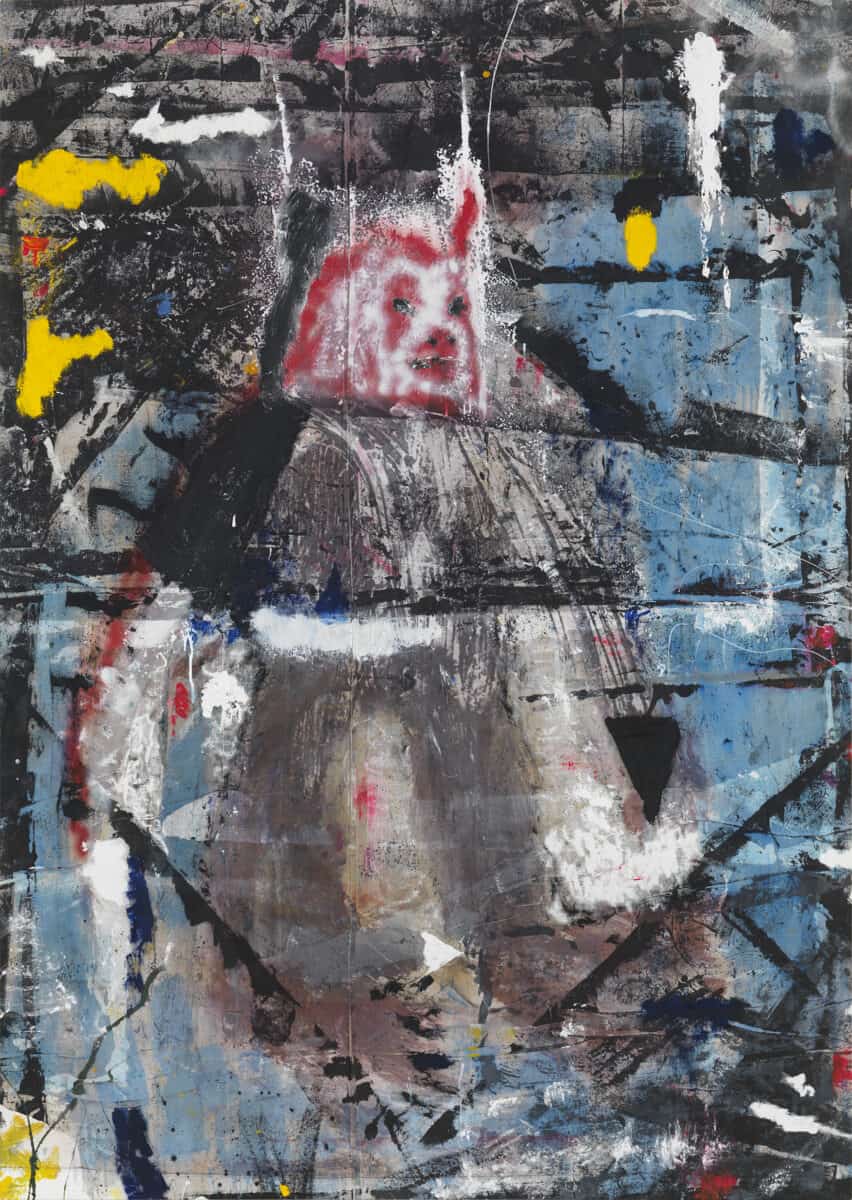 Among his generation's the most influential filmmakers, Korine first rose to prominence after writing the script for the film 'Kids' (1995), directed by Larry Clark. Everything he has made since has been guided by memory, emotion, and physical sensation as opposed to strategy and rational thought. Of his art, he has said, 'I'm chasing something that is more of a feeling, something more inexplicable, a connection to colors and dirt and character, something looping and trancelike, more like a drug experience or a hallucination.'
Korine's work has been exhibited at institutions worldwide, including the Stedelijk Museum voor Actuele Kunst (S.M.A.K.), Ghent, Belgium (2000); Whitney Biennial, New York (2000); CAPC Musée d'art contemporain de Bordeaux, France (2001); Contemporary Art Gallery, Art Tower, Mito, Japan (2002); 50th Biennale di Venezia (2003); Kunsthalle Dusseldorf, Germany (2009); Swiss Institute, New York (2010);Casino Luxembourg–Forum d'art contemporain, Luxembourg (2013); Vanderbilt University Fine Arts Gallery, Nashville (2009); the Frist Center for Visual Arts, Nashville (2016); and Centre Pompidou, Paris (2017).
Korine's novel, 'A Crack Up at the Race Riots,' was originally published by Mainstreet/Doubleday in 1998, and 'Pass the Bitch Chicken: Christopher Wool & Harmony Korine,' a book of collaborative images, was released by Holzwarth Publications in 2002.
About the artist
Harmony Korine was born in Bolinas, California, in 1973 and is based in Miami, Florida.
Korine spent the early part of his childhood living with his family on a commune in the San Francisco Bay area. In the early 1980s, they relocated to a working-class, multicultural neighborhood just outside of Nashville, Tennessee. As a teenager, Korine would frequently accompany his father, a documentary filmmaker, on shoots chronicling alternative cultures in the South, including that of carnival and circus performers. These seminal experiences exerted substantial impact on the artist's interest in exploring the most eccentric and marginalized parts of American society.
As a teenager, Korine moved to New York City to live with his grandmother in Queens. He studied dramatic writing at New York University's Tisch School of the Arts for one semester before dropping out to pursue a career as a skateboarder. In 1993, while skateboarding around Manhattan's Washington Square Park, he met photographer and director Larry Clark. Impressed by a screenplay Korine shared with him, Clark asked the then 19-year-old to write a script based on his life. Three weeks later Korine had completed the script for 'Kids' (1995), the gritty cult-classic film depicting 24 hours in the life of a group of drug-using, sex-obsessed teens hanging out in New York City during the AIDS crisis. Simultaneously hailed as both a brilliant wake-up call and decried as a work of blatant teen exploitation, 'Kids' catapulted Korine's career as a filmmaker and artist.
Korine's next film project was also his directorial debut. A series of unrelated and often disturbing vignettes told via an unconventional mix of hand-held video, Super 8 film, and Polaroids 'Gummo' (1997) tells the story of two teen outcasts wandering around a tiny, tornado-ravaged town in Ohio. Inspired by neighborhoods Korine knew from his own childhood in and around Nashville, 'Gummo' earned accolades at both the Venice and Rotterdam Film Festivals and provided source material for several subsequent bodies of artwork, including Korine's first installation 'The Diary of Anne Frank, Part II' (1997), a three-screen projection that played on a loop at Patrick Painter Gallery in Santa Monica. That same year, photographs Korine made while on set were featured in the exhibition 'Investigations of New Photography and Film Stills from Harmony Korine's new film 'Gummo'' at the Andrea Rosen Gallery in New York.
Shortly after, Korine directed his first music video for the band Sonic Youth's song 'Sunday,' featuring former child star Macaulay Culkin and the actor's then-wife Rachel Miner. His photographs from the experience were published as an artist's book called 'The Bad Son' (1998), a play on Culkin's 1993 film 'The Good Son.' This publication served as a companion piece to Korine's next solo exhibition, presented in 1998 by the esteemed Tokyo gallery Taka Ishii. That same year, Mainstreet/ Doubleday published Korine's debut novel 'A Crack-Up at the Race Riots,' a book of fictional set pieces capturing fragmented moments from a life observed through the demented lens of media, TV, and teen obsession, punctuated by photographs, drawings, news clippings, handwriting, poetry, diagrams, and clip art.
After the release of Korine's third film, 'Julien 'Donkey-Boy' (1999), starring Werner Herzog as the patriarch of an unhinged family, the artist left New York for Europe and began an eight-year hiatus from filmmaking. He returned to directing feature films in 2017 with 'Mister Lonely' (co-directed with his brother Avi Korine), about a Michael Jackson impersonator living a solitary life in Paris. Korine then wrote and directed the grotesquely comedic 'Trash Humpers' in 2009, followed by 'Spring Breakers' in 2012, and the 2019 film 'The Beach Bum,' starring Matthew McConaughey. Korine has also focused his lens on commercial photography and filmmaking in recent years, using his unique vision to create memorable campaigns for a wide array of well-known brands.
In 2004, Korine's artwork was included in the exhibition 'Beautiful Losers: Contemporary Art and Street Culture' at the Contemporary Arts Center, Cincinnati, which traveled to venues throughout the United States and Europe through 2009. The exhibition featured Korine's work alongside that of other artists––among them Mark Gonzales, Barry McGree, and Chris Johanson––to whom the youth subcultures of skateboarding and graffiti were of critical significance. Most recently, Korine has since been the subject significant solo museum exhibitions, including 'Pigxote' at Vanderbilt University Fine Arts Gallery, Nashville in 2009; 'Shadows and Loops' at the Frist Center for Visual Arts, Nashville, in 2016; and a major eponymous survey at the Centre Pompidou in Paris in 2017.
Categories
Tags