PhillipsX in collaboration with ARCHEUS / POST-MODERN is pleased to announce Pierre Soulages. Une Lumière Infinie. Spanning the artist's long career, this selling exhibition presents a curated grouping of multidisciplinary works dated from 1957 to 2021, including eaux fortes, lithographies and sérigraphies alongside a selection of exquisite paintings.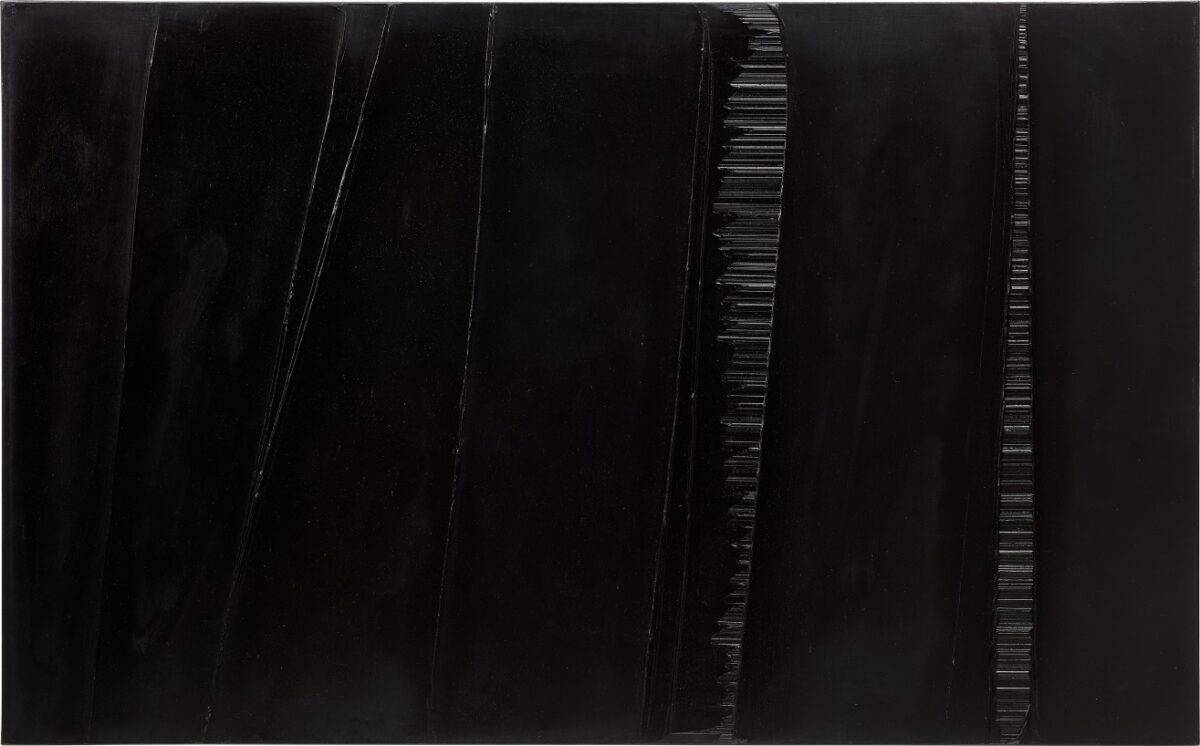 This collaborative exhibition celebrates the late Pierre Soulages (1919 – 2022) through the exploration of the two disciplines for which he had the greatest passion – printmaking and painting. Soulages approached printmaking as he did painting; creating material form and colour at the same time. With his first prints dating from the 1950s, this exhibition includes some of the artist's early works. Both Eau-forte Xa and Eau-forte Xb exemplify his gesturally abstract explorations in etching and aquatint, which produced radical results.
Learning initially at the Lacourière printing workshop in Paris, Soulages soon found the boundaries of the medium and broke through them. Soulages let prolonged acid exposure on the copper plate become part of the creative process, achieving unpredictable and pleasing effects. The deeper the cavities in the plate, the greater the eventual ink load on the paper. Soulages was cautioned against going too far in the making of these eaux-fortes, but the inevitable happened – the acid ate through the copper plate in places.
I, a little out of spite and a little out of curiosity, printed the plate with the hole I had made and then realised a great thing that I could not have foreseen. The hole I made left white paper, but it was not the same white…because of the contrasts with the surrounding colours it seemed even whiter.

Pierre Soulages.
Soulages extended this practice by removing parts of the plate so that it no longer had a rectangular border, "Why should a rectangular sheet of paper still be printed with a rectangle?" This realisation led to a body of work that spanned six decades and would immediately inform his work in lithography and subsequently in the field of screenprinting. Printmaking allowed Soulages to take risks with his work, which would inevitably bring extraordinary surprises.
Brian Balfour-Oatts, Director of ARCHEUS / POST-MODERN, said,
The Phillips X platform enables us jointly to present this survey of Soulages' work in a scale and setting appropriate for his ambitious paintings and thoughtful graphics. To combine the two practices in a single exhibition throws a more complete light on one of the longest careers in art history.
Much like his print-making practice, Soulages' paintings share a similar preoccupation with celebrating the material potential of his chosen medium. In particular, the artist's penchant for the colour black is a well-documented and important aspect of his painterly practice, which is also inherently linked to his fascination with light. Throughout his long and prolific career, the colour – in varying forms – had always been a defining element in the artist's work. Then, in January 1979, Soulages completely covered one of his canvases in black paint, and in doing so prompted a revelation that would shape his artistic output for the rest of his life. Black became a vessel for capturing light itself. Soulages called this Outrenoir, or 'beyond black'. Using only black paint, Soulages would build layers in relief on the canvas, manipulating it using a variety of tools to create rich, textured surfaces. The selection of paintings in this exhibition are all sublime examples of Outrenoirs, spanning several decades, and showcasing Soulages' extraordinary dedication to his favourite medium – light.
Miety Heiden, said,
We are thrilled to present this solo exhibition honouring Pierre Soulages and tracing the development of his work across both print-making and painting. Soulages was a major figure of non-figurative painting and his exceptionally long career is a testament to his remarkable vitality and the power of his artistic practice.
Pierre Soulages. Une Lumière Infinie, 1st-12th February, Phillips, 30 Berkeley Square, London W1
ARCHEUS / POST-MODERN is a private dealership in Knightsbridge, London, exhibiting at selected art fairs in London and the USA. Director Brian Balfour-Oatts has over 35 years of experience in the art world, beginning his career at Sotheby's in 1985. He curates a wide stock of international Post-War & Contemporary Art for the company and has extensive knowledge in most aspects of art of the 19th – 21st centuries, with particular specialism in the works of Josef Albers, Lucian Freud, David Hockney, Joan Mitchell, Bridget Riley, Ed Ruscha and Pierre Soulages. archeus.com 
Categories
Tags