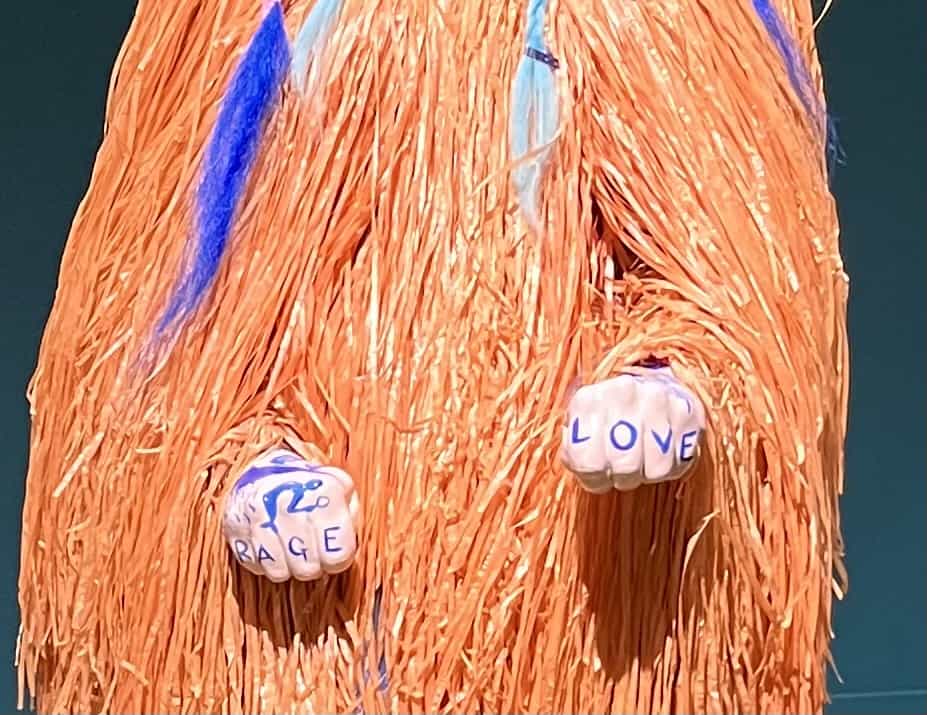 From 1640 – 1807 Britain transported an estimated 3.1 million human beings (slaves) to its colonies – and let's be clear the British families profiting from this 'industry didn't stop because they realised how bad it was they were paid to stop – The British government paid out £20m to compensate some 3,000 families that owned people (slaves) for the loss of their "property" when slave-ownership was abolished in Britain's colonies in 1833. This figure represented a staggering 40 per cent of the Treasury's annual spending budget and, in today's terms, calculated as wage values, equates to around £16.5bn. for more info visit reparationscomm.org/
Now fresh from representing Scotland at the Venice Biennale, Alberta Whittle (b.1980) has made new work especially for the Holburne – new sculptures and text pieces shown alongside existing films in an exhibition that spreads beyond the Museum into the public realm in which the Barbadian-Scottish artist explores a variety of themes familiar to her practice including pleasure, self-care, relaxation, and health.
The show, Whittle's first in a public museum directly addresses 18th-century histories; especially those shared by the Ball's Plantation in her native Barbados which was owned by Guy Ball, the great-grandfather of Holburne Museum founder Sir Thomas William Holburne.
Viewed through this lens, Dipping Below a Waxing Moon, The Dance Claims Us For Release offers opportunities for growth and compassion despite addressing some uncomfortable truths about Britain, Bath, and the Holburne Museum in this major exhibition.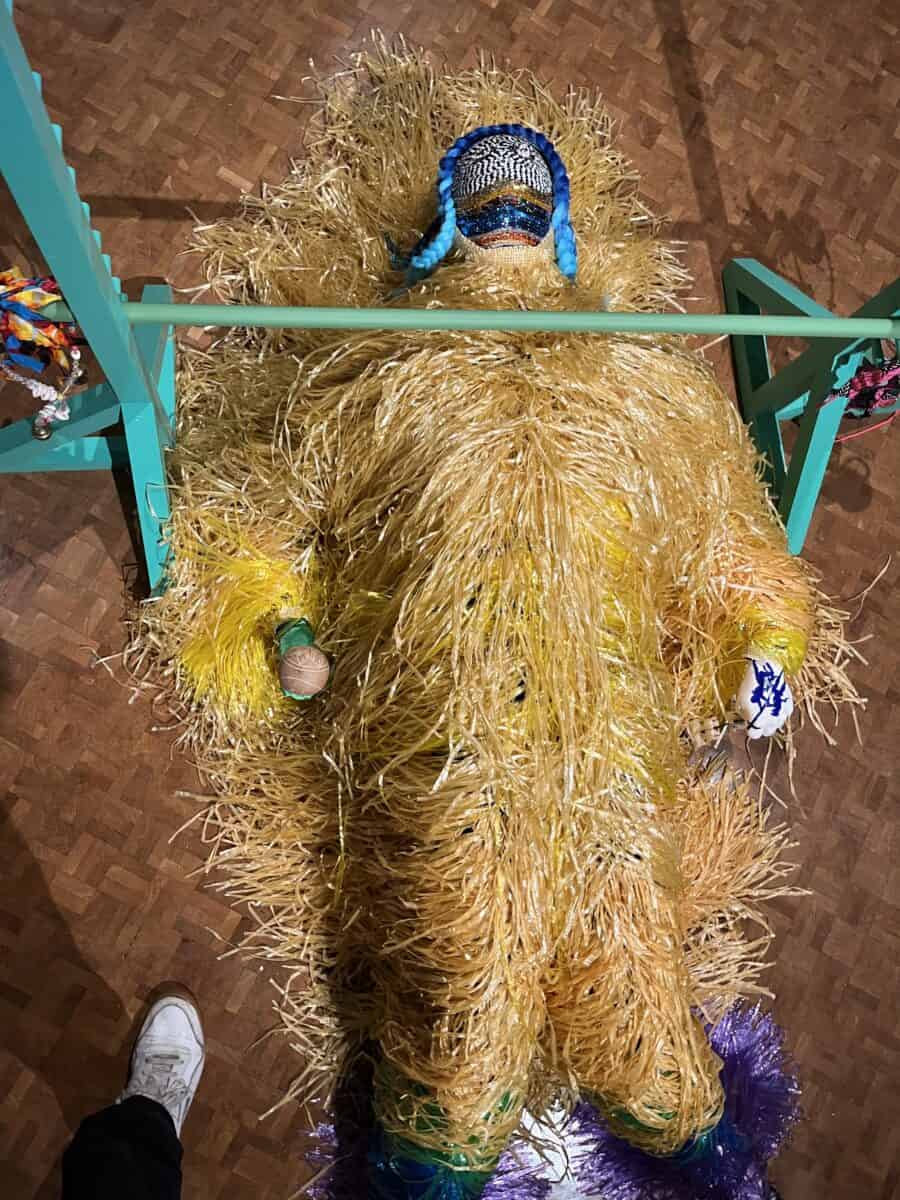 Dipping Below A Waxing Moon, The Dance Claims Us For Release transforms the Holburne's Roper Gallery into a mis- en-scene, where a group of seven sculpted figures are captured in various stages of the limbo. Whittle takes what many westerners now regard as a traditional Caribbean dance and, through the sculpted figures, freezes moments of their physical contortions to highlight how enslaved Africans were forced to perform for the amusement of their owners. The ensemble acts as a metaphor to show that something that appears to be 'fun' is far from benign and that for members of the Caribbean diaspora, daily life in the West still requires a form of contortion or performance.
Whittle draws a comparison between the limbo and the promenade women would have made down Bath's Great Pulteney Street and through Sydney Gardens – where the Holburne Museum is situated – during the 18 TH -century. There, despite their apparent liberty, social structures enforced a specific type of female behavior which was performed and exaggerated while on public view.
As the exhibition's curator, Will Cooper says:
We might regard this elegant street during the Regency as a place in which the great and the good wished to see and be seen but it was also, by its very design, an environment in which to monitor and view those under their control.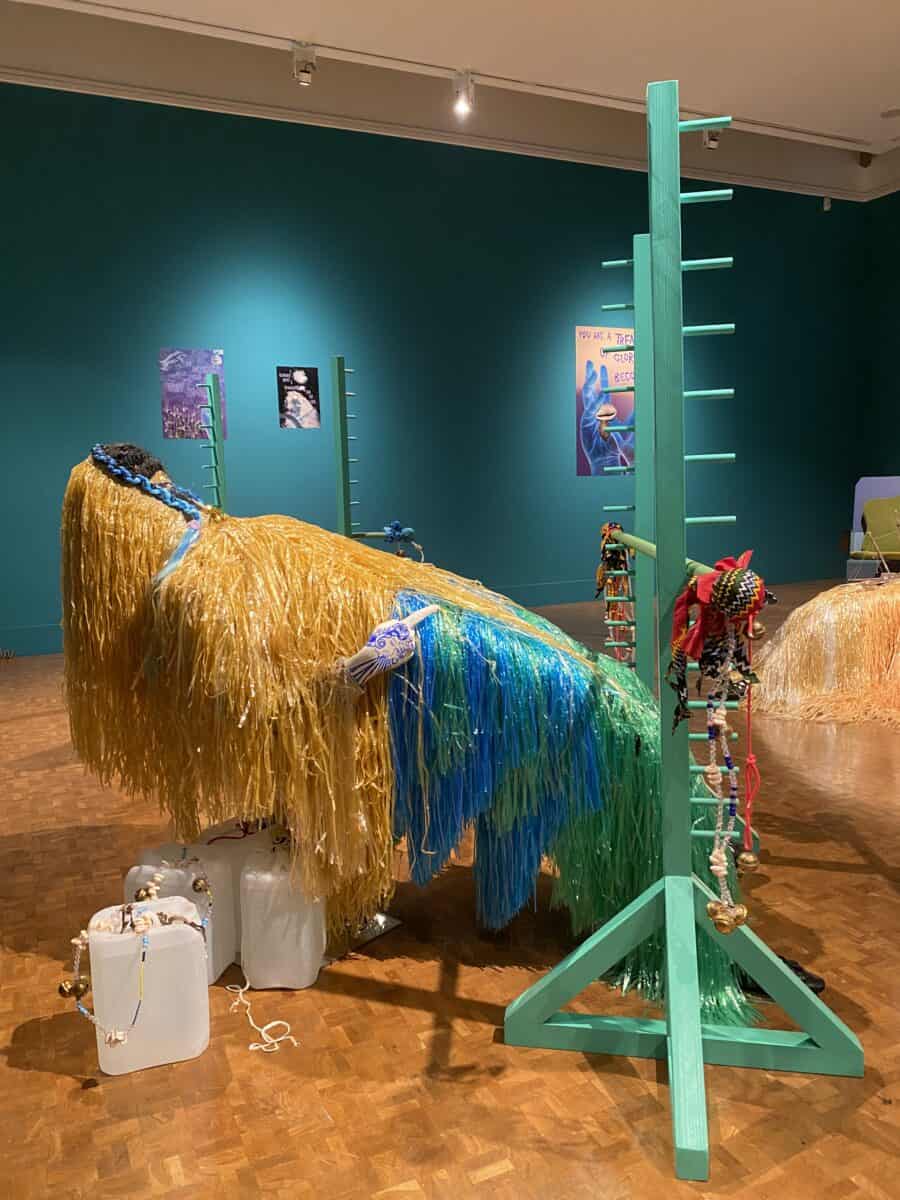 The figures, titled Matrix Moves (inspired by both the 2019 film and Keanu Reeves' famous bullet dodging, and a popular dancehall move), are dressed in traditional Caribbean carnival ware, drawing on characters from across the region including Jamaica's Pitchy Patchy or Barbados' Shaggy Bear.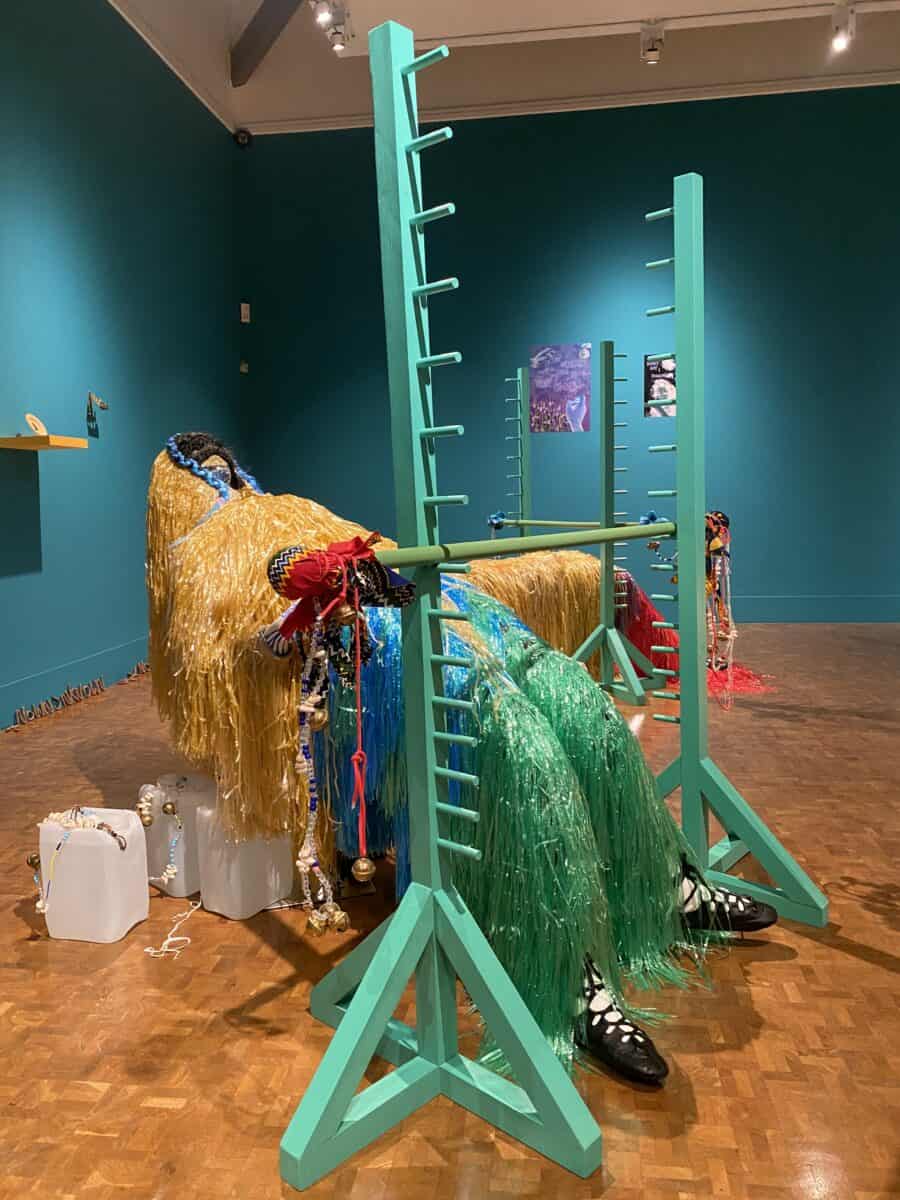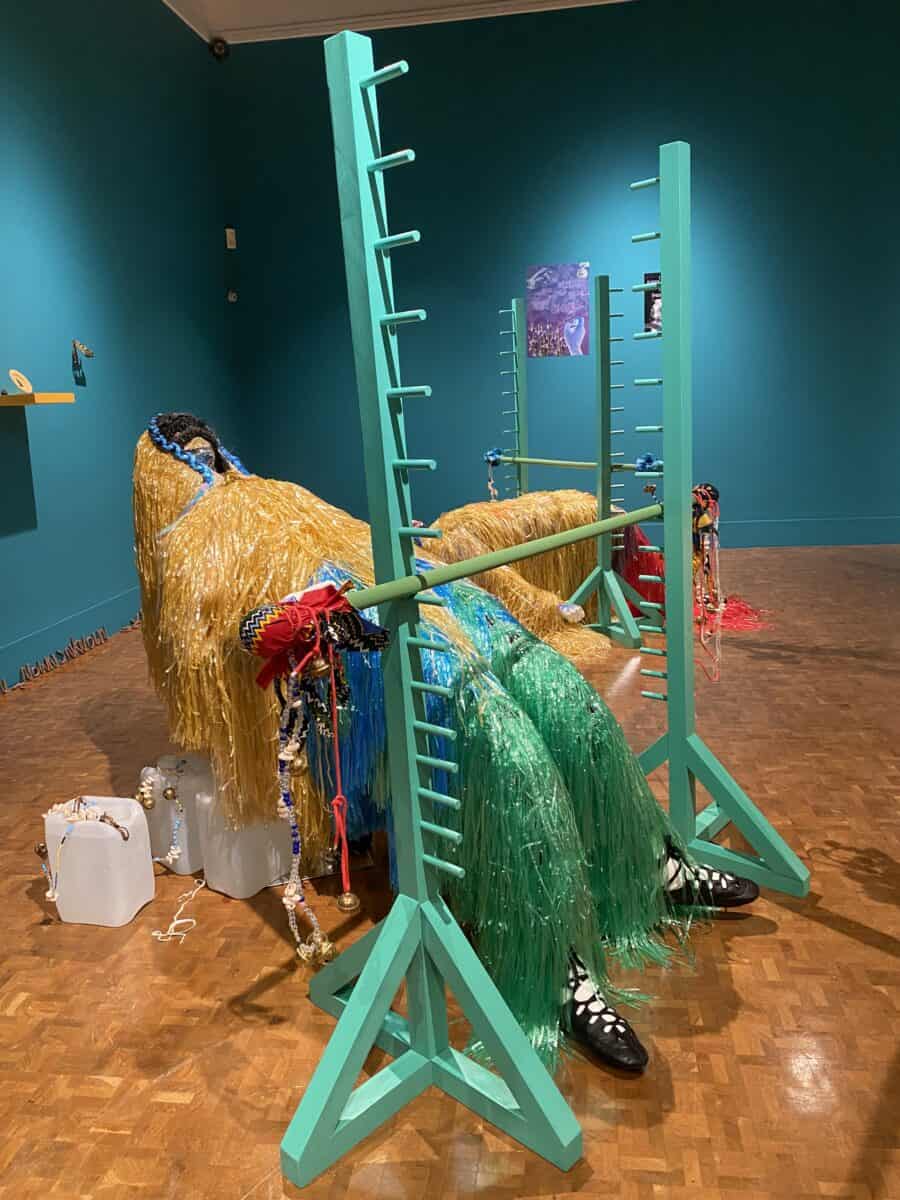 Certain body parts – a finger, or tongue for example – are cast in precious metals or delicate blue and white porcelain, remind us of both the fragility and commodification of the Black body as well as making direct connections with objects in the Holburne's permanent collection.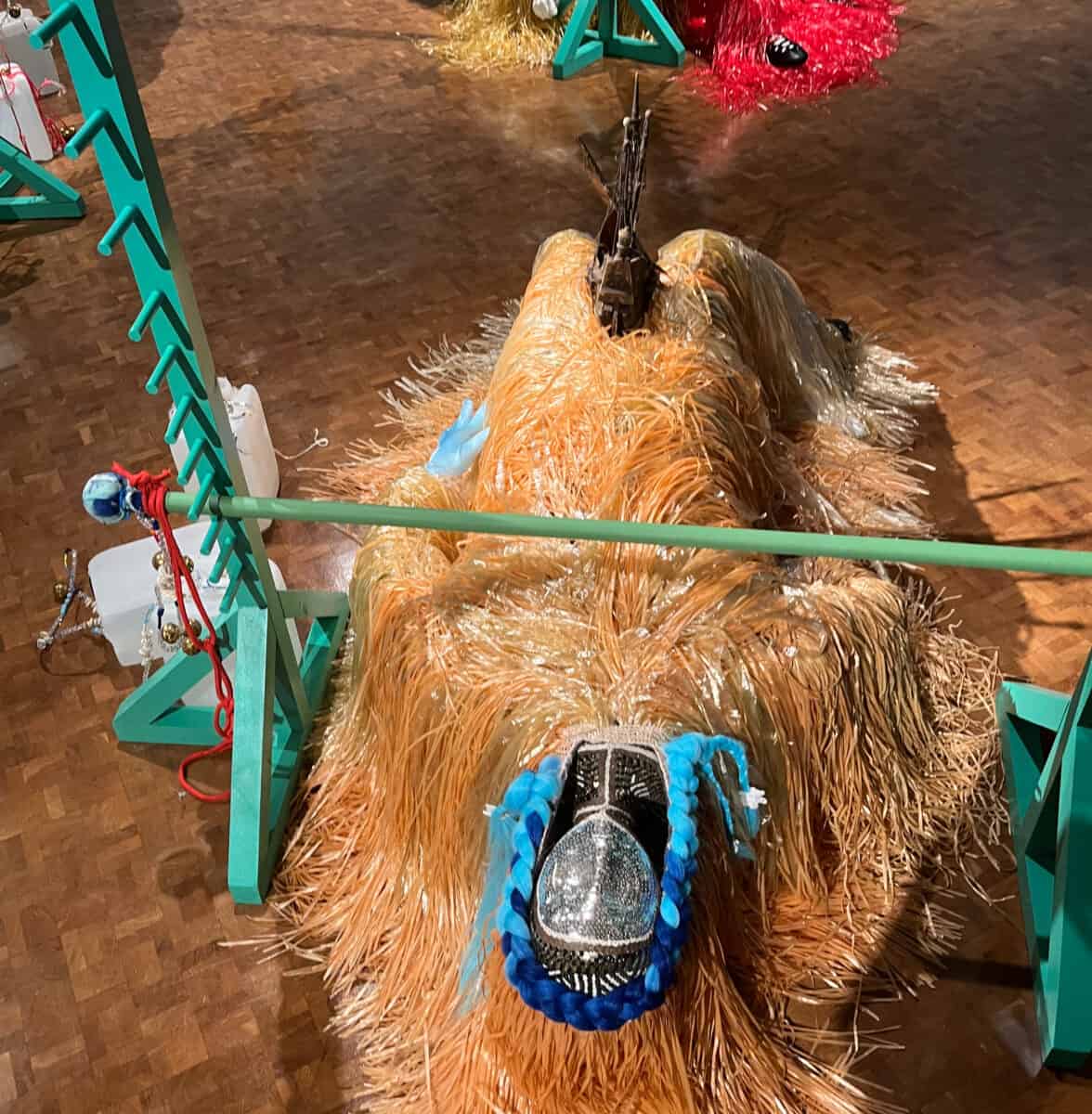 New research by NYU's Jennifer L. Morgan explores how the rise of Western notions of value and race tied reproductive labour to the economics of slavery. Continue Reading
Alongside the sculptures is a programme of Whittle's moving image works including the museum premiers of both Lagareh – The Last Born made when Whittle represented Scotland at the 59th Venice Biennale in 2022, and The Axe Forgets, But The Tree Remembers originally produced as part of the Hackney Windrush Public Programme commemorating the vital and ongoing contributions of the Windrush generation to life in the UK.
In addition to the installations inside the Museum, a series of large-scale billboard prints will be displayed across the city, employing poetic language to prompt viewers into engaging with post-colonial thinking through such carefully considered statements as 'Prisons are the new plantations.'
These digital collages are, like the seven sculptures, entirely new work created for the exhibition.

They will be located around Bath and the surrounding area and reflect themes embedded in Alberta's practice. By placing the works across the city, we hope to engage audiences that might not otherwise visit the museum while prompting any visitor to consider ways that we can grow collectively, with compassion, care and generosity.

Will Cooper
Born in Bridgetown on Barbados, Whittle grew up familiar with the nearby Christ Church area, where the Ball's Plantation was located. A 1722 ledger is on display at the Holburne, dating back to the Ball family's ownership of the 400-acre sugar estate. Remarkably, just one page with legible content survives inside the covers, detailing the delivery of 'provisions' including candles, beef and cocoa. Somewhat chillingly, around 150 pages were cut out, prompting the question; when, why, and by whom? Could they have been removed around the time of the abolition of slavery to hide evidence? We may never know the truth, but this disturbing aspect of the ledger provides a thought-provoking starting point for Whittle's show. In 2019 Whittle was invited to write an epitaph for those that died on the Ball's Plantation.
This text and a new poem feature in the exhibition and are available as an audio work drawing visitors from the off-site text works, into the gallery.
Working with the Holburne Museum has been a meaningful proposition to examine connections between Bath's architecture to colonial pleasure. The opportunity to be ambitious and manifest a new series of works that are situated both inside and outside the museum, on the streets of Bath as become a necessary means of exploring how power encourages erasure.

Alberta Whittle
Alberta Whittle, Dipping Below A Waxing Moon, The Dance Claims Us For Release, 27th January – 7th May 2023, Holburne Museum.
About the artist
Alberta Whittle is an artist, researcher, and curator. She was awarded a Turner Bursary, the Frieze Artist Award, and a Henry Moore Foundation Artist Award in 2020. Alberta is a PhD candidate at Edinburgh College of Art and is a Research Associate at The University of Johannesburg. She was a RAW Academie Fellow at RAW Material in Dakar in 2018 and is the Margaret Tait Award winner for 2018/9.
Her creative practice is motivated by the desire to manifest self-compassion and collective care as key methods in battling anti-blackness. She choreographs interactive installations, using film, sculpture, and performance as site-specific artworks in public and private spaces. Alberta has exhibited and performed in various solo and group shows, including at Jupiter Artland (2021), Gothenburg Biennale (2021), The Lisson Gallery (2021), MIMA (2021), Viborg Kunstal (2021), Remai Modern (2021), LiverpoolBiennale (2021), Art Night London (2021), The British Art Show – Aberdeen (2021), Glasgow International (2021), Glasgow International (2020), Grand Union (2020), Eastside Projects (2020), DCA (2019), GoMA, Glasgow (2019), Pig Rock Bothy at the National Galleries of Scotland, Edinburgh (2019), 13th Havana Biennale, Cuba (2019), The Tyburn Gallery, London (2019), The City Arts Centre, Edinburgh (2019), The Showroom, London (2018), National Art Gallery of the Bahamas (2018), RAW Material, Dakar (2018), FADA Gallery, Johannesburg (2018), the Apartheid Museum, Johannesburg (2017), FRAMER FRAMED, Amsterdam (2015), Goethe On Main, Johannesburg (2015), at the Johannesburg Pavilion at the 56th Venice Biennale, Venice (2015), and BOZAR, Brussels (2014), amongst others. Her work has been acquired for the UK National Collections, The Scottish National Gallery Collections, Glasgow Museums Collections and The Contemporary Art Research Collection at Edinburgh College of Art amongst other private collections. Alberta is representing Scotland at the 59th Venice Biennale in 2022. And over 2021, Alberta will be sharing new work as part of the British Art Show 9, RESET at Jupiter Artland, Right of Admission at the University of Johannesburg, Art from Britain and The Caribbean at Tate Modern, Sex Ecologies at Kunstal Trondheim, Norway, In The Castle Of My Skin (MIMA) and Gothenburg Biennale (2021).
Alberta's writing has been published in MAP magazine, Visual Culture in Britain, Visual Studies, Art South Africa and Critical Arts Academic Journal.
Categories
Tags