Bone of my Bones, Flesh of my Flesh, is the first UK exhibition of Peruvian artist Wynnie Mynerva (b. Lima, 1992). The opening at Gathering will take place on Tuesday 24th January 6-8pm at the Soho gallery.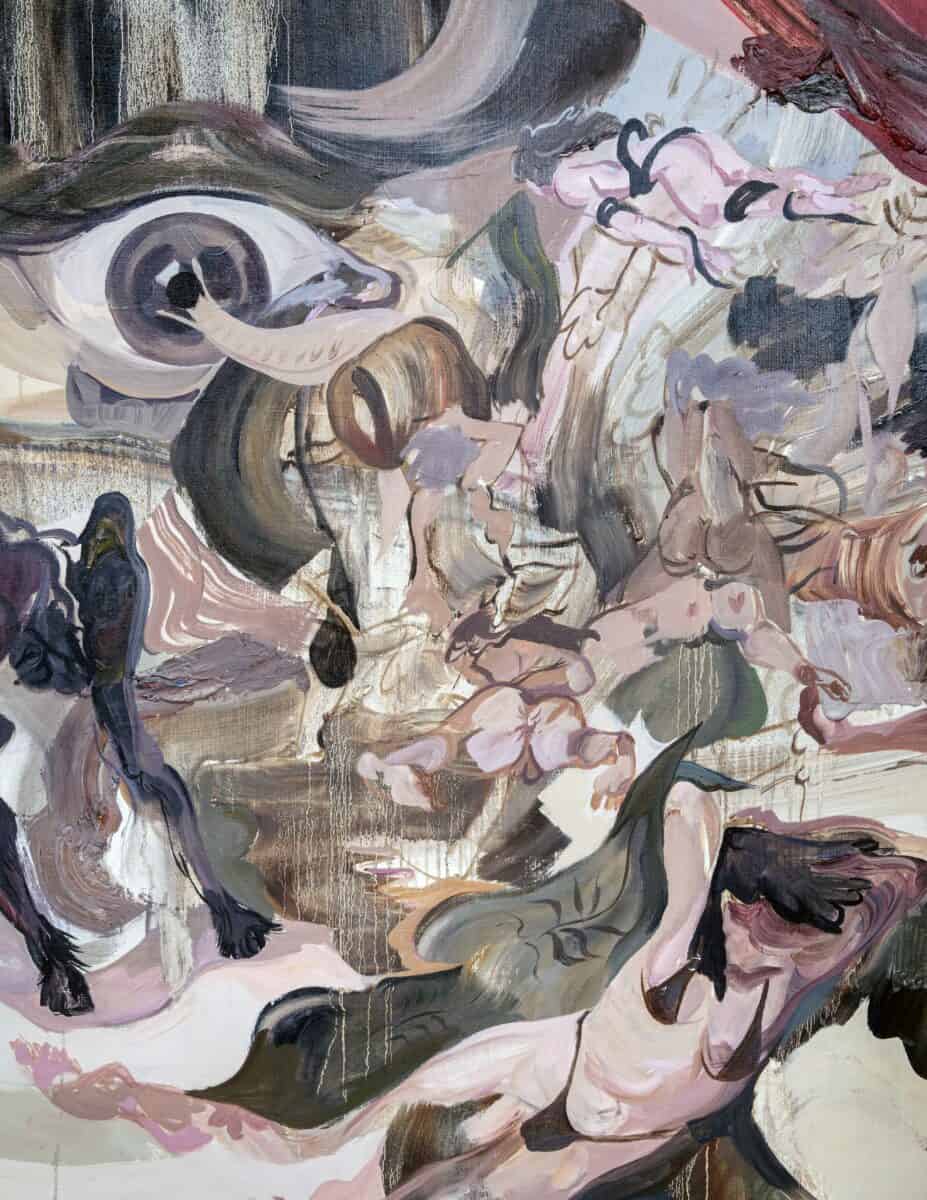 Male violence, sexual abuse, the gender binary, patriarchal power structures; centuries of Western, phallocentric artwork perpetuate the dynamic of male as active, female as passive. Wynnie Mynerva seeks to reject this standard, informed by personal experiences of sexual trauma and, in a wider sense, by the art historical canon. By referencing and subverting historical and mythological iconography, Mynerva echoes the methods and compositions of the Western Old Masters to reimagine traditional interpretations of female/male power dynamics.
Their newest body of work focuses on the male-centric creation myths of Abrahamic religions; two figures central to the exhibition are Lilith and Eve. Both women can be read as symbols of contrasting female identity, one equal to Adam (man), the other subservient. Although set in opposition from one another, Eve and Lilith are similarly agents of chaos. They share an inability to comply with the gender roles prescribed to them, and neither can exist contentedly within the patriarchal paradise constructed by their 'creator'. The prevalence of these characters within art, condemned to continually serve as visual metaphors for female failure, offers a space for reinterpretation.
The show will expand through three exhibition spaces. On entering the gallery, two large canvases curve around the room, engulfing the viewer in a world of colourful, scriptural, sexual chaos. Inspired by Rodin's Gates of Hell and akin to the complex visual narratives created by Bosch or Michelangelo, Mynerva presents the entrance of their own epic story.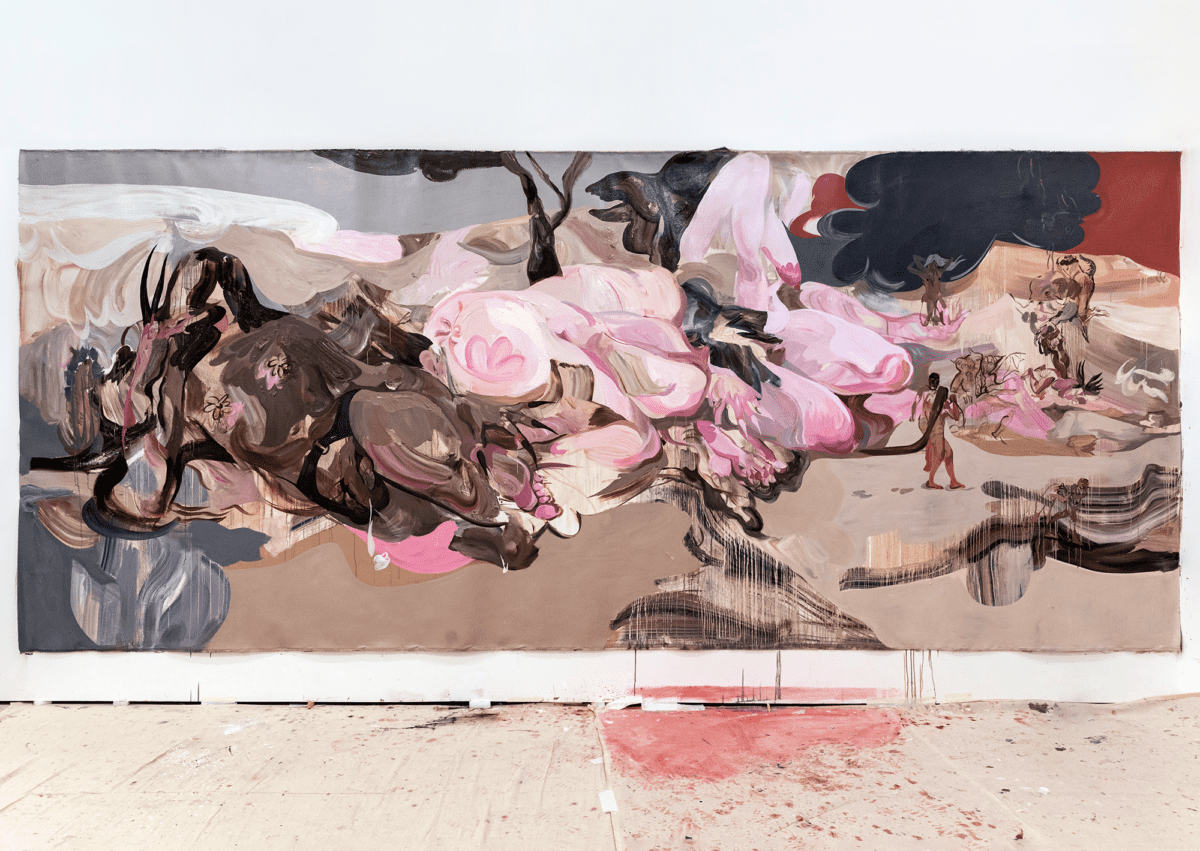 Moving downstairs, the viewer steps into a womblike pit, dwarfed by vibrant, large-scale paintings depicting fleshy abstract blends of sexual organs and body parts. Lilith and Eve are situated on either canvas, stripped bare in simultaneously compromising and alluring poses. They physically oppose each other and yet, standing together as gate keepers, bring focus to the collegiality of their creation narratives. Lilith and Eve pose as 'female' archetypes, reframed as powerful symbols of sexual insurgence and united by their inability to satisfy male expectation. Dimly lit and suspended, the canvases drape down to the blood-red vinyl floor completing an immersive installation of painting/sculpture and reflective colour.
Bone of my Bones, Flesh of my Flesh seeks to dismantle the idea of sexuality as either intrinsically biological or as rigidly defined by a male-centric creative tradition. Mynerva offers us the possibility of a new visual narrative, an epic that takes from the past yet is insistent on drawing us forward.
Wynnie Mynerva, Bone of my Bones, Flesh of my Flesh, 24th January – 4th March 2023 Art Opening Tuesday 24th January 6-8pm. Gathering, 5 Warwick St, London W1B 5LU gathering.london
About the artist
Wynnie Mynerva (b. 1992, Lima) is a visual artist currently living and working in Lima, Perú. Mynerva studied Art History at the Universidad Nacional Mayor de San Marcos and, afterwards, Fine Arts (painting) at the Escuela Nacional Superior Autónoma de Bellas Artes del Perú, and is currently
represented in Perú by Ginsberg Galeria.
She has participated in residences in Fountainhead (Miami), UberBau (Sao Paulo) and AMIL (Lima). Her latest exhibitions include: Closing to Open, ARCOMadrid, 2022; Paradiso, Proyecto AMIL, 2022; El Jardin de las Delicias, Museo AMANO, 2020; Sex Machine, Ginsberg Galeria, 2019; The Other Sex, Sala Euroidiomas Miraflores, 2019.
Categories
Tags