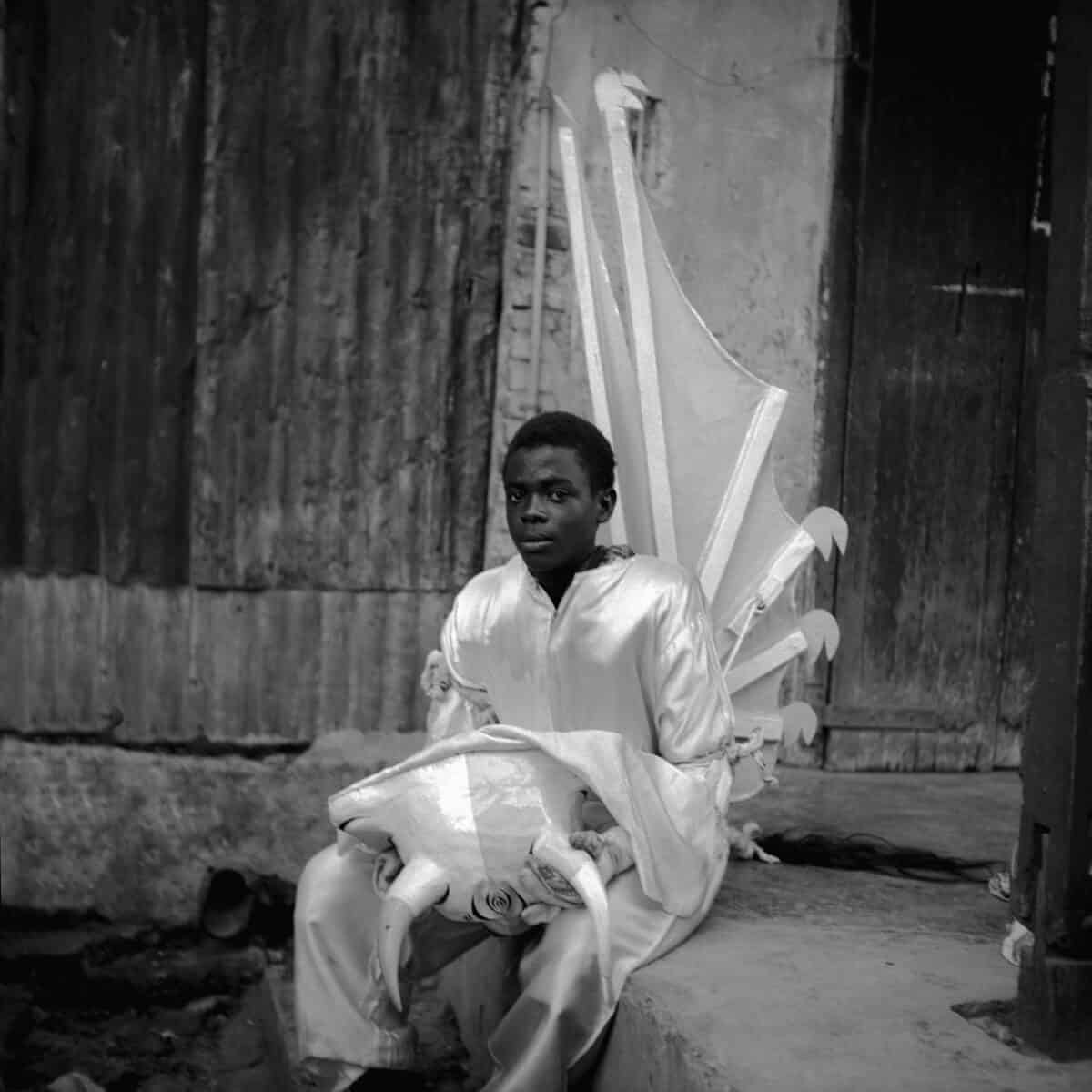 Ed Cross to present Kanaval, a solo show of film and photography by Leah Gordon (b. Ellesmere Port, 1959), at its Garrett Street gallery.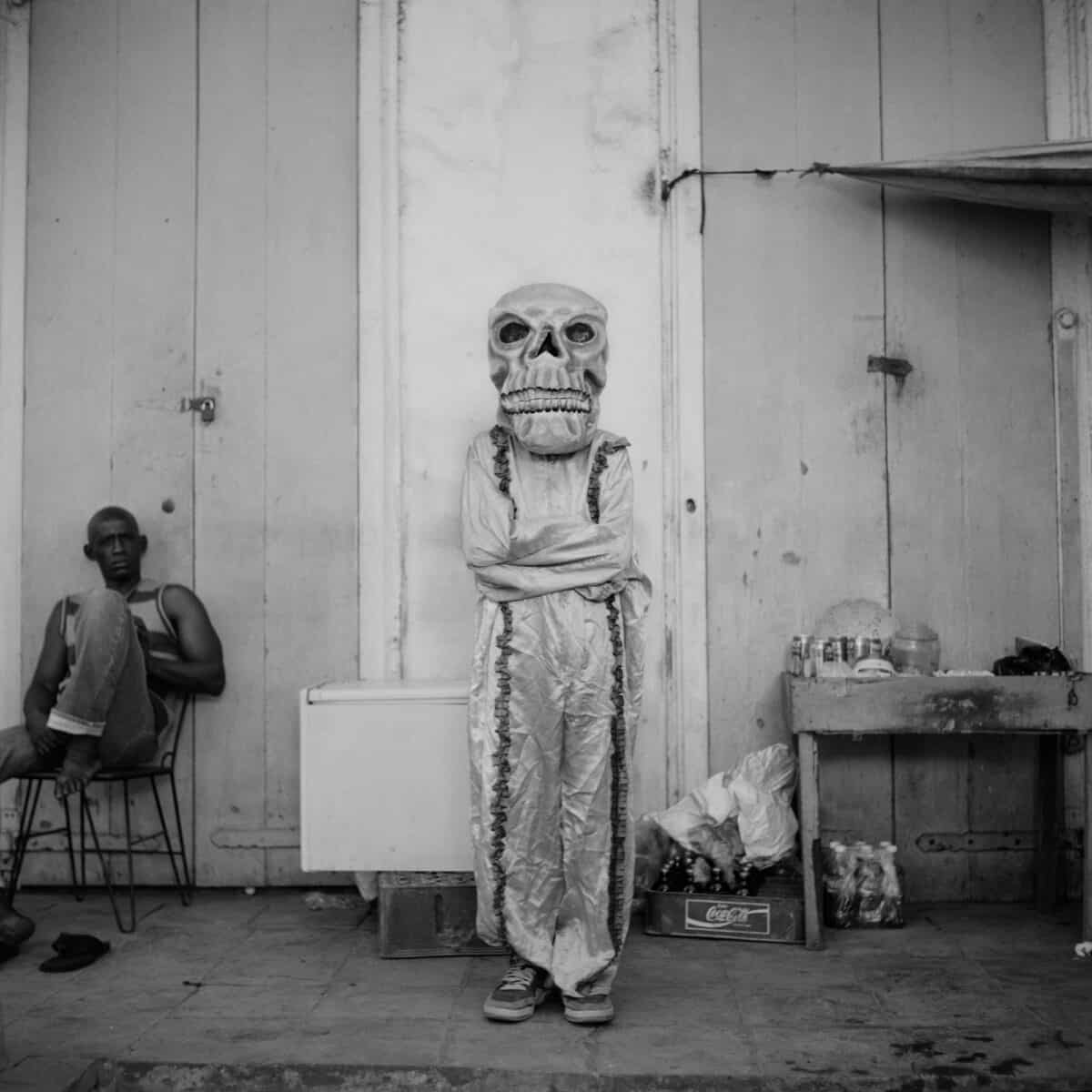 Ed Cross, Director, said:
We are honoured to be working with Leah Gordon to present this show. Her iconic work, carried out over two decades, painstakingly and respectfully reveals the layers of meaning behind an extraordinarily rich cultural phenomenon, the study of which unlocks the unique and important history of Haiti with all its tragedies and triumphs.
In her exhibition Kanaval, London-based artist, curator, filmmaker and writer Leah Gordon presents a series of black-and-white photographs from her long-term project of the same name. When she first visited Haiti in the early 90s, the country's history of revolution came to crystallise many burgeoning themes in Gordon's early work engaging with British folk traditions, punk folk and Northern Working-class culture.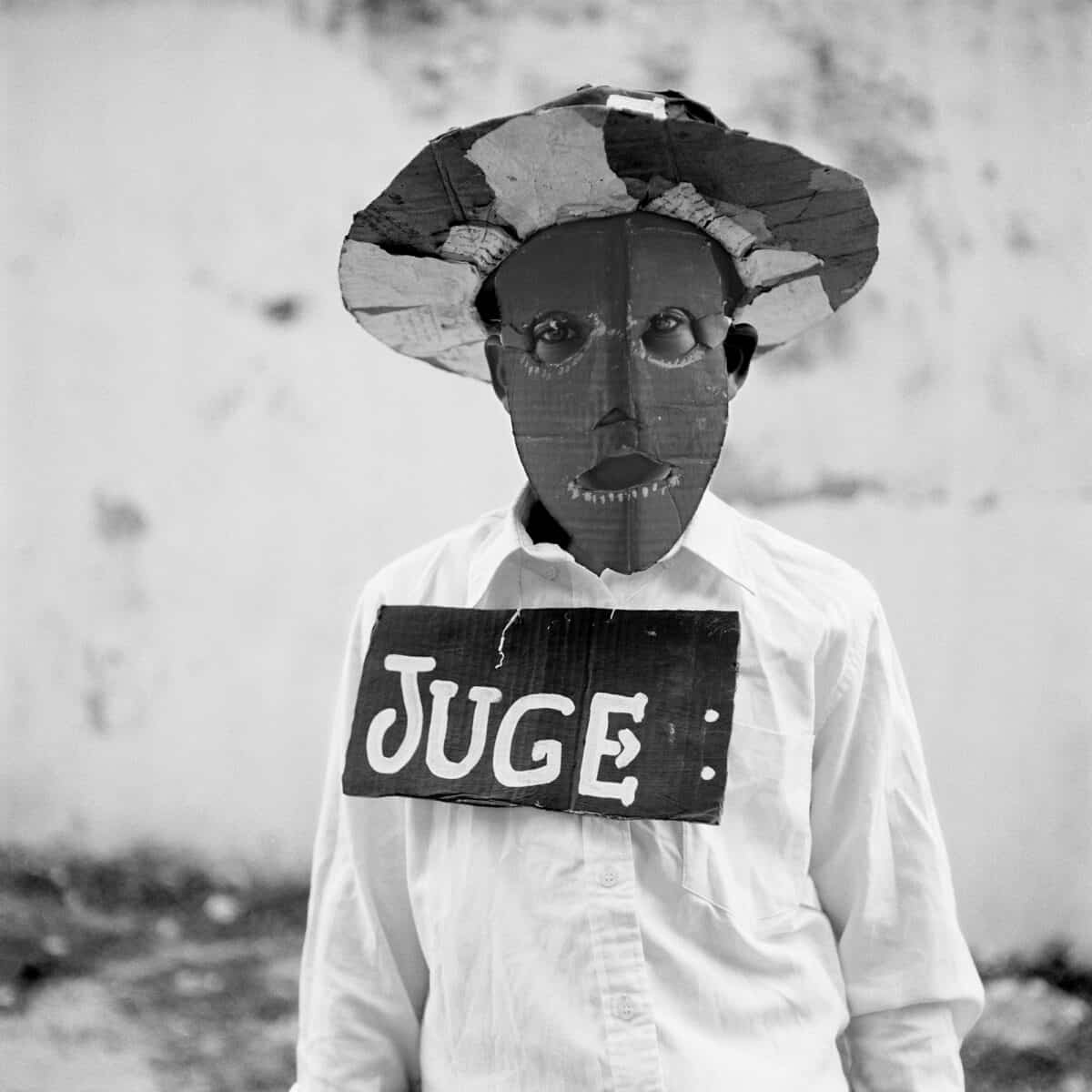 Featuring revellers in diverse costumes, melding spiritual and political satire with masquerade and ritual in the town's annual carnival, Kanaval was made over 25 years in Haiti's southern commune of Jacmel and has culminated in an extraordinary repository of images and stories.
Each year, Jacmel holds pre-Lenten Mardi Gras festivities where Haitian history is replayed through the masks, costumes, and street theatre of the carnival troupes. Fusing Vodou and ancestral memory with political satire and personal revelation, the Jacmellien masquerades replay the country's roots from pre-Colonialism, via the revolution, to the modern day. From the lives of the indigenous Taino Indians to the slaves' revolt of 1791, from the dictatorships of Papa and Baby Doc Duvalier in the 1960s, from US interference by the CIA to more recent state corruption, Haiti's history is brought to life on Jacmel's streets and in Gordon's photographs.   
Gordon's method has been referred to as 'performed ethnography', a term that respects her more reciprocal way of working; always engaging with the sitter through the shared language of Krèyol and collecting oral histories, the process is durational due to the use of a mechanical 60-year-old analogue camera, with subjects paid for their time. Representing an exchange as well as an encounter, the photographs allow the participants some agency over their pose and re-presentation, leaving space for history and mythology to seep through the (often overpowering) spectacle of the image.
Gordon said:
This is people taking history into their own hands and moulding it into whatever they decide. So, within this Historical retelling, we find mask after mask, but rather than concealing, they are revealing, story after story, through disguise and roadside pantomime.
Gordon's award-nominated feature-length documentary Kanaval: A People's History of Haiti in Six Chapters will be shown alongside the photography, which broadcast in selected cinemas in November and on BBC 4's Arena. Kanaval, a book of photographs and oral histories documenting carnival in Jacmel, has recently been republished by Here Press.
Leah Gordon, Kanaval, 12th January- 18th February 2023, Ed Cross
Gordon's Kanaval has been nominated for the Grierson for Best Feature Documentary and Best Debut Director and Best Cinematography in the British Independent Film Awards.
5% of profit (shared between the artist and the gallery) will be used to buy art materials (including acrylic paints, brushes and canvas) which will be sent to Atis Rezistans, a collective of majority class artists in downtown Port-au-Prince (name translates as Resistance Artists)
who are finding it increasingly difficult to access art supplies in Haiti.
About the artist
Leah Gordon (born Ellesmere Port, UK, 1959) is an artist, curator, and writer. Her work explores the intervolved and intersectional histories of the Caribbean plantation system, the Trans-Atlantic Slave Trade, the Enclosure Acts and the creation of the British working-class. In the 1980s she wrote lyrics, sang, and played for a feminist folk punk band. Gordon's film and photographic work has been exhibited internationally including the Museum of Contemporary Art, Sydney; the Dak'art Biennale; the National Portrait Gallery, UK and the Norton Museum of Art, Florida. She is the co-director of the Ghetto Biennale in Port-au-Prince, Haiti; was a curator for the Haitian Pavilion at the 54th Venice Biennale; was the co-curator of 'Kafou: Haiti, History & Art' at Nottingham Contemporary, UK; and was the co-curator of 'PÒTOPRENS: The
Urban Artists of Port-au-Prince' at Pioneer Works, NYC in 2018 and MOCA, Miami in 2019. In 2022 she exhibited in and curated the Atis Rezistans | Ghetto Biennale exhibition at St Kunigundis Church at documenta fifteen, Kassel; and her work is currently showing at MOCA
North, Miami (until 16 April 2023).
Categories
Tags