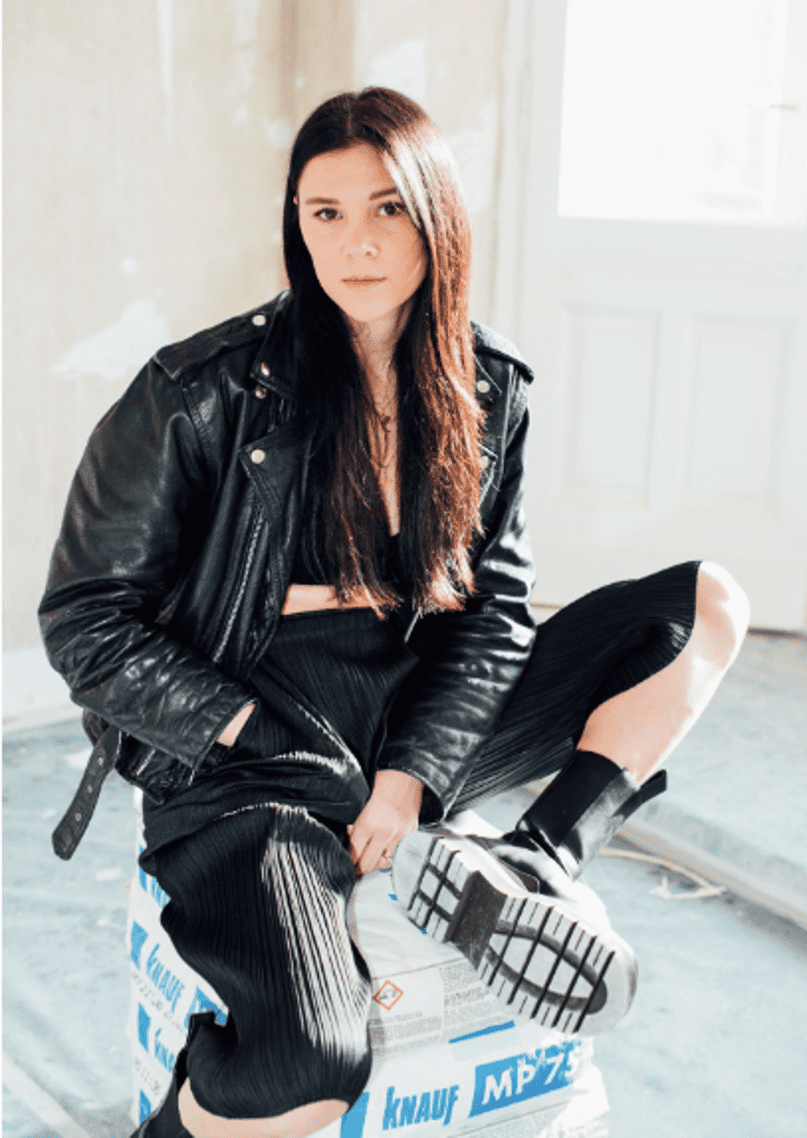 White Cube has announced the representation of Klára Hosnedlová (b. 1990, Uherské Hradište, Czech Republic). Berlin-based, but part of the first post-communist Czech generation, Hosnedlová fuses elements of science fiction, technology and the natural world in her charged, narrative mise-en-scène.
Inspired by 'novel spaces', including the '60s and '70s Modernist and Brutalist architecture of Central Eastern Europe, Hosnedlová combines performance, sculpture and embroidered painting in works which can be understood as a single artwork entity. 
Hosnedlová's solo exhibition 'To Infinity' opens at Kestner Gesellschaft, Hanover, 4th March – 4th June 2023, with a further solo presentation at Kunsthalle Basel scheduled for January 2024. Her first solo exhibition with the gallery will take place at White Cube Bermondsey, London in 2025. The artist is jointly represented by White Cube, Hunt Kastner and Kraupa-Tuskany Zeid-ler.
About the artist
Klára Hosnedlová's corporeal, immersive installations address utopian visions and imagine our future, post-nature selves. Interweaving architectural elements with performance, sculpture and also embroidery, her site-specific works are choreographed to develop fictional narratives that pose 'what-if' open-ended scenarios.
In her practice, Hosnedlová's focuses on historical perception, specifically as it relates to utopian design and architecture. Often responding to a particular site or place, the artist researches past experimental projects that exemplify a utopian quest, highlighting how nostalgia for these past futurisms is an essential aspect of global culture. Elements drawn from science fiction, technological advancements and the natural world are combined to create at her object-based, large-scale installations. Together they have the feeling of having been arrived at organically; part of an untrammelled natural process yet guided by a man-made impulse to create a symbolic structure. Conscious that architecture will become the relics for future generations, Hosnedlová's projects evoke a 'futuristic archaeological mood' through their sensual and tactile materiality and detail-orientated attention to form.
Berlin based, but part of the first post-Communist Czech generation, Hosnedlová is inspired by 'novel spaces', including the 1960s and 1970s Modernist and Brutalist architecture of Central Eastern Europe. Researching these design typologies and how they intersect with politics, history, gender, mythology and a collective conscious has led her to create works based on several high-points of avant-garde Czech architecture. Among these are the iconic 1930s Adolf Loos apartments in Pilsen; the set designs by Karel Hugo Hilar for the National Theatre in Prague; and Karel Hubá?ek's late-1960s hyperboloid J?st?d Tower in Liberec. Focusing on the visual impact of these buildings and their history, Hosnedlová's research encompasses photography, archival studies and craftspeople who still use traditional modes of production.
Constructed with unusual, composite materials, Hosnedlová's architectural scenography or mise-en-scène serves as the backdrop for performance, sculpture and embroidered painting, which together form a single artwork entity. 'I felt the need to construct a specific environment, not only for placing my work, but with the intention to involve all my work into one living organism,' she says.
Within these spatial, fictional frameworks, Hosnedlová directs protagonists or performers to act out scenes in what could be described as a retro-futuristic period drama. The performative is always central to her project, but takes place without an audience and is documented through her own photographs. These photoshoots later provide the imagery for her embroidered 'paintings', in which partial narrative details leave the viewer suspended at a moment of seemingly epiphanic importance. Rendered in silk thread on canvas in exquisitely embroidered panels, their imagery oscillates between disclosure and concealment, carrying an intimate, voyeuristic charge. They seduce with their mimetic painterly allure, displaying fine tonal gradation that is built up line by line in minute, surgically-precise stitching. The panels may be mounted in sculptural terrazzo frames which have been cast from bulging insulation foam, set into towering resin columns resembling frozen stalagmites, or sewn into rough-textured cocoon-like tapestries, in sculptural installations that might in turn become the stage for another private performance, each project thus nurturing the seeds of the next.  
Klára Hosnedlová was born in 1990 in Uherské Hradišt?, Czech Republic, and lives and works in Berlin. She studied at the Academy of Fine Arts, Prague, and at the Faculty of Fine Arts, Brno, Czech Republic. Her work has been exhibited in numerous solo and group exhibitions including the 16th Lyon Biennale, France (2022); X Museum, Beijing (2022); Art Basel Parcours, Basel (2021); Baltic Triennial 14, Contemporary Art Centre, Vilnius (2021); 54th October Salon Belgrade Biennial (2021); 7th Athens Biennial (2021); Fondation Cartier, Paris (2019); Vila Tugendhat, Brno (2017); Prague National Gallery (2015). 
---
Categories
Tags