MASSIMODECARLO now represents American artist Austyn Weiner, whose energetic practice establishes her as a critical voice in a new generation of abstract painting. Working in oil on linen at a heroic scale, Weiner brings a bounding athleticism to her lyrical abstraction, using brushes, charcoal and oil sticks to draw her signature glyphs and characters into washes of brilliant color. Drawn from her own life and family history, her work calls on female postwar abstraction and the Jewish-American experience to bear a painterly grammar that is very much her own, and in the very present tense.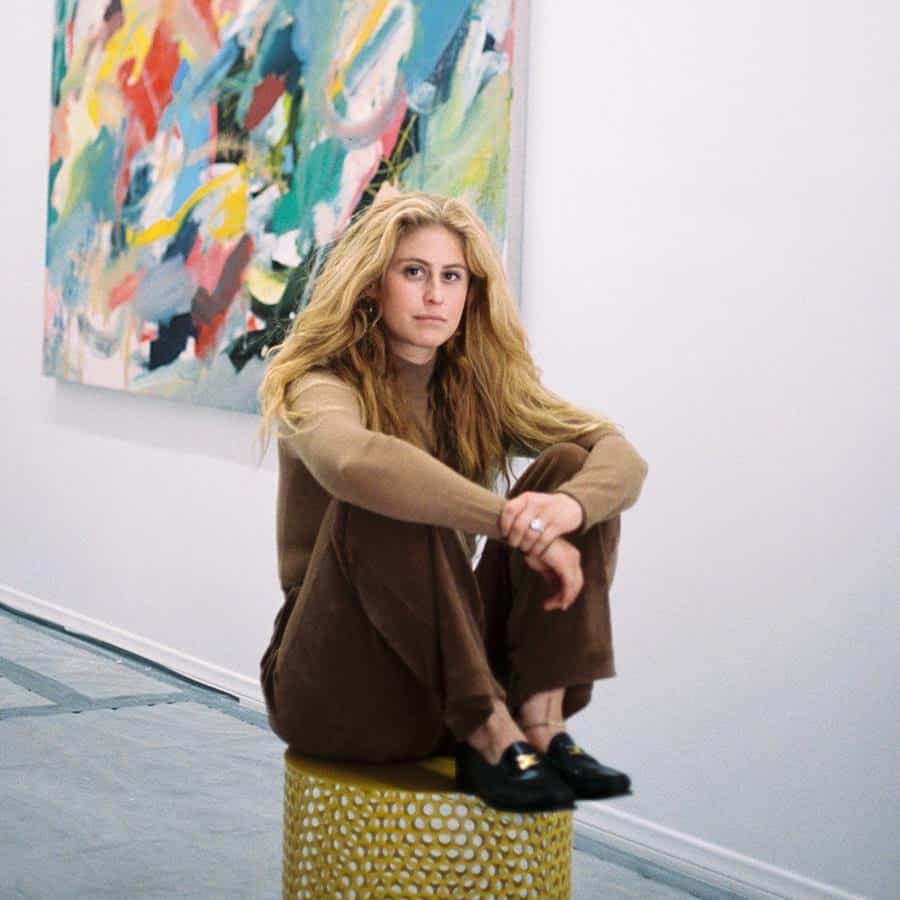 Referencing everything from the repeated cursive signatures in teenage marginalia, Joan Mitchell's sketchbooks, Eastern European lacework, and classical sgraffito, Weiner's marks can be both turbulent and rhapsodic, often in the same painting, to euphonious effect. Her process of repeated painting-in and rubbing-out gives her work a distinctive tempo that speeds up and slows down from work to work. Her paintings are a record of time, place, and psychological agita. In a recent Vogue profile, arts writer Dodie Kazanjian wrote of Weiner's physicality, "this is full-arm painting."
Weiner was born in 1989 in Miami, FL and spent her childhood surrounded by the city's iconic Art Deco architecture which informed her sense of color –smoldering cadmium red shot through with king's blue, loops of Montserrat orange and fields of dianthus pink– while her compositions are deeply informed by the material culture of her adopted Los Angeles, where she has lived since studying studio art at the University of Michigan and Parsons School of Design in New York. Her self-described diaristic practice possesses what the late critic Peter Schjeldahl called, in an essay about Belarusian painter Chaim Soutine, a "vulnerable ferocity;" Weiner's surfaces are scumbled, reworked, and her laboring visible, and yet ultimately her project is one of lyrical, painterly joy. 
Weiner will exhibit a solo Kabinett presentation at Art Basel Miami with MASSIMODECARLO in 2022 and a solo exhibition at MASSIMODECARLO London in 2023.
Select solo and group exhibitions include MASSIMODECARLO Pièce Unique, Paris (2022); König Galerie, Seoul (2022); König Galerie, Berlin (2021) Harper's Apartment, New York (2021); Fredericks & Freiser, New York (2021); Carl Kostyál, London (2020); Library Street Collective, Detroit (2020); Kohn Gallery, Los Angeles (2020); The Pit, Glendale, California (2020); Rental Gallery, East Hampton, New York (2020); The Journal Gallery, New York (2019); and Bill Brady Gallery, Miami (2018).  Her work is in the permanent collections of the Aurora Museum, Shanghai; Xiao Museum, Rizhao, Shandong Province; He Art Museum (HEM), Shunde, Foshan, Guangdong Province; and Green Family Art Foundation, Dallas. Her work has been featured in publications such as Artforum, Artnet, and Vogue, among others.
Categories
Tags