Banksy's Met Ball  his irreverently critical take on a 'disco ball' is to be offered at auction for the first time. Forum Auctions, since 2016 the first London auction house to hold dedicated sales of Banksy's art, is to offer the work, which takes the form of a reclaimed riot police helmet, in its' upcoming sale titled: Only Banksy tomorrow Tuesday November 8th, 2022.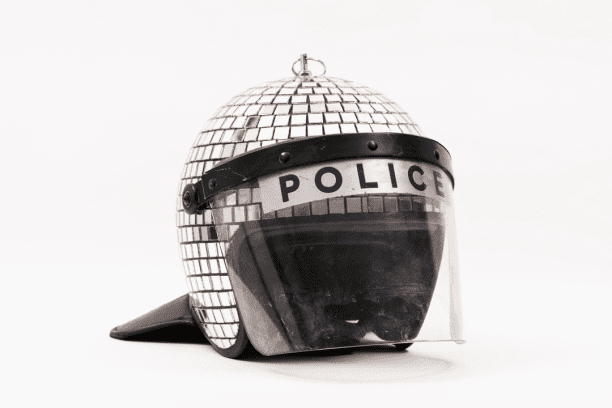 The work features tiny mirrored tiles applied to the original helmet, is numbered and bears the artist's signature, inscribed on the inside. The 'disco ball' is one of a selection of pieces offered by Banksy in his Gross Domestic Product project in 2019, where in order to sell directly to his fans (by bypassing galleries, and auction houses), he opened a shop in Croydon to display his products and artworks.
Among the other works on offer at GDP was a Union Jack emblazoned stab-proof vest, as worn by the singer Stormzy on the pyramid stage at Glastonbury in 2019, and similarly an ironic clutch bag made from a house brick "for the kind of person who doesn't carry much but might need to whack someone in the face". However, buyers could not enter the shop, instead they were directed to a website where they could 'apply' to purchase one item only.
The application to purchase was accepted or declined via a lottery process, based on merit. Potential buyers were asked the question: "Why does art matter" and their responses were judged by the comedian Adam Bloom. If they were found to be amusing, entertaining or original enough, their name was entered into a lottery to win their chosen object. To emphasise his ethos of 'art being accessible' his works were priced from £10 to enable everyone that wanted to, a chance to buy a work they liked.
Potential customers were assured that they would retain the copyright of their caption/handwriting, which alludes to the reason for the artist opening the shop, which was in response to trademark issues.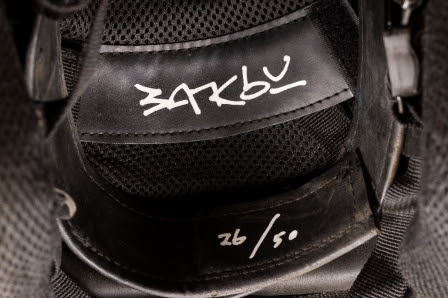 'Met Ball' carries an auction estimate of £140,000-£180,000.BID HERE
Categories
Tags