For a lot of people one thing lockdown gave them was time, time to think, time to contemplate, to think about life, death, the future and to think about the passing of time itself.
This week sees two projects from Gavin Turk that were started during lockdown that tackle some of those subjects/feelings a new book of drawings and an exhibition of new oil paintings completed during lockdown being exhibited in London for the first time.
The book is Cave Drawings Book a collection of drawings made during 2020 – 2021 in the UK Coronavirus lockdown, one drawing a day …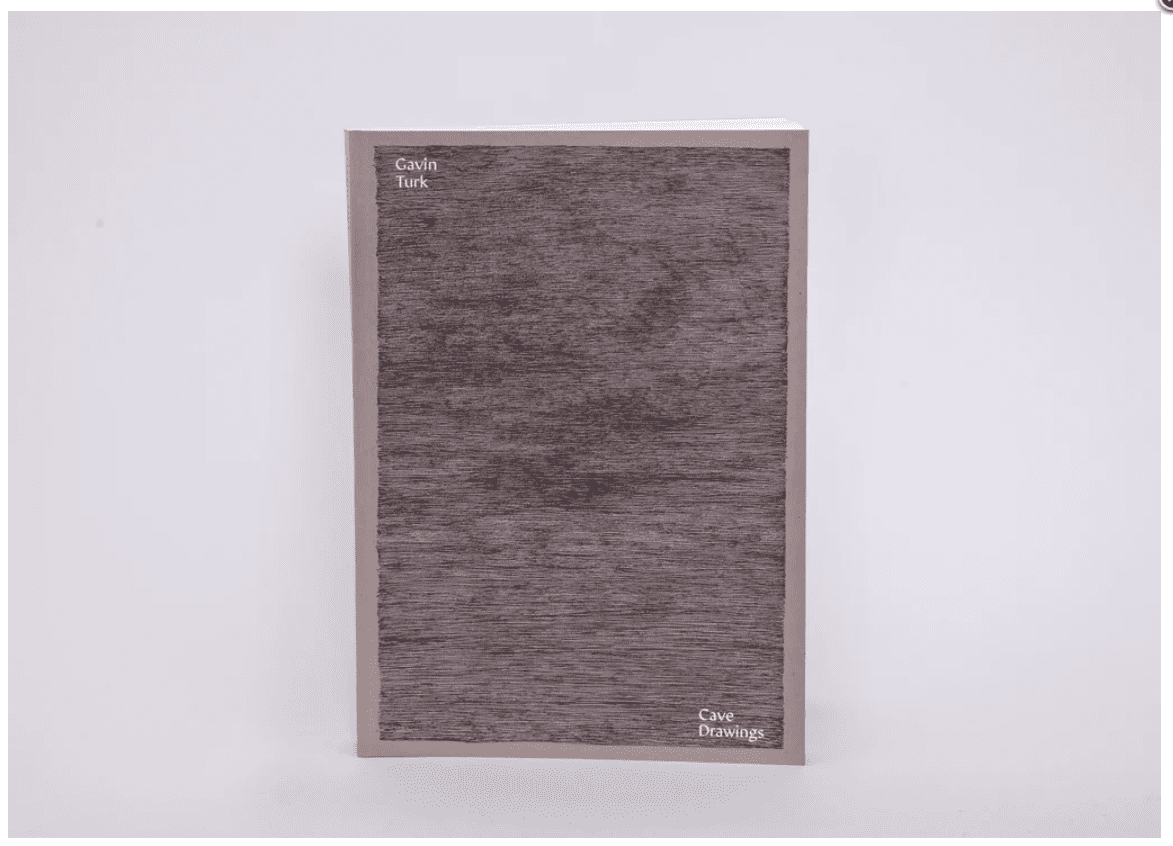 During the UK lockdown I made a drawing a day… Abstract, subject-less pencil work where an 'automatic' surreal zone appeared on the paper. I looked up the word 'doodle' and wondered if it could be helpful to explain the method — 'A drawing made while a person's attention is otherwise occupied.' Umm… there's something here. However, the process did feel more mindful, like a process of drawing that consciously tried to escape recognition, while still drawing a line or mark that looked 'right' or corrected another.

Gavin Turk
The book Cave Drawings Book is 162 pages and published in an edition of 350 by Live Stock Market this year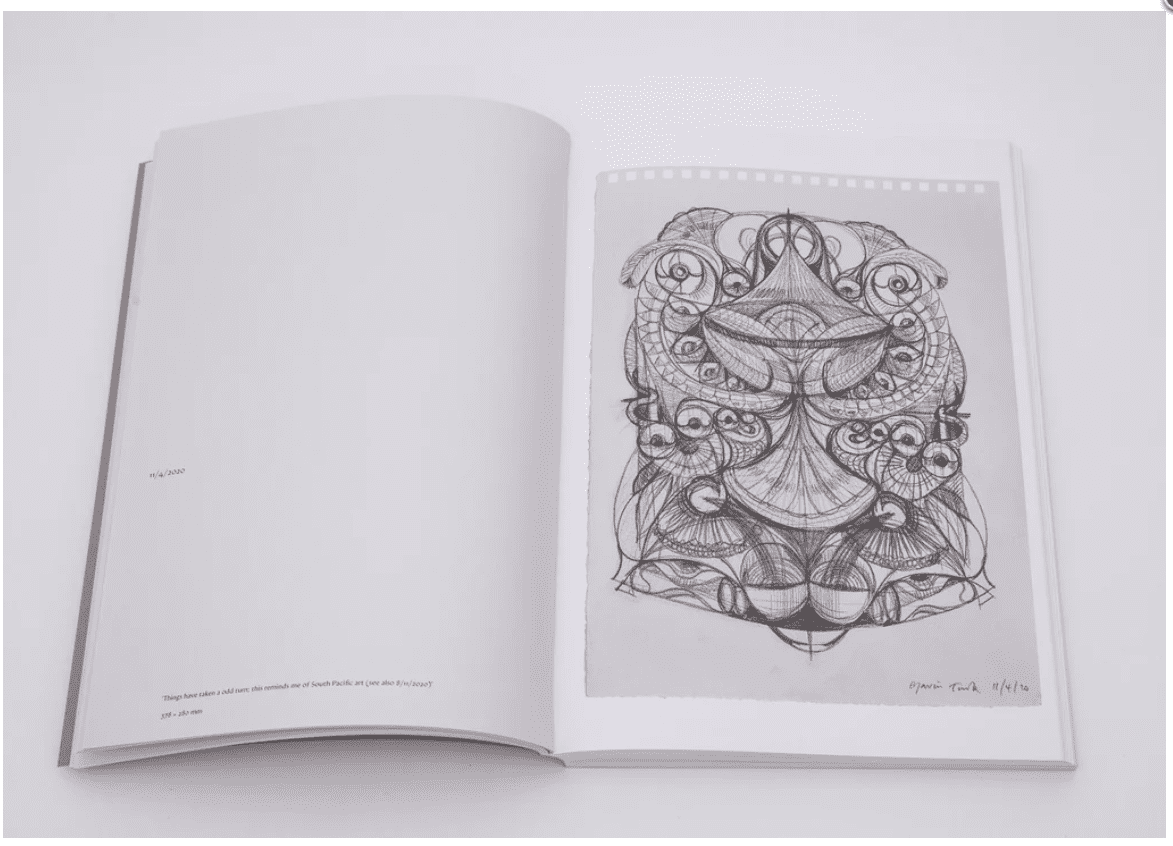 Gavin also says about the book
William Hogarth, in 'The Analysis of Beauty' (1853), set out about his beliefs regarding visual aesthetic beauty, This book mentions the 'Line of Beauty', a certain S-shaped line 'that excited the attention of the viewer and evokes liveliness and movement'. These 'Cave Drawings', far from being dreamlike depictions of gods or prey scratched into the wall, are more an unavoidable expression of the advantages and disadvantages of having a mark-making instrument in your hand. Scribbles, scratches, squiggles and scrawls — drawing out a drawing.

Plato's 'Allegory of the Cave' refers to the imprisoned view that perception has of the world describing it, as a series of manipulated shadows on the back wall of the cave. This allegory was modified by Francis Bacon discussing his 'Idols of the Cave' (1620), 'where everyone has their own special cave or den which scatters and discolours the light of nature, so that the human spirit (as it is allotted to particular individuals) is a variable thing, all muddled, and so to speak a creature of chance.'

So, I invite you now to bring your conscious and unconscious biases, as well as an open mind, to float and engage with the ensuing pages.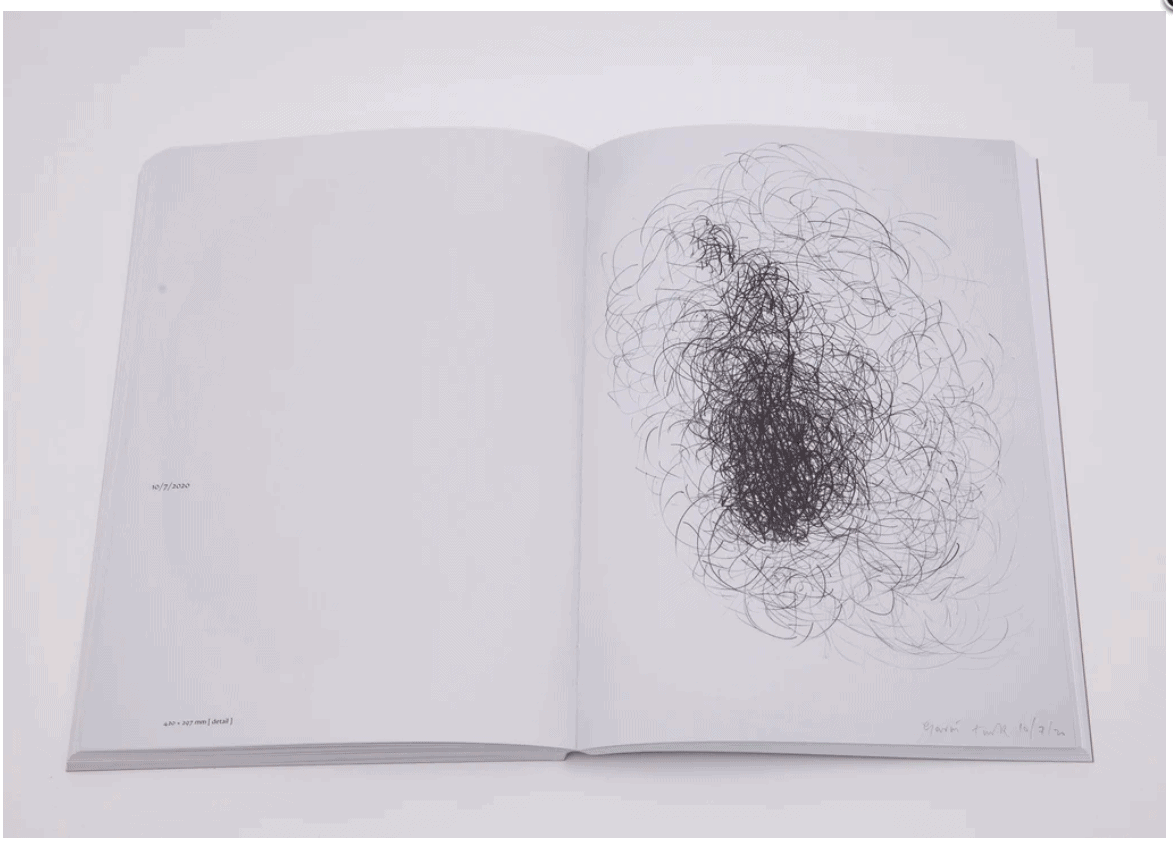 Cave Drawings Book is available to buy this week online here. Also opening in the same week as the Cave Drawings Book is released is Kerze at Ben Brown Fine Art, Gavin Turk's fourth solo exhibition with the London gallery.
The exhibition will unveil a new series of paintings created over the last two years meticulously rendered still lifes of candles based on Gerhard Richter's renowned photorealist painting subverted by Turk as he presents the candles as recently extinguished, their curls of smoke trailing up the canvas.
I first came to notice this painting [Kerze, 1983] in 1988 when it was used on the album cover of Daydream Nation by Sonic Youth. It seemed to extend the mood of the music and got lodged in my subconscious; now more than 30 years later, this feeling of pathos has started to reappear in my work.

Gavin Turk
The exhibition Kerze, the German word for candle, will bring together 11 paintings based on Richter's iconic series from the early 1980s of sublimely elegant and disquietingly haunting photorealist paintings of lit candles. Singular and in groupings up to three, arranged in hazily lit interior spaces, the still lifes are framed by the horizontal lines of tabletops and verticality of obscured curtains or windows in the background. In Turk's faithful iterations, the candles have recently been snuffed out, their delicate threads of waxy smoke illuminating the canvas, altering the narrative, and shifting the symbolism inherent to the subject matter.
This body of work oscillates between a romantic or tragic dialogue with history and a puckish rhetoric questioning authenticity and identity. These memento mori works can be approached through a labyrinthine set of interpretations, nodding to the 'tubism' of Fernand Léger and graphic juxtapositions of Surrealist René Magritte, to the powerful symbolism evoked by Richter in depicting his candles, a charged motif that has been referenced throughout art history for centuries. The question now building from the narrative of the paintings: Why have the candles gone out?
GAVIN TURK, KERZE, 4th November 2022 – 14th January 2023 PRIVATE VIEW Thursday, 3rd November, 6-8PM Ben Brown Fine Art
About the artist
Gavin Turk was born 1967 in Guildford, England, and attended the Royal College of Art in London. In his 1991 MA exhibition, Cave, he presented a whitewashed studio space containing a single blue heritage plaque commemorating his presence. Though refused a degree, his subsequent notoriety attracted the attention of Charles Saatchi, and he became part of a group known as the 'Young British Artists' (YBAs). He has since been represented by many major galleries throughout the world and is known for pioneering many forms of contemporary British sculpture now taken for granted, including the painted bronze, the waxwork, the recycled art-historical icon, and the use of rubbish in art. His work is included in numerous international collections including the Tate, London; Victoria and Albert Museum (V&A), London; and Museum of Modern Art, New York. Turk lives and works in London.
Categories
Tags