Last night Turner prize-winning artist Laure Prouvost honoured London-based filmmaker Mary Martin as the recipient of the CIRCA x Dazed Class of 2022 #CIRCAECONOMY £30,000 cash prize.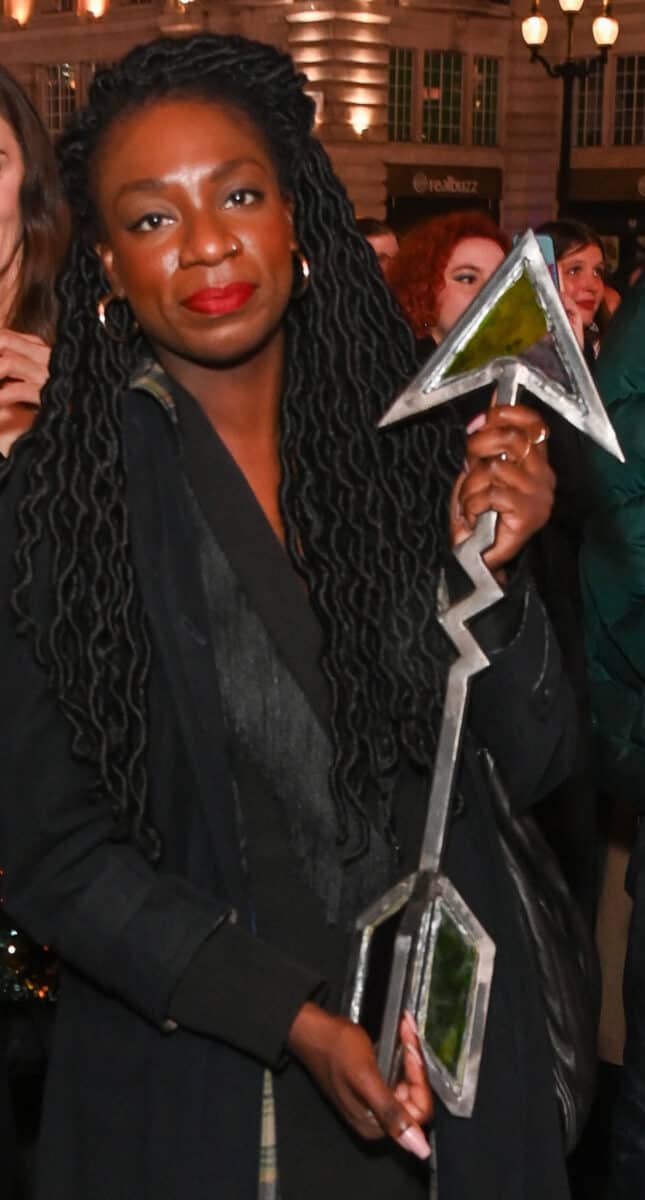 Laure Prouvost announced the winner at the iconic Piccadilly Lights screen during a special 20-minute presentation, Martin was selected from over 1,000 submissions around the world to win the CIRCA x Dazed Class of 2022 award.
Mary Martin's film 'Something More' is an experimental animated documentary that explores the impact of youth knife crime in London. The documentary engages with the epidemic on a deeper level as it endeavours to ignite further conversations that question the criminal justice system, the current economic and political climate, all of which point to knife crime as a symptom of a wider societal problem. @marymartinsart.
Guests from the worlds of art, fashion, film, photography and art, gathered around The Statue of Anteros to watch on as the filmmaker Mary Martin was awarded the cash prize of £30,000 and the Class of 2022 trophy, handcrafted by Jermaine Gallacher and Ben Burgis, passed on by last year's winner Joseph Wilson.
During the ceremony, CIRCA and Dazed also announced the winner of the £10,000 public vote powered by Piccadilly Lights. With over 6,000 votes cast, the public voted to award this prize to Daria Pugachova from Ukraine. Her film 'MICROCOSMOS' is a documentary project about life in the post-Soviet neighbourhood in Poltava, Ukraine, at the end of 2021. @outside_observer.art
The CIRCA x Dazed Class of 2022 returned for a second year with an open call for new media creators to respond to the theme 'A Future World' with a two-and-a-half minute piece of new or pre-existing moving image work. The Class of 2022 is global and open to all – from aspiring filmmakers and creators, budding artists and activists, to performers, poets and gamers – in a bid to discover, platform and celebrate the new visionaries shaping our future through creativity. 
Class of 2022 was co-created by CIRCA and Dazed to spotlight and support the next generation of artists working in moving-image. With public art spaces diminishing, investment in arts education being cut and artist communities at risk, the joint initiative aimed to empower youth through creativity and platform new voices and points of view from local communities on a global level, giving them unrivalled media exposure whilst also presenting their work to an esteemed jury including Martine Syms, Arca, Hans Ulrich Obrist, Caleb Femi, Kandis Williams, Josef O'Connor, Guido Gregorio Daminelli, Jefferson Hack and Precious Okoyomon, who selected a total of 30 finalists who had their work broadcast around the globe on London's Piccadilly Lights, Seoul's Coex K-Pop Square, Berlin's Kurfürstendamm and Melbourne's FedSquare.
The prize fund of £30,000 has been generated from the sale of #CIRCAECONOMY prints generously donated by artists including Patti Smith and David Hockney. Since launching in October 2020, the #CIRCAECONOMY initiative has enabled CIRCA to invest in the future of art and culture by continuing its free global public art programme whilst nurturing a more diverse cultural industry and supporting emerging creative potential.
You can watch the films by Mary, Daria and the rest of the Class of 2022 HERE
CIRCA is a digital art and culture platform with purpose. We stop the clock on global media spaces every evening at 20:22 and mobilise the world's greatest creative minds to broadcast unique works that consider our world today, circa 2022. The funds we generate from artist print sales drive the #CIRCAECONOMY – a circular model that supports our free public art programme and creates life-changing opportunities for the art & culture community.
Since launching in October 2020 on London's iconic Piccadilly Lights, CIRCA has commissioned new work from rising and established artists including Ai Weiwei, Cauleen Smith, Eddie Peake, Anne Imhof, Patti Smith, Tony Cokes, Emma Talbot, Vivienne Westwood, James Barnor, David Hockney & Yoko Ono.
Categories
Tags