Georg Baselitz: Zeitgeist Paintings brings together works from the landmark series which the artist executed in 1982 for Zeitgeist, a large-scale group exhibition of international art at the Martin-Gropius-Bau, Berlin. The exhibition marks 40 years since Zeitgeist opened in October 1982 and includes works from prominent public and private collections, highlighting a formative moment in the artist's oeuvre. Portraying solitary figures framed by closing-in walls and windows, the paintings in the Zeitgeist series evince striking psychological intensity and operate at an intersection of motifs which would come to define Baselitz's work in the 1980s.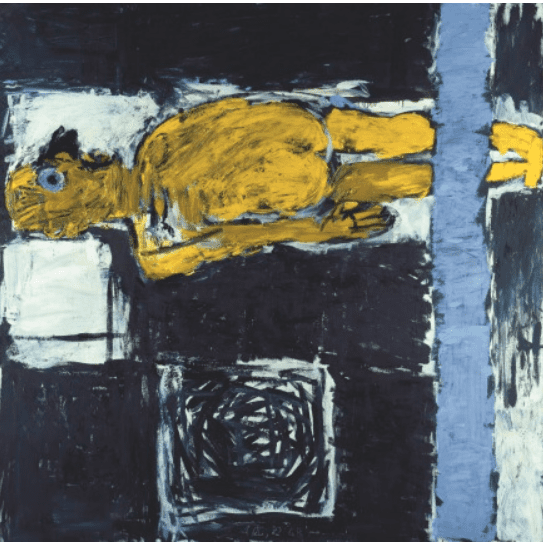 Organised by Norman Rosenthal and Christos Joachimedes, Zeitgeist presented an intent reflection on contemporary art and politics in Europe and America. Unlike the landmark A New Spirit in Painting, curated by the duo in the year prior which featured paintings executed throughout the Post-War period, Zeitgeist included only recent work, staging one of the most important painting surveys of the decade. As the critic Marina Vaizey pointed out, "the overwhelming impact is startling and powerful. […] This compilation, for good or ill, will reverberate through the decade, and sets the tone of the 1980s."[1]
Baselitz's presentation in Zeitgeist included eight large-scale compositions which hung several meters above the ground, evoking a frieze of stained-glass windows; six works from the series are on view here. Employing compressed, irregular brushwork to form an agitated space of a night scene, the artist powerfully conveys the mood and experience of his enigmatic figures. Lying in bed or anxiously looking out of the window, each figure seems isolated and vulnerable, suggesting the unseen horror of external events. Dramatically bent at the neck, the protagonist in Sterne im Fenster (1982) appears constricted by the surroundings, reaching for a window frame with his eyes closed. In Franz im Bett (1982), the figure stretched in bed projects a similar sense of tension, with their gaze steadily fixed, as if in silent anticipation of sound or motion outside.
Compositionally, the 'Zeitgeist Paintings' evoke late self-portraits by Edvard Munch painted in the early 1940s against the background of the looming war, notably Self Portrait by the Window (ca. 1940) and Self-Portrait Between the Clock and the Bed (1940-43). Imbued with stillness, Munch's paintings evade direct narratives, insinuating a palpable sense of unease via gesture and multiple contours in unnatural colours – something that Baselitz admired and interpreted anew in his body of work.
Eschewing references to a specific moment, the paintings nevertheless seem to deny the possibility of a break from the past, acting as a reminder of the trauma of the Second World War, and the historical implications of the divide between East and West. The image of a window evident throughout the series becomes particularly poignant in the context of the 1982 exhibition – the Martin-Gropius-Bau was situated so close to the Berlin Wall, that the original main entrance was closed, with the only possible access from the back of the building. As the artist remarked in a later statement, "The age – Zeit – we live in has a stronger hold over us than we have over it, because we can't fully grasp it as a phenomenon, as a spirit – Geist. So we just call it Zeitgeist. […] Although the time and the Zeitgeist are dominant, the artist does all he can – must, ought to do all he can – to escape the Zeitgeist. But what no-one could escape, what I could never escape, was Germany, and being German."
GEORG BASELITZ, Zeitgeist Paintings, October 11 – November 26, 2022, Skarstedt
Categories
Tags