Almine Rech London is to present SCENES, a solo exhibition of recent works by Nathaniel Mary Quinn. This will be Quinn's third solo show at the gallery.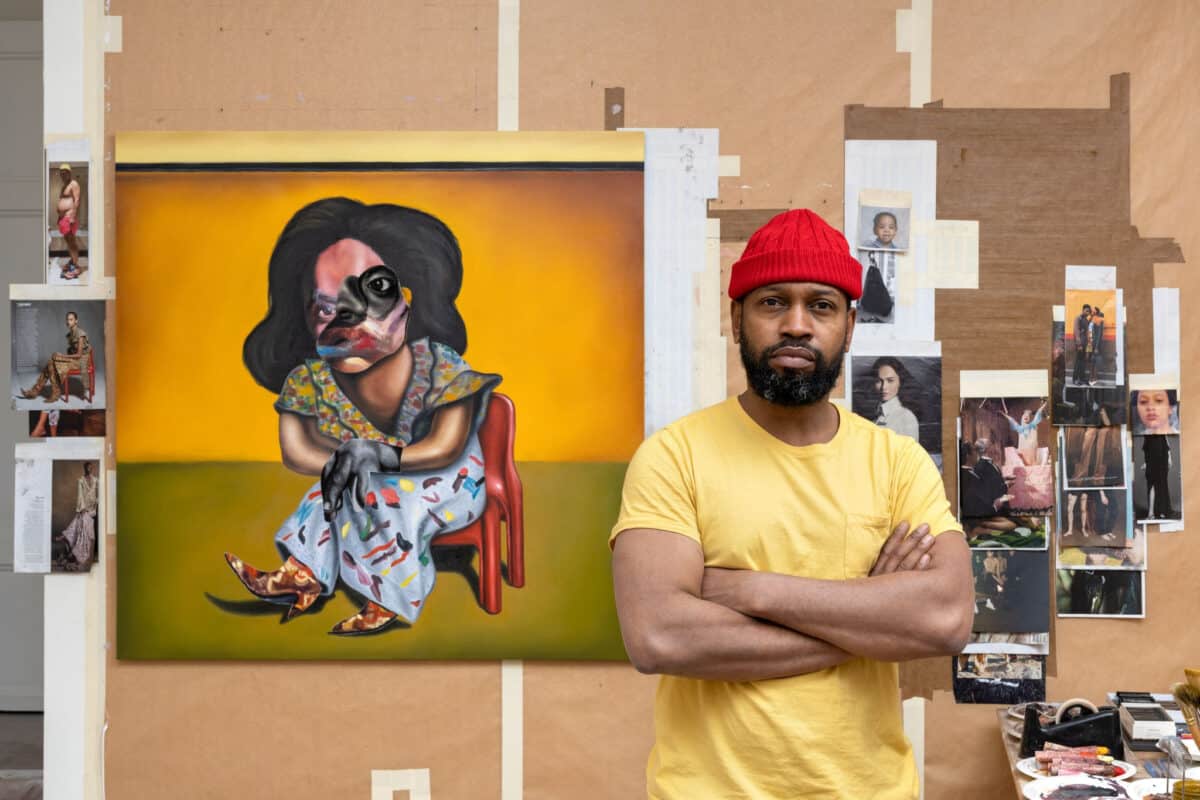 "This new body of work presented at Almine Rech London consisting mostly of paintings on linen canvas reflects my enduring love for movies and in particular, memorable scenes that resonate with me. It is also influenced by the seemingly "thematic nature" of social media, and more specifically the tales or narratives discussed and dissected on Instagram and YouTube. The process carried out is not defined by consciously duplicating any given scene or narrative but instead is governed by a present, subconscious, and visceral response to visions that reflect memories and ideas as they unfold in the very making of each piece, allowing for further discovery.

"Within the general context of my current studio practice, and related to processes of painting and drawing, I have been deeply informed by the Francis Bacon exhibition at The Royal Academy of Art in London this past April which left an indelible mark on me. It was my first time seeing so many of his paintings and I was brought to tears.

"Further motivation (or perhaps a personal conviction) resides with my wife's ardent pursuit of a film and television career as a writer and actress. My involvement in her world has significantly grown, giving rise to a newfound discovery of film, television, and, of course, the ever-evolving landscape of social media."

— Nathaniel Mary Quinn
— Nathaniel Mary Quinn
Nathaniel Mary Quinn, SCENES, 11th October – 12th November 2022 Almine Rech
About the artist
Nathaniel Mary Quinn (b. 1977) creates hybrid, fractured portraits on paper and linen using charcoal, gouache, pastel, paint stick, and oil paint. His works are replete with art historical references to Cubism, Surrealism, Francis Bacon, and others, yet his process is also very personal, drawing from his memories, experiences, traumas, and family history growing up in Chicago's Robert Taylor housing project. Nathaniel Mary Quinn balances the beautiful with the grotesque, the sinister with the benevolent, capturing the complexity of human emotion in a way that is individual and also representative of the human condition.
Nathaniel Mary Quinn has exhibited at galleries and institutions internationally. Recent solo exhibitions include Half Gallery, New York; Luce Gallery, Torino, Italy; M + B Gallery, Los Angeles; Rhona Hoffman Gallery, Chicago; Bunker 259 Gallery, Brooklyn; Pace Gallery, London, England; and the Museum of Contemporary African Diasporan Arts (MoCADA), Brooklyn, New York. He has also been featured in the group exhibitions at Artist Space, New York; The Bronx Museum of Arts; Albertz Benda, New York; Satori Gallery, New York; Susan-Inglett Gallery, New York; and Driscoll Babcock Gallery, New York; and in A Process Series | Here He Come: Black Jesus, curated by Jessamyn Fiore, Rawson Projects, New York. His work has been reviewed in numerous publications, including the New York Times, The Independent (London), AFROPUNK, the Chicago Reader, The Daily News, The New York Times, Huffington Post, and Time Out New York. He is the recipient of the Lorraine Hansberry Artistic, Performance, and Fine Arts Award and a two-time winner of the National Arts Club Prize. Quinn is included in the public collections of the Art Institute of Chicago, the Sheldon Museum of Art and the Whitney Museum of American Art, among others. Nathaniel Mary Quinn, a native of Chicago, received his BFA from Wabash College and his MFA from New York University. He currently lives and works in Brooklyn, NY.
Categories
Tags