Leading British artist Rachel Whiteread DBE has been awarded the Robson Orr TenTen Award 2022 by the Government Art Collection (GAC), it was announced today.  The new work was unveiled at the Government Art Collection's new headquarters at Old Admiralty Building by Stuart Andrew MP, the UK's Arts Minister, and Eliza Gluckman, Director of the GAC.  Matthew Orr and Candida Gertler OBE, Co-Founder and Co-Director of Outset Contemporary Art Fund, also attended.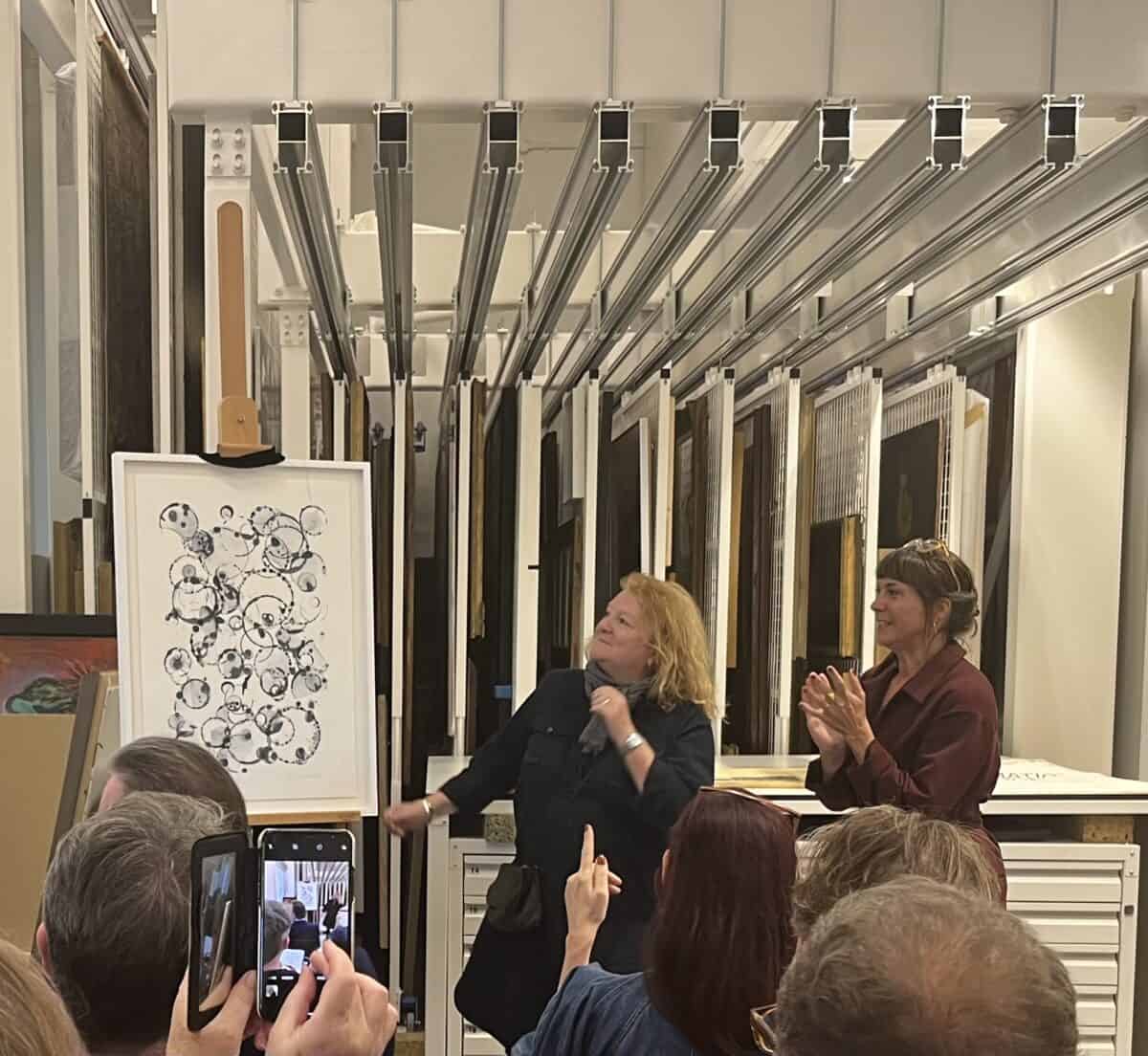 The Robson Orr TenTen Award is presented by the Government Art Collection with Outset Contemporary Art Fund and is sponsored by leading philanthropists Sybil Robson Orr and Matthew Orr.  Every year a British artist is commissioned to create a unique, limited edition print to be shown in diplomatic buildings across the world.  A small number are available for purchase through a collaboration with Outset, the pioneering philanthropic arts organisation, to raise funds for the GAC acquisition fund.  The 10-year scheme was launched in 2018 with the first four awards given to Hurvin Anderson (2018), Tacita Dean (2019), Yinka Shonibare (2020) and Lubaina Himid (2021).
Untitled (Bubble), Rachel Whiteread's new lithograph commissioned for the Government Art Collection, revisits the circular motifs the artist first used in a print commission for the London 2012 Summer Olympics, also in the Collection.  That work was conceived at a moment of celebration, the circles reminiscent for the artist of the marks left by glasses and cups.  It was a work about people coming together. 
'The print Untitled (Bubble) is a culmination of thoughts since the beginning of the Covid pandemic in March 2020.  Illustrating what was commonplace to the world's population, the bringing together of friendships, family and love as well as grief and animosity; But ultimately all sharing a common purpose.'

Rachel Whiteread
The circles in this new work are by contrast suggestive of the traces of an invisible virus.  Whiteread is known for making the invisible visible, and these abstract forms reflect both the microscopic form of COVID-19 itself and a time during the height of the pandemic in this country when physical contact and communication became reduced to those within our 'bubble'.  In denser areas of the print, where the viewer sees 'a bubble within a bubble within a bubble', as the artist describes it, that original idea of celebration lingers.  In the overlaps, the viewer may be reminded too of those ecstatic moments when reunited with loved ones.
For the fifth edition of the TenTen Award, the Government Art Collection is delighted to work with Rachel Whiteread who has created a thoughtful and poignant print of our time that will have global resonance.  We are grateful that through the generosity and foresight of the Robson Orrs and Outset Contemporary Art Fund, the new print will be seen in government buildings around the world.

Eliza Gluckman, Director of Government Art Collection
Whiteread exploits the medium to enhance the sense of fragility and uncertainty experienced during this time.  Her print layers different hues of monochrome ink.  At certain stages she adds watercolour marks by hand, using it in a similar way to build up incredibly thin washes of colour.  Whiteread is interested in how the fabric of daily existence bears the accumulated traces of previous lives.
Born in Ilford in 1963, Rachel Whiteread has lived and worked for most of her life in East London.  She studied painting at Brighton Polytechnic and sculpture at the Slade School of Fine Art during the 1980s.  In 1993, she was the first woman to win the Turner Prize following her project House (1993; destroyed 1994), a life-sized cast of a condemned terraced house in London's East End, which was demolished to make way for new developments.  The sculpture sparked urgent debates around the politics of urbanisation.  Other important public commissions followed with Water Tower (1998) in New York, the Holocaust Memorial (2000) in Vienna, Monument for the Fourth Plinth in Trafalgar Square (2001) and Cabin for Governors Island, New York (2016) .
Whiteread has exhibited extensively in the UK and abroad, including a major touring show opening at Tate Britain in 2017.  Selected collections include Centre Georges Pompidou, Paris, France; Metropolitan Museum of Art and Museum of Modern Art, New York, NY; National Galleries of Scotland, Edinburgh; Tate, London; and Yale Center for British Art, New Haven, CT.
In conjunction with today's announcement of the Robson Orr TenTen Award, Government Art Collection announces a major collaboration with the charity 'Artists in Residence' founded by 2018 Global Teacher Prize winner Andria Zafirakou.  The new scheme, supported through additional funds from the Robson Orrs, will connect TenTen prints and commissioned artists with schools across the UK to co-design and carry out bespoke projects with young people and their teachers.  This collaborative project will reach hundreds of school children in its first year, support artists and develop opportunities for teachers.
'Rachel Whiteread's brilliant work is a timely reflection on the challenges we all faced through the pandemic and she is a worthy winner of this year's Robson Orr TenTen Award. 

'I am grateful to Sybil Robson Orr and Matthew Orr for their continued support for the Government Art Collection.  This wonderful ten-year project celebrates British artists and helps to promote and reflect our culture around the world.'

Stuart Andrew, Arts Minister
The Government Art Collection, established in 1899, is a national collection of historic, modern and contemporary British art that is displayed in government buildings in the UK and around the world.  These locations include 10 & 11 Downing Street, government departments and residences and offices of British Ambassadors, High Commissioners and Consulates-General in over 125 countries worldwide. 
The works are seen by thousands of visitors, promoting British art and contributing to cultural diplomacy.  The Government Art Collection actively seeks ways to widen engagement with works within the Collection with non-government audiences through partnerships and by participating in local, national and international events.  @govartcol
Categories
Tags