British Art Fair has announced the launch of SOLO CONTEMPORARY – a new platform at the 2022 fair dedicated to showing the very best contemporary British art. Ten of Britain's leading contemporary art dealers have been invited to exhibit in a dedicated space on the second floor of London's Saatchi Gallery for British Art Fair. Each SOLO CONTEMPORARY dealer will be showing the work of one artist.
"The British Art Fair was founded in 1988 by a group of selected dealers specifically to promote the most talented British artists of its time, most of whom apart from Henry Moore and Barbara Hepworth were unknown and undervalued on the international market, but now many of whose work commands very high prices. SOLO CONTEMPORARY gives us the opportunity to continue with this vital part of the fair."

Gay Hutson, Founding Director, British Art Fair
This addition to British Art Fair (now in its 31st edition) is the brainchild of the fair's new owner Will Ramsay, in collaboration with artist-curator Zavier Ellis. British Art Fair has a history of successfully supporting the careers of artists, from the Post-war and Modern British artists through to the YBAs. The SOLO CONTEMPORARY artists are the latest to be shown under the British Art Fair umbrella, putting their work in the spotlight of this niche marketplace.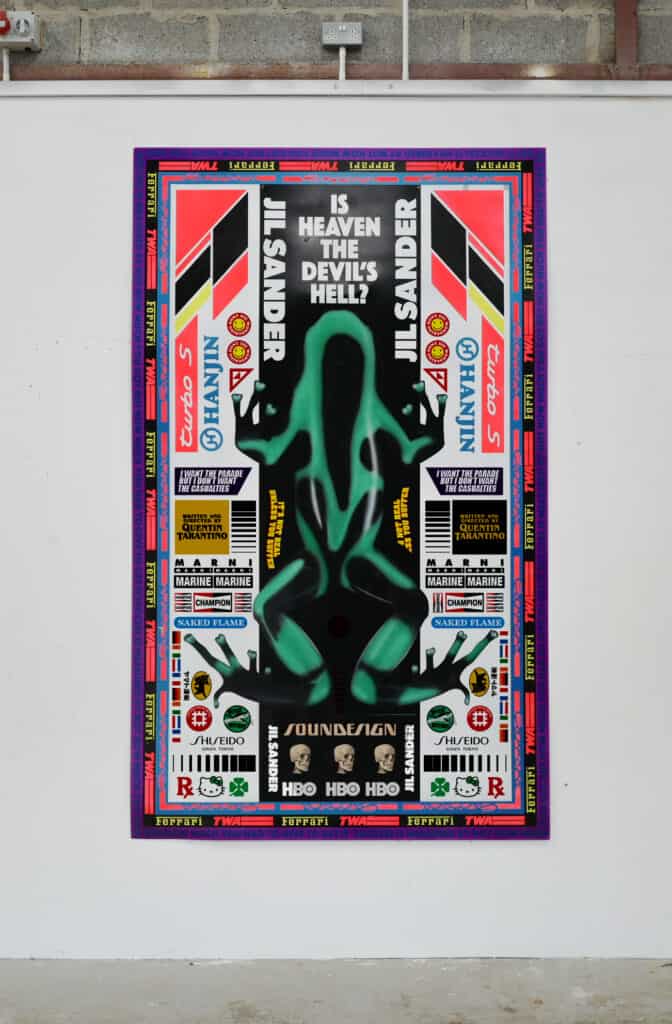 I'm delighted to curate SOLO CONTEMPORARY at British Art Fair. The dialogue between contemporary and ModBrit artists is a profound one and we will seek to illustrate that relationship. I am also keen to emphasise the shifting parameters of what a gallery is, particularly in the post-Covid era. SOLO CONTEMPORARY includes curatorial projects and galleries that have alternative models as well as the standard.

Zavier Ellis, curator of SOLO CONTEMPORARY
SOLO CONTEMPORARY – Galleries and Artists:

SOLO 01: CHARLIE SMITH LONDON Present: Hugh Mendes
Zavier Ellis, founder and director of CHARLIE SMITH LONDON, is representing contemporary British painter Hugh Mendes. Ellis and Mendes have worked together on exhibitions since 2006. Mendes' earlier work focused predominantly on newspaper clippings. His current series 'Obituaries', painted in oil on linen, focuses on self-portraits by British artists. The works can be seen as a dialogue with the Modern British artists at British Art Fair.
SOLO 02: Paul Stolper Present: Susie Hamilton
Paul Stolper, a contemporary London art gallery established in 1998, is representing artist Susie Hamilton. Hamilton says "My work focuses on figures in wilderness. This wilderness may be literal (the arctic) or metaphorical (the superstore) but both can be arenas for transformation". Her work drew critical acclaim during the Covid-19 pandemic where her hospital paintings were bought by The British Museum.
SOLO 03: Guerin Projects Present: Jessica St. James
French curator MC Llamas is emerging onto the London art scene curating a series of multi-sensory exhibitions in unconventional spaces. MC is working with London based artist, writer and performer, Jessica St. James for SOLO CONTEMPORARY.
SOLO 04: Patrick Heide Contemporary Art Present: Rebecca Salter 
Patrick Heide Contemporary Art nurtures emerging British artists, from fresh graduates to household names. For British Art Fair 2022 the gallery is representing the hugely acclaimed national artist Rebecca Salter, President of the Royal Academy.
SOLO 05: Jealous Gallery Present: Charming Baker
Founded in 2008 by owner Dario Illari, Jealous Gallery's contemporary London presence has now expanded over two galleries, and holds space for distinct artist collaborations. Jealous Gallery are representing painter and sculptor, Charming Baker who featured in the 2021 Jealous x Saatchi show 'Right Here, Right Now'.
SOLO 06: No 20 Arts Present: Jim Threapleton 
Opening in 2017, No 20 Arts is a contemporary gallery that supports emerging artists across London. Gallerist and owner, Micky Johnson has chosen Jim Threapleton to represent at British Art Fair. Threapleton has exhibited with No 20 Arts since it opened in 2017, and will present a new work: CODE 1.
SOLO 07: Union Gallery Present: Nick Jensen
Previously exhibting at Union Gallery in 2021 with 'Boy with a Tambourine', artist and professional skateboarder, Nick Jensen has been selected for SOLO CONTEMPORARY where his mixed media work, Smoker will be one of the works on show.Jari Lager, who runs galleries in Cologne and Seoul alongside his London space, Union Gallery, has been engaged with international art and the promotion of cultural diversity in art since the 1990s.
SOLO 08: HM Electric Gallery Present: DSC
Artist DSC is rising in popularity and has just collaborated with the Amercian artist Daniel Arsham. HM Electric Gallery describe his work: "DSC's striking and unique visual style, inventive use of wit and social commentary sets him apart from his peers. His work is cunning and ironic with a reputation that now effortlessly connects the world of fashion, art and extreme sports."
SOLO 09: Bermondsey Project Space Present: Stephen Newton
Photography, art and culture are the mainstay of the non-for-profit gallery, Bermondsey Project Space, based in Bermondsey Street, South London. It has been host to Stephen Newton before; 'Paintings of Remembrance' being a notable exhibition in 2021, and 'Abstract Realities' in 2022. 
SOLO 10: Blond Contemporary Present: Josh Rowell
Blond Contemporary describes its focus as "on the redolent, the innovative and the expressive in art – with a concern for colour, formalism and volume."  For SOLO CONTEMPORARY, gallery owner Phillip Blond has selected artist Josh Rowell whose work uses handmade techniques to explore dimensions of the digital age.
Solo Contemporary is at British Art Fair, 29th September – 2nd October 2022, Saatchi Gallery, Duke of York Square, King's Road, London SW3 4RY www.britishartfair.co.uk
Zavier Ellis, Curator, SOLO CONTEMPORARY
Zavier read History of Modern Art at Manchester University (1993-1996) before undertaking a Masters in Fine Art at City & Guilds of London Art School (2003-2005). He is the founder and director of CHARLIE SMITH LONDON. Initially curating independent exhibitions and participating in selected art fairs, the gallery ran a programme in a space above The Reliance pub in Shoreditch between October 2009 and January 2021, presenting exactly 100 shows and achieving cult status whilst doing so. Zavier is also co-founder and co-curator of the 10-year project THE FUTURE CAN WAIT, the largest exhibition of its kind globally, organised in partnership with Saatchi's New Sensations between 2011 and 2014. He also curates an annual exhibition called Young Gods, which is his personal selection of London graduates and postgraduates. In 2020 Zavier launched a curatorial work on paper initiative called PROJECT PAPYROPHILIA. Initially online only, this phenomenally successful initiative continues online and physically at art fairs and exhibitions. Zavier has curated exhibitions internationally including in Berlin, Frankfurt, Helsinki, Klaip?da, London, Los Angeles, Naples and Rome. ellissmithprojects.com.
British Art Fair
Modern and Contemporary British Art
The marketplace for Modern and Contemporary British Art. The UK's leading dealers exhibit paintings, drawings, prints and sculpture celebrating art from Modernism to today, elegantly displayed throughout London's prestigious Saatchi Gallery. In addition, there are special exhibitions by William Johnstone, Royal Scottish Academy, Ingram Collection.
Categories
Tags