Varvara Roza Galleries and K. Nichols Contemporary to co-present the exhibition 'Release' from Amanda Watt at Gallery Eight, London. Watt's first large-scale solo show in the UK since the 1980s combines her interiors, landscapes and depictions of the female form to create a show that is bold, bright and brave. All painted since returning to her native Northern Ireland after almost thirty years in the USA, the pieces have taken on a new sensitivity and emotional expression.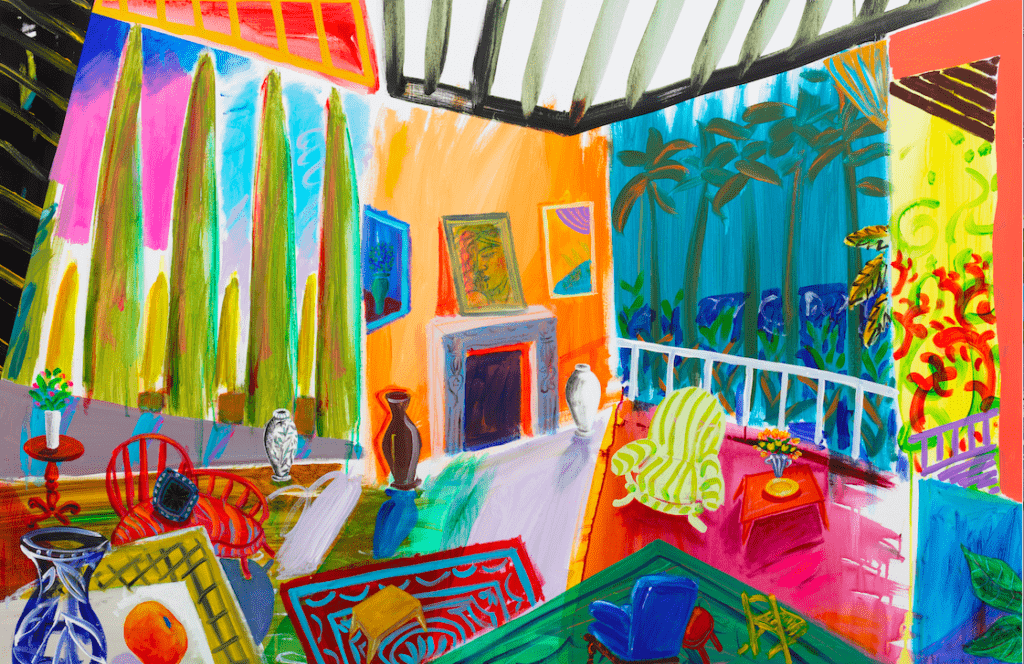 This latest body of work is an artistic release: an outpouring of energy and emotion that creates an explosion of colour and form. Watt investigates her own personality, experiments with paint and canvas, and trusts her intuition, letting her memory and imagination lead the way. Inspired by her life in California and Florida, and her subsequent return to Ireland, 'Release' is an epiphany for Watt, a true outflowing of creativity.
The art of Amanda Watt is a fusion of East and West; a melting pot of various movements. A thirst for knowledge and a peripatetic mind means that she draws inspiration from sources as varied as Japanese Shunga and woodblock prints, cubism, expressionism, orientalism and fauvism. This unexpected juxtaposition of different styles results in a style unique to Watt: Fusionism. For her still lifes and interiors scenes, Watt delves into her memory and imagination to retrieve the images for her paintings. She combines pattern-making with a playful attitude towards perspective, to draw the viewer into her canvases and infuse inanimate objects with life.
'Release' will feature paintings 'Hollywood Hills', 'Hockney's View' and 'The Chair', which evoke the 1980s Los Angeles- era paintings of David Hockney, playing with perspective and flooded with colour. Watt's paintings are also reminiscent of the luminous, colourful Impressionist still lifes and depictions of the Cote d'Azur by Henri Matisse and Raoul Dufy.
With this new solo exhibition 'Release', Amanda Watt's paintings will offer a welcome escape from the trials and tribulations of contemporary life, from the fear of climate change and war, and the final release from the barriers erected by COVID-19, into a world imbued with vibrant colour, light and an alternative, escapist artist's perspective.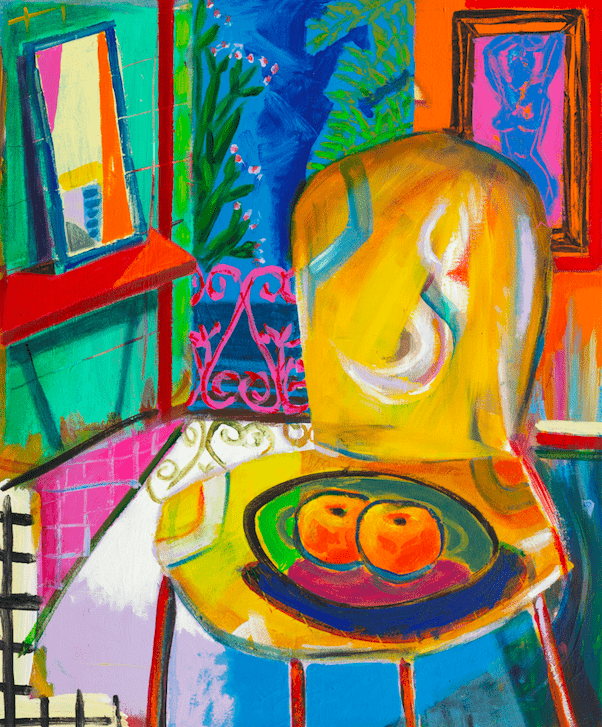 Amanda Watt explains the inspiration behind her work:
Release is the culmination of many years' work since returning to Northern Ireland. The process has been a huge creative release. I have been emotionally honest, and unabashedly put it all out on the canvas to be viewed.

Every technical and intuitive weapon in my armoury has been employed to imbue this body of work with absolute and complete authenticity. The backstories and memories attached to some of the paintings may not always be the most wholesome, but now seeing it in its entirety I believe the result is bright, bold, positive and uplifting.
Amanda Watt, Release, 23rd September – 8th October 2022, Gallery 8, 8 Duke Street, St. James's, London SW1Y 6BN
Invitation only private view in partnership with Club Vivanova: Thursday 22nd September, 6-9 pm
About the artist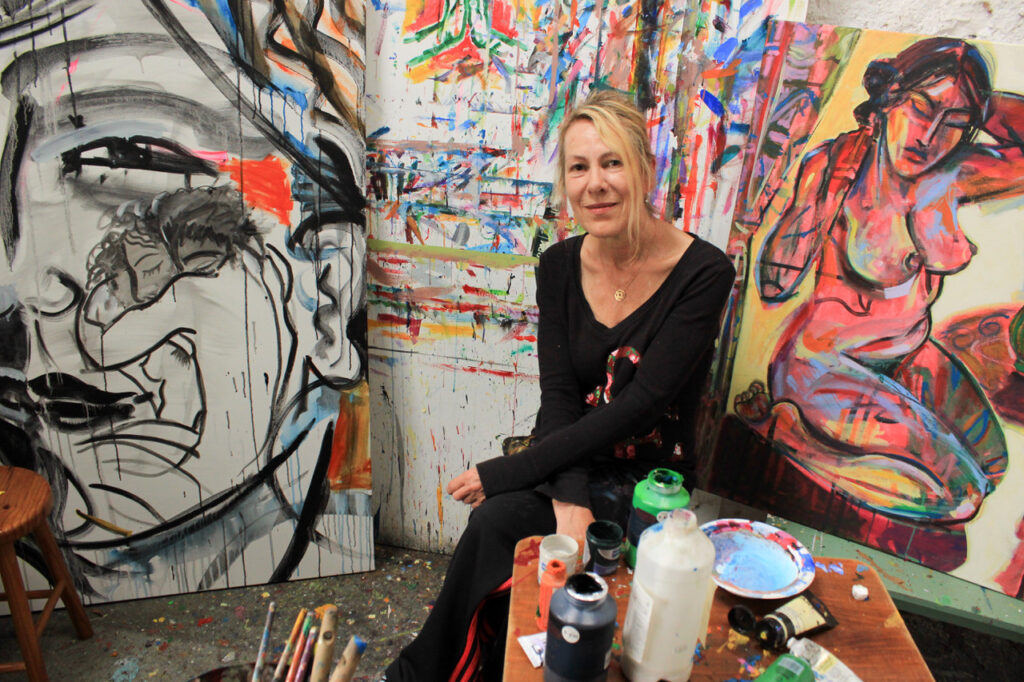 Amanda Watt was born in Northern Ireland and graduated from the Belfast College of Art and Design in 1982. After three years in London, she was given an opportunity by one of her collectors to move to Los Angeles, where she spent the next twenty years building a successful career as an artist. With annual solo shows in LA, San Francisco and New York, Amanda's bright, vibrant interior scenes and semi-abstract figurative and landscape paintings became a staple of Californian society. Watt's key collectors include casino mogul Steve Wynn, award-winning film director Barry Levinson, Cultural Ambassador Vanessa Branson, former president of Ireland Mary Robinson, and fashion designer Marla Ginsburg. Her work is held in key global collections including: Allied Irish Bank, Dublin; ARCO Corporation, California and Nagi Corporation, Tokyo.

Watt considers herself a 'Fusionist', merging styles that inspire her, while playing with the fusion of East and West. She combines orientalism and primitivism with western cubist principles and the expressionists' use of colour, to create bright and vibrant figurative images. She is influenced by the pattern-making of Gustav Klimt and the highly stylised figures of Tom Wesselman and Alex Katz, as well as Rainer Fetting's use of bold colour and gestural brushstrokes. Japanese woodblock prints and Gauguin's Tahitian women have also inspired her, while the bright Californian colours of David Hockney and the decisive curves of Matisse are clearly recognisable in her work. Amanda favours acrylic paint, which allows a fast pace of work with spontaneous gestures. Transparent washes precede bold primary colours to create depth and vibrancy. Multiple motifs, all from memory or imagination, are peppered throughout her work: highly stylised furniture; a picture within a picture; a torso – fragmented parts that on their own don't necessarily make sense, carefully placed to create a balanced whole. @Amanda_Watt_Art
Categories
Tags