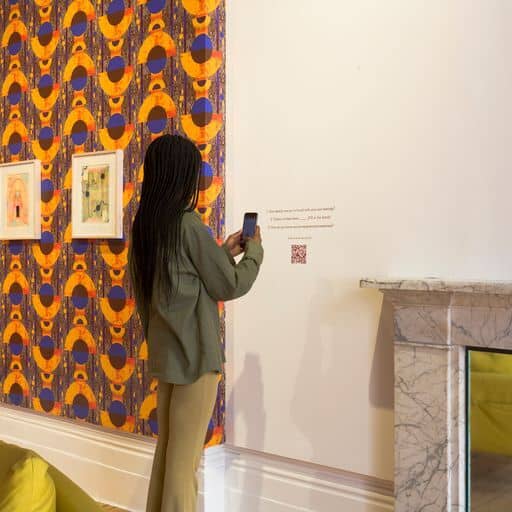 Gallery 31, an intimate exhibition space dedicated to platforming the experimental practice of Somerset House Studios' residents presents Swimmers Limb guest curated by Taylor LeMelle, the exhibition features contributions from two Somerset House Studios artists: Turner Prize winner Tai Shani and design studio Comuzi Lab, as well as a new site-specific commission from artist Mani Kambo who was selected via open call.
Taylor LeMelle has not presented a theme but set off from the starting point of finding pleasure in creative work. LeMelle invited the artists to speculate on a series of prompts centered around a theoretical intervention on Somerset House's surroundings – the space in between Victoria Embankment Gardens; a green thoroughfare flanking each side of the site along the River Thames. These prompts included questioning the implications of connecting these surroundings, looking at the change to the air quality, who might be the workers to execute this alteration and what would be the imagined worker's needs. 
The title Swimmers Limb surfaced as a way to encompass the societal impulse to imagine new futures while still beholden to old habits. The dialogues included how city dwellers prepare for rising waters, the examination of artefacts that peek out of the riverbank during low tide and how we try to swim forward in time as laws and policies attempt to drag us backwards. LeMelle's curatorial focus is on connecting with their own intuition, and the idea of new possibilities revealing themselves once we shift our collective focus onto regeneration.
Artist Tai Shani is a self-taught world builder who creates new mythologies working across many mediums including film, sculpture, installation, live performance and text. In Swimmers Limb she shares watercolours from her latest series The Neon Hieroglyph where nine hypnotic stories form feminist mythology of psychedelics. For Shani, the psychedelic is a space that can drive new visions of society.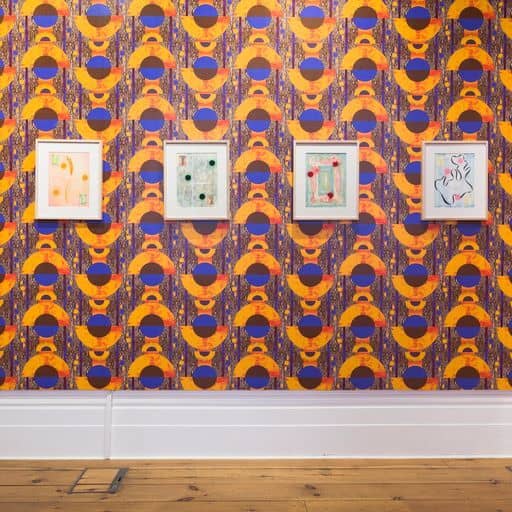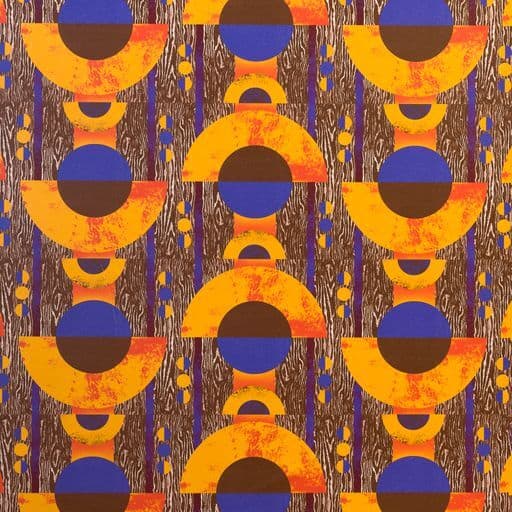 Design studio COMUZI Lab strives to cultivate the imagination for building a better world. Their current focus is on digital healthcare services and learning to be intentional about what care is given, asking whether your way of life has affected your capacity for intimacy. Working on this exhibition from the design studio are Yaa Addae and Safiya McKenzie. In Swimmers Limb they call for contributions to their budding research on love and wellbeing.
Artist Mani Kambo works with symbols and iconography. In a freestyling manner, she assembles patterns and complex shapes into textile and print works. Tapping into her own 'gut reactions', she is teaching herself about human cells, underground communication networks, living off the land, hallucinations, rituals, and the transformative power of fire and the cleansing power of water. For the exhibition, Mani has responded to Tai's wall work with an immersive wallpaper design.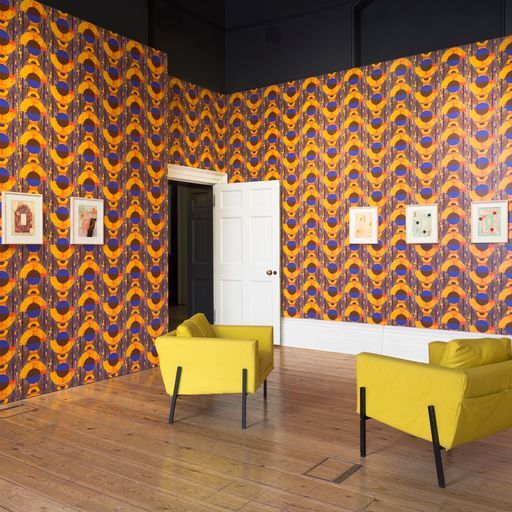 LeMelle's curatorial approach is not thematic but rather makes exhibitions based on a set of guiding questions. Such as: 
Pleasure: In this economy how can you afford to spend time doing what you do not like?
The Whole Self: What might be restored within you when you decide to bring your whole self to work? Exhibition-As-Research: What if shows are a place where a curator´s ideas are not presented, but found?
Somerset House Studios presents Gallery 31: Swimmers Limb curated by Taylor LeMelle, Featuring Tai Shani, Mani Kambo and COMUZI Lab – 20th Nov 2022 | Mon – Sun 10.00 – 18.0 Free entry | Gallery 31 is located in the New Wing of Somerset House
On 3rd October, there will be a curator's talk with Taylor LeMelle about this exhibition and on 27th October, COMUZI Lab will host a workshop focused on restorative love economics as part of Grounding Practice. 
About the artists
Mani Kambo is a multidisciplinary artist, based in Newcastle upon Tyne. She explores the inner spirit by drawing on her own personal totemic symbols. Influenced by her upbringing in a Sikh household filled with superstition, prayer and religious ceremony. Textile, fabric dying and printmaking are rooted in Kambos family history within the caste system. She focuses on objects, routines and rituals distilled both from the every day and mythology. Through layering and editing images together she collages narratives and weaves dreamscapes. These visuals are repeated throughout her work like markers linking to notions of spirituality and belief in reincarnation. @manikambo
COMUZI Lab (Yaa Addae and Safiya Mackenzie) COMUZI Lab is a design and technology studio. Yaa Addae is a curator, writer, and artist who works as a community researcher at COMUZI. Their practice is informed by the liberatory power of the imagination, play, and restorative love economics: bringing love to the systemically underloved. Safiya McKenzie is an artist and researcher. At Comuzi her approach to design explores how imagining, storytelling and co-creating with communities can shape the way we bring new things into the world, from a holistic perspective. She is currently documenting themes around communal dreaming, cancel culture, and algorithmic bias for a narrative-based project with the Omidyar Network. @comuzi.lab
Tai Shani's multidisciplinary practice comprising of performance, film, photography and installation, revolves around experimental narrative texts. Shani creates violent, erotic and fantastical images told in a dense, floral language which re-imagines feminine otherness as a perfect totality, set in a world complete with cosmologies, myths and histories that negate patriarchal narratives. These alternate between familiar stylistic tropes and structures and theoretical prose in order to explore the construction of subjectivity, excess and the effects of the epic as the ground for a post-patriarchal realism. She is the joint 2019 Turner Prize winner together with Lawrence Abu Hamdan, Helen Cammock and Oscar Murillo. She has exhibited at Nottingham Contemporary, Wysing Arts Centre, Serpentine Galleries, Tate, the Irish Museum of Modern Art and many more. taishani.com
Taylor LeMelle writes, organises and produces objects using their training in art history, architectural theory and developmental psychology. Alongside their writing, recent work has included curating exhibitions, facilitating groups, building infrastructures, and producing audio tracks, diagrams, and design objects. Mostly they consider these latter three examples to be "draft objects." In 2018, they became one of the founding directors of not/nowhere, an artists' workers cooperative which is dedicated to supporting moving image practices and analogue technology. Through their publishing collective, PSS, they have edited and produced several collections of science fantasy and one poetry collection. LeMelle is currently at research fellow in the Design Department at Sandberg Instituut. @melrose_tay
Categories
Tags