Subtitle Labs, hosted by The Omer Tiroche Gallery to present their second exhibition, Fragments, a group show from twelve leading international emerging artists exploring the complexities of who they are because of their past experiences, deciphering the fragments that encapsulates each of them.
Through twelve nationalities ranging from four continents, the artists will share their perspective of what made them who they are today through their culture, heritage and environment, with the aim of educating one another and their audience on the influences and experiences that bond us.
In partnership with Arts4Dementia, a charity that impacts the lives of people living with dementia and those who care for them through art workshops, Subtitle will be exhibiting exclusive original artworks and
limited edition prints, with 10% of the profits going to the charity.
Daisy Collingridge is a British, Central St Martin's graduate, that recently finalised her residency at the Sarabande Foundation, London. Her work is a multi-disciplinary practice focused on exploring the human form through the interplay between sculpture and performance art. Collingridge has exhibited at UNIT Gallery, London in 2021 and the Boulder Museum of Contemporary Art in 2022.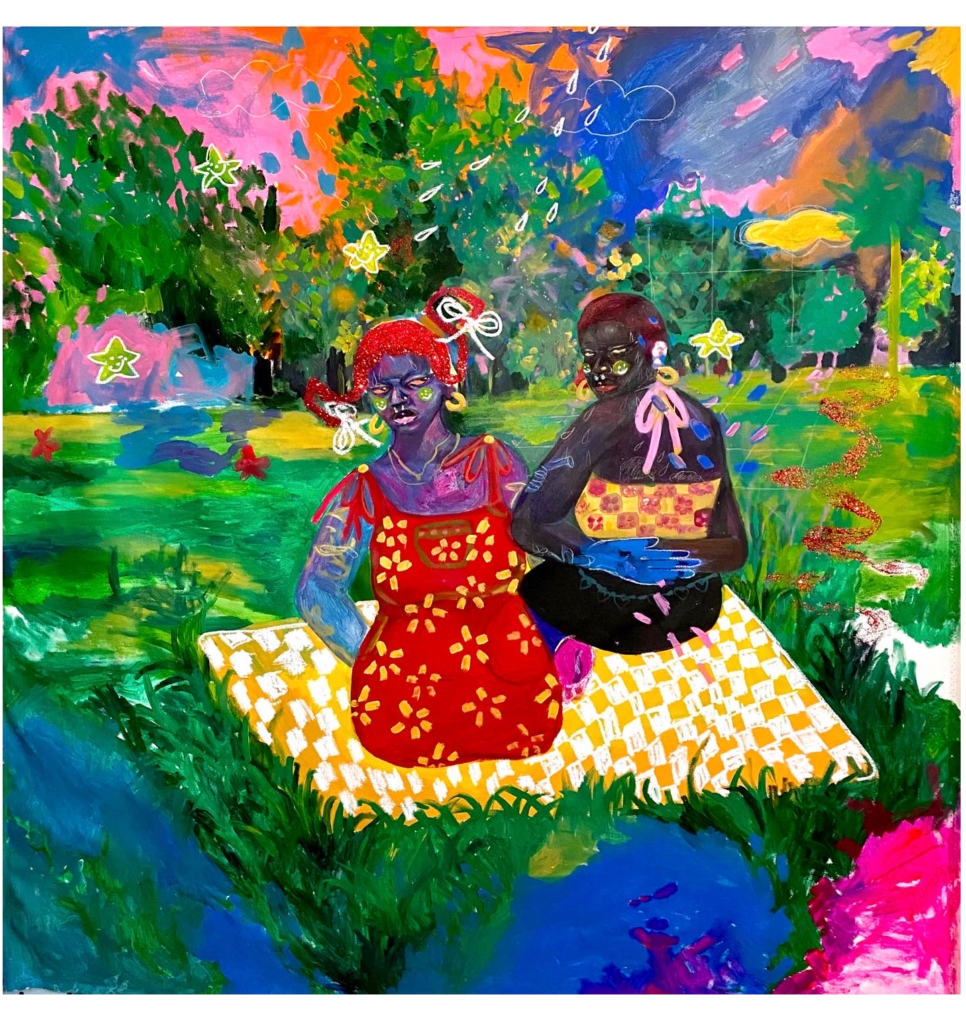 Zeinab Diomande (Z the Rat) is an Ivorian artist currently enrolled at the University of the Arts, Philadelphia, pursuing a BFA in Fine Arts. She will be exhibiting three new paintings inspired by her experiences as a young black woman and the complexities of mental health. Diomande has exhibited in LouiSimone Guirandou Gallery, Abidjan, Ivory Coast, in 2021 and Thinkspace Projects, Los Angeles, in January 2022. She was a finalist for the 2021 edition of the AXA Art Prize at the New York Academy of Art in New York City.
Miyeon Yi is a London-based South Korean painter currently studying MA in Painting at the Royal College of Art. Yi will be exhibiting three new paintings inspired by traditional Korean culture with a contemporary twist. Yi has exhibited her works at solo shows in Milan and London in 2022.
Adam Boyd is a British artist that recently graduated MFA Fine Art Painting at The Slade School of Fine Art. Informed by an eclectic research, he uses multiple craftbased channels in order to materialise his
daily observations. Boyd has exhibited at the Saatchi Gallery and was recently selected for Bloomberg New Contemporaries 2022.

Alya Hatta is a London based Malaysian artist currently undertaking an MA in Painting at the Royal College of Art. Hatta's work focuses on her Southeast Asian identity and the diasporic human condition. She has exhibited at Tate Collective and Sotheby's Charity Auction
Koby Martin is a Ghanaian born British artist whose work is an introspective autobiographical exploration of his life. He will be exhibiting a new diptych exploring his culture and heritage. Martin has collaborated with the British Council, The British High Commission and Tate Collective.
Christopher Samuel Idowu is a visual artist from the coastal town of Badagry, Nigeria and is based in Lagos. Idowu studied at the Yaba College of Technology where he majored in painting. His colours, residual architecture and subjects in his compositions reference the past and present landscapes of Badagry.

Cherry Aribisala is a Nigerian artist that recently graduated with a BA of Fine Art from Goldsmiths, University of London. Aribisala's work primarily explores mental health, anxiety and emotional experiences. She will be exhibiting two new paintings at the exhibition.

Nina Ogden is a Welsh artist based in London and is the recipient of the Royal College of Art, Paul Desty Scholarship, where she is undertaking an MA in Fine Art. Her work crosses the boundaries of simulation and the hyperreal.
Hyun-min Kim is a South Korean artist who graduated this year from the MFA Fine Art Sculpture course at The Slade School of Fine Art. Kim's work focuses on the obscuration of reality, engaging viewers to form their own interpretation.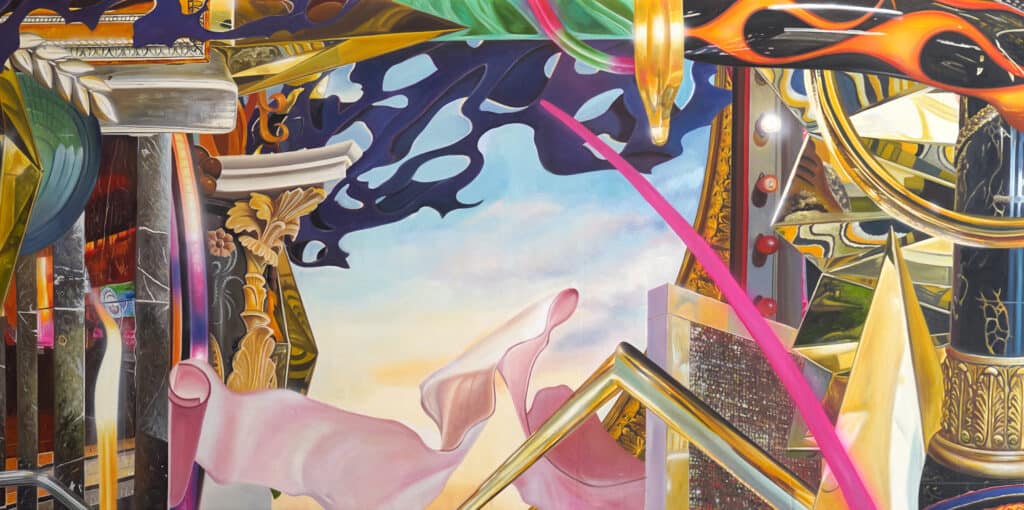 Guillaume Ollivier is a French American, San Francisco based artist who creates realistic interpretations of his surroundings. Ollivier will be exhibiting a new large-scale painting with an unpredictable synchronicity of architectural elements cultural and references.

Renin Bilginer is a British Turkish artist currently studying MA Painting at the Royal College of Art. Bilginer's practice explores notions of fantasy and escape. In 2020 she was selected for the Zabludowicz Collection exhibition Women's Lockdown Art.
Subtitle Labs, hosted by The Omer Tiroche Gallery, presents: Fragments September 7th – September 30th 2022 21 Conduit Street, Mayfair, W1S 2XP
September 14th – Young Collectors Evening – 6:30pm Featuring a lecture from a Stanford Professor on Organisational Behavior & September 29th – Arts4Dementia Charity Evening – 6:30pm
Categories
Tags