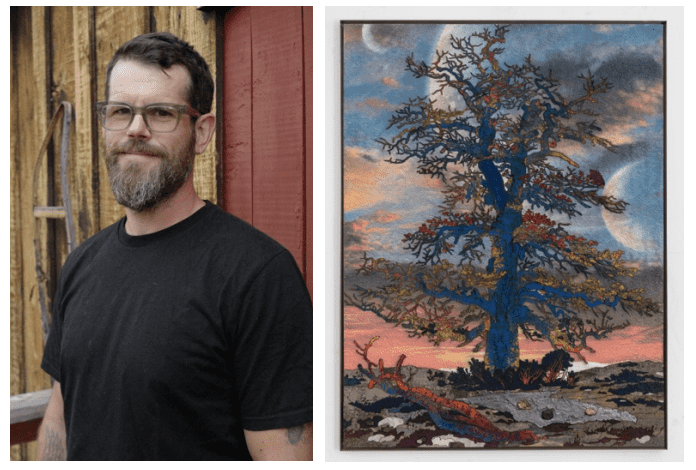 Pace has announced global representation of Matthew Day Jackson, whose decades-long explorations of varied histories, technological phenomena, and modes of mythmaking have evolved into a multi-faceted practice spanning sculpture, painting, photography, performance, and installation. Jackson will have his debut presentation with Pace in the inaugural edition of Frieze Seoul in September, where the gallery will showcase work by artists across its contemporary program. His first solo exhibition with Pace will take place in New York in 2023. Pace will represent Jackson in collaboration with GRIMM Gallery.
I am excited to start a new chapter in my career with people I have been friends with for a long time. I am excited to share my work in a great context and within a history of some of the world's greatest artists.

Matthew Day Jackson
Through his expansive practice, Jackson explores a wide range of subjects—historical, futuristic, scientific, spiritual, and fantastical. He uses recognizable American images and iconography associated with LIFE Magazine, the Apollo 11 Moon landing, the American West, the atomic bomb, and more to examine the ways that an inexorable pursuit of a false utopia throughout American history has shaped notions of national identity in the US. Jackson brings his own experience and embodiment of the past and present to the fore of his practice. At the core of his work is a deep interest in finding similarities within binaries and dichotomies, particularly the simultaneity of beauty and horror.

Leaving seemingly no stone unturned, the research and experimentation central to Jackson's process undermines mythologies of artistic genius connected to signature style. Utilizing a variety of traditional, industrial, and found materials—including Formica, molten lead, and scorched wood—the artist creates new meanings and interpretations. The materials he uses are equally as significant as the conceptual underpinnings of his artworks, and Jackson often aims to upend viewers' expectations and initial impressions. His layered, complex works invite questions of medium, materiality, and meaning that are only answered through sustained consideration, analysis, and interrogation.

Jackson's most recent series of landscape paintings, which will be on view in Pace's booth at Frieze Seoul, echoes the works of Caspar David Friedrich, Frederic Church, Albert Bierstadt, Thomas Moran, and other 19th century figures. Using a semi-autonomous laser process that imbues colours and forms with an otherworldly feel, the artist mines the history of landscape painting, making connections to the conventions of landscape in science fiction film and literature, in which the strange and familiar converge. Reflecting Jackson's long-standing interest in art historical allusions and intersections between physical and digital modes of art making, these works also investigate the complexities and ambiguities of authorship. Drawing through lines between the political and social issues of the 19th century and those of the present day, Jackson brings memory to the fore of these paintings.
We're thrilled to welcome Matthew Day Jackson to Pace. Matt and I have been friends for many years, and I've been following his career since his early exhibitions at institutions like Ballroom Marfa. I've always been struck by his engagement with historical, philosophical, and pop cultural subjects—Matt can take a big idea and give it new emotional and personal resonance. Through his multidisciplinary practice, Matt has proven himself to be one of the most versatile and virtuosic artists of his generation. In addition to his vast repertoire of three-dimensional work, Matt has been at the vanguard of digital art for some 20 years. His deeply innovative, experimental approach to art making aligns seamlessly with our program and mission, and we look forward to continuing our longtime and ongoing relationship with GRIMM gallery in sharing his work with our global audience."

Marc Glimcher, President and CEO of Pace Gallery
In recent years, Jackson has been the subject of solo exhibitions at the Kunstmuseum Den Haag, Netherlands; the Gösta Serlachius Museum of Art, Mänttä, Finland; and Guesthouse JH, Jackson Hole, Wyoming. His work can be found in the collections of the Metropolitan Museum of Art, New York; the Whitney Museum of Art, New York; the Blanton Museum of Art, The University of Texas, Austin; the High Museum of Art, Atlanta; the Museum of Fine Arts, Boston; the Walker Art Center, Minneapolis; Fundación Jumex, Mexico City; Museo d'Arte Moderna di Bologna, Italy; the Stedelijk Museum, Amsterdam; Museum Boijmans van Beuningen, Rotterdam; the Museum of Contemporary Art, San Diego; the Virginia Museum of Fine Arts, Richmond; Collezione Maramotti, Reggio Emilia, Italy, the Kunstmuseum Den Haag, Netherlands; Kunstmuseum Luzern, Switzerland; the François Pinault Collection, Paris and Venice; the Qiao Zhibing Collection, Shanghai; and other international institutions.
About the artist

Matthew Day Jackson (b. 1974, Panorama City, California) has cultivated a practice encompassing sculpture, painting, collage, photography, drawing, video, performance, and installation. Jackson's work, which is often monumental in scale, engages with a wide range of subjects, from the historical and scientific to the futuristic and fantastical. The artist graduated from the University of Washington in Seattle in 1997 and earned his MFA from the Mason Gross School of the Arts at Rutgers University in New Jersey in 2001. He was the recipient of the 2019 Jordan Schnitzer Award for Excellence in Printmaking, and he has participated in residencies at the Chinati Foundation in Marfa, Texas; the Portland Institute for Contemporary Art in Oregon; and the Skowhegan School of Painting & Sculpture in Maine. Jackson lives and works in Brooklyn, New York.
Categories
Tags