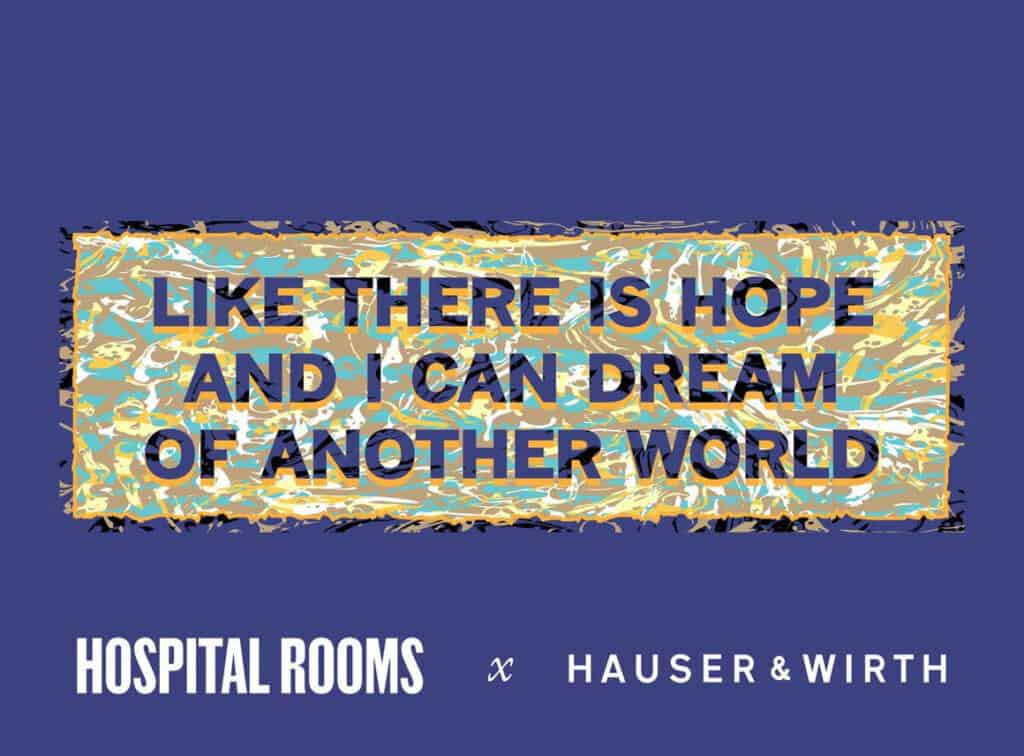 Hauser & Wirth will host a major exhibition showcasing the extraordinary work of arts and mental health charity Hospital Rooms. Hospital Rooms' mission is to radically transform the face of mental health care in the UK and beyond, and to generate new knowledge around how the arts operate in the mental health sphere. They work collaboratively with artists, mental health patients and staff, NHS Trusts, universities, and cultural organisations to bring high quality artistic environments and opportunities to people with severe and enduring mental health diagnoses who are held in the most restrictive mental health settings, from Psychiatric Intensive Care Units to Forensic Services. Hauser & Wirth has been a key supporter of Hospital Rooms over the past three years through annual auctions that have collectively raised over £200,000 for the charity. The gallery is now solidifying its partnership with Hospital Rooms through a new commitment to make collective and significant change through a series of events, exhibitions, and fundraising initiatives taking place until 2025.
From 19th August through 14th September 2022, a new exhibition at Hauser & Wirth London will share Hospital Rooms' extraordinary work. The show will feature ambitious new artworks by artists Mark Titchner, Harold Offeh, and Michelle Williams Gamaker that have been created in collaboration with people with lived experience of mental health services and installed inside mental health hospitals across the UK. The exhibition will culminate in a fundraising auction on 14th September 2022, featuring Amy Sherald, Pipilotti Rist, Takesada Matsutani, Thomas J Price, and more. The fourth annual auction will generate significant funds for a new art programme and a series of artworks for the Rivers Centre, Norfolk, and Suffolk NHS Foundation Trust. In addition to the live auction, numerous artists have generously created original artworks on 25 x 21 cm canvases that feature the word 'HOPE,' which will be available to bid online at Bonhams.com during the duration of the exhibition.
The exhibition will also host an investigative and collaborative arts program that invites wider artists and arts organisations to join Hospital Rooms and Hauser & Wirth in imagining a new future for mental health services. This will include a Family Festival–a day of art workshops for young families to encourage play and creativity–on 20 August 2022, a series of art workshops throughout August and September, and a multidisciplinary research symposium on 10 September 2022 that will consider and critically reflect upon the spaces Hospital Rooms works in and the communities they work with.
Learn more about the exhibition, auction on Bonhams.com, and the full events program here.
About
Artist Tim A Shaw and curator Niamh White founded Hospital Rooms after a close friend was sectioned and admitted to a mental health hospital. On visiting her, they were shocked to find that the hospital environment was cold and clinical at a time when she was so vulnerable. Having worked in the arts for 10 years each, they felt they had the skills and community to be able to transform these spaces with high-quality artworks. In 2016, Dr Emma Whicher (now one of Hospital Rooms' trustees) gave them the opportunity to run their first project at the Phoenix Unit, a rehabilitation unit for people with a diagnosis of schizophrenia. They commissioned Nick Knight, Gavin Turk, Assemble among other world-class artists to work with patients and staff to create site-specific artwork for the ward. The project received national press attention and Hospital Rooms has been inundated with requests for projects ever since.
More HERE
Categories
Tags