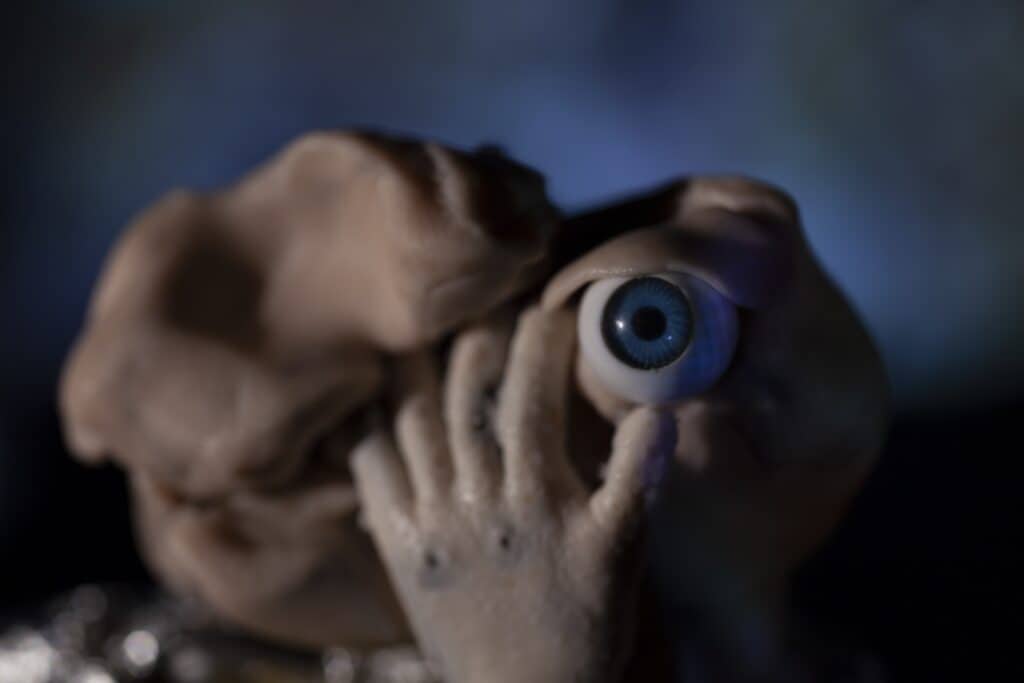 Estate is a new exhibition at Matt's Gallery by Nathaniel Mellors bringing together works developed over the last decade not previously exhibited in the UK. It features a cluster of Neanderthal-themed film and video works: Neanderthal Crucifixion (2021), Neanderthal Container (2014), and The Sophisticated Neanderthal Interview (2013) – held aloft by estate-agent-like sales figures rendered as 4-foot-high puppets.
Mellors projects issues of class and ownership of knowledge and culture into his absurdist Upper Palaeolithic fictions, using the study of The Upper Palaeolithic as 'a lens for the present'. He has described the Neanderthal as 'the ultimate prehistoric other figure,' observing that the gap between the human and Neanderthal, which was considered to be absolute, has shrunk into negative space. The Neanderthal is now inside us genetically and is viewed in a significantly more positive light than when Mellors made The Sophisticated Neanderthal Interview, in part as a parody of class based assumptions around cultural knowledge.

In his most recent work, Neanderthal Crucifixion (2021), the Neanderthal artist, locked-down in the cave, ruminates on its achievements in art and design and its relationship with the cave-owning power-structure 'The Sporgo'. It experiences a crisis of the ego. The work was animated and performed by Mellors during lockdown.
Mellors has also been developing new works in an ongoing series of 'BROW' paintings (2022) which extend the neanderthal brow motif into absurdist figuration.
Estate also features new music videos from The God In Hackney (Mellors' group with Andy Cooke, Dan
Fox and Ashley Marlowe) and a new solo 7" single Life Becomes a Promo/ Digital Worms issued as a special joint-edition between Matt's Gallery and the artist's Junior Aspirin Records.
Nathaniel Mellors Estate 28th September–18th December 2022 Matt's Gallery Nine Elms
Private View + PERMANENT PRESENTS Book Launch Sunday 25th September, 2-5pm
Accompanying the exhibition is PERMANENT PRESENTS, published by FRAC Bretagne with support from Matt's Gallery, Leeds Beckett University and Galerie Crévecoeur Paris. Estate is Mellors' 5th solo exhibition at Matt's Gallery.
About the artist
Nathaniel Mellors (b. 1974, UK) studied at the Ruskin School, Oxford University (1996–99) and the Royal College of Art, London (1999–2001). In 2007–09, Mellors was resident at the Rijksakademie van beeldende kunsten, Amsterdam. He lives and works in Amsterdam & LA.
Forthcoming: MONITOR Lisbon, 10 November-31 December 2022; Nathaniel Mellors / Tony Oursler/ Diemut Striebe in Mouthpiece, New Media Gallery, Vancouver, 17 September-11 December 2022; Ridiculously Yours! Art, Awkwardness and Enthusiasm, Bundeskunsthalle Bonn 11 November 2022-10 April 2023/ Deichtorhallen/Collection Falckenberg in Hamburg, Spring/Summer 2023/Halle für Kunst in Graz, Austria, September 2023.
Selected solo exhibitions: FRAC Bretagne, Rennes, 2021; Borås Konstmuseum, Sweden, 2019; Kiasma, Helsinki, 2018; New Museum, New York; Cobra Museum, Amsterdam; Finnish Pavilion, 57th Venice Biennale (with Erkka Nissinen), 2017; Hammer Museum, Los Angeles; Contemporary Art Space Switzerland, 2014; Galway Arts Centre; Baltimore Museum of Art, 2013;Malmö Konsthall; Salle de Bains, Lyon; Matt's Gallery, London, 2012; SMART Projects, Amsterdam; ICA, London, 2011.
Read more on Nathaniel Mellors on FAD magazine
Categories
Tags