Tiffany & Co. have launched Tiffany Atrium, a social impact platform that advances opportunities for historically underrepresented communities. The platform's mission is to create a more diverse and inclusive jewelry industry through commitment, leadership and learning—all of which are reflected in Atrium's three core pillars: creativity, education and community.
The name 'Atrium' is inspired by the Return to Tiffany®heart tag necklace—a nod to both the heart as well as the center room around which a house is built.
We are thrilled to introduce the Tiffany Atrium platform, creating a centralized hub for our continued journey in the worlds of diversity, equity and inclusion, we have a responsibility to enact positive change in our world. Tiffany Atrium will allow us to streamline and scale the necessary processes in doing so.

Anthony Ledru, Chief Executive Officer,Tiffany & Co."At Tiffany & Co
For the launch of Tiffany Atrium, Tiffany has collaborated with American visual artist and community-builder Derrick Adams to design an original artwork entitled "I Shine, You Shine, We Shine."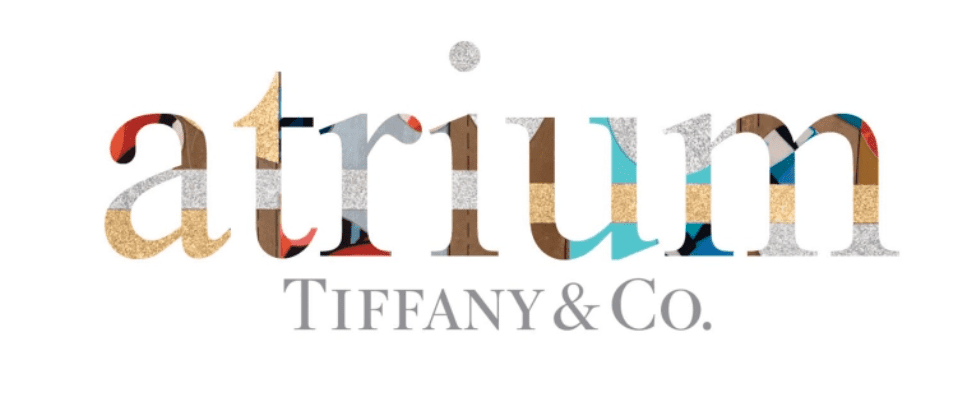 The Tiffany Atrium logo is derived from a portion of this piece, and the full artwork is being auctioned now by Artsy bidding closes on August 10th with 100% of proceeds from the sale benefiting The Last Resort Artist Retreat, an artist residency designed to provide healing and restoration to Black artists and cultural workers founded by Adams in his hometown of Baltimore, Maryland. As part of the launch of the Artsy auction Derrick was in conversation with Artsy CMO Everette Taylor.
 

 

View this post on Instagram

 
We have partnered with Tiffany's and Derrick on the launch of Tiffany Atrium to be able to dig in on the importance of platforms like Artsy and Tiffany's driving actual social impact, especially during a time where many brands are performative. They say they want to help and they want to do things, but it's like, "How are you actually putting your money where your mouth is?" In a lot of ways, a lot of brands don't do this.

The Last Resort, what Derrick is doing in his hometown of Baltimore, Maryland is not going to make him any more successful as an artist. It's not going to make him any more money. He's doing this out of the kindness of his heart and he understands the importance of lifting as we climb, continuing to reach back as we climb and become more successful in life. I think what's beautiful about this is that more than anything, beyond the art that we're selling, beyond the glitz and glamor of Tiffany's, beyond the glitz and glamor of fine art of Artsy, we are really coming together to do something that's going to have an impact on the lives of so many people in the inner city of Baltimore, Maryland. I think that's where the focus really has to be.

Artsy CMO Everette Taylor
As a recipient of the 2009 Louis Comfort Tiffany Award, Adams' work is deeply immersed in questions of how Black people intersect with art, history, American iconography and consumerism. The work represents the never-ending pursuit of love, and the hope of shared compassion for one another. The title, "I Shine, You Shine, We Shine" highlights the importance and impact of giving love and allowing yourself to receive it, as this is what growth and development is truly about. This artwork incorporates sections of clothing patterns as a stand-in for the figure, along with a bisected heart motif repeated throughout as a symbol of openness and sharing. Additionally, the floral patterns envision what growth looks like when we come together to embrace diversity as our superpower.   
Bid now on Derrick Adams: I Shine, You Shine, We Shine: A Tiffany Atrium Benefit Auction for The Last Resort Artist Retreat artsy.net/auction/derrick-adams-i-shine-you-shine-we-shine
Categories
Tags