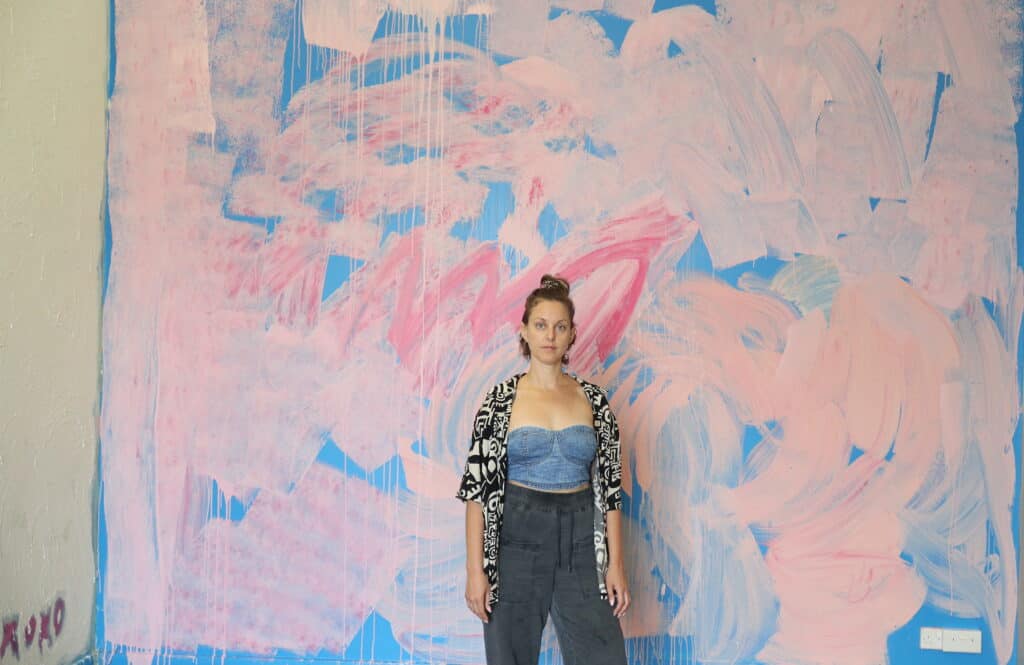 More than four years in the making, 'I'm gonna delete you' was open to the public for a three week run from late June before being painted over – the building will eventually be pulled down and the site developed into flats. To archive the project beyond its physical presence, painter Rebecca Molloy worked together with visual effects artist Kieron Helsdon to create a 3D model of the installation which will also be made available as an NFT.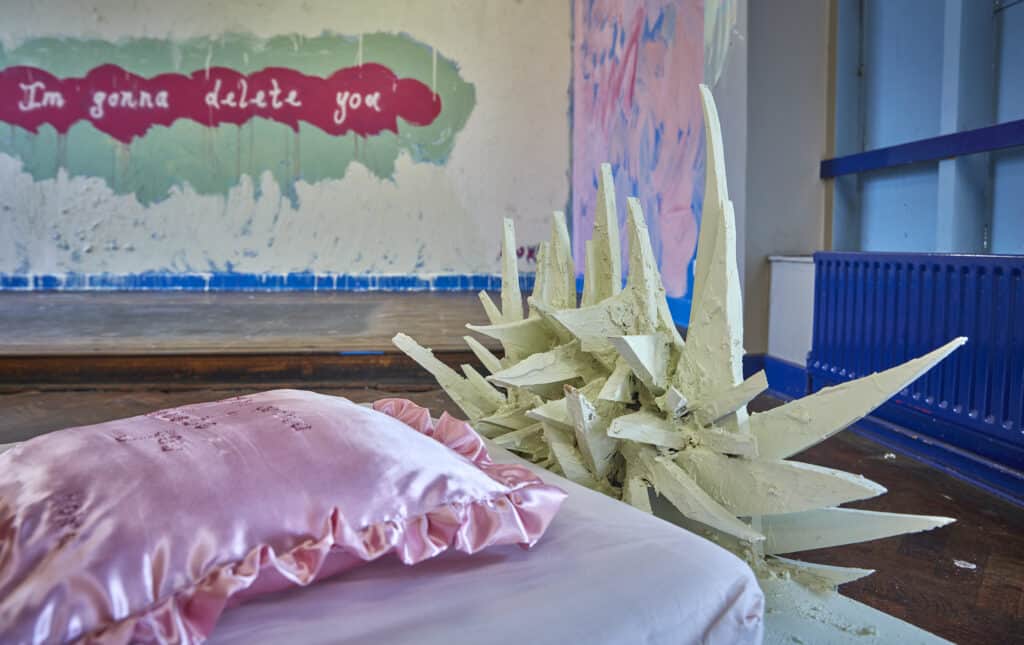 The digital work preserves a glimpse into a former youth club in Surrey Quays and a detailed record of the space that holds Molloy's powerful installation. The painting covers all four walls of a large room that surround a single bed with a spiky headboard, which stands in contrast to the pink ruffled cushion and patchwork quilt it is draped in. The offsetting of threatening elements with comforting pastels, and a good dose of humour, are evident throughout the installation that illustrating the artist's experience of a Fibromyalgia, a chronic pain condition that left her bed bound and unable to make or exhibit art for several years.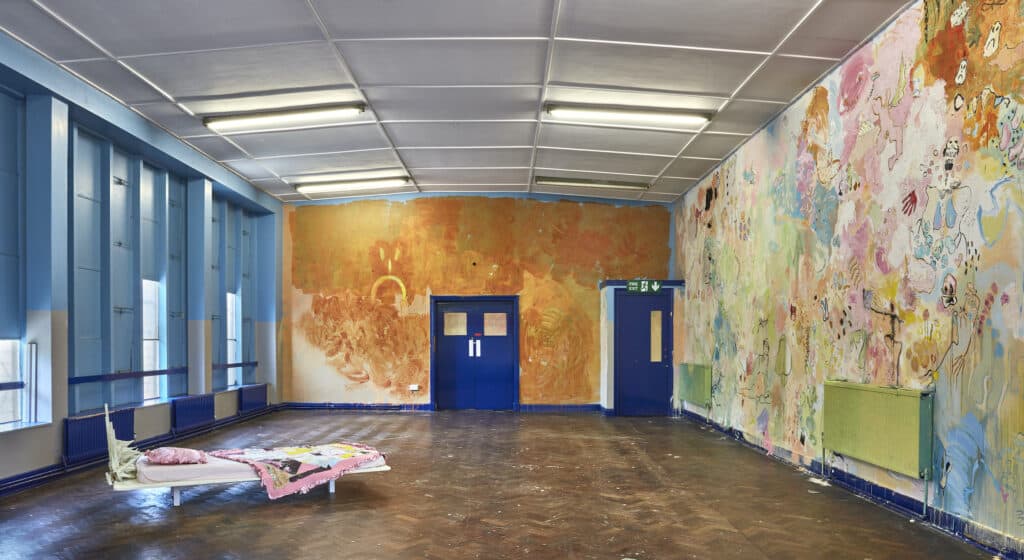 The overall effect is best described as dreamlike, with fragments of memories, bodies and faces floating weightlessly between painterly elements reminiscent of landscapes and clouds. The first step into the installation is quite overwhelming, akin to waking from a dream that took you to places at once strange and familiar, to face conflicts with real and imaginary demons, followed by relief on realising that the sense of dread was part of a nightmare that is passing.
The work's title 'I'm gonna delete you' is stitched on the cushion and appears as a massive banner painted across one of the walls, the words alluding not just to the artist's battle with chronic pain but also literally describing the installation's imminent erasure. Less obvious is the reference to cancel culture and the threat of deletion as one of the most menacing insults to our digital alter egos. And possibly to the artist's fear of being forgotten as she lay isolated when most of us resumed our post-pandemic lives.
Scenes depicting physical pain and fear, helplessness and shame illustrate the darker aspects of coping with pain and disability: grimaces and screams as skulls are stabbed and bodies tumble between twisted spines and vomiting skeletons, exposed bottoms and bowel movements. One of the most powerful scenes is dedicated to another level of turmoil as the artist is dealing with grief by assessing a complex relationship with her late father. Painted in a peaceful pose and tranquil expression the figure keeps drawing our gaze back from the horrors that surround it, offering a sense of comfort and hope. 
Rebecca Molloy runs her studio from a disused community centre she shares with other artists and musicians as a live-in guardian. Designed to protect buildings from squatters by making unoccupied spaces available at reduced rent prior to redevelopment, guardianship schemes are one of the few affordable options available to artists. These and similar co-operations between property developers and artists provide a rare opportunity for the public to experience immersive art in the ever-shrinking number of derelict buildings. Recent projects like the Averard Hotel and Fulham Town House come to mind, both providing grand backdrops to site-specific pop-ups, whereas 'I'm gonna delete you' reflects a true lived experience.
Presenting a bed to convey an autobiographical narrative conjures another comparison; the candid expression of grief, pain and illness a powerful parallel that links the works of Rebecca Molloy and Tracey Emin. Both artists draw on intimate torment to explore universal truths.  'I'm gonna delete you' sums up the essence of Molloy's practice as investigating human behaviour, in particular the interplay of our digital and physical existence.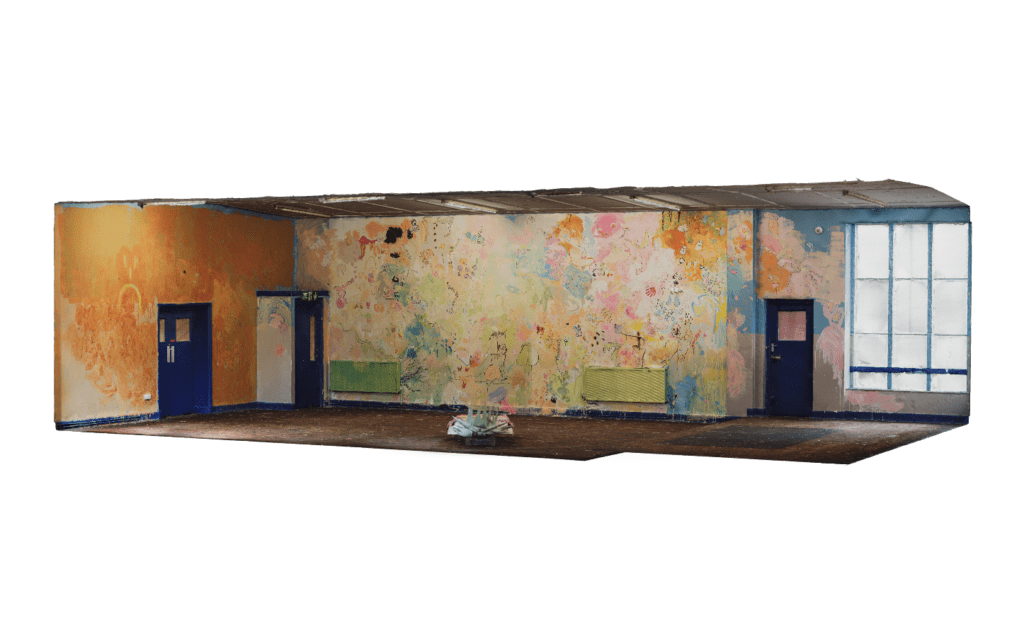 The NFT drop of 'I'm gonna delete you' is scheduled for Wednesday 27th July 2022.  foundation.app/@rebeccamolloy
Categories
Tags