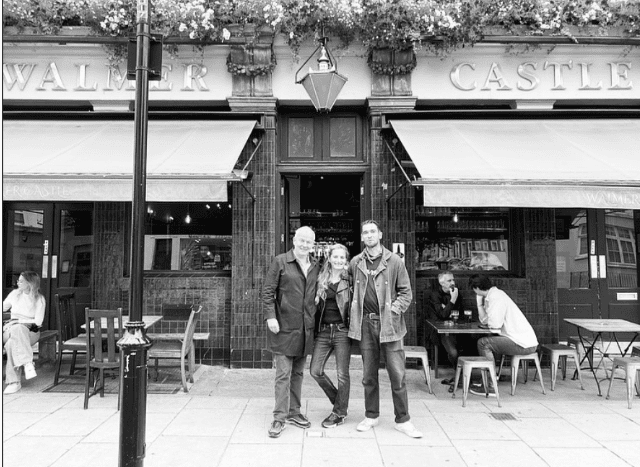 This summer, art dealer, gallerist and artists' agent, Virginia Damtsa will begin a rolling programme of exhibitions at Notting Hill's iconic Walmer Castle pub.  
A suite of rooms on the pub's top floor will become the venue for contemporary exhibitions, launching with Pop Art inspired wood collages by Colin McMaster.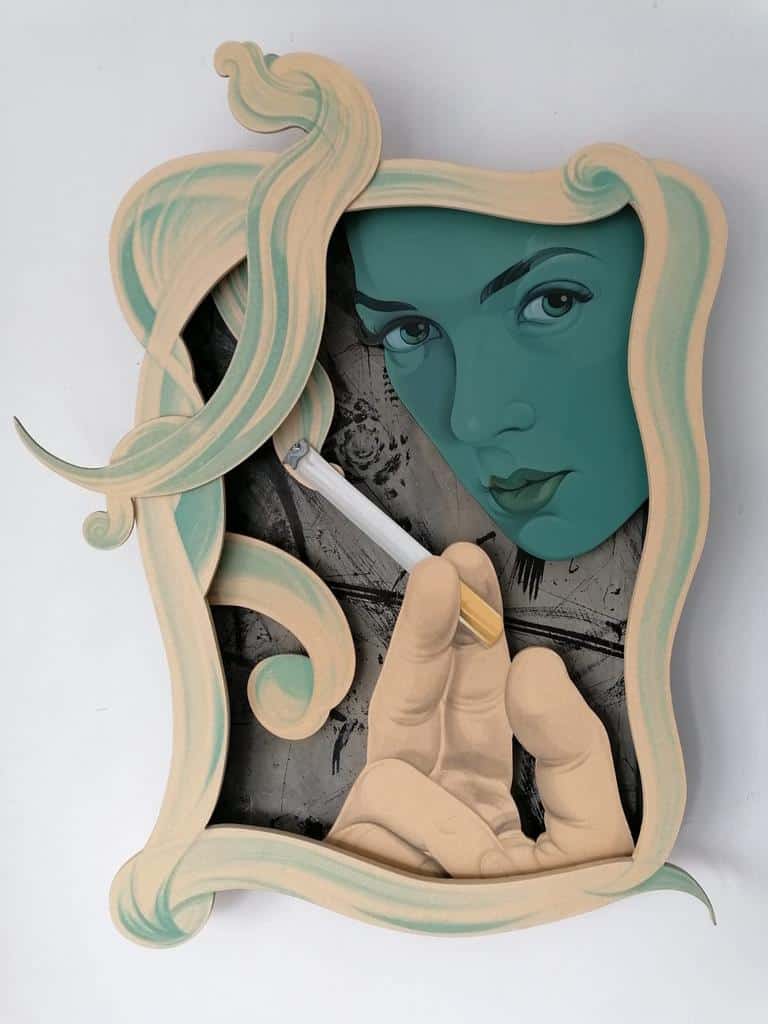 Damtsa, who co-founded iconic Soho gallery Riflemaker, counts Nick Rhodes from Duran Duran and Michael Seresin, Harry Potter cinematographer, amongst her collectors. Annie Lennox has also been a long-standing enthusiast of her representation of powerful, visionary artists.  "I want art to be everywhere", says Damtsa, bemoaning the lack of real-time interaction that the boom in virtual sales has had, compounded by Covid restrictions.  She feels that artists need real events and happenings to keep their creativity alive.  To this end, her business VirginiaVisualArts (VVA), has been mounting exhibitions in all manner of spaces, from street walls to empty shops and widely in galleries around the West End.  Her next venture is an NFT gallery in London, a first for the world of virtual art, scheduled to open in summer 2022 and she is also collaborating on a documentary, interviewing artists, auctioneers and art dealers about the contemporary art world today. 
The collaboration with Walmer Castle owner Piers Adam, the man behind the iconic London clubs of the 90s – from SW1 to Hannover Grand and Kabaret – as well as the Craigellachie Hotel in Speyside, came about through a shared interest in celebrating creativity and emerging talent.  Damtsa specialises in spotting artists on their way up; her first 'show' as an independent dealer, staged in her own flat in Notting Hill at the age of 20, was for Milena Dragicevic, who went on, some 20+ years later, to represent Yugoslavia at the Venice Biennale in 2019.   Damtsa also likes to re-discover historical artists. In 2015, she exhibited Judy Chicago at Riflemaker and Frieze Masters, boosting awareness of this artist who had last made headlines in the 1970s.  Chicago is now having her first retrospective at the De Young Museum in San Francisco, accompanied by a commission from the museum for a new performance piece.
Adam is excited about the potential to create art collaborations.
"For me, learning about and selecting an artwork is much like learning about and choosing a whisky: there is an education involved, barriers to be broken down.  That is what I am trying to do at the Walmer Castle: give people the opportunity to explore and develop their understanding and enjoyment of the worlds of art and whisky." 
The Walmer Castle 58 Ledbury Rd, London W11 2AJ Open 7 days a week, 12pm-12am.
Virginia Damtsa, Director of VVA VirginiaVisualArts Ltd, is an art dealer, gallerist and artists' agent, with experience spanning two decades.
At the age of sixteen, Damtsa entered the art market to help her uncle open the Museum of Alekos K. Damtsa, in Greece. While studying for her Masters degree in the Arts, she converted her apartment into a gallery showcasing emerging artists and curated several exhibitions in her space, other galleries and pop-up spaces. From 2003-2017, she co-owned (with Tot Taylor) Riflemaker London, a Soho gallery, curating exhibitions with artists such as Judy Chicago, William S. Burroughs, Gavin Turk, Martin Kippenberger, Yoko Ono, Takis, Penelope Slinger, Chris Levine, Christopher Bucklow, Liliane Lijn, Stuart Pearson Wright, Wolfe von Lenkiewicz and many others. She facilitated some important art deals with museums and art institutions and taught and lectured at Christie's.
She now manages fifty artists, has her own art school teaching professionals about art history and the art market, mentors artists and creatives, writes about art in major financial newspapers, features on TV as an art world expert and connects artists, galleries, major collectors and museums.
Her art agency helps artists to break into the art market with introductions, exhibitions and by creating new opportunities. She works closely with the artist as a strategist, mentor, advisor, consultant and PR.
For exhibitions, Virginia uses three art spaces, one in Marylebone, one in Fitzrovia and a third one in Notting Hill in London where she mainly shows mid-career and emerging international contemporary artists. She runs more than twenty art exhibitions a year. She is currently working on the opening of an NFT gallery in London.
Colin McMaster was born in Belfast in 1977; he lives and works in London.  
McMaster studied at Central St. Martins, London and was awarded the Royal Ulster Academy Student Prize.  He has shown at art fairs and exhibitions in Glasgow, New York, Miami, London, and has had solo shows in Dublin and Belfast.  Outside the gallery setting, McMaster has shown work in retailers such as: Richard James Savile Row; Heal's Department Store; Selfridges window display; Matches.  His works are held in the collections of BDO LLP, Hiscox, Lacuna Developments and the Merchant Hotel.
Piers Adam Piers Adam is the founder of several of the most iconic London clubs of the 90s, from SW1 to Hannover Grand and Kabaret, as well as the landmark bars Mahiki, Whisky Mist and The Punchbowl Pub, the latter in collaboration with Guy Ritchie.  Adam opened the Craigellachie Hotel in Speyside in 2014 and is working with hospitality aficionado Matt Hobbs, previously of the Groucho and Birley Group, to expand the Scottish brand.
Categories
Tags