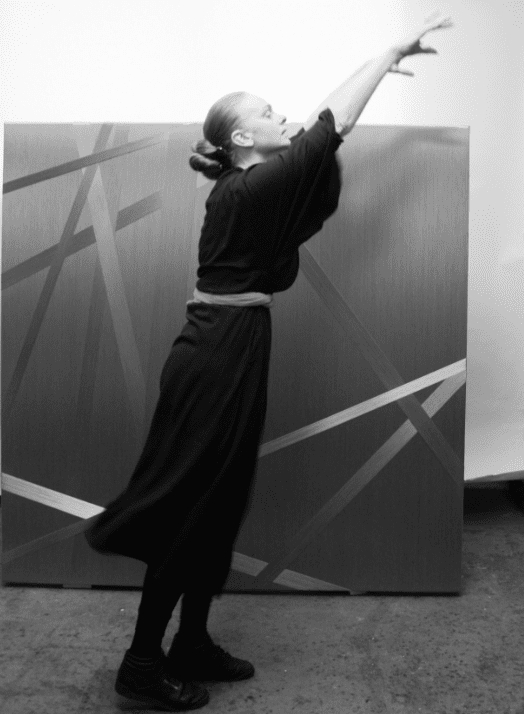 KÖNIG GALERIE have announced that Alice Anderson is joining their gallery. After her first solo exhibition, HYPERLINKS, at KÖNIG LONDON in 2021, she will have her second solo exhibition at ST. AGNES | CHAPEL in November 2022.   
Anderson locates her practice at the fulcrum between movement informed by ancestral cultures and the ubiquitous world of technology and its algorithmic systems. Her animist approach advocates a total reconnection to Nature through ritual dance. She is one of the very few artists who creates paintings and sculptures during performances remaking and rethinking the wired connections between consciousness, body, and machine, what she calls "human/non-human interactions". In 2020, Anderson was nominated for the Prix Marcel Duchamp. 
Born in 1972, British-French artist Alice Anderson lives and works in London. She studied at the École des Beaux-Arts in Paris, and Goldsmiths College in London.
Her work has been included in numerous institutional exhibitions, including, among others: "A Worlds of Networks", Centre Pompidou, Paris, France (2022); "Female Power Figures", Fontevraud Museum of Modern Art, Fontevraud, France (2021); "Geometric Dances", La Patinoire Royale Brussels, Brussels, Belgium (2021); "Prix Marcel Duchamp nominees", Centre Pompidou. Paris, France (2020); "Paintingscultures", Atelier Calder, Saché, France (2019); "Lift", Royal Academy of Arts, London, UK (2017); "181 Kilometres", Saatchi Gallery London (2016), UK; "Data Space", Espace Culturel Louis Vuitton Paris, France (2015); Memory Movement Memory Objects at the Wellcome Collection, London, UK (2014); "Green Tech Community", 55th Venice Biennale (2013); "Albums", Whitechapel Gallery, London, UK (2012); "Rituals", Freud Museum, London, UK (2011).
Categories
Tags