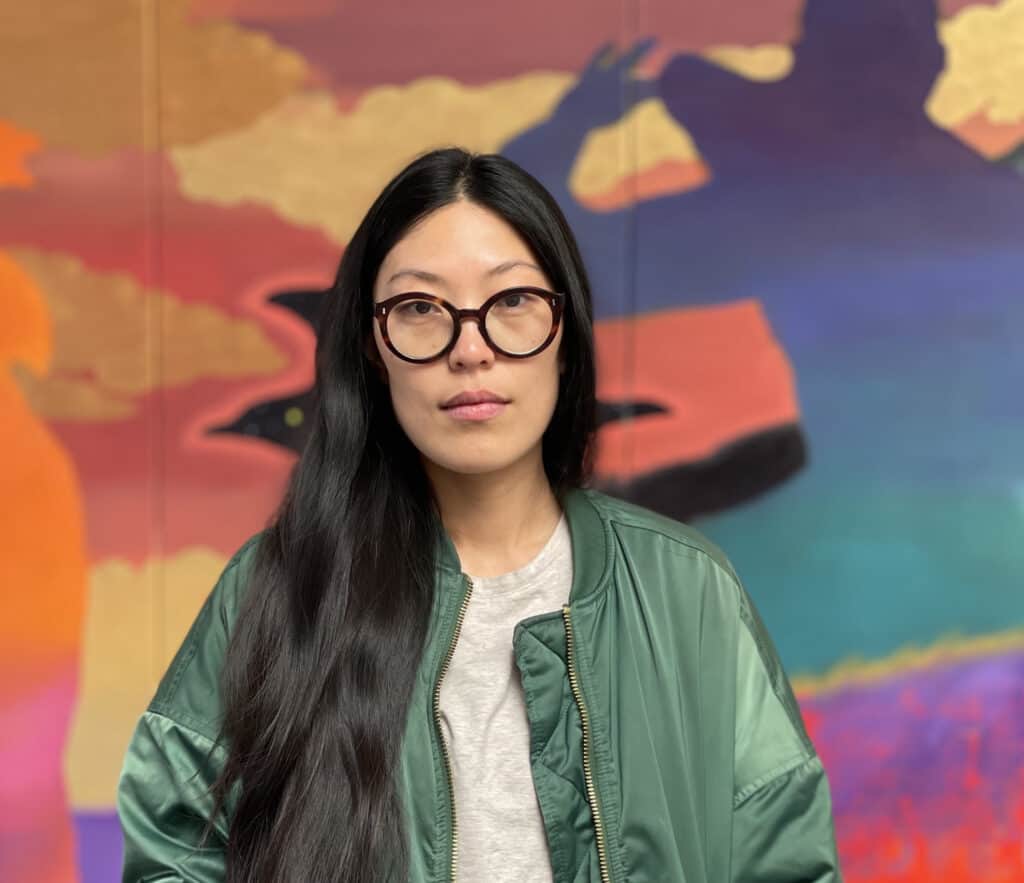 In autumn of this year, Korean-Canadian artist Zadie Xa (b.1983) presents her largest solo exhibition in London to date, commissioned by the Whitechapel Gallery. Xa works across a range of mediums from textile, painting, sculpture and installation to live performance, sound and moving image. Her practice is an exploration of matrilineal societies, familial legacies, histories of migration and the ways in which different species communicate with one another. ?Korean mythology often provides the narrative framework for Xa's investigations into ideas of cultural conflation, systems of power, home and belonging. Often drawing on her own lived experiences, Xa seeks to articulate multiple narratives within hybrid and diasporic identity that she situates in both our contemporary socio-political context as well as through a study of the supernatural, Korean folk religions and speculative fiction.
For this benchmark exhibition, Xa has created a site-specific and immersive installation featuring a new body of sculptures, textiles and paintings that are positioned within a large-scale structure that was inspired by a traditional Korean home known as a hanok. Designed in collaboration with artist Benito Major Vallejo, the house will be constructed from wooden frames that are wrapped with different coloured, hand-dyed linen that is stitched together to make a patchwork. This motif alludes to the Korean tradition of jogakbo: a style of patchwork made from scraps or leftover fabrics used to create domestic wrapping cloths known as bojagi. During the Joseon dynasty (1392-1987), bojagi were fabricated largely by women to cover everyday objects for safekeeping as well as used during Buddhist rites. Traditional Korean folk religions also believed that the act of shrouding or wrapping one's belongings increased chances of good fortune.
In this presentation, the artist explores belief systems and ideologies that have been largely subjugated as marginal by rapid industrialisation in the 20th century. This is also reflected in the exhibition's title 'House Gods' which refers to spiritual practices within Buddhism and Korean shamanism, as well as communities around the world that practice ancestral worship and pay deference to 'household deities': a commonplace belief across many different cultural groups in deities or spirits that protect the home, ensure prosperity and good health. The placement of various sculptures by the artist around the hanok-inspired installation, including near the entrance, in the corners and suspended from the beams, allude to the belief that different deities occupy certain parts of the house.
For this major commission, Xa was inspired by local legends of apparitions and spectres, as well as the rebuilding of London post-war and of lost architectures. In thinking of an art institution as a home for the ghosts of artworks, artists and people that once passed through the building, she responds to the gallery's historic architecture in order to immerse the viewer in 'another realm' or a 'dreamscape'. As such, the exhibition is conceived as an intervention that draws upon presentational aspects of funerary rites, ancestral shrines and tombs. These are critical sites for the artist who is interested in their liminality in terms of how they connect the world of the living with that of the dead. Through choreographed lighting and audio, Xa gives the impression of a ghostly presence within the gallery and points to a sense of transience. Red and orange lighting gradually transitions into purples and deep blues in order to reflect a passing of time, a journey into night and a new conscious reality.
Upon entering the gallery, the viewer is confronted firstly with a textile artwork representing the Korean shamanic deity Princess Bari or Bari Gongju (translating as 'throwaway' or 'abandoned princess'). Within shamanic and oral mythology, the figure of the Bari Gongju is one that guides souls from the living world into the underworld after death. In House Gods, Animal Guides and Five Ways 2 Forgiveness she is considered the viewer's first guide, a presence that accompanies them on their journey through the installation.
Installed throughout the exhibition are paintings, sculptures, textile works, suspended marionettes and masks, many of which feature different animal species. In many fables, animals are often protagonists to help instruct society, as well as to speak of power structures and moral quandaries. 'Animal Guides' within the exhibition's title reflects the artist's exploration in recent years into the figure of the animal and how different species can speak to our behaviour as humans and of society more widely. For Xa, animals are 'avatars': beings that are embodiments of ecological, political and cultural shifts within the world. The recurring motif of the tiger, fox and seagull as examples speak to Xa's continued exploration of the 'trickster' archetype: a disruptive outsider whose presence both provokes and inspires change from dominant social and cultural orders. Tigers are also deemed sacred in much of South and East Asian religion, yet are an endangered species as a result of human actions.
This ambitious body of work by Xa draws on folktales, oral histories, spiritual and religious rituals: systems of knowledge and cultural traditions that are not only repressed within Western worldviews, but which can also disrupt and expand our perception of the world around us. This is reflected in the final part of the exhibition's title 'Five Ways 2 Forgiveness': an eponymous anthology of short stories by Ursula K. Le Guin where she conveys a rigorous criticism of colonisation that oscillates between the genres of speculative fiction, science-fiction, parable and folklore, by which Xa is also heavily influenced. For the artist, these are languages within the exhibition that have the potential to dismantle what one knows or understands of the human condition. It also references the belief that in acknowledging those that have passed away and by paying respects to one's familial ancestors, deities or spirits may then forgive past wrongdoings and bring good fortune onto households. This pursuit of forgiveness is critical to the artist's own journey when thinking through how the diaspora are disjointed from their cultural communities and the ways in which reconciliation can be sought through acknowledging those that came before us.
Zadie Xa: House Gods, Animal Guides and Five Ways 2 Forgiveness 
20th September 2022 – May 2023 
whitechapelgallery.org Gallery 2, Free Entry
Supported by Dior and the Whitechapel Gallery Commissioning Council
Categories
Tags