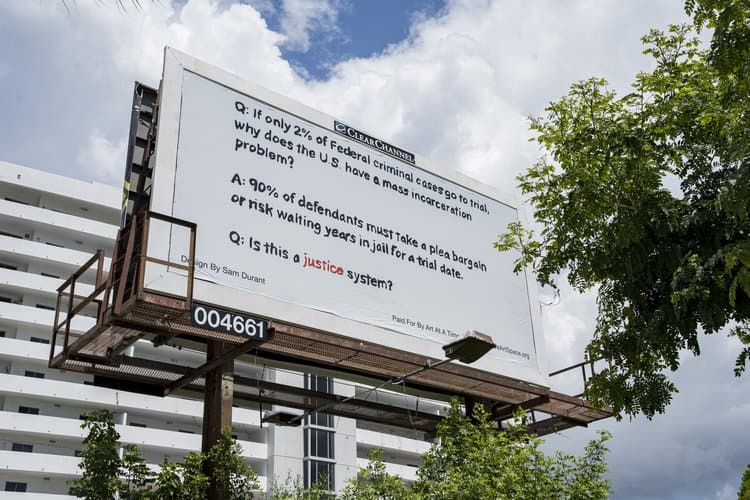 Art at a Time Like This, a nonprofit arts organization that stages public interventions and online exhibitions concerning pressing social issues, in collaboration with SaveArtSpace has launched an exhibition on billboards throughout Miami. Titled 8X5, the size of an average prison cell, the project is spread across more than 30 billboards located near courthouses and government offices with the aim of creating a dialogue about the U.S. criminal justice system.
8X5 features commissioned works by leading contemporary artists: Guerrilla Girls, Shepard Fairey, Trenton Doyle Hancock and Sam Durant; plus two renowned artists who have direct experience with incarceration, Sherrill Roland and poet Faylita Hicks
"End Mass Incarceration!" has become a widely repeated political slogan, yet change and reform has stalled time and again. This exhibition does not just repeat the well-known fact that the U.S. is the leading incarcerator in the world. It delivers an indictment of the judicial system, a system that prevents many from receiving a fair trial. By placing comments and images in the public sphere–in close proximity to the offices of judges, prosecutors and administrators –this project can instigate a conversation with the chief activators engaged in practices contributing to mass incarceration.
Art at a Time Like This believes that artists and the power of visual images can inspire a rethinking of the incarceral process which has criminalized entire communities through plea bargaining, mandatory sentences, judicial biases and prosecutorial misconduct.
Everyday, our timelines and media feeds become overrun with the grief, fear, and terror of communities abused and neglected by their governments, In this angst-filled world—maliciously designed and curated by our so-called leaders—Art A Time Like This can and does provide the relief, hope, inspiration, and courage that so many are in need of.

Faylita Hicks
8X5 has started in Miami, a state with one of the highest incarceration rates in the United States. A few of the artists have incorporated statistics specific to the local judicial system in Miami. Sherrill Roland asks
pedestrians "Did you know that Florida houses over 170,000 prisoners with a ten % margin of error?" concluding that there are enough unlawfully convicted citizens to fill the Pink Drive Stadium.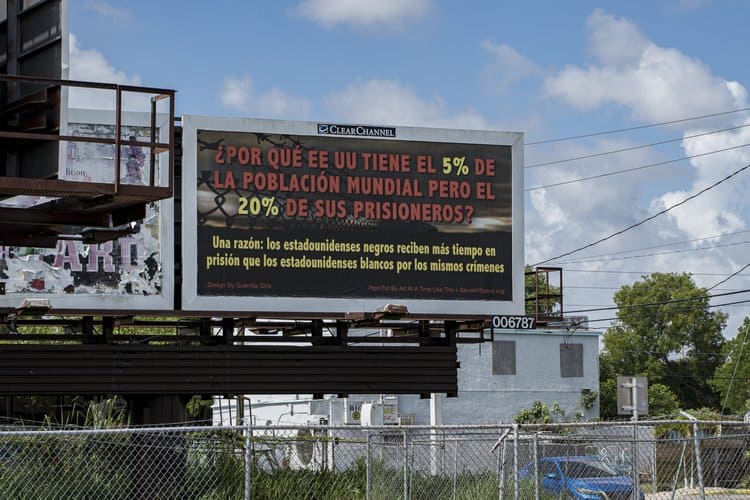 The Guerrilla Girls cry out against "Florida Injusticia!" with bus stop banners in Spanish and English underscoring the state's enthusiasm for filling prisons. After Miami in June 2022 8X5 will travel to New York City, Houston, Los Angeles and Washington, D.C through 2023.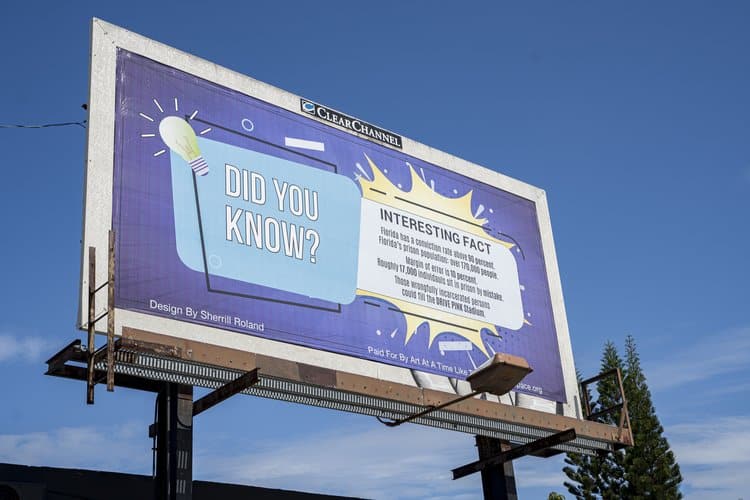 About the Organizers
Art at a Time Like This is a 501c3 not-for-profit arts organization that serves artists and curators facing adversity at times of crisis. Utilizing public platforms (digital and IRL) , this organization presents art in a non-profit context, highlighting art as an invaluable conveyor of content, rather than commodity. Our mission is to show that art can make a difference and that artists and curators can be thought-leaders,
envisioning alternative futures for humanity. Art at a Time Like This was founded on March 17th, 2020, by independent curators Barbara Pollack and Anne Verhallen who saw the need for a new kind of alternative space to address the pandemic and other crises, ever addressing the question, "How can we think about art at a time like this?"

SaveArtSpace transforms advertisement space into public art by and for the local community. Founded by Travis Rix and Justin Aversano, SAS provides artists opportunities to display their work in the public space, creating an urban gallery experience. This will mark the fourth major public art intervention orchestrated by Art At A Time Like This, and the third in partnership with SaveArtSpace. Most notably, in the weeks leading up to the 2020 US election, ATLT orchestrated a public art exhibition throughout the five boroughs of NYC in collaboration with SaveArtSpace, titled Ministry of Truth: 1984/2020. This series of 20 billboards by 20 artists–including Shirin Neshat, Deb Kass, Marilyn Minter, Abigail de Ville, Dread Scott, Sue Coe, Mel Chin and others–was recognized by The New York Times as "one of the mostimportant moments in art" for 2020.
Categories
Tags