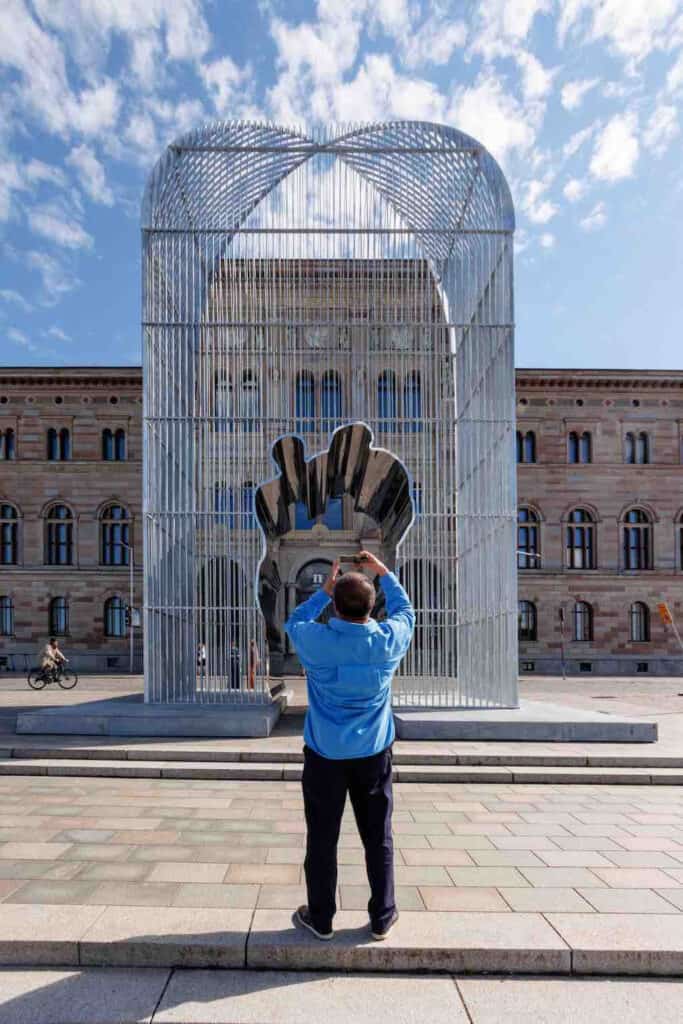 Globally celebrated artist and activist Ai Weiwei, together with Brilliant Minds has today unveiled Arch, one of Ai Weiwei's most significant artworks, in Stockholm, Sweden.
Arch will stand outside the city's Nationalmusuem and is the first iteration in a new series of public cultural exhibits that Brilliant Minds has committed to supporting in Stockholm over the next 5 years, celebrating innovation and creativity, and inspiring connection and conversation within local communities.
The unveiling of Arch takes place during Brilliant Minds' annual gathering in Stockholm – a unique coming together of inspirational voices to showcase Swedish values globally and support European founders with transformative ideas to make the world more sustainable, creative, and inclusive. The Brilliant Minds gathering serves as the leading forum for discovering Europe's best start-ups and offers a supportive and collaborative platform for rising talent, championing the next generation of cutting-edge founders. Speakers at this year's event include Malala, Esther Perel, Alicia Keys, Gabriela Hearst, Edward Norton, and Alexis Ohanian.
Brilliant Minds' unveiling of Arch in Sweden, the leading country in the European Innovation Scoreboard, marks a major milestone in Sweden's growing significance in global art and culture. Last seen in 2017 within New York's iconic Washington Square Park monument, Arch's placement in Stockholm will continue to celebrate the power of public art as a catalyst for conversation, urging us all to think about the contradictions of the times we live in, and the responsibility each and every one of us has to work towards a better world.
Throughout his artistic career, Ai Weiwei has sounded the alarm about political and humanitarian crises, and continuously provoked and challenged assumptions about the role of art in society and how creative voices can and should be mobilized in the collective effort to make a difference on the world stage. In a time of political divisiveness, an unprecedented refugee crisis, and global waves of isolationist sentiment, Arch offers a powerful and thought-provoking message that reflects the uncertainty of the times we live in and the need for brilliant minds around the world to meet the challenge of change.
Through its 40-foot-tall structure, perfected in polished stainless steel and reminiscent of a birdcage, Ai Weiwei, a refugee himself, creates an ode to freedom, using the silhouette of intertwined human figures to represent the free passage of all populations, and appealing for a world without borders.
Annastasia Seebohm, CEO of Brilliant Minds, says –
'Now more than ever, as the world is spinning at its fastest and most challenging, we must broaden our minds, share our experiences, and work together to create a brighter future. The aim of Brilliant Minds is to spark impassioned conversations, encourage questions, and seek answers, and the unveiling of Arch, and our new program of public cultural exhibits, will ensure we continue the important conversation for change.'
About the artist
Ai Weiwei (b. 1957) is a Chinese contemporary artist, documentarian, and activist. Ai Weiwei grew up in the far northwest of China, where he lived under harsh conditions due to his father's exile. As an activist, he has been openly critical of the Chinese Government's stance on democracy and human rights. He investigated government corruption and cover-ups, in particular the Sichuan schools corruption scandal following the collapse of "tofu-dreg schools" in the 2008 Sichuan earthquake. In 2011, Ai Weiwei was arrested at Beijing Capital International Airport, for "economic crimes". He was detained for 81 days without charge. Ai Weiwei emerged as a vital instigator in Chinese cultural development, an architect of Chinese modernism, and one of the nation's most vocal political commentators.
Ai Weiwei encapsulates political conviction and his personal poetry in his many sculptures, photographs, and public works. In doing this, he makes use of Chinese art forms to display Chinese political and social issues. Ai Weiwei is one of the leading cultural figures of his generation and serves as an example for free expression both in China and internationally.
About Arch
Ai Weiwei's Arch seeks to emphasize our capacity for change. Indeed, the tangible impact of Arch was witnessed first-hand when it was displayed in Washington Square Park from October 2017 to February 2018. In the wake of the project, New York Mayor Bill de Blasio appointed a commission to study public monuments across the city, with the aim to identify 'symbols of hate.' Inspirationally, Weiwei has proven that all it takes to instigate change is one first step.
For the first time since the Second World War, we live in turbulent times when war undermines the basic tenets of European society, climate change threatens to cause further displacement and migration, and Europe's borderless Schengen zone is under revised scrutiny. Today, 1.7 million Ukrainians have fled their conflict-torn country, a number the EU anticipates rising to 4 million. Global emergencies such as the Covid-19 pandemic, global warming and ongoing military crises ought to serve as impetus to create a more sustainable, safe, and inclusive world. Now, with more urgency than ever, we should greet migrants and those fleeing peril with open arms. Ai Weiwei's Arch campaigns for exactly that.
Providing an opportunity for Arch to be made visible is absolutely essential for the promotion and protection of freedom of speech.
As Weiwei has said: 
"The function of art is not about right or wrong, but rather to offer an opportunity for people to make their own judgment." 
Public art does not just enrich a community aesthetically, but also raises awareness and prompts viewers to question their own assumptions. As more people access art and see themselves reflected in public spaces, a greater sense of collaboration becomes possible, enabled by the power of connection and representation.
About Brilliant Minds
Established in 2015 by Spotify founder and CEO Daniel Ek, and serial entrepreneur Arash Pournouri, the early mission of Brilliant Minds was to spotlight the successful Swedish 'tech ecosystem' and convene creative people around the Swedish values of openness, transparency, equality, trust, and social responsibility to collaborate and create impact. In 2018, the Brilliant Minds Foundation was formed, to support founders with transformative ideas to make the world more sustainable, creative, and inclusive.
Brilliant Mind's core gathering takes place every year in Stockholm, Sweden, and brings together some of the world's most creative and influential individuals to share new perspectives, passions, and experiences. From exceptional thought leaders to powerful innovators, storytellers, and mission-driven celebrities, this diverse set of pioneers inspire those around them to challenge the present and fearlessly shape the future.
Past speakers at Brilliant Minds have included President Obama, John Kerry, Naomi Campbell, Edward Enninful, Gwyneth Paltrow, and Greta Thunberg. Confirmed speakers for this year's gathering include Malala, Esther Perel, Alicia Keys, Gabriela Hearst, Ai Weiwei, Edward Norton, and Alexis Ohanian. As of 2022, the Brilliant Minds Foundation board consists of Daniel Ek and the Wallenberg, Berg/Ax:son Johnson, Rapp, Persson, Olsson, Schörling and Andersson families.
Categories
Tags