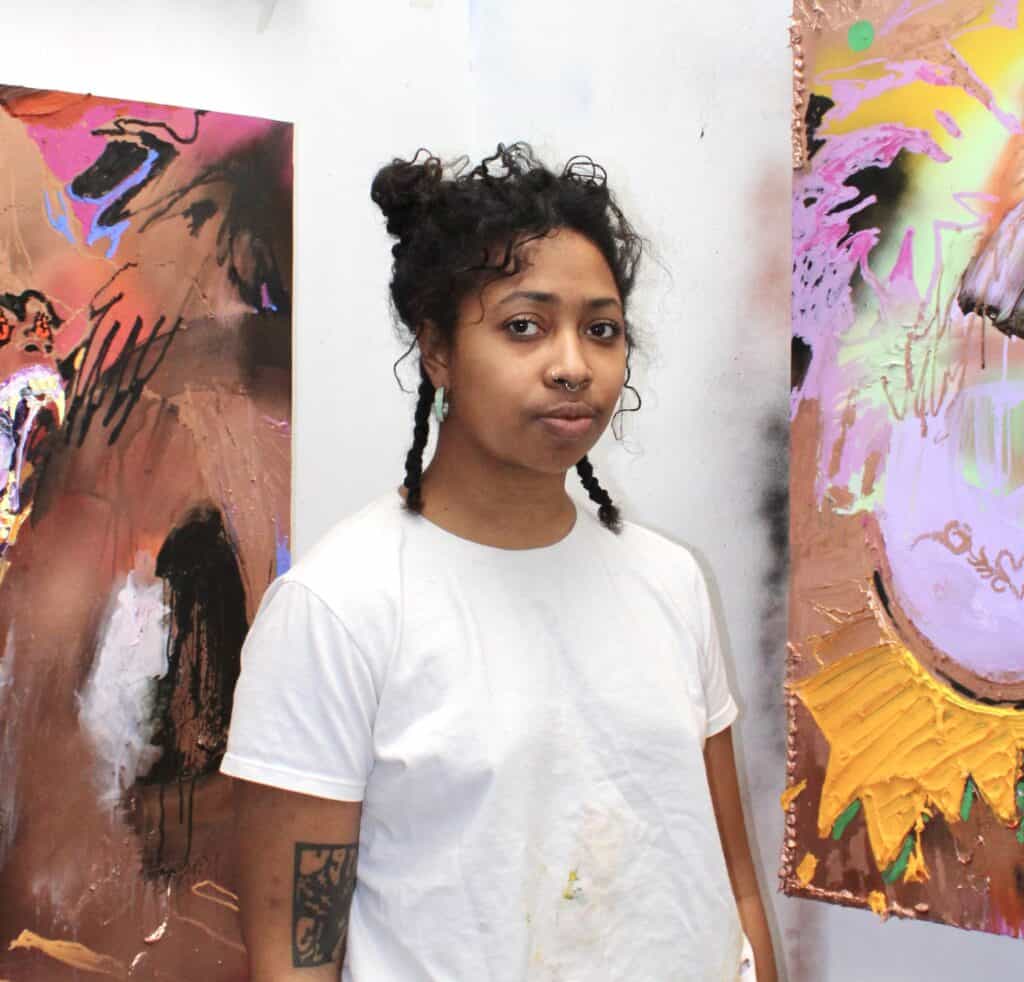 Through thoughtful observation Bianca Fields has developed a painterly understanding of the dark undertones within familiar American popular culture icons, depicted in children's stories, books, and television and how the psychological impact translates to our contemporary culture.
Fields grew up in Cleveland, Ohio where she attended Cleveland Institute of Art College. After receiving her BFA in painting she moved to Kansas City, Missouri where she maintains her studio practice.
In My Bag is Fields' inaugural solo exhibition with Steve Turner in Los Angeles. The exhibition comprises 21 paintings that vary in scale and highlight Fields' capacity of juxtaposing mediums, colors, and animal figures. Using oil sticks, oil paint, acrylic paint, spray paint, and several drawing materials the paintings aggressively illuminate bright and animated calamities.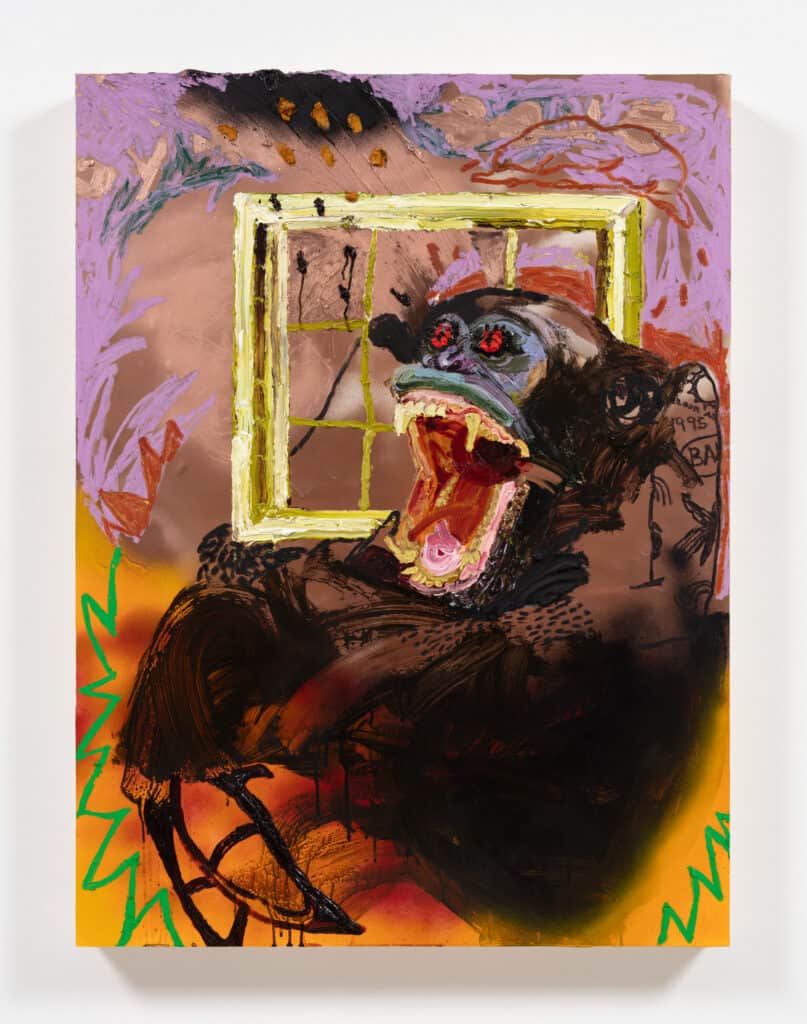 A few of the paintings highlight the characters from a popular childhood cartoon series, Tom and Jerry. Fields utilizes these characters to investigate violence, opposition, and language so to further communicate the same conundrums that plague our society at large.
Created in the 1940s the cartoon series had several runs and spin-offs created for over 80 years. The series features two lifelong housemates, a cat (Tom) and a mouse (Jerry), who have spouts of comical violent antics that involve either Tom or Jerry antagonizing each other followed by destructive attempts to harm and defend. The characters creatively enlist the use of many items to inflict harm such as firearms, explosives, poison, electricity, fire, knives, axes, just to name a few.
Like many cartoons from the early 20th Century, entertainment studios like The Walt Disney Company and Warner Bros. produced many racial and ethnic stereotypes for cartoons which came in the form of gags and recurring characters. In the original series, Tom and Jerry featured prejudices that were common in American society.
In My Bag features surrogates that embody Fields' impressions of tumultuous relationships and can be seen as an analogy for how people can treat each other. Tensions in the works can be felt through the vivid backgrounds, scratch lines, and in bold movement of the figures which further inform depth and discovery.
Phillip Edward Spradley: Can you elaborate on the genesis of your exhibition title In My Bag? I'm wondering if this references your skill set as a painter or the emotional 'baggage' we tend to carry around.
Bianca Fields: Yes, I've always thought the popular phrase was a pretty clever play on words. When creating this body of work, I actually felt like I was in my bag. Focused at times; grind mode. Inflamed and crippled during others. It was sort of a hysterical experience. When you are in your bag, you don't question it. You can sense it. I felt like I was coming in hot.
P.E.S: You depict various howling animals in your work, I have encountered the likes of gorillas, baboons, monkeys, cats, and geese. Their mouths are open, teeth gleaming, tongues extended, and seem to be projecting loudly. They could be emphasizing an array of emotions. There is a formal play as some of these figures are recurring and become further developed. What drives you to your animal choices, although no sound is being projected is there an audio consideration within the decision-making?
B.F: I like to think of my relationship with my recurring subjects as a vicious cycle. I know that they'll eventually be back. Each and every time that my subjects are depicted, I feel a sense of control and them becoming closer to me and looking like me. At this point, I feel so close to them — that I almost forget what they are symbolically/culturally understood to be.
The primates sort of feel like they're simultaneously everywhere and nowhere in my work. I feel like their presence is paradoxical, and for me, harmony means incorporating something that feels like a pie-in-the-face effect to the viewer. The joke is on the viewer.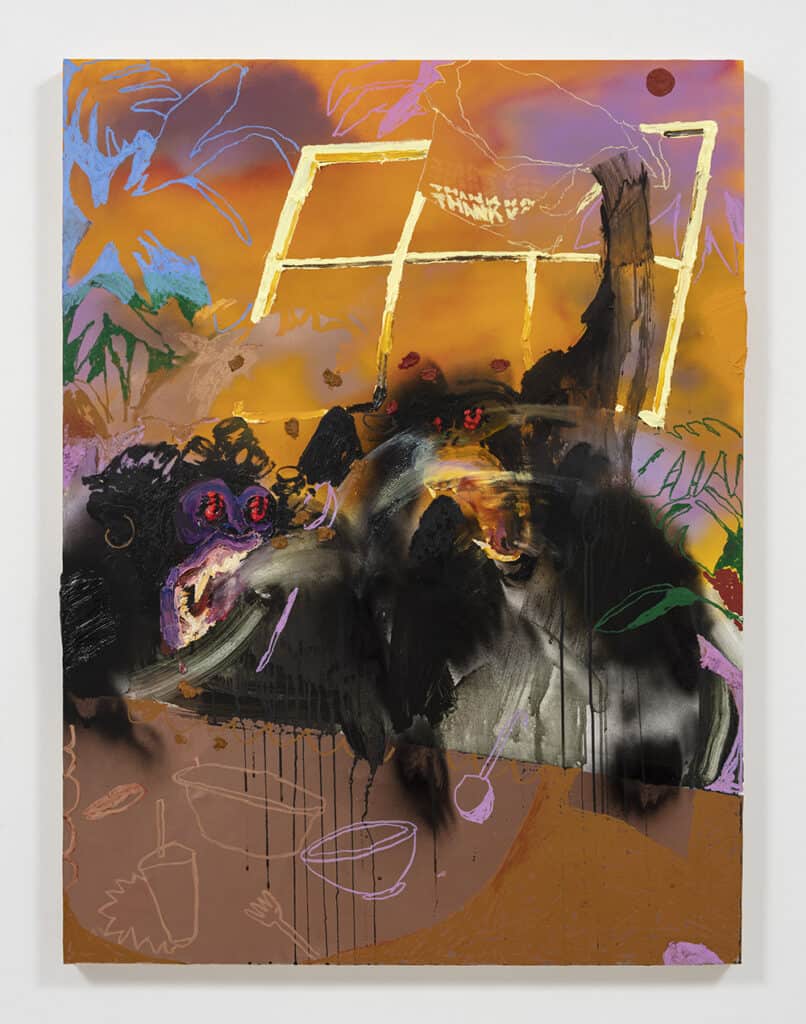 P.E.S: Cartoons have been known to provide self-empowerment and can provide immediate gratification as they are short, quick, silly, and sometimes smart. They can be cathartic and provide character lessons and benefits towards emotional growth. What has your relationship with cartoons taught you about your sense of humor and how do you direct that humor towards your work?
B.F: When I was a child, I spent more time outdoors than watching a ton of TV. However, the few shows that I did watch, such as the American animated TV show, Tom and Jerry, were very much of interest to me. I think people often forget about how the protagonist "Tom," from Tom and Jerry was limited to words, practically mute. I eventually found myself adding sound effects and dramatizing everything in my youthful reality.
It makes me think about these 'silent' cartoon qualities and expressions that my subjects have, and how it has subconsciously seeped into the way that I've developed their hysterical personas:
Compelling but mocked. Indicating unrealistic facial expressions. Amplifying feelings of humor, playfulness, and even distrus in the work.
P.E.S: Do you find using these familiar characters from your childhood and American popular culture provide a familiar and digestible route to further spotlight and communicate the woes and joy of the human condition?
B.F: I definitely think they have, however, I feel like I started off working this way with a "depression era" mentality; keeping my resources simple, pretty much only out of books and very close to me.
Now, I'm currently working more in a direction of unrestricted territory — continuing to build things that help cultivate this unrestrained alter ego that I am in the process of creating. I think this will be a challenge.
P.E.S: Your work is made by confronting your feelings in real time. When you have certain emotions like happiness, frustrations, trepidations, and even anger, you will grasp those and create a response in your studio. Do you see your works as a type of self-portrait or are the genuine emotional responses you have assist in carrying out a particular idea?
B.F: I certainly see these works as self portraits. It seems as though all of my emotional responses have created an exquisite corpse of myself.
These raucous compositions demonstrate the 'violence of decoration' that happens in every work. Each of my subjects get a love bite in different places; sometimes appearing as a tattooed love letter to myself, on the arm or leg of my mix of my portrayed primates. Crossed out names of family members, birth years, stars, whichever body part needs it the most.
P.E.S: When painting new works for your exhibition at Steven Turner what did you learn about your process in creating and where your work lies now?
B.F: I definitely think this show was about unraveling. I wouldn't even consider it experimental — this show brought me a plenitude of emotions after seeing everything installed. Revisiting the first, true style of painting that I developed in undergrad was truly something that this body of work needed. It took me back to a very concentrated place of rumination and meditation in my relationship to painting.
P.E.S: Can you tell me about your strategy of application? The impasto in your work is reminiscent of frosting which leaves the viewer with a mouthwatering experience. The different weights of paint, the constant push and pull, exposing underpaintings while simultaneously layering forces the viewer to spend time in discovering the surface of the paintings.
B.F: I don't think that paint should ever go to waste. I've come to have a more child-like view on the materiality of paint. I find it very interesting when the viewer's looking process slows down in order to digest what is on the surface. I've always considered my impasto paintings to be love letters to other painters. There are usually (unintentionally) about seven different variations of the work that seep underneath. The index of something that was once present and alive is very important to me. I know when to stop based on a humming noise that I feel throughout my body. It brings me joy to know and feel what was once underneath. It feels like a healed wound.
P.E.S: You do have an organic way of working, what signifiers give you a sense of completion? There's a balance in your work which provides a result of 'distorted beauty.' You have described dispensing the right amount of "annoyingness" as you make a conscious effort to pull the viewer into certain areas of the work.
B.F: I come from a musical background, I usually was always hands-on with some type of instrument or gadget. I think it still seeps into the way that I perceive expressionistic painting in this "syncopative" nature. without incorporating the idea of sound in my work, there would be no deliberate way to know when it is complete. there has to be a violent confrontation before there is harmony in these paintings.
P.E.S: You aren't a stationary painter. You have been known to attack your works on all sides and work on multiple paintings at once, literally bouncing around from one to the next. Does this improvisational way of working and the immediacy behind it assist you in formulating your ideas and ability to create aggressive mark making?
B.F: It seems to be working very well at the time. The way that I work is very calculated and suggests a lot of trust in intuition. I feel myself in sort of a trance when working. In the studio, I have this mentality where I feel like edits can't be made until the problems are laid out in front of me. Essentially I'm just fast forwarding and getting to the problems as quickly as possible. I like the tension to be seen on the surface. it would be impossible to arrive at one of these works without this type of painting fiasco from the start.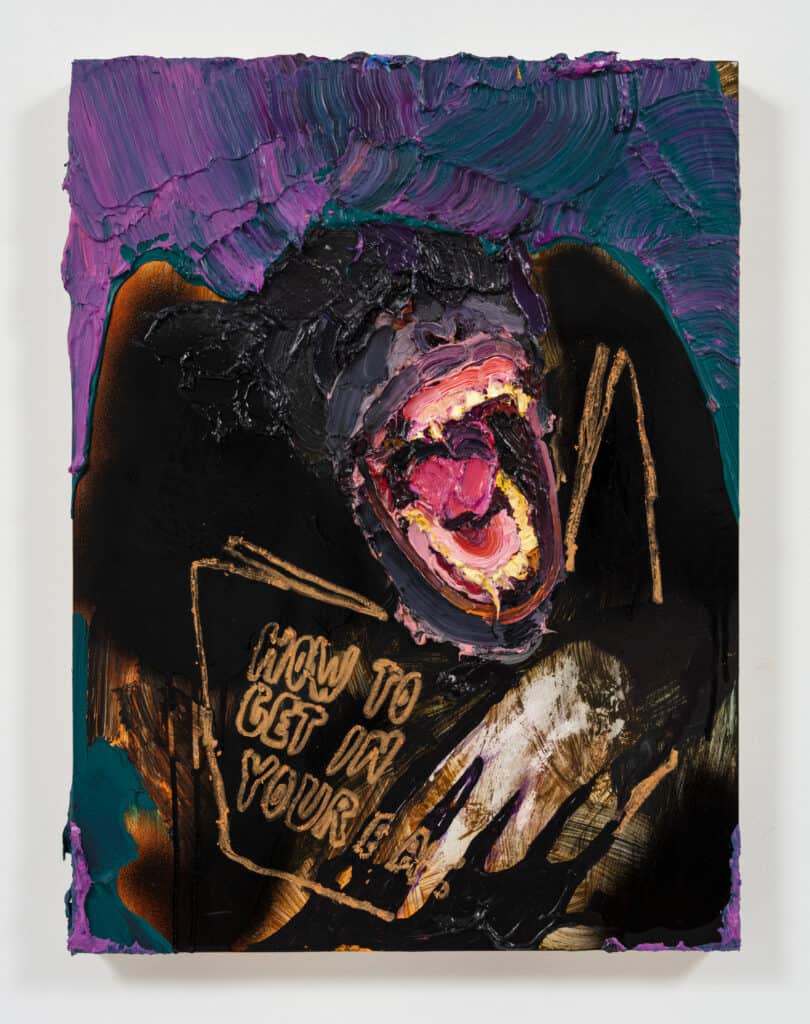 P.E.S: You are taking part in the Kemper Museum of Contemporary Art exhibition Woman To Watch-A New World 2024, an exhibition series which is a collaboration between the National Museum of Women Artists and its committees. What ideas came to you when you were approached to participate? These collaborative exhibitions are held every few years and focus on a specific medium or theme chosen by NMWA's curators and features burgeoning, self-identifying women artists from each committee's respective region, in this case, Kansas City, Missouri.
B.F: I am super excited to be a part of this exhibition while living in Kansas City. When learning more about this program, and thinking about the direction/driving force of my work, I started thinking a lot about "improvisation," and the way that society attempts to sculpt women of color into performative roles. These works are painted in a way that is not fragile and contain a gestural focus around the mouth. The mouth, then, becomes a portrait. It is helpful for me to ruminate on these ideas of humor, curiosity, horror, pain, happiness and fear using something that already contains dramatic imagery.
BIANCA FIELDS IN MY BAG – June 24th, 2022 Steve Turner
A NEW WORLD-WOMEN TO WATCH 2024 – June 24th – October 16th, 2022 Kemper Museum
Categories
Tags