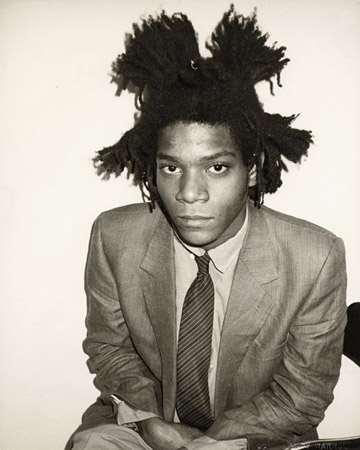 The New York Times reports that the F.B.I.'s Art Crime Team is investigating the authenticity of 25 Basquiat paintings on show at the Orlando Museum of Art.
The paintings in the "Heroes & Monsters: Jean-Michel Basquiat" exhibition were said by the museum and their owners to have been recovered from a Los Angeles storage unit in 2012. The works were largely unseen before the show's February opening. 
We are no experts but this one of the paintings doesn't really look like a Basquiat 
 

 

View this post on Instagram

 
An article in The New York Times raised questions about their authenticity, reporting that a designer who had previously worked for Federal Express had identified the FedEx typeface on a piece of cardboard Basquiat was said to have painted on as one that was not designed until 1994 — six years after the artist's death.
The paintings' owners and the museum's director and chief executive, Aaron De Groft, say the paintings are genuine Basquiats, citing statements from art world experts commissioned by the owners.
F.B.I. Special Agents have interviewed people in the art and design worlds, focusing on the paintings in the exhibition and on their primary owners, who have previously said in interviews that they were trying to sell the works. Those questioned include De Groft, according to two employees of the museum who were granted anonymity because they said De Groft has warned the staff that anyone talking to the media would be fired.
De Groft and the owners of the 25 paintings have said that they were done on slabs of cardboard scavenged by Basquiat in late 1982 while he was living and working out of a studio beneath the Los Angeles home of the art dealer Larry Gagosian, as he prepared new work for a show at Gagosian's gallery. They said the works were then sold by Basquiat for $5,000 to a now-deceased television screenwriter.
A verdict from Basquiat's estate is no longer possible: its authentication committee disbanded in 2012. Exhibiting paintings at a museum can often enhance the legitimacy of works without more established provenance.
Much of the back story establishing the paintings' origins rests largely on the word of Mangin and Force, who have both served time in prison for felony drug trafficking under different names, law enforcement records show
Categories
Tags