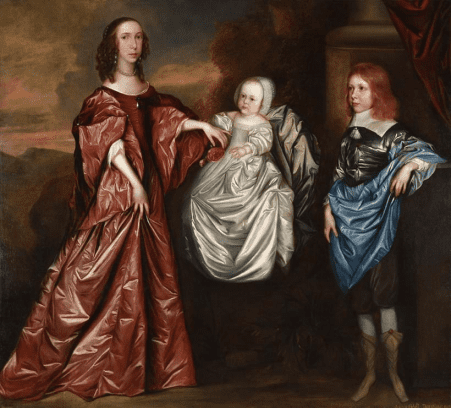 Dreweatts is offering an artwork attributed to the first-ever female portrait painter in Britain this week. The oil painting, titled 'Portrait of Anne, Philadelphia and Thomas Wharton, later 5th Lord Warton', is by Joan Carlile (circa 1606-1679), who from her studio in the centre of creativity at the time – Covent Garden in London, led the way for other female artists in the 17th century and beyond.
Portraits by Joan Carlile are rare and of her oeuvre there are approximately only ten that have been identified with certainty. Of these, three are in public collections (Tate Britain, Ham House, Surrey, and The National Portrait Gallery, London), while others are held in historic house collections, such as Lamport Hall, Burghley House and Berkeley Castle. Carlile is known to have specialised in small-scale portraits of usually female figures, set in large landscape or garden settings. The larger format of this work represents an important addition to an understanding of her work. As there are only a small number of surviving paintings, it makes it doubly exciting to be able to offer the present portrait.
Carlile was highly esteemed in her portrayals of the gentry, who it's believed she met through her husband Lodowick Carlell (1602–1675), who held the offices of 'Gentleman of the Bows to King Charles I' and 'Groom to the King and Queen's Privy Chamber'. He was also Keeper of the Great Forest at Richmond Park where they resided in Petersham, Richmond on the outskirts of London.
Commenting on the work, Dreweatts Picture Specialist Anne Gerritsen, said:
"We are delighted to present this work in our sale. It was extremely rare for such an accomplished, pioneering woman to achieve success in an age when women had few career options and even fewer rights. For a very long time women artists have been largely ignored by art history and our view of British art in the 17th century has been dominated by male artists. Fortunately, the current climate in the art world has resulted in museums shedding more light on the accomplishments of women artists and there is a great surge of private collectors seeking to fill this notable gap in their collections, for example The Tate, London acquired Joan Carlile's Portrait of an Unknown Lady 1650-5 in 2016".
The commission of this large group portrait was by Philip, 4th Lord Wharton (1613-1696), an English soldier, diplomat and politician. He inherited the Baronetcy of Wharton, as well as many extensive estates in North Yorkshire, on the death of his grandfather in 1625. Through this and his second marriage to Jane Goodwyn (1618-1658), he amassed enormous wealth which enabled him to indulge in an extensive art collection. The collection would span 50 years, with works by Sir Anthony van Dyck and Sir Peter Lely amongst them. Such was the extent of his collection that he instigated a major rebuilding of his home, Wooburn Manor House in Buckinghamshire, to include a long picture gallery for his collection of royal portraits. 
This particular work depicts his children; Anne (d. 1689), Philadelphia (1655-1722) and their brother Thomas Wharton (1648-1715), later 5th Lord Wharton. Their identification is based on the very distinctive inscription with which the 4th Lord Wharton had all portraits in his collection labelled.
The work will be offered in Dreweatts Old Master, British and European Art sale on May 26th, 2022 and carries an estimate of £30,000-50,000 dreweatts.com
Categories
Tags