The London Original Print Fair opens this week on Thursday 26th May running until Sunday 29th. The 37th edition, of the London Original Print Fair, offers a unique opportunity to view and purchase prints from world-renowned galleries.
One of the particular strengths of this Fair is the wide span of work on sale from Chris Levine's platinum leaf portrait of the Queen at Jealous to the early engravings and woodcuts of Dürer. So to help you navigate all the artworks on view, we asked co-founders of the London Original Print Fair Alice St Clair and Helen Rosslyn to pick out 10 prints you should definitely see while at the fair.
1 Louise Bourgeois, Beautiful Night, 1994, lithograph at Marlborough Graphics
2 Hannah Tilson SoftWear 2022 at Advanced Graphics London
3 Charlotte Verity CV 2022 Watercolour monotype at Karsten Schubert London
4 Peter Doig Muldenberg at Sims Reed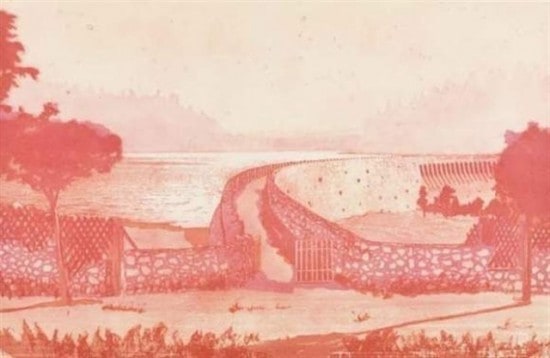 5 CRW Nevinson, Wet Evening on Oxford Street 1919 Osborne and Samuel 
6 Alexander Massouras, In a house with nothing to fix, at Julian Page
7 Stanley Anderson (1884 – 1966) 'The Sister', the artist's wife Lilian (née Phelps) (1884-1967). Engraving at Abbott and Holder.
8 Terry Frost Blue and Green Verticals Screenprint 2002, at Gwen Hughes Fine Art
9 Rembrandt The Golf Player, Original Etching 1654 at Elizabeth Harvey Lee Oxfordshire
10 CRW Nevinson (1889-1946) Cornish Landscape 1918 Lithograph at Osbourne Samuel London
Other highlights this year include Picasso prints exhibited by Frederick Mulder and works by Frank Auerbach, Francis Bacon and Lucian Freud from Marlborough, notable prints by Christopher R. W. Nevinson and Cyril Power's famous linocut The Tube Station from Osborne Samuel Gallery. Gerrish Fine Art will show a remarkable complete set of thirteen etchings by David Hockney and Simon Patterson's 1992 lithograph The Great Bear will be shown by Shapero Modern.

Exhibiting at the London Original Print Fair for the first time will be Cynthia Corbett Gallery, Daniel Crouch Rare Books, Hidden Gallery, ICA, Manifold Editions, Pangolin London, Raw Editions, Smithson Gallery, Tate, Verbatim and Whitechapel Gallery. The Fair will also host exclusive launches and demonstrations, including live screen-printing on the evening of Friday 17th May by Jealous.
Manifold Editions will launch two new editions by Bradley Theodore, named Eternal Queen; and Cynthia Corbett Gallery will exhibit a hand-applied platinum portrait of the Queen by Deborah Azzopardi.

Following the recent record-breaking sale of Andy Warhol's Shot Sage Blue Marilyn, visitors will have the chance to buy their own Warhol as Hidden Gallery will bring a print of the renowned artist's Saint Apollonia, signed and numbered in pencil. Shapero Modern will exhibit Swan Engravings, one of Frank Stella's most extensive printmaking projects to date, including 25 prints published over a three year period.
Categories
Tags