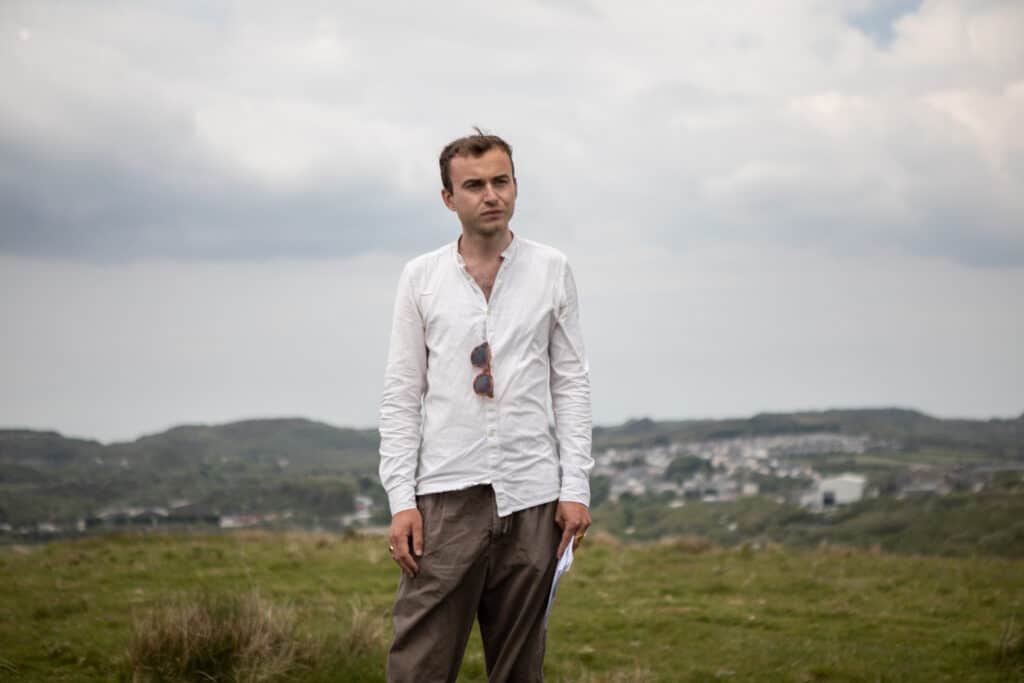 Robin James Sullivan is "an Artist; Producer; a Writer; a Chef; a dreamer; an amateur experimental archaeologist; a mudslinger; a guide; a Queer man; a Performer, the hostess with the mostess. (Not exclusively)". Robin will be contributing a brand new piece of research to the materials-based digital platform, Mater. The platform's curator, Maddie Rose Hills, caught up with Robin to discuss his current work.
Maddie Rose Hills: Your artistic practice is varied, encompassing a wide range of activities. Can you give an insight into what a practice might look like when it does not focus solely on production?
Robin James Sullivan: Yeah, so I'm working on around 9 projects at the moment, all of which are, as you say, varied. They all have roots in archaeology, in our past, and in particular places and particular stories. From long term socially engaged projects, research, writing, objects & performances, all the way to establishing international exchange programmes; really it's about understanding how we come together, how we think, how we move around spaces, how knowledge moves and what its trace is in the landscape. It's about expanding our understanding of our past, present and future, and wherever possible, creating moments of celebration or togetherness. I spend most of my time thinking, writing and reading, the art of thought?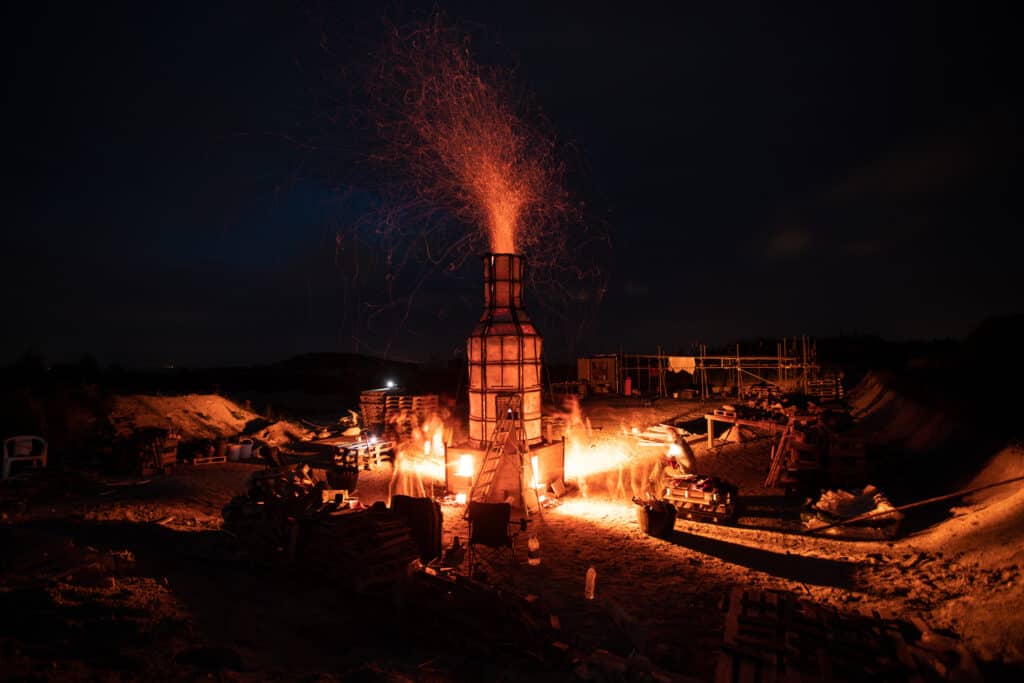 Can tell us about some of the specific projects you are currently working on?
One is exploring the history of gabbroic clay in Cornwall. It's only found in a 7km area but was used for up to 70% of ceramics across the whole of Cornwall for over a 4,000 year period. That project is taking the form of a 3-year public programme. I started thinking in terms of programmes about 3 years ago. Not all of them take this form, but for some it makes sense. I think of the programme as an art work, which can feel like a radical thought.
Another offshoot project from that one is an augmented reality of a prehistoric landscape, which involves HUGE data sets, from pollen capture in the soil to mapping ancient rivers, rock formations and their degradation, or analysing cremations. I'm working with the University of Exeter and Deep Digital Cornwall, alongside Thomas Duggan Studios on this project. I really liked the idea of sitting in an ancient digital landscape smelling long-forgotten foods and smoke. It started with a question; 'How might we connect to the past through taste? Which leads to: What is the taste of the past? Then think more expansively about what connecting like this might do, and what could be felt or understood?
The Augmented reality will also create a space to curate and exhibit objects, artefacts and stories. Last year I was thinking lots about how we could find new ways of telling stories of places, the archaeology of places, and turning landscapes into museums. So first of all 'how might we take the museum into the landscape whilst linking back to the museum?' This project is just kicking off but will involve collaborating and working with lots of wonderful people over the next few years. Eventually, I would like to host a series of dinner parties in this digital ancient landscape too. (any excuse to get together and celebrate.)
Other much longer projects are exploring stone circles, henges and gateways. This is taking the form of actually building versions of them with communities, usually as large scale performative ceramics. It's not so much the objects I'm interested in, as the action of making them together and what is then embodied in these spaces, and what their future use is.
Another project is the formation of an international exchange programme between mining communities, and another producing a series of stone display cabinets….
Your most recent project explored the china clay landscapes of Cornwall where you grew up, can you tell us about some of the connections you found regarding china clay, landscape and community?
In its simplest form, (and personally I think for someone that takes the longest road to explain something – I've nailed this) 'landscape forms community and culture, and community and culture shape landscape'. Boom.
But beyond that, more recently, I've started to expand this thought. If you think of the hundreds of thousands of people who worked within the industries within relatively small geographic areas, and then consider the nature of the industry; the physicality of it around you, in the landscape or vistas, in the act of tunnelling underground, in the rivers, in the places you socialise, in the clothing worn, the food eaten, the associated industries, the way we celebrate, structure our week and what we are doing, when you add in the linguistics, the regional or industry-specific colloquialisms, all of which are born of the industry and seep outside of the workplace and into the everyday identity of a location. To what extent do these external factors frame the way in which our brains create thought and what effect does this extreme version of 'priming' have on our decision making? In our general thinking?
What materials are you currently enjoying working with?
I've become enamoured with clay, I like that it can be unpredictable, you can work with it with little knowledge, which makes it accessible, It's universal. But you can also get really fucking into it and get down to the chemistry and science involved in clay bodies, glazes and firing.
But, I think the material I am most interested in at the moment is thought, and I have a lot of half baked thoughts about this, I'm reading a lot into psychology and neuroscience atm. 
Also in ideas, in conversations, in oral histories, in spaces that are created, and ephemeral moments in time when things coalesce. The unrepeatable. Is that a material? The space created?
Can you elaborate on some of the ideas you have been hashing out through your contribution to Mater?
It started with a line I read in an article, that 575 non-native plants and ferns have been identified in grid reference SX0753'' (it's now 628) and I was like, there's a story there. I was pretty naive 3 years ago, I thought 'I'll trace the plants and find out how they got here. In my mind, it was going to be that simple. *Face palm*.
It turned into the largest and most convoluted body of research I've ever embarked on. And I love it! I should start by saying that this body of work has no form, no shape, no end goal. At points, I have questioned putting parameters in place to stop it becoming as wide as it is. But then I thought, why? Why should I condense down my thoughts, why should I conform to something that doesn't feel comfortable? This isn't for anyone else, it's for me.
The story of the plants has taken me 'virtually' all over the world through various trade routes; explored the relationship between disparate materials, and then really the interconnectedness of everything. Like I've found connections between Gibraltar docks, a phoencian dagger and Plant Daddies (ew) all of which are also related to power and colonialism. (Which, no surprise, a lot of our material, cultural and social history does.)
It's taken the form of a rhizome, which of course meant for some time I was distracted by understanding rhizomes, and the more you look into it the more it makes sense. The project is exploring stories and histories but also mapping the brain and knowledge. This project has no end, no goal, and no parameters because any parameters set would only limit the possibilities of where this may take me, and I am not here for that kind of limited thinking.
What I'm presenting with Mater is where I am up to, some of the larger discoveries and thoughts. I've also been thinking about what the natural next stage is. I am keen to open the rhizome out as an open-source document online and allow it to grow, shapeshift, envelop and take on new nutrients.
Categories
Tags