To Mark its 35th anniversary, Xavier Hufkens will be opening a new gallery at 6 rue St-Georges, Brussels, following a two-year transformation led by the Belgian architecture firm Robbrecht & Daem. The design transforms and extends the 19th-century townhouse opened by Hufkens in 1992, nearly tripling its exhibition space, and creating a range of light-filled spaces for the exhibition of contemporary art. One of three gallery spaces in Brussels, the renewed and expanded space at rue St-Georges affirms the gallery's commitment to its home city.
'Every aspect of our new gallery stems from the vision to create an exceptional platform for our community of artists, many of whom made their start with us here in Brussels. In the 35 years since we opened our first gallery in a warehouse in the city centre, Brussels has flourished into a vibrant epicenter of contemporary art in Europe and internationally. This is a cultural heritage and creative community to which we are proud to belong and deeply committed. We hope that this new space will serve as a dynamic home for our gallery and our artists well into the future.'

— Xavier Hufkens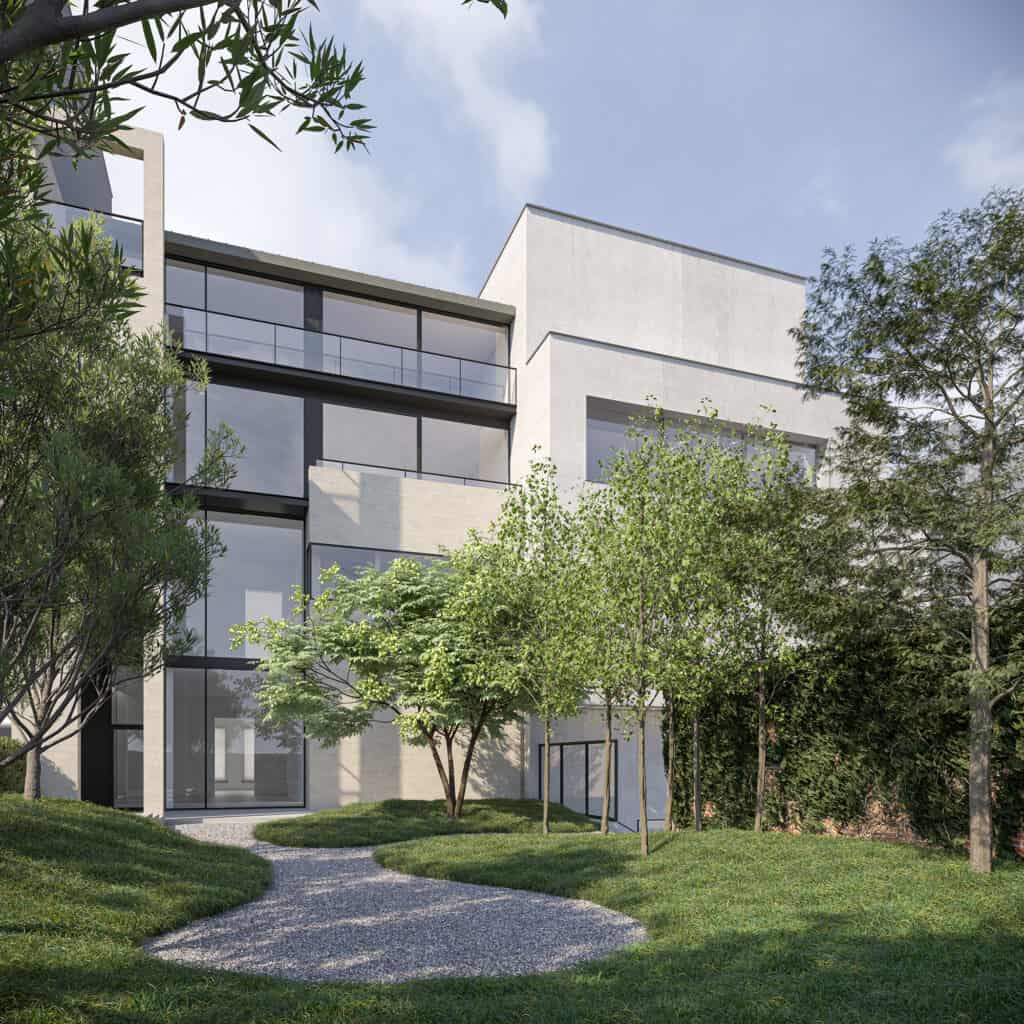 Opening 2nd June 2022, the inaugural show will be a major exhibition of recent works in a wide range of media by American artist Christopher Wool (b. 1955), curated by Anne Pontégnie, curator-at-large for Le Le Consortium (Dijon) and curator for the Cranford Collection (London), and long-time collaborator of Wool. 
'Through more than fifty works, this exhibition explores how reproduction is at the heart of Christopher Wool's practice. It is a journey into Wool's process and modes of thinking. He has never ceased to create challenging forms and to question his own practice. It is also the result of a thirty-year dialogue with the artist and a thirty-year friendship with Xavier Hufkens — a question of mutual trust. The new gallery's scale and architecture offer the perfect setting to develop such a complex and dense project.'

— Anne Pontégnie
Designed by Robbrecht & Daem architects, the new St-Georges gallery marks an exceptional expansion in surface, capacity, and logistical possibility. Spanning six stories, the building will encompass over 800 square meters (almost 9,000 square feet) of exhibition galleries, nearly tripling Xavier Hufkens' existing exhibition space at this location. 
The pre-existing floors of the gallery's historic 19th-century townhouse will extend into the newly designed adjacent building, a cascade-like, monolithic volume of elegantly stacked concrete forms. In a delicate interplay between the large-scale proportions of the contemporary building and the more intimate rooms of the original maison de maître, the integrated design creates an effortless circulation while offering visitors a range of spatial experiences: staircases guide visitors through four floors of exhibition space, each with unique dimensions and light incidence. The 2,200-square-meter (nearly 24,000-square-foot) building will retain its outdoor exhibition space in the garden, renewed by the esteemed landscape architect Martin Wirtz, and in addition feature upgraded staff offices, a research library, and art-storage facilities. The durability of the building — completely energy independent and nearly entirely carbon-neutral — is reflected in its materialisation, concrete core activation, and effective use of geothermal and solar power. 
The new St-Georges gallery will later this year host solo exhibitions by Joe Bradley and Nicolas Party, in autumn and winter respectively.
Xavier Hufkens Rue Saint-Georges 6 Brussels from 2nd June
About the artist
Christopher Wool (b. 1955) is widely regarded as one of contemporary art's most innovative and influential American painters. Born in Chicago, he moved to New York City in 1973 where he studied painting and immersed himself in the city's underground culture. Since the early 1980s, Wool has pushed abstract painting's limits through a rigorous practice that addresses contemporary experience through formal invention. Be it printing, layering, stamping, smearing, or erasing, the artist continuously seeks to confront painting's core qualities. Wool is known for his seminal text-based and graphic stencilled works as well as his large-scale abstracted canvases that combine silkscreen and painted gestures. His art practice also extends to sculpture, photography, and artist books. 
Wool lives and works between New York City and Marfa, Texas. His work is included in the collections of major museums internationally. In 2013, a retrospective on his work was held at the Guggenheim Museum, traveling to the Art Institute of Chicago (2014). An important survey opened at the Museum of Contemporary Art, Los Angeles in 1998 and subsequently travelled to the Carnegie Museum of Art and Kunsthalle Basel. Other important solo exhibitions include Musée d'Art Moderne de la Ville de Paris (2012), Museum Ludwig (2009), and Museu de Arte Contemporânea de Serralves (2008). International exhibitions include the Whitney Biennial (1989), Documenta (1992), the Lyon Biennial (2003), and the Venice Biennale (2011). Among many honours, Wool has been named a Fellow of the American Academy in Rome, served as a DAAD Berlin Artist-in-Residence, and received the Wolfgang Hahn Prize Cologne.
About the curator
Anne Pontégnie is curator-at-large for Le Consortium (Dijon) and curator for the Cranford Collection (London). Prior to that, she was chief curator at Wiels (Brussels), an institution she founded together with Dirk Snauwaert. She curated numerous solo exhibitions with artists, such as Mike Kelley, Daan Van Golden, Kelley Walker, Edith Dekyndt, Roe Ethridge, and Mark Leckey. She has expertise in different exhibition formats as co-producer or artistic director, such as the Biennale de Lyon (2003), the Printemps de Septembre (Toulouse, 2011), and large exhibition projects within the context of Nancy 2005 and Marseille-Provence 2013. Anne Pontégnie has participated in several alternative productions, such as the Nouveaux Commanditaires and Microproductions. She has written numerous articles and essays for renowned international art magazines and has edited catalogues for Christopher Wool, Kelley Walker, Daan Van Golden, e.a.
Categories
Tags