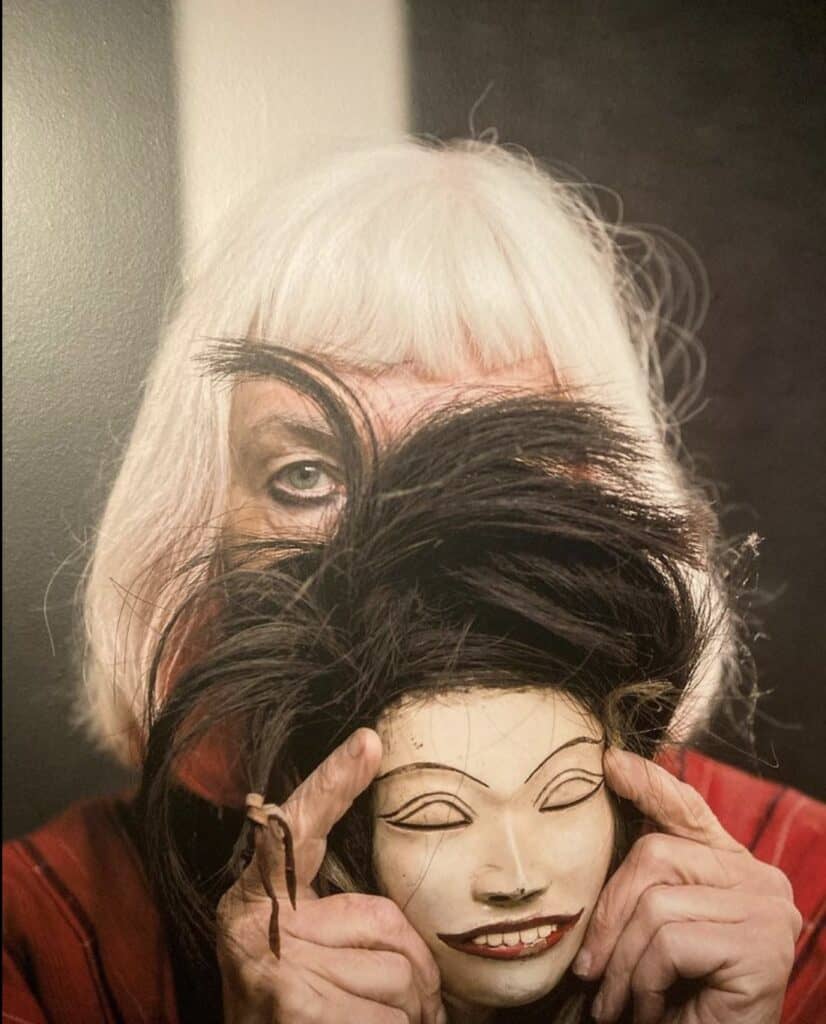 In our compartmentalised art world, it's perfectly possible for an artist to be represented in national collections and remain completely unknown to the general public. Before public galleries and international dealerships hogged all the review space, it used to be the critic's job to worm out overlooked artists and introduce them to their readers. Now we're left to discover them through their obituaries. But should we be kept in ignorance until they're dead?

Lorna Gascoigne in The Spectator,
We caught up with London based Dutch artist Marcelle Hanselaar at her exhibition TRANSFIGURED ARCHETYPES at the IN & OUT club in Mayfair to find out about her and her new exhibition. Hopefully, after you read this you'll want to discover more about Marcelle and her show.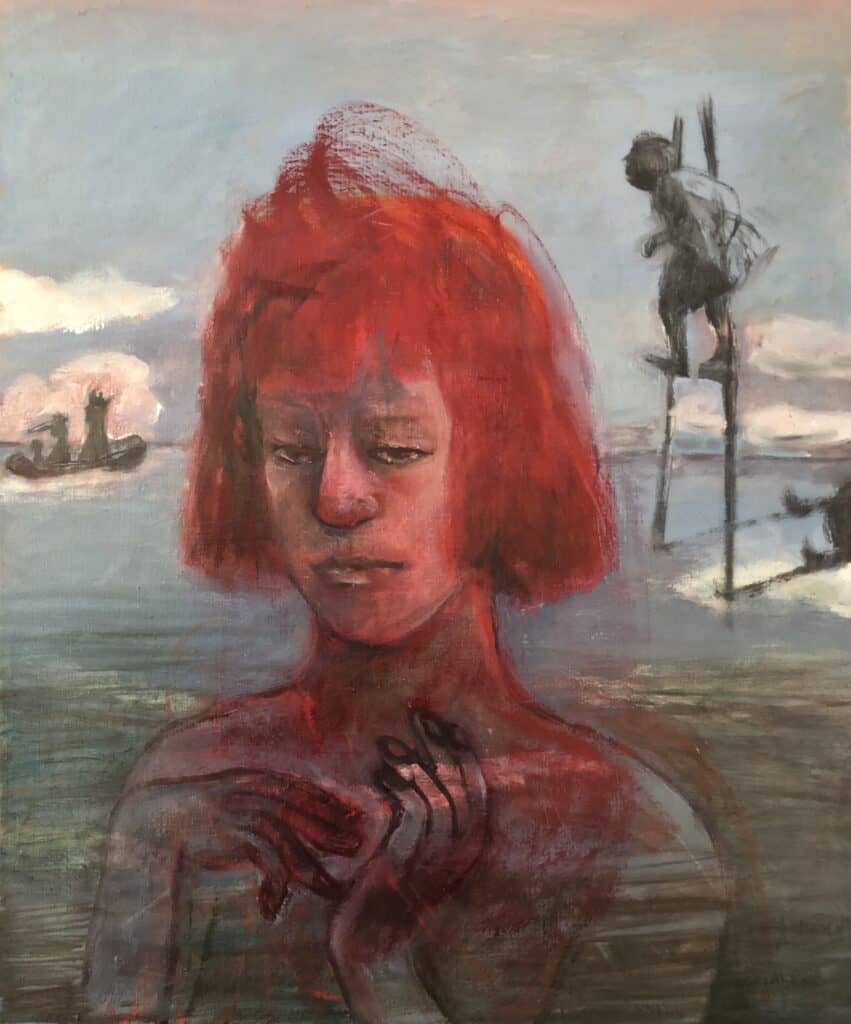 I don't really like to dissect work that much or find its hidden meaning I like to let it work its own course, flow into me and  usually it pops up much later 
Like you I do not really dissect or explain my work mainly because each painting should speak for itself. It should intrigue and draw the viewer into wonder/ question what is taking place in the image. Best of all is when an image lingers and finds meaning through a person's own associations.
Although I know instinctively what I am doing and have lots of snippets of associations in my images, often referring to either classical painting or contemporary happenings, in my own life or time, I do not analyse nor am I able to explain what a painting is about. If I could do that I would be a writer or curator and not a visual artist.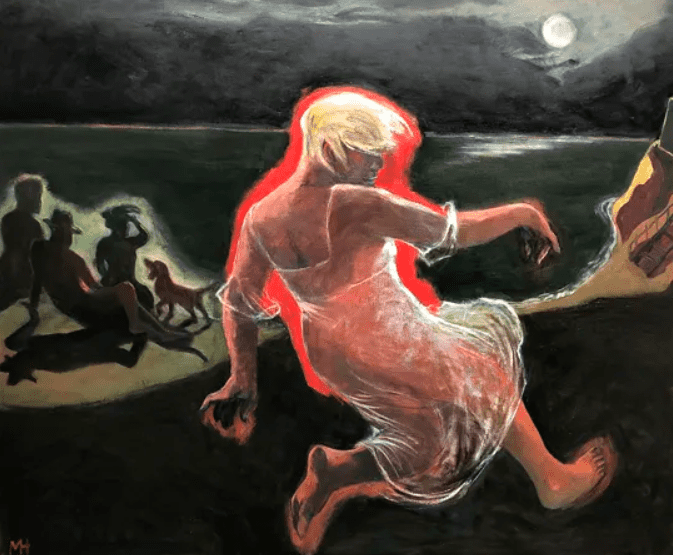 Marcelle, could you tell us a bit about your art practice?
Regarding my art practice, I went to the Royal Academy in the Hague for a year and a half studying fashion drawing and illustration but left because it bored me. Most of my friends were artists, in order to earn money I became an artist model and learned the basics like stretching and preparing canvas from them.
After many years on the road, I began to paint in the late 70s, hard-edged abstract to start with and slowly over the years my work became more and more figurative and I found my voice by the 90s.
One of Aleph's artists mentioned my work to its director Vivienne Roberts who straight away contacted me, came to my studio and was bowled over by what she saw. She immediately came up with the idea for a show, introduced Kamini Vellodi to me and everything clicked from there. The Oracle of Limbo series were selected straight away and we together looked at some other paintings in my studio and Kamini and Vivienne discussed their choices. I left it totally to them.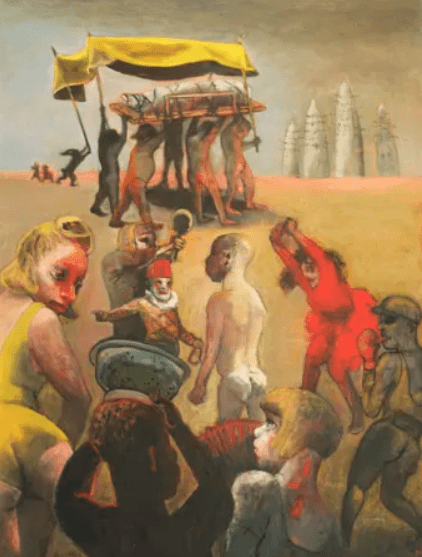 It may be because I had recently seen their shows before seeing yours but I see similarities between your work and the work in the recent Francis Bacon and Michael Armitage exhibitions at the RA, particularly in your use of animals and interest in crowds and choice of colour palate do you feel a connection to their work or do you see similarities with other artists? 
I find the work of both Bacon and Armitage so exciting, each in their own way are very impressive painters and I feel a great affinity with their work. And ongoing sources of inspiration are Max Beckmann in his raw exposure of people and their times or the storytelling and compositional skill of the great Baroque painters. I can see these influences in Bacon and Armitage's work as well.
The locations and places where your paintings take place are imagined but to me, they feel quite real. A lot is being talked about reality at the moment mainly due to technological advancement but wasn't the question of reality always an important question – trying to work out what is real isn't just a technology question, is it?
The question 'what is real' is never technological, that is to 2 dimensional. What is so fascinating with visual art is that you can suggest an existential reality through the use of props, like it's done in theatre. That kind of reality is not a factual one of course because in order for it to be effective it needs to be a suggestive one. The magic of painting is that you can show the inner and outer, the suggestive or the interpretive on the same plane.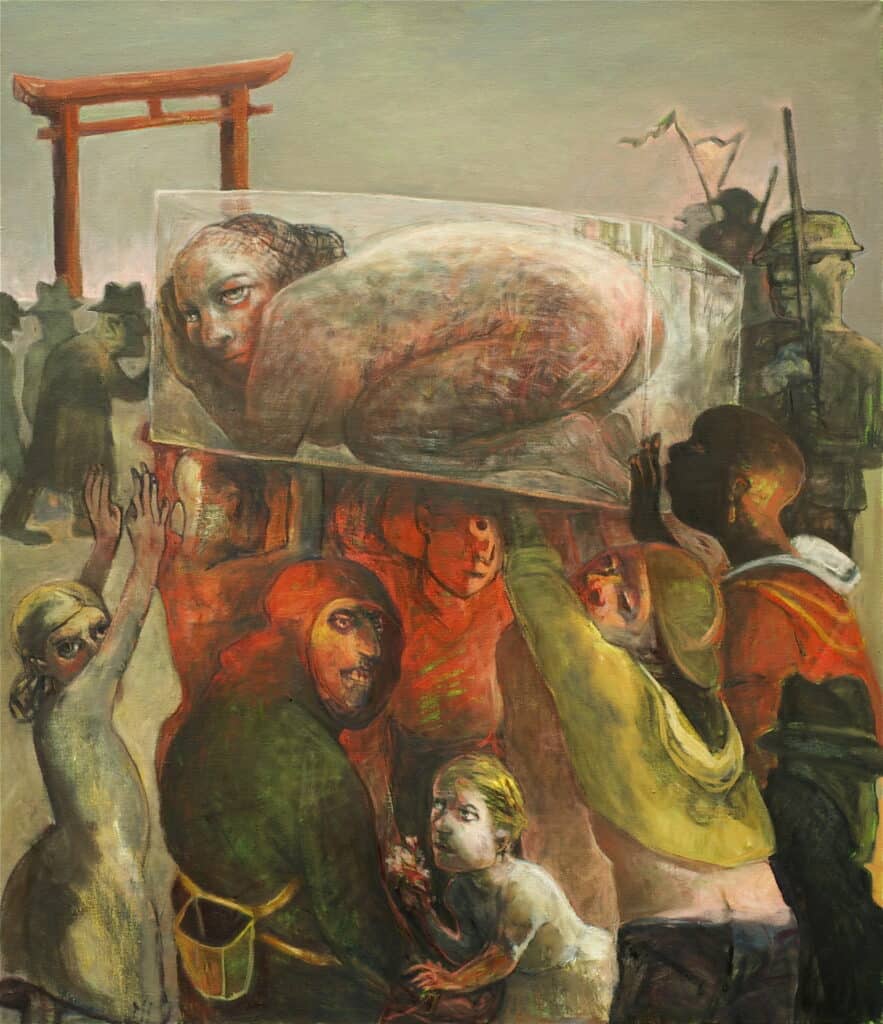 You have lived in London since the 80s after travelling quite extensively, do you feel London has improved as a place for an artist or have things got worse? 
I like being a foreigner and I love living in London, it's a great place to see a great variety of art, meet many different artists and experience the inventiveness of new enterprises and ideas. I feel very lucky to be here.
TRANSFIGURED ARCHETYPES: The Strange Becomings of Marcelle Hanselaar Curated by Kamini Vellodi – 23rd March 2022 at the In & Out Club presented by Aleph Contemporary
Categories
Tags