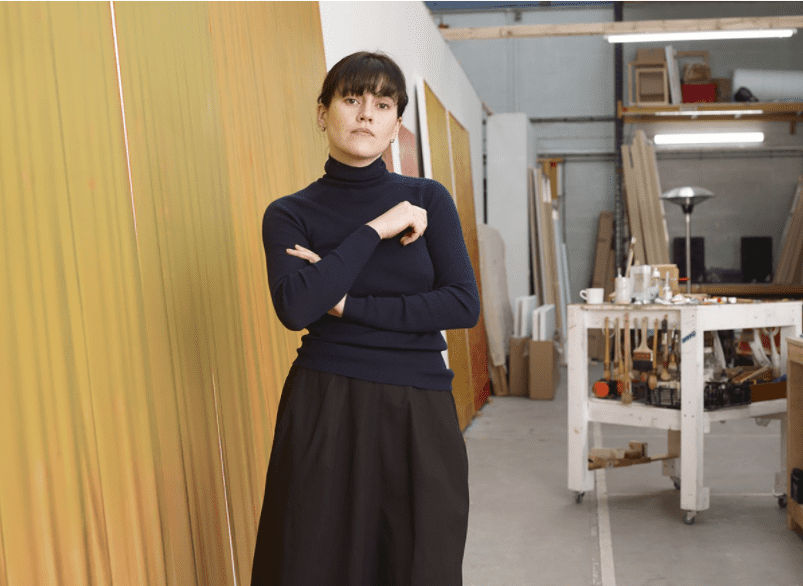 White Cube has announced representation of the British artist Louise Giovanelli (b. 1993, London), who lives and works in Manchester, UK.
Deeply engaged with the history of painting, Giovanelli's practice explores the tension between representation and materiality, figuration and abstraction, and how the mechanics of picture making shape our act of looking.
Relating the contemporary to the historic, and the sacred to the profane, the artist draws from a wide range of sources including early Renaissance painting, film stills and images of popular performers. Expanding and reforming these found fragments, Giovanelli creates delicate and luminous works, which expose how the materiality of paint can carry and convey meaning.
Often reworking and closely cropping details of paintings, photographs, classical sculpture, architecture and theatre, the artist employs repetition in order to achieve an augmented sense of reality.
'Repetition has two functions in my work. As a practical learning mechanism and as a psychological and conceptual device.'

Louise Giovanelli
In her densely worked compositions, the artist proposes a moment 'before' or 'after' an undisclosed event, particularly referenced in several paintings featuring closed curtains or drapes. 'I'm always striving for narrative ambiguity in my work…,' she has said. 'Paintings that captivate me are ones where there are gaps in knowing. For me, ambiguity is what sustains a painting and makes it endure'.

Giovanelli's first exhibition at the gallery will take place at White Cube Bermondsey from 6th July – 11th September 2022.
About the artist
Louise Giovanelli (b. 1993, London) lives and works in Manchester, UK. She studied at Städelschule, Frankfurt (2018–20) under the tutelage of Amy Sillman, having received her BA from the Manchester School of Art, UK, in 2015.
Solo exhibitions of her work have been held at Manchester Art Gallery, UK (2019); Workplace Foundation, Gateshead, UK (2019); Warrington Museum and Art Gallery, UK (2018); The Grundy Gallery, Blackpool, UK (2016). Giovanelli's work has been featured in group exhibitions that include; Hayward Gallery, London (2021); AkzoNobel Art Foundation, Amsterdam (2021); and The Art House, Worcester, UK (2019).
Louise Giovanelli is jointly represented by White Cube and GRIMM Gallery.
Categories
Tags