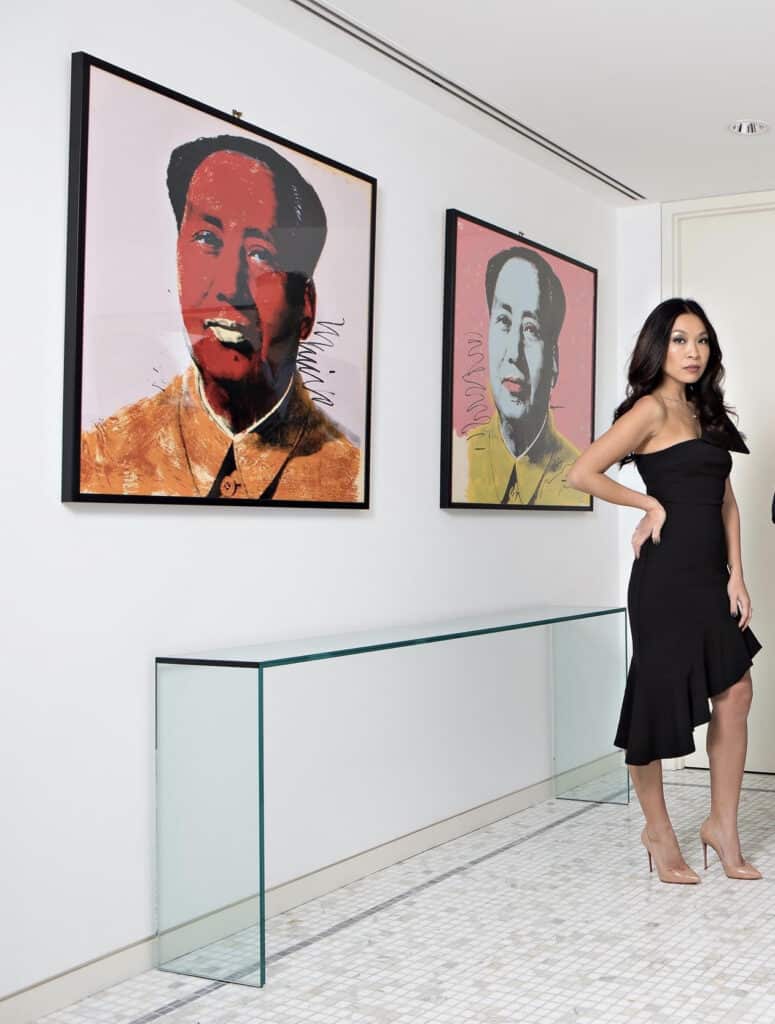 We caught up with Shanyan Koder, art world entrepreneur, collector, advisor & philanthropist ahead of the launch of her digital art collection on the Artemis Market platform.
Vogue China says you are a dreamer & doer – what do you dream & what do you do? 
I was always very flattered to have been given such a lovely compliment by Vogue China. Thank you! Having been brought up in the art world in a family of private collectors, I suppose I have always been a bit of a romantic, a dreamer. My world has always revolved around art; I grew up breathing art. Art inspires me and has become a way of life for me. My parents taught me to dream big, and to chase my dreams. After attending Cambridge University and having trained for several years at Goldman Sachs and Sothebys across Hong Kong, London and New York,  I suppose it was only natural for me to pursue my own business in the art world. It's true, once I have an idea, I like to pursue it.  And this is how all of my businesses and projects came to life. I set up my own fine art advisory business, Shanyan Koder Fine Art over a decade ago. I set up Chinese Contemporary art platform, HUA Art, to celebrate the combination of my Chinese heritage and my passion for contemporary art.  I have served on the Board of several renowned art institutions over the years, including as a Council Member of the Serpentine Galleries and a member of the women-only Artemis Council of the New Museum of New York. I am now on the Advisory Board of Unit London, an emerging contemporary art gallery in London. I am also delighted to have joined the Advisory Council of Eye of the Collector, an alternative to the traditional art fair launching in central London, which launched its inaugural edition in September 2021. My latest collaboration, as Brand Ambassador to Artemis Market, is an exciting one, which celebrates the Age of NFTs, where Art is now traded in the Metaverse. 

You seem very interested in the digital /NFT artworld what attracts you to it? 
I am very fortunate to have witnessed the evolution of how people buy art in the art world over the years. The art world has certainly moved on and kept up with the development of technology and the digital age. It's very exciting to see. When I first started as an art advisor, collectors were still very much relying on me requiring to see artwork in the physical form to determine their interest. Over the years, I gradually started to sell artworks to collectors via email. That was probably the first move away from them seeing artwork in its physical form, to seeing artwork in digital form. Now I sell artworks on WhatsApp, WeChat, and other social media platforms. Collectors are happy and comfortable to rely on viewing images on their devices now. I suppose it is only natural for artists and collectors to now move on to the Metaverse and the NFT world, as artists continue to create new forms of art with the evolution of the Digital Age. I'm delighted to have been asked to be the First Brand Ambassador for Artemis Market. It's a very exciting new NFT social platform, in fact, it is the world's first decentralised NFT mobile social platform. As the world continues to move towards cryptocurrency trading, NFTs is fast becoming an integral part of a new asset class for collectors. Moreover, NFT art is fresh, innovative, creative. I am excited to see what else is to come. 

Can you tell us about HUA?
I founded HUA back in 2010, over a decade ago. As I mentioned I wanted a platform that celebrated both my passion for contemporary art and my Chinese heritage. HUA has since become a digital platform for Chinese Contemporary Art involved in special projects with museums, institutions, galleries and the trade. We have had some beautiful collaborative projects across some major museums in London and Europe, as well as galleries in Mayfair, London. We are in the process of adding a crypto – element to the platform as we speak, so watch this space.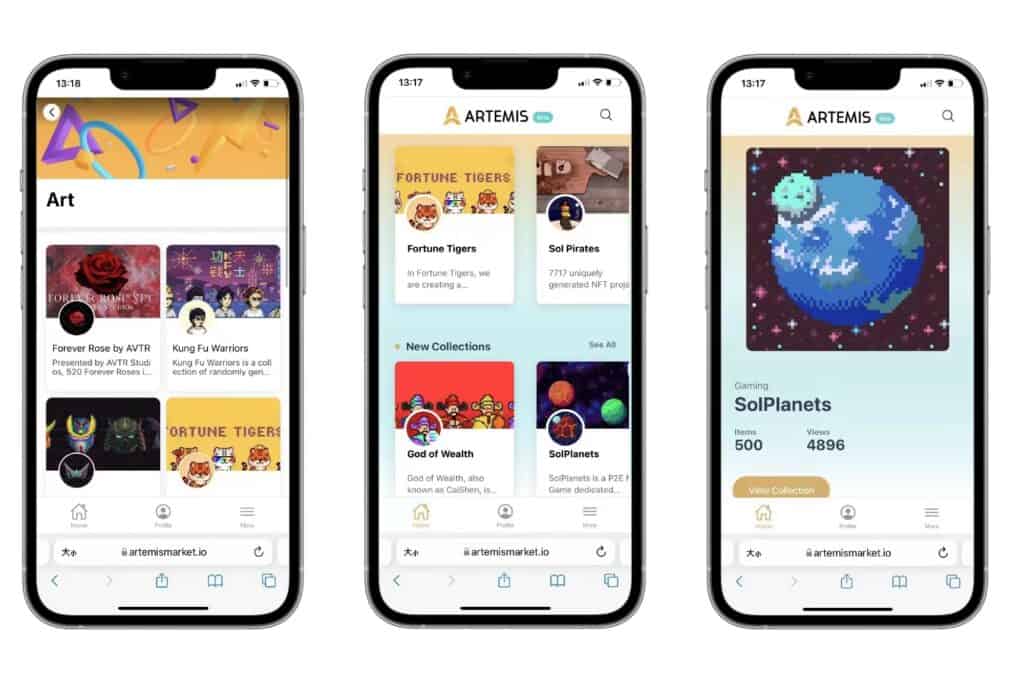 How do you work with Artemis & Unit Gallery? 
NFTs have been around for a while, but it will be interesting to see if someone like me, with decades of experience in collecting and in dealing in classical, modern & contemporary art, can add some value to the new NFT world.  I created the NFTs and agreed to partner with Artemis Market as their Brand Ambassador partly to satisfy my creative desire to create something for the Metaverse ( because how exciting is that ! ) and partly to see if I can also help influence more people in the established art world to further open their minds and enter the Metaverse as well. As a board member of Unit Gallery, I am a supporter of their artists and exhibitions. Their current exhibition "Eternalising Art History" is a groundbreaking one, creating NFTs for the masters of Renaissance art, which is worth visiting. 
Do you ever create art yourself? 
I have always created art since I was a child. My preferred medium has always been pastel on paper, I was always inspired by Degas and his dancers and nudes. I love the beauty, the delicate nature, and the sensuality of the feminine body, of feminine beauty,  this has been a deep source of inspiration for my search for beauty in art form.  One of my graduation gifts, when I was in my early twenties, was a beautiful Degas work on paper, Woman in the Bath. It had a powerful impact on my vision of beauty and I still own it in my London home today. 
What's the most inspirational artist studio you have visited? 
It's an interesting question. I have visited so many artist studios in my life, it's hard to pinpoint a single one. Memorable ones, I would say, Marc Quinn, Damien Hirst, Philip and Charlotte Colbert. My good friends who are the art/design practice Fredrikson Stallard have an awesome studio with incredible creative energy. I also enjoy visiting emerging artist studios, they have a raw energy that is refreshing and reviving. I recently visited the Bahamas studio of Cydne Jasmin Coleby, whose work has been acquired into many prominent collections and museums alike. I own one of her works also. 

If you could commission one artist to create a monumental artwork who would it be and why? 
This is a very difficult question as I cannot just pick one artist! It depends on the location of the artwork, depends on my mood. One of the projects I worked on when I trained at Sotheby's was for the Chatsworth Sculpture exhibition. I absolutely loved all the monumental sculptures that were placed on the grounds. The Richard Hudson Marilyn was a beautiful work. Anish Kapoor was so powerful. Marc Quinn's Kate Moss Sphinx. Manolo Valdes and the butterflies. It's impossible to choose one.
Categories
Tags