An elusive member of the School of London is rediscovered in a new exhibition at Damien Hirst's Newport Street Gallery. The Cloud of Witness is an exhibition of over 70 works by little-known Australian artist Keith Cunningham.
Cunningham's paintings were produced in London during the post-war period, an artistic environment dominated by the likes of Francis Bacon and Lucian Freud. A student at the Royal College of Art in the mid-1950s, Cunningham worked alongside major artists such as Frank Auerbach, Leon Kossoff and Jo Tilson. Cunningham's sombre paintings, coated in layers of dense, sculptural, are populated by skulls, fighting dogs and darkly altered human figures. Like his schoolmates and teachers at the Royal College, Cunningham was interested in figurative painting, transforming the reality of everyday life into loose, slowly disintegrating forms. His canvases, like those of Bacon, Kossoff and Auerbach, are covered in powerful strokes of dark pigments conveying strikingly expressive forms. The Cloud of Witness seeks to redefine Cunningham's role in the London art scene of the 1950s, highlighting not only his ability but also the variety of his inspirations. To this effect, it coincides with the major show at the Royal Academy of Arts, Francis Bacon: Man and Beast, encouraging visitors to compare and contrast the works of
these two artists.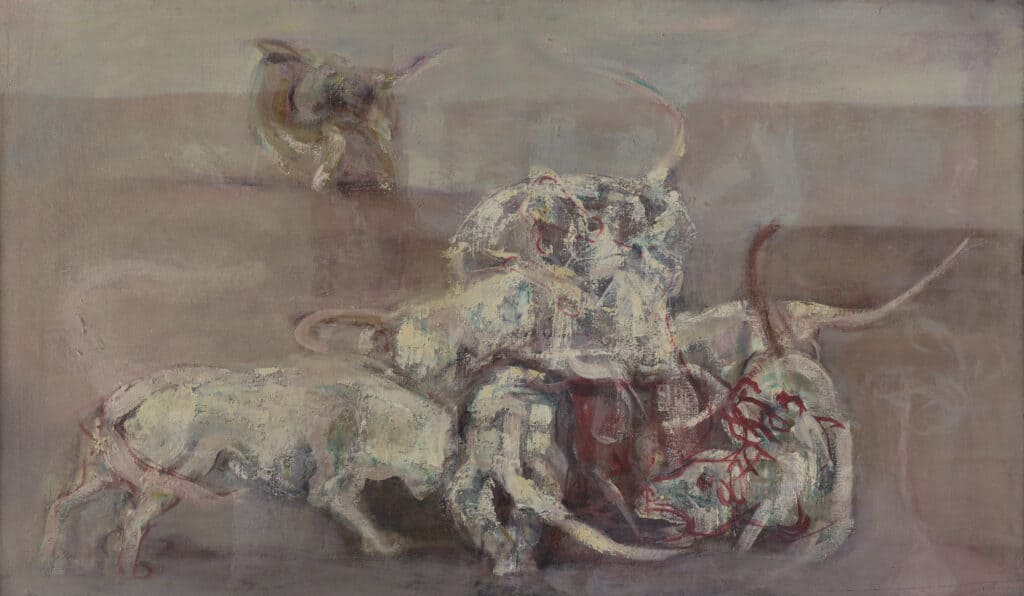 Upon graduating the Royal College, Cunningham was invited to submit his paintings to the prestigious London Group, with whom he displayed his paintings for two consecutive years. His canvases were singled out by high-profile art writers for their rough materiality and suggestive presence. Auerbach admired his 'outstanding talent,' and his tutor John Minton described him as 'one of the most gifted
painters to have worked at the Royal College.'

Praised by critics, admired by peers and increasingly sought after by collectors, in the 1960s Cunningham was on the brink of reaching international fame. However, in 1967 he suddenly withdrew completely
from the art world, refusing to submit his paintings to public exhibitions and hardly ever allowing outsiders to see his works. Upon his death in 2014 at the age of 85, Cunningham had left behind
a large collection of unseen works spanning over five decades. His paintings from the 1950s and 1960s, neatly stacked in his house facing the wall, had been kept hidden, amassed in his flat's spare
room. Finally disclosing these canvases to the public, The Cloud of Witness rescues Cunningham's art from oblivion, offering a rare chance to rediscover his powerful, expressive forms.
Keith Cunningham The Cloud of Witness 16th February – 21st August 2022 Newport Street Gallery
About the artist
Born in Sydney in 1929, Keith Cunningham moved to London in 1949 to study graphic design at the Central School of Art, where he graduated with a dissertation on architecture. Animated by a consuming passion for painting, he later applied to the Royal College of Art, where his talent was quickly recognised.
A driven and resolute individual, his years at the Royal College were spent working tirelessly and exploring every artistic medium available. In 1955 he was granted a travelling and continuation scholarship and arranged a trip to Spain which greatly influenced his painting style.

On graduating from the College in 1956, he exhibited at the Royal Academy and the Beaux Arts Gallery – then one of the most influential galleries in London – at the invitation of its director, Helen Lessore. In the same year, he applied for a part-time position as lecturer of Drawing and Printing at the London College of Printing, which he held for around 40 years.

His works were shown twice with the prestigious London Group, attracting high praise from an art critic from The Times. The art collector and celebrated photographer Elsbeth Juda was one of Cunningham's most vocal admirers and circulated his paintings worldwide. From the late 1960s, however, he refused to exhibit his work and started to focus instead on graphic design, watercolours and small-size drawings. Between the 1970s and 1980s, Cunningham worked as a graphic designer for the publisher Peter Owen, producing impressive hardback book covers. A number of these were shown at the 2004 Barbican
exhibition Communicate: British Independent Graphic Design Since the Sixties and were acquired posthumously by the University of Brighton Design Archives. The majority of his works, including thousands of drawings and watercolours, however, never left Cunningham's studio. His vast estate, like many details of his personal life, remained undisclosed until his passing in 2014, at the age of 85.
Categories
Tags