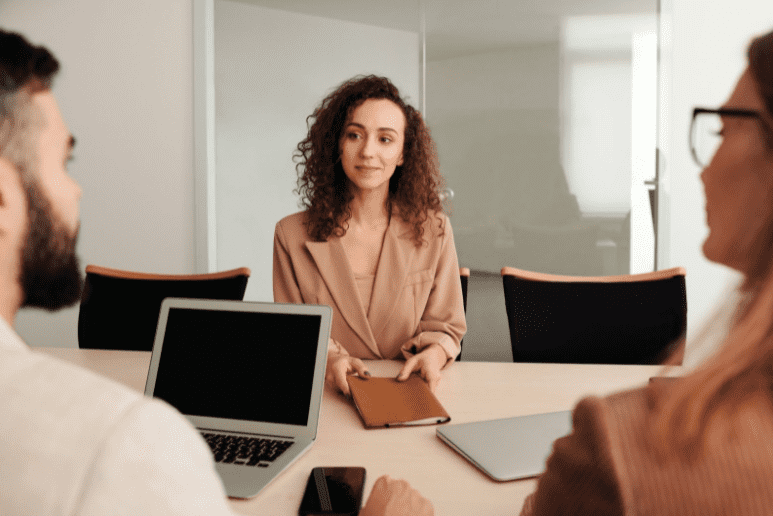 Have you just produced an amazing range of recruitment content but don't know where to promote it? Lucky for you, we are going to show 10 incredible places to promote your content, which will surely drive interest in your company's roles and the websites where you can reach your best candidates! Remember to use a mixture of these places and not just focus on 1 or 2!
1. Your Company's Career Site
Your career site should be the flagship of your recruitment marketing drive because 67% of recruits head to your career site while searching for a job. Moreover, 37% of candidates will move on to another resume, if they can't find any information about the company. This is why your career site needs to be jam-packed with helpful information and interesting content to get recruits excited about working for your company. Your career site should feature videos that show your office, clients, types of projects, and senior management. It's also great if your site has some in-depth information, that explains the different roles available and what a typical day working at your company looks like.
2. Social Media Profiles of your Company
Do you have a company Facebook, Twitter, Instagram, Snapchat, LinkedIn, or even TikTok account? If not, you better start creating profiles, as social media is extremely helpful and useful in recruitment! With millions and millions spending hours on social media, posting your recruitment content on these platforms is a cheap and fast way to reach as many people as possible.
The great thing about social media is you can run advertising campaigns that target very specific demographics. If your roles are only suitable for a small subset of the population, you can easily target these groups and significantly cut down on your cost of finding new employees.
The secret to promoting your recruitment content on social media is posting frequently but not too much, one post a week is about the sweet spot. You also need to post a variety of different recruitment content. And don't forget to time your posts well if you want to ensure the maximum number of people see them!
3. Your Employees' Social Media Profiles
Do you know who would most likely make great employees? The friends and family of your current employees! Why not tap into your current employees' network by getting them to post your recruitment content on their social media profiles. This strategy is incredibly effective on social media platforms like Instagram, Facebook, and LinkedIn.
If you don't believe this strategy would work, just check out what Social Media Today had to say. According to their report, recruitment content that is on employees' social media profiles receives almost 10 times more engagement than the same content shared on official company profiles. While not all employees will be comfortable sharing the content on their personal profiles, most will be comfortable posting on LinkedIn.
4. Online Forums
As more and more people spend their time online in specialized forums, these online spaces become amazing places to connect with people who would be perfect for your company's roles. The great thing about online forums is you can find specific forums for every industry and niche! For example, if you are looking for a quant trader for your investment company, you head to a specific quant trading Reddit and immediately connect with thousands of different highly qualified candidates.
5. Career Blogs
A great way to make your career site interesting is to have a blog section. Throughout your career blogs, you can promote new roles, career days, and other recruitment events you have going on. Candidates love to read blogs as they can help them get a feel for your company and what being an employee is really like. Here are some great blog ideas:
The day in the life of X role
How X role impacts the business
Interview with current new employees
Deep dive into the exciting projects your company is working on
6. University Websites
Do you want to hire the young and brightest minds? Do you have incredible graduate programs that you need to fill? Then try university websites! The great thing is many universities and colleges allow you to advertise different roles and graduate programs free of charge and will invite you along to different events to meet students in person! When choosing a university, it is best to advertise on local universities and take the time to customize your recruitment content so that it appeals to college students.
7. Company Review Sites
Company review sites are incredibly popular with job seekers. According to the latest research from Glassdoor, almost 86% of job seekers check company review sites prior to accepting a job. With so many people visiting company review sites, they are an incredible place to post your recruitment content. As a large percentage of visitors to company review sites are currently looking for a role, you can ensure that your recruitment content is seen by the right people!
8. Virtual Career Fairs
Even before the pandemic shut down in-person career fairs, virtual career fairs were already booming. Now thanks to COVID, these virtual events are the fastest growing trend in the recruitment world. The explosive growth is being driven by advancements in technology, which now allow people all over the world to have high-quality video conversations with individuals and groups. These virtual career fairs are also much cheaper to host as companies don't have to rent expensive locations, and both job seekers and employers don't have to worry about commuting to the location. If you want to specifically attract incredible job seekers, then it is time to host your very own virtual career fair.
9. Job Posting Sites
Every day millions of people are browsing job posting sites looking for their next role. Why not leverage these amazing platforms to post ads to your latest roles. Many of these platforms allow you to post ads for free, and you can simply sit back and watch your email inbox pile up with the resumes of amazing candidates. Some of the best job posting sites that are worth checking out include:
? Indeed
? Monster
? Simply Hired
? Glassdoor
? Stackoverflow
When posting an ad on a job board, remember to make it stand out from your competitors. Keep it short and sweet and create a teaser to get job seekers excited. But include enough information, so you attract qualified applicants.
10. Media
Don't forget about online media platforms! There are so many different media platforms that you can use to promote your recruitment content, from news portals to web magazines. However, you need to be careful when choosing media platforms where your ideal candidate frequents. For example, if you are a finance company, Forbes, Financial Times, and the Wall St Journal are great options. If you always remember your candidate persona when selecting where to promote your recruitment content, you should have no problems finding amazing candidates while keeping your hiring costs low!
Conclusion
If you want to attract the very best candidates, you not only need to create amazing recruitment content, but you need to make sure your dream candidates see it. This is why promoting your recruitment content is so important. If you promote your content on a number of the places we recommend, you will quickly find incredible talent that can help you crush your business goals!
Categories
Tags